Breast-feeding Helps Counter Genetic Susceptibility to OM
GALVESTON, Tex—Breast-feeding protects children who are otherwise susceptible to otitis media (OM) via abnormalities in specific human genes, report researchers at the University of Texas Medical Branch (UTMB) in the December issue of Pediatrics.
About 19% of children are prone to chronic and recurrent ear infections (OM). The UTMB study examined genetic samples taken from 505 children in Texas and Kentucky, about 60% of whom were classified as "OM susceptible."
"We know that the tendency to get this infection runs in families, and so we decided to look for small variations—what we call 'single-nucleotide polymorphisms,' or SNPs—in three important genes that produce inflammatory signaling molecules for the immune system," says lead author Janak A. Patel, a professor in the infectious disease division of UTMB's Department of Pediatrics. "Two of them stood out on their own as signals of increased risk."
The two identified genes generate the immune proteins known as tumor necrosis factor alpha (TNF-alpha) and interleukin 6 (IL-6). SNPs in each individual gene were enough to create increased risk for childhood ear infections, and simultaneous SNPs in both genes created even more risk. But the UTMB scientists found that the effect could be counteracted with breast-feeding.
"This is a major finding, that breast-feeding neutralized the effect even in kids who had all the genetic polymorphisms," says Patel. "Not only that, they were protected from recurrent infections even later in childhood, long after they stopped breast-feeding."
AAS Scientific Conference to be Held in March
The American Auditory Society (AAS) will hold its annual scientific conference on March 4-6 in Scottsdale, Ariz. The conference will feature the Carhart Memorial Lecture by A. James Hudspeth, PhD, MD; a Life Achievement Award to Jozef Zwislocki, ScD; translational research; a special session on binaural processing; poster sessions; 52 podium presentations; 16 30-minute technology update sessions; as well as basic and clinical science papers. For information, visit: www.amauditorysoc.org.
Hearing Instrument Sales Increase 8% in 2006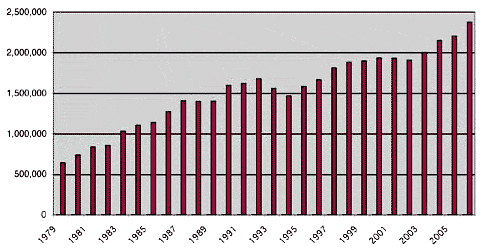 Total net hearing aid units dispensed, 1979-2006. Hearing aid sales increased by 8% to 2.37 million units in 2006, representing the fourth consecutive year of positive industry sales growth.
ALEXANDRIA, Va—Year-end statistics generated by the Hearing Industries Association (HIA) show that net US sales of hearing aid units increased by 7.75% in 2006 compared to 2005. In total, 2.37 million hearing aids were sold by HIA-reporting companies, who are generally considered to account for 90-95% of all the hearing aids dispensed in the United States.
The year's volume increases were helped, in part, by a second-half surge in dispensing activity by the Department of Veterans Affairs (VA). The VA had witnessed a decrease in dispensing activity (by 6.2%) during 2005, and the trend continued with lower-than-expected unit volumes during the first and second quarters of 2006. However, VA dispensing activity increased in the second half of the year, enough so that it posted a 5.5% gain over 2005. Its 316,382 units represented 13.4% of the entire US hearing instrument market.
Ignoring VA activity, private-sector dispensing of hearing aids rose by 8.1% to 2.05 million units—surpassing the 2 million net unit mark for the first time. The most notable trend continued to be the increasing popularity of behind-the-ear (BTE) hearing aids, mainly due to open-fit, receiver-in-the-ear (RITE), and directional technology. In 2006, BTEs constituted 43.8% of all the units dispensed, compared to only 32.6% in 2005. Private-sector use of BTEs rose to even higher levels. In 2006, BTEs made up 45.9% of all the hearing aids dispensed by non-VA facilities compared to 34.7% in 2005; VA dispensing of BTEs rose to 30.4% compared to 19.4% in 2005. BTEs constituted only 25.4% in 2004.HR statistics suggest that about half of all hearing aids dispensed in 2007 will be BTEs, and more than one-third will employ the open-fit or RITE technologies.
More than 9 in 10 hearing aids sold are now digital. Of the 2.37 million hearing aids dispensed in the United States during 2006, a total of 2.17 million, or 91.7%, were digital instruments. Digital aids constituted 89.1% of the market in 2005 and 83.0% in 2004.