Business
Energizer Announces Support of Music Rising
Energizer, St. Louis, announces its support of Music Rising and the pre-game performance at the first professional event to be held at the Louisiana Superdome since Hurricane Katrina hit in 2005. Furthering the company's commitment to supporting the region, Energizer teamed with Real Networks' Rhapsody to offer an exclusive opportunity to download the live performance at the ESPN Monday Night Football pre-game performance September 25 at the Louisiana Superdome.
The Music Rising pre-game performance featured U2 and Green Day performing their rendition of "The Saints Are Coming." The download is available via Rhapsody.com with all proceeds going directly to Music Rising and its Phase II initiative. Music Rising was formed in November 2005 by U2's The Edge, producer Bob Ezrin, and Gibson Chairman and CEO Henry Juszkiewicz.
---
Awards
Starkey Named as a 2006 Tekne Award Finalist
Starkey Laboratories Inc, Eden Prairie, Minn, has been named as a finalist for a 2006 Tekne Award, which recognizes Minnesota companies and individuals who have shown superior technology innovation and leadership.
Starkey is a finalist in the medical technology category for its industry-leading use of nanoscience to create a revolutionary new hearing system that provides hearing aid users with more natural, more normal hearing—more quickly. The new Starkey hearing system includes the Destiny line of smart hearing aids, the intuitive Inspire OS software, and Starkey's proprietary nFusion technology.
Through the Tekne Awards, the Minnesota High Tech Association (MHTA) and Min­nesota Tech­nology, Inc. (MTI), in partnership with Life­Science Alley, recognize technology innovators and leaders who have made lasting contributions to en­hancing the quality of life and competitiveness of Minne­sota.
"It's a great honor to once again be a finalist for a Minnesota Tekne Award and to be recognized as a leader for our extensive work in identifying and applying new and existing technologies that improve not only a person's ability to hear but their every day life—technologies like nanoscience, which saw its first application in the hearing industry with the introduction of our Destiny hearing aids," says Tim Trine, vice president and chief technical officer with Starkey.
Rayovac ProLine Package Receives Award for Design Excellence
The Rayovac ProLine hearing aid battery package was recently honored with an award for design excellence in the 2006 American Graphic Design Competition sponsored by Graphic Design USA and Adobe Systems.
The nationwide competition is open to all designs submitted by advertising agencies, design firms, corporate, institutional and publishing in-house departments, and others. It honors outstanding new work of all kinds including print, packaging, point-of-purchase, internet, interactive and motion graphics.
"The award-winning Rayovac ProLine package features easily readable text size, appealing graphics and a user-friendly dispenser," says Tom Begley, division vice president of sales. "We understand that creative and appealing packaging and other design elements are important to audiologists as well as their patients."
---
Scholarships
Kenneth W. Berger Honored with Endowed Scholarship
Donations are now being accepted to help fund an endowed scholarship in honor of Kenneth W. Berger, PhD. Berger was the director of audiology at Kent State University for 20 years, and a competitive scholarship is expected to be awarded from the endowment each year to a Doctor of Audiology student at the Northeast Ohio AuD Consortium (NOAC). Berger died in 1994 at age 70.
Berger developed the first hearing aid prescription fitting method in the United States, and established the world's largest collection of hearing aids (over 2,600) as curator of Kent State University's Hearing Aid Museum and Archives. He also published prolifically during his lifetime and, just before his death, was presented with the American Auditory Society's Lifetime Achievement Award.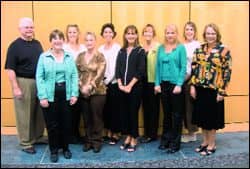 AFA Director Eric Hagberg, AuD, a former student and colleague of Berger, is leading the endowment fund drive. Donations to the Kenneth W. Berger, PhD Memorial Scholarship fund may be made on the AFA's secure Web site or by mail at 8 N. Third St, Suite 406, Lafayette, IN 47901.
Five Scholarship Winners Attend ReSound University
Five ReSound/AFA Practitioner Scholarship winners recently traveled to Bloomington, Minn, to get a hands-on look at the processes involved in producing hearing aids. The scholarship winners were chosen based on the strength of their resume, application essay, and commitment to the profession. The five winners each also received $1,000 to be applied toward tuition at a distance education AuD program.
During the trip to ReSound University on September 15, the scholarship recipients toured the manufacturing facility and received an in-depth look at the high-tech processes used. Attendees were given the opportunity to select their own hearing aid, and then followed it through the entire manufacturing process, from receipt and tracking the earmold to watching laser technology put paper-thin layers of material on each hearing aid to assure a custom fit.
"It was such a valuable experience to see the actual processes involved in meeting patients' needs," says AFA Executive Director Susan Paarlberg, who attended ReSound University Day with the scholarship winners. "It's clear that technology is being constantly updated to give patients the best possible fit and reduce errors and remakes."
GN ReSound's training personnel also provided talks and information on open fittings in hearing aids, noting that about 60% of patients would actually benefit from this type of fitting.
"Open fittings may help reduce patients' complaints about 'hearing inside a barrel,'" says ReSound Training Manager Deb Castor, AuD.
---
Research
Teens More Concerned About Noise, Hearing Health
Marketing research results from the House Ear Institute's hearing awareness campaign aimed at teens show that the number of young people who consider noise-induced hearing loss a real health problem has jumped 42% since the campaign launched in January 2006. Using the theme "It's How You Listen That Counts" to reach its target audience, the campaign has been running a teen-oriented hearing conservation spot on MTV, which also appears on MTV.com and five different Yahoo! Web sites.
The television spot features teens and an "Ear Bud" mascot in a scene that warns of the potential dangers to hearing posed by listening to loud sound. The Internet ads and the MTV cable spot have been viewed more than 7 million times since January. The www.EarBud.org Web site has attracted more than 500,000 visits to date, and the Internet banner ads promoting the campaign on popular Yahoo! Web sites have enjoyed a high rate of "click throughs" by those seeking more information about noise and hearing.
The goal for the initial 10-month test-market phase of this campaign was to raise awareness among teens about why they should care about preventing noise-induced hearing loss using messages determined to have the greatest impact on this audience, based on extensive market research into their current attitudes and values.
---
Marketing
Micro-Tech Releases Office Support Materials for Radius Hearing Instruments
Micro-Tech, Eden Prairie, Minn, has developed a set of brochures, a poster, and a point-of-sale display to support the all-new Radius family of hearing instruments during an office visit.
These brochures explain the benefits and function of Radius hearing instruments in language that patients will understand. The point-of-sale display is eye catching, yet small enough to fit on many office counters or waiting room tables.
Micro-Tech's Radius series of hearing instruments includes the Radius 4, 8, and 12, and are available in behind-the-ear, in-the-ear, and completely-in-the-canal models.
For more information, contact (800) 475-4327; www.hearing-aid.com.
Qualitone Releases Promotional Materials for Avail Hearing Instruments
Qualitone, Eden Prairie, Minn, has developed a set of newspaper advertisements and a direct mailer to promote the all-new Avail series of hearing instruments in the consumer marketplace.
This collection of business-to-consumer marketing collateral blends general educational hearing health messages with the benefits of Avail hearing instruments. Available in a range of formats, these newspaper ads and the direct mailer are proven tools for practice building, technology promotion, and patient education.
Qualitone's Avail series of hearing instruments includes the Avail 400, 800, and 1200, and are available in behind-the-ear, in-the-canal, and completely-in-the-canal models.
For more information, contact (800) 328-3897; www.qualitonehearing.com.