Sonic Innovations Appoints Westover as New President
Salt Lake City, Utah—Sonic innovations, Inc announced leadership changes in early November, introducing Samuel Westover as the company's new president and CEO. Westover succeeds Andrew Raguskus who has been appointed executive chairman of the Board, replacing Kevin Ryan. Ryan will remain a director of the company.
"Our goal is to exceed the service and quality expectations of our customers through the development of new products and programs that lead to the continual growth of their businesses," says Westover. "A strong partnership with hearing care professionals is key to the ongoing success of Sonic innovations."
Westover has been a member of the company's Board of Directors since January 2002 and has held executive-level positions with a number of health care companies. Most recently, he was president and CEO of CIGNA Dental and president of CIGNA HealthCare's Small Business Segment. Westover has also served as CEO of two public companies, and was the founding CFO of Wellpoint, one of the largest health insurers in the United States.
According to its November third-quarter financial statement, Sonic innovation's net sales established a company record of $24.3 million, up 8% from net sales of $22.5 million in the third quarter of 2004. However, the company's net loss was expected to be $7.3 million in the third quarter of 2005 compared to $660,000 during the same period in 2004. But when excluding asset impairment and restructuring charges, the third quarter 2005 net loss would have been about $349,000. "Our hearing aid business was profitable in the third quarter, but losses in our Tympany business drove net earnings into negative territory," reports Ruguskus. "As a result, we have restructured Tympany and have recorded associated asset impairment and restructuring charges. New hearing aid products [Applause and Innova] are positioned to help drive sales growth worldwide."
For more information, visit www.sonici.com.
---
Baha System Now Covered Under Medicare
Denver—Cochlear America's Baha® system, an osseointegrated auditory implant system, is now covered by Medicare under a new policy issued by Centers for Medicare and Medicaid Services (CMS).

The Baha sound processor is placed on the deaf ear side behind the ear, and transfers sound through direct bone conduction. The device has been cleared by the U.S. Food and Drug Administration for unilateral and bilateral fittings for conductive or mixed hearing loss, and for Single Sided Deafness (SSD).
FDA-cleared since 1996 and consisting of a mastoid implant and detachable sound processor, the Baha system was previously classified as a "hearing aid" by Medicare and, therefore, was not covered. However, last month, CMS revised its definition of "hearing aids" and initiated coverage for the system, which became effective November 10. Therefore, Medicare carriers are able to accept and pay claims under this policy.
The Baha system reportedly provides a safe and effective hearing treatment option for individuals suffering from conductive or mixed hearing loss, as well as Single Sided Deafness (SSD). It is said to be the only treatment for hearing loss that works through direct bone conduction, allowing sound to bypass the outer and middle ear to reach the cochlea directly.

The three-part system of the Baha device.
"The Baha system, based on direct bone conduction, provides FDA-cleared treatment for a variety of specific types of hearing loss that many times do not have another option," says John K. Niparko, MD, director of the Divisions of Neurotology and Audiology at The Johns Hopkins University School of Medicine. "The Baha system allows sound to be received directly by the cochlea through direct bone conduction, so this treatment fundamentally changes the way individuals hear with specific types of hearing loss. The decision by CMS to cover it will change lives."
"The decision by CMS to revise its definition of 'hearing aids,' and exclude implantable devices such as the Baha system, is monumental," says Chris Smith, president, Cochlear Americas. "This policy revision breathes new hope into the lives of so many living with a hearing loss that the Baha can treat."
Australian-based Cochlear Ltd purchased the Baha (Bone-Anchored Hearing Aid) and Entific Medical Systems in early-March 2005 from the Swiss-Swedish group Nobel Biocare Holding AG for $152 million (see May 2005 HR News, p 10).
Currently there are more than 25,000 people using the Baha system worldwide and about 90,000 people who have been implanted with Cochlear's Nucleus cochlear implant. For more information, see Marshall Chasin's article, "Assessment Methods for Bone Anchored and Bone Conduction Hearing Aids," in the December 2001 HR or visit www.cochlear.com.
---
Oticon Grants $1.8 Million for Research at Walter Reed
Somerset, NJ—The Oticon Foundation has awarded a $1.8 million grant to the Walter Reed Army Medical Center (WRAMC). The grant will fund a project designed to help understand the distortions caused by sensorineural hearing loss with the goal of creating signal processing to counteract these distortions.
"This project aims to improve signal processing for individual hearing-impaired listeners by customizing mechanisms to their particular idiosyncrasies in auditory processing," says Don Schum, PhD, vice president of audiology for Oticon. "In keeping with Oticon's commitment to People First, the ultimate goal of this project is to help the hearing care community create and provide optimal solutions for each unique hearing loss."
The WRAMC research team will focus on the unaided suprathreshold measure of auditory function. Research has shown that the more normal a listener's suprathreshold auditory function, the greater the success a patient is likely to achieve with hearing instruments. To date, attempts to compensate for suprathreshold distortions have resulted in some success, especially in the development of directional microphones. The new research seeks to gain further insight into distortions caused by hearing loss that will make possible even more sophisticated hearing aid signal processing.
"Every researcher hopes to make a difference," says Brian Walden, PhD, director of research in the Army Audiology and Speech Center at WRAMC. "We think that this work provides a real opportunity to understand the distortions that are introduced by hearing impairment in a way that will allow us to do something about it. This project will be a collaboration among many prominent scientists working in laboratories in the United States and Europe. Together, we hope to provide insight and practical applications for this complex problem."
The $1.8 million grant represents funding for a three-year period. The work will be carried out by a core group of experienced auditory scientists from several Walter Reed laboratories and the Veterans Administration research division in Portland, Oregon.
Walden is administrative director for the grant and serves as co-principal investigator on the project with researchers Ken Grant, PhD, Van Summer, PhD, and Marjorie Leek, PhD, all of the Research Section of the Army Audiology and Speech Center at WRAMC. Leek's laboratory at the Portland Veterans Administration Medical Center will be one of four laboratories involved in the project.
The core group will receive input from a scientific advisory board composed of experts working on related problems, as well as from individual consultations with other laboratories.
The Oticon Foundation is the largest shareholder (just below 60% of shares) in William Demant Holding—the parent company of Oticon, Bernafon, Maico Diagnostics, Interacoustics, Sennheiser, Phonic Ear, and Logia. Its income is derived through its ownership of these shares in the Oticon Company. As one of the world's oldest foundations, the Oticon Foundation sponsors social and educational programs, publications, conferences, cultural activities, and campaigns for researchers, hearing care professionals, and the general public. The Foundation's statutes mandate that income be used to support the needs of hearing-impaired individuals, as well as organizations that serve people with hearing loss.
The Walter Reed Health Care System provides comprehensive health care for more than 150,000 soldiers, other service members, family members and retirees in the National Capital Area. Its hub is Walter Reed Army Medical Center, the clinical center of American military medicine.
---
GN ReSound Sponsors World Flight For Hearing
Stockholm, Sweden—World Flight for Hearing, sponsored by GN ReSound and other hearing care organizations worldwide, is a round-the-world flight in a light aircraft designed to draw attention to hearing impairment and to the assistive technologies that are available for hard of hearing people. The founder of the project is 28-year-old Johan Hammarström who, despite his severe hearing impairment, has become an experienced pilot. Hammarström has been joined by two friends, Henrik Ejderholm and Martin Håkansson, and plans to be the first pilot with a severe hearing impairment to complete a world circumnavigation in a light aircraft. Beginning and ending in Stockholm on March 2006 and October 2006, respectively, the objectives of World Flight for Hearing are to draw attention to hearing impairment; show the opportunities available with modern hearing instruments; inspire hearing-impaired people to reach their life goals; and assist in raising funds for hard-of-hearing organizations, as well as for chosen research projects related to hearing care.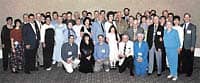 To track the progress of World Flight for Hearing, visit www.worldflightforhearing.com.
The project is reportedly being completed in close cooperation with commercial sponsors and those organizations that work for improving the education and lives of hearing impaired. The principal sponsor is GN ReSound, and other official partners include HRF (the national Swedish organization), for hard of hearing and one of the world's largest hard of hearing organization the International Federation of Hard of Hearing People (IFHOH), and more than 20 other hearing-related organizations.
---
ASHA Urges More Funding for National Children's Study
Rockville, MD—In late September, the American Speech-Language Hearing Association (ASHA) urged Congress to increase funding for The National Children's Study, an effort that will examine the effects of physical, chemical, biological, and psychosocial environmental influences on the health and development of children.
The idea for the study stems from the Children's Health Act of 2000 which authorized the National Institute of Child Health and Human Development to lead a consortium of relevant federal agencies in undertaking an ambitious long-term study of American children. Specifically, the study will follow a diverse cohort of more than 100,000 children from across the United States from birth until age 21.
First, though, the National Children's Study needs a funding increase, something that ASHA and others are working to bring about. Although it is projected that $69 million is needed for the study for 2006, the Bush Administration's budget proposal for the year is only $12 million.
"The planning is largely complete and the study is ready to be piloted," said ASHA President Dolores E. Battle, PhD, in a letter to Congress in September. "But beyond the pilot work, the future of this important study is uncertain." In addition, Battle noted that the cost of the study "is dwarfed by the cost of treating the diseases and conditions it can be expected to address."
Meanwhile, the planning for the study continues to advance. Also, in late September, six contracts were awarded to the first study centers, otherwise known as Vanguard Centers. It is hoped that each will be enrolling at least 250 newborns per year for five years, beginning in 2007.
For further information about the study, visit the Web site of the National Children's Study, www.nationalchildrensstudy.gov.
---
Specialized Neurons Allow Brain to Focus on New Sounds
St. Louis—A team of Spanish and American neuroscientists has discovered neurons in the mammalian brainstem that focus exclusively on new, novel sounds, helping humans and other animals ignore ongoing, predictable sounds, according to the University of Washington.
These "novelty detector neurons" quickly stop firing if a sound or sound pattern is repeated, but will briefly resume firing whenever some aspect of the sound changes, says Ellen Covey, one of the authors of the study and a psychology professor at the University of Washington. The neurons can detect changes in the pitch, loudness or duration of a single sound and can even detect changes in the pattern of a complex series of sounds, she said.
Covey and her colleagues, Dr. Manuel Malmierca of the University of Salamanca and doctoral student David Perez-Gonzalez, who is currently a visiting scientist in the UW psychology department, report their findings in the early December issue of the European Journal of Neuroscience.
The neurons are located under the cortex in a part of the brain called the inferior colliculus. Covey said the research implies that these cells can "remember a frequently occurring pattern and perform relatively sophisticated cognitive tasks such as discriminating a novel pattern from a frequently occurring one."
She said that, contrary to popular belief, the new findings suggest that some cognitive processes for sorting and identifying sounds occur very early in the auditory pathway, and that novelty detector neurons could be involved in directing attention to unexpected sounds, possibly evoking rapid reflex responses.
Novelty detector neurons seem to act as gatekeepers, preventing information about unimportant sounds from reaching the cortex, thus allowing people to ignore sounds that do not require attention.
"It is probably a good thing to have this ability because it allows us to tune out background noises like the humming of a car's motor while we are driving or the regular tick-tock of a clock," says Covey. "But at the same time, these neurons would instantly draw a person's attention if their car's motor suddenly made a strange noise or if their cell phone rang."
Because novelty detector neurons are somehow able to store information about a pattern of sound, they may also be involved in breaking down an ongoing stream of sound into segments and making predictions about what sounds are expected to occur next.
The research was done by studying neurons in the brains of rats, but Covey said similar neurons are almost certainly present in the human brain since they seem to be found in all vertebrates. Such neurons were noted in frogs years ago, but the new research for the first time pinpoints the novelty detector neurons in the mammalian brainstem.
She says these neurons provide a unique model that can be used in the future to explore some of the neural mechanisms underlying memory, prediction, and selective attention. Covey is particularly interested in the role of prediction in cognitive tasks such as bats' use of echolocation and humans' understanding of speech.
"Speech fluency requires a predictive strategy. Whatever we have just heard allows us to anticipate what will come next, and violations of our predictions are often surprising or humorous," Covey said. "Without prediction we would be listening syllable by syllable and we would not have an idea when a word began or ended. We want to know what are the neural processes that allow us to do this. We also want to know how the brain remembers a particular pattern of sound and to determine how much change in a sound is necessary for novelty detector neurons to identify a change."
The research was supported by the National Institute on Deafness and other Communication Disorders, the Spanish Ministry of Science and Education, and the Spanish Junta de Castilla Y Leon.
---
AuDNet Creates Practice Transition/Employment Program
Burnsville, Minn—AuDNet Inc has formed a coalition with the National Association of Future Doctors of Audiology (NAFDA) to assist in AuD students' transition from student to practicing Doctor of Audiology—either as an employee or practice owner. AuDNet's Practice Transition Program includes a national database of audiologist owners interested in either hiring audiologists and/or selling their practice to an audiologist. Audiologists and AuD students interested in employment and/or practice ownership can register with AuDNet by completing and submitting a 12-question electronic registration survey (found at www.zoomerang.com/survey).
"One of AuDNet's goals is to increase public awareness about audiology care and the expertise associated with audiology care," says James M. McDonald, vice president of professional relations for AuDNet. "Bringing students into the loop early will help to facilitate their entrance into our profession in a positive way and ease them into owning a practice when they are ready."
By completing and submitting the survey, any audiologist can register in AuDNet's confidential practice/employment database. AuDNet will help match not only employment opportunities, but also practice ownership opportunities. The organization also assists with financing resources for the purchase of a practice. Both owners of audiology practices and those with a desire to own a private practice may visit the AuDNet website at http://www.aud-net.com to complete the brief survey. For more information call AuDNet (800) 308-7290.
---
Oticon Pediatrics to Offer Phonic Ear FM Products; New Wireless Offerings Take Oticon Branding
Copenhagen, Denmark—The William Demant Holding (WDH) Group has announced that Oticon will add personal FM systems to the company's comprehensive line of pediatric hearing solutions, beginning April 2006, transferring the personal FM product line from sister company Phonic Ear to Oticon Pediatrics. The decision is said to reflect Oticon's increased commitment to the pediatric market which has grown significantly, a direct result of the success of infant screening initiatives and educational programs that mainstream hearing-impaired youngsters.
"We recognize the benefit to hearing care professionals and consumers of providing a full-range of hearing care solutions under one brand," says Niels Jacobsen, president and CEO of WDH. "Increasingly, hearing care professionals are looking for integrated solutions for children with hearing loss. With the addition of the new product line, Oticon Pediatrics will become a single source for optimal solutions for hearing-impaired youngsters—whether they are infants and toddlers in the home or young students in special education and mainstream classroom settings."
By combining new advances in wireless technology with Oticon's advanced technology and patient care philosophy, Oticon Pediatrics aims to make managing pediatric hearing care simpler and more effective than ever before, says the company. Going forward, Oticon will brand all new wireless solutions with the Oticon name.
Oticon's established line of state-of-the-art advanced technology hearing instruments and pediatric service and support programs, including the award-winning OtiKids, are well known by pediatric audiologists in private, clinic and school settings. The addition of wireless solutions is said to strengthen the company's ability to provide a full range of products, services, and support to children with hearing loss, their parents, and caregivers.
"We are working closely with our colleagues at Phonic Ear to ensure a seamless transition of the personal FM line to Oticon Pediatrics," says Oticon President Peer Lauritsen. "Our mutual goal is to continue to deliver the dedicated service and support that Phonic Ear clients expect. Key Phonic Ear pediatric managers will move to Oticon to enhance the customer support systems already in place in our pediatric division." In 2005, Oticon reports that it doubled the size of its sales and training staff, adding a number of new pediatric specialists and audiology support staff. To accommodate the newly expanded pediatric line, the company will immediately expand the Oticon Pediatric staff by one-third, according to the company.
With the transfer of its pediatric FM line, Phonic Ear will concentrate on growing the company's FrontRow Active Learning Division, which provides listening systems to improve speech intelligibility in the classroom for normal-hearing children and adolescents.
"The transfer of the personal FM systems enables Oticon to use its considerable strengths in pediatric hearing care to offer new technologies and services to hearing care providers," says Jacobsen. "At the same time, Phonic Ear will invest 42 years of experience in school and institution environments to meet the growing demand for enhanced speech intelligibility in educational settings."
---
John Deere Lends Name to Noise Cancellation Headsets
Pineville, NC—A John Deere Noise Canceling Headset will be available to homeowners and machine operators who wish to combat equipment noise. Manufactured by Outside the Box Inc, and designed for people operating lawn mowers, agricultural equipment, or other machinery, the headset features a proprietary noise-canceling algorithm for blocking ambient equipment noise. By identifying and silencing distracting noise, users can focus on the task at hand and help ensure their safety.
The headphones reportedly silence ambient equipment noise while providing increased hearing capacity for essential sounds like children, cars, animals, and human speech. A detachable audio cable prevents accidents should it get caught in machinery or another object. The headsets are 9 ounces and feature full-size swivel ear cups made from material that limits sweating. Battery life is approximately 35 hours. They will be available at select John Deere dealers and Lowe's Home Improvement stores this month.
"Noise cancellation is a need for our customers who regularly operate equipment around the home or on-the-job," says Dean Hamke, manager of licensing for John Deere. "Working with Outside the Box, we have created a unique headset that will benefit both the safety and enjoyment of our customers."
Outside the Box Inc also creates, develops, and markets its own line of noise-canceling headphones, including the Acoustic Isolation System™ and Plane Quiet™, RaceQuiet™, and Solitude™. For more information, visit ProTravelGear.com, RaceQuiet.com or call (704) 583-1100.
---

Sonus Appoints Quall as Senior VP; Holds Network Educational Summit
Minneapolis—Amplifon USA, owner of the Sonus and Miracle Ear dispensing networks, has appointed long-time industry figure Dan Quall, MS, as the senior vice president of the Sonus Network. The Sonus Network is reportedly the largest professional hearing care network in North America with more than 200 company-owned clinics and 1400 independent hearing solutions providers who are licensed Sonus Network affiliates.

In his new role, Quall's duties will include financial and retirement planning for Network members, business expansion, clinic development, and marketing. In addition to his new responsibilities, Quall will continue in his role as senior vice president of HearPO, a managed care division of Sonus, which provides contracting and patient referral services for the HearPO network of audiologists and hearing instrument specialists nationwide.

Quall led the development of the Sonus Greenhouse training department when Sonus was first founded in 1998. He also served as president of the Sonus Network from June 2002 until Sonus was acquired by Amplifon USA later that year. "Dan is one of the most experienced executives in the hearing health care industry, and we are excited to tap his expertise to further the Network's mission to be the premier provider of business consulting services to the independent hearing professional," says Robert Wabler, president of Amplifon USA.

Prior to joining Sonus in 1998, Quall was an audiologist in private practice for 18 years. Quall has participated extensively at industry conferences and trade shows, and served as chairman on the National Board for Certification in Hearing Instrument Sciences (NBC-HIS) from 1989-1993. Quall also received Hearing Instruments magazine's Distinguished Service Award in 1991. He received a bachelor of arts from Washington State University and an MS in communications disorders and audiology from Western Oregon State University.
---

Sonus Network Educational Summit Held
The announcement follows the Sonus Network Educational Summit hosted at the Paradisus Resort in San Juan, Puerto Rico, during late-September. The fifth annual educational summit, titled "Putting the Pieces in Place," was designed to provide Sonus Network members with the practice management tools to foster business success and deliver high-quality patient care.
This year's Educational Summit featured Michael Gerber, best-selling author and internationally renowned small business consultant, as the keynote speaker with his presentation "E-Myth Mastery: The Seven Essential Disciplines for Building a World Class Business." Attendees also earned CEUs through a number of practical workshops delivered by Amplifon USA executives, audiologists, and other experts.
"Ensuring each patient's unique lifestyle needs are put first is a cornerstone of Sonus' overall mission, and empowering Network members with a broad spectrum of practice management skills to deliver on this promise is important," says Quall. "I look forward to leveraging my experience to further the Network's patient-centered approach to hearing health care."
---
New ANSI Standards Published for Hearing Industry
Washington, DC—In November, the US Food and Drug Administration (FDA) published in the Federal Register the updated ANSI Standard "Specification of Hearing Aid Characteristics" (ANSI/ASA S3.22-2003), as well as the updated "Specificaiton for Audiometers" (ANSI/ASA 3.6-2004). The new ANSI standards are available for purchase through the Acoustical Society of America (http://asa.aip.org), who developed them. The standards became effective upon their publication in the Federal Register.
For information on the hearing aid standard and its differences with the previous 1996 standard, see George Frye's article, "Understanding the ANSI Standard as a Tool for Assessing Hearing Instrument Functionality," in the April 2005 edition of HR (pgs 22-27,79).
---
Starkey Foundation to Complete Six Missions
Eden Prairie, Minn—The Starkey Hearing Foundation recently completed six major hearing aid mission trips during November and December through which it provided more than 6,000 hearing aids (and batteries) to nearly 4,000 adults and children in five countries. The mission trips included stops in Guadalajara, Mexico; St. Domingo and Santiago, Dominican Republic; Cali, Colombia; Kingston, Jamaica; and sites in the United States.

William F. Austin, Founder of Starkey Laboratories and the Starkey Foundation.
"It's so important that people—friends, families, communities—are able to connect with each other fully, and the ability to hear allows them to do that," says William F. Austin, founder of the Starkey Hearing Foundation. "We're truly delighted to be able to help so many people in need throughout the world by giving them the gift of hearing, and we thank our partners and sponsors who are making these mission trips possible."
Mission trips are paid for by donations to the Starkey Hearing Foundation. Every year at the Foundation's annual "So the World May Hear" Awards Gala, attendees have an opportunity to bid during a live auction to fund a mission trip. Sponsors of these upcoming mission trips include several Audibel hearing aid offices that are together funding the Guadalajara mission; Rayovac, a leading battery manufacturer, and Sonion, a leading acoustical components manufacturer, who are together funding the Dominican Republic missions; Starkey Southeast, whose hearing aid customers joined together with Phil Morrell of the Morrell Foundation and are funding the Colombia mission; and Starkey's Canadian division, whose customers are funding the Jamaica mission. The Starkey Fund and the Foundation's Hear Now Project are sponsoring the US efforts.
Through these missions, nearly 4,000 adults and children will receive more than 6,000 hearing aids as well as training on hearing aid care and maintenance and a supply of hearing aid batteries. Since 2000, the Starkey Hearing Foundation has provided more than 130,000 hearing aids to those in need around the world. Visit www.sotheworldmayhear.org to learn more.
---
Researchers Restore Auditory Synapses with Cochlear Implants
Washington, DC—Scientists supported by funding from the National Institute on Deafness and Other Communication Disorders (NIDCD) have demonstrated that cochlear implants can restore the structure of synapses—the connecting space between neurons—along the auditory nerve in deaf cats. Because untreated congenital deafness is believed to cause permanent changes in the auditory system, this finding may explain why cochlear implants work best in young children before irreversible abnormalities occur. The research is reported in the December 2 issue of Science, and was conducted by scientists at the Department of Otolaryngology-Head and Neck Surgery and Department of Neuroscience at the Johns Hopkins University Center for Hearing and Balance.
In mammals with normal hearing, electrical signals generated in the inner ear travel along the auditory nerve to the auditory cortex, the part of the brain that interprets the signals as sound. When mammals are born deaf, the lack of electrical stimulation causes abnormal synapses to form at the endings of the auditory nerve. The presence of normal synapses is believed to enable the transmission of signals throughout the auditory system.
The Johns Hopkins team designed their experiments to compare the synapses of deaf cats whose auditory nerves are electrically stimulated by a cochlear implant to the synapses of deaf cats with no implants and cats with normal hearing. Previously, cochlear implants have been shown to improve hearing in the auditory cortex. The researchers found that, following stimulation, the synapses of deaf cats with cochlear implants closely resembled the synapses of cats with normal hearing, as opposed to the abnormal synapses found in deaf cats with no cochlear implants.
The researchers speculate that deafness in humans is characterized by, among other things, synaptic abnormalities, similar to those found in other mammals. As with the cats, synaptic changes in young deaf children are believed to occur after cochlear implantation and may play a role in the relative success of the implant.
---
Device Uses High-Frequency Noise to Drive Off Teens
As if teenagers didn't have enough hang-ups and complexes to overcome, The New York Times reported in November that Howard Stapleton from Barry, South Wales, United Kingdom, is developing an anti-teen loitering device called the Mosquito. The new device is designed to emit a piercing high-frequency noise that one teenager describes as "loud and squeaky and it just goes through you." However, most people older than 30 cannot hear it, according to Stapleton. A prototype has reportedly been tried with successful results by one convenience store retailer in Barry who sought to prevent teens from loitering in front of the store. "It was as if someone had used anti-teenager spray around the entrance," reports the article.
Stapleton, 39, says he named the device "Mosquito" because "it's small and annoying." He says that the inspiration for developing it came from a trip he made at age 12 to a factory that featured high-frequency welding equipment. When he complained about the excessive noise and wouldn't go into one room because of the painful sound, the grown-ups didn't believe him.
The device reportedly has not been tested by hearing experts.