SHHH Founder and Advocate Howard "Rocky" Stone Dies
Bethesda, Md – Howard E. "Rocky" Stone, the founder of Self Help for Hard of Hearing People (SHHH), died on August 13 at age 79 at Washington Hospital Center from complications of pneumonia.
Stone played a central role in giving a voice to hard-of-hearing people in North America and was also instrumental in formulating and promulgating hearing disability regulations. Stone founded SHHH in 1979 and volunteered as executive director of the organization until 1993. His goal was to establish SHHH as a membership organization run by people with hearing loss: "We provide information necessary for them to make choices, but emphasize the choice must be theirs," said Stone. "The challenge is to develop togetherness within diversity."
SHHH grew to become one of the nation's foremost membership and advocacy organization for people with hearing loss. The national support network includes the Washington, DC headquarters, 13 state organizations, and 250 local chapters.
Stone experienced a bilateral hearing loss at age 19 during his World War II service in the US Army. Following military service, he graduated from the University of Southern California and completed one year in the master's program at the Johns Hopkins School of Advanced International Studies. He then spent 25 years in federal service with the Central Intelligence Agency, working as the chief of the Soviet Block Division. He earned the Agency's highest award.
He founded SHHH in 1979 and served as its executive director. In 1988, he was appointed by President Reagan to the "Access Board," which drafted the accessibility guidelines for the landmark Americans with Disabilities Act of 1990. Stone was instrumental in ensuring that the communication access needs of people who are hard of hearing were written into the guidelines. In 1990, he was appointed by the Secretary of Health and Human Services to the advisory council of the National Institute on Deafness and Other Communication Disorders (NIDCD) at the National Institutes of Health.
After retiring from SHHH in 1993, Stone served as president of the International Federation of Hard of Hearing People and as a trustee of Hearing International and the Cochlear Implant Association International. Additionally, Stone was founder, volunteer, consultant, and chair of various organizations and committees dedicated to meeting the needs of people with all disabilities, particularly hearing loss, including the important hearing care and educational organization, Teamwork. He continued to serve as SHHH executive director emeritus.
In 1991, he was awarded an honorary doctorate from Gallaudet University where he served on the board of the Gallaudet Research Institute.
Stone is survived by Ahme, his wife of 53 years, four children and 10 grandchildren, as well as two sisters. For more information on Stone, see www.hearingloss.org.
---
Widex Hosts 3rd Pediatric Audiology Conference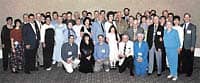 Copenhagen, Denmark – Over 400 hearing care professionals from over 40 countries gathered in May for the 3rd Widex Congress of Pediatric Audiology. Lectures and workshops formed the basis for three informative days spent with colleagues representing every area of practice within pediatric audiology.

More than 400 hearing care professionals from 40 countries attended the Widex Congress of Pediatric Audiology Conference. Many of the attendees are shown here at historic Kronberg Castle, which is associated with Shakespeare's Hamlet.
The panel of speakers was carefully selected to offer a comprehensive insight into key issues that concern today's pediatric audiologist. Topics ranged from the identification of hearing loss and diagnostic methods, to habilitation and counseling. The diverse mix of pediatric experts gave the participants the possibility to gather insight into each other's conceptual frameworks and pediatric fields. These included:
• Andrée Durieux-Smith, PhD, of the University of Ottawa, and Michael Gorga, PhD, of Boys Town Research Center, spoke on the importance of early hearing screening and intervention and provided the audience with cost-related and ethical criteria for a successful universal newborn hearing screening program.
• Yvonne Sininger, PhD, UCLA, and David Stapells, PhD, University of British Columbia, discussed the efficiency of using ABR and ASSR for infant hearing assessment. They discussed the similarities of the two measuring methods in terms of speed and accuracy.

Francis Kuk, PhD, of Widex speaks on the various verification tools used with children in non-linear hearing aid applications.
• Francis Kuk, PhD, from the Widex Office of Research in Clinical Amplification in Lisle, Ill, discussed verification tools that are used with children, especially in nonlinear hearing aids such as real-ear measurements and sound-field measures.
• Jacqueline Stokes from Auditory-Verbal, UK, gave an introduction to Auditory Verbal therapy with the expectation that young children with hearing loss can use technologically assisted hearing in order to learn to listen and to speak.
• James C. MacDougall, PhD, McGill University, Canada, addressed the need for appropriate early communication intervention and discussed the social and emotional issues which arise in the context of early development of the hearing impaired child. He addressed the importance of looking into the psychological issues of habilitation, especially regarding family support.
Widex launched its first Congress of Pediatric Audiology in 2000 and has since then made a targeted effort to become a significant center for the dissemination and exchange of knowledge in pediatric audiology in order to help bring the pediatric field forward and ultimately help the world's hearing impaired children. The 4th Widex Congress of Pediatric Audiology will take place in Ottawa, Canada, in the spring of 2006.
---
Hearing Instrument Sales Continue Double-Digit Pace
Alexandria, Va – Hearing instrument sales in the second quarter of this year continued at a hot pace, according to statistics compiled by the Hearing Industries Association (HIA). US net unit sales of hearing aids dispensed during April through June totalled 538,080 units compared to 481,910 units in the second quarter of 2003, representing an 11.7% increase. First quarter sales were up by 13.6% for a net unit total of 517,916 units.
When looking at dispensing activity for the first-half of the year, a total of 1.06 million hearing aids were sold—the first time in industry history that the 1-million unit mark was passed at mid-year. Units dispensed for the first half of 2004 were 12.6% above 2003 levels. The industry has now witnessed five quarters of positive sales, following a period of almost 5 years of flat unit volume growth.
Behind-the-ear (BTE) instrument sales made remarkable gains in the first half of 2004. Fueled by the movement to directional microphone technology and the versatility of these aids, BTEs have risen from 23.7% of the market in 2003 to 26.0% at mid-year 2004. BTEs comprised only 19.6% of the market 5 years ago. It is interesting to note that, in the HR Dispenser Survey, dispensing audiologists reported that 29% of the hearing aids they dispensed were BTEs, while hearing instrument specialists reported that 12% of their sales were BTEs (see June 2004 HR, p 30).
Although the unit volume gains reported by HIA are excellent news for the industry, quarterly unit volume growth will likely return to more incremental gains in the second half of the year due the very strong quarterly sales statistics posted in the second-half of 2003 (ie, sales should remain strong, but the percentage gains will not be as dramatic compared to the same quarter of the previous year).
---
Clarity Dedicates New Headquarters in Chattanooga
Chattanooga, Tenn – Business and community leaders gathered in August for the official dedication of the Clarity global headquarters, a leading supplier of products for the hearing loss community. Clarity, a division of Plantronics, Inc (NYSE: PLT), consolidated its Garden Grove, Calif, facility and moved all operations to its renovated Chattanooga home earlier this year.
"By consolidating Clarity under one roof in our Chattanooga headquarters, we are now well-positioned to further advance our cutting-edge technological capabilities and our reach," says Carsten Trads, Clarity president and a long-time hearing industry figure. "We are pleased to be a part of this community and look forward to becoming even more involved with the people and businesses here."
Consolidating Clarity's operations added 23 full-time positions to the Chattanooga headquarters. Clarity now employs 45 people in its 14,000-sq-ft facility, which recently underwent a large-scale renovation, including total reconstruction of the company's call center.
"Clarity is a fast-growing, integral part of Plantronics, Inc, and an innovator and market leader in its industry," says Plantronics President and CEO Ken Kannappan. "Clarity products significantly improve the overall quality of life for people with hearing loss. Our reliable, attractive, technologically original products offer effective solutions to issues faced by this ever-growing population."
---

ADA Rides to Tucson in October for "Audiology Roundup"
Columbia, SC – The Academy of Dispensing Audiologists (ADA) will hold its "Audiology Roundup" convention and exhibition October 13-17 at the Hilton El Conquistador hotel in Tucson, Ariz. As is the tradition of ADA, the conference is intended to present members with information that they can "use on Monday morning," while also providing time to network and gain insights from colleagues who work largely in private practice settings. The convention also offers a full exhibit floor in which attendees can see the latest product and service offerings in the hearing industry, as well as several "Gabfests" that are designed to share attendees' perspectives about a specific topic.
On Wednesday, October 13, two all-day pre-convention workshops will be offered: "Branding the Doctor of Audiology Degree" will be presented by the brand strategy firm of Parker LePla and is offered free-of-charge to members from funds generated by AudNet; and "Cerumen Management Workshop." Thursday, October 14, offers the ADA's Opening Ceremonies, a wide range of seminars, and the ADA's Opening Night Party. Friday, October 15, will feature a full morning of interesting seminars, followed by the annual AFA Golf Tournament, as well as the Mentoring Program for AuD Candidates which is held by Past-Presidents Jim McDonald and Bob Manning. The convention concludes on Saturday, October 16, with another full day of excellent seminars, culminating in the Academy's annual banquet.
For more information on attending the convention, visit www.audiologist.org or contact ADA at (800) 445-8629.
---
CID Donates Historic Collection to Becker Medical Library
St. Louis – One of the nation's best historical collections of hearing aids is moving. The Central Institute for the Deaf (CID) has donated the CID-Max A. Goldstein Historic Devices for Hearing Collection to the Washington University Bernard Becker Medical Library. The collection, started by Max Goldstein who founded CID in 1914, contains over 350 hearing devices dating back to 1796.
The collection includes an acoustic mourning fan made of black silk, an animal horn trumpet with elaborate silver engravings, and a gold-plated bouquet holder with elaborate filigree work. It also includes carbon hearing aids, the first hearing aid incorporated into eyeglasses, and an early model of a cochlear implant. Many of the aids are the only ones known to still exist. Included in the display is CID's "Deafness in Disguise" display, which traces the evolution of devices disguised as everyday items from the 19th and 20th centuries (a virtual counterpart to this exhibit can be viewed at http://becker.wustl.edu/ARB/Exhibits/cid/).
---

Phonak to Hold 3rd International Pediatric Conference
Warrenville, Ill – The Third International Pediatric Conference, "A Sound Foundation Through Early Amplification," sponsored by Phonak will be held November 4-6 at the Hyatt Regency Hotel in Chicago. The conference, which draws an impressive array of experts in the field of pediatric audiology, focuses on maximizing the use of residual hearing in infants through the provision of early amplification.
General topics for this year's conference include assessment, selection, verification, and validation of hearing instrument fitting, hearing instrument technologies, communication development, and family perspectives. New to this year's conference is a clinician's forum with case studies in pediatric assessment, amplification, and communication development.
The conference is chaired by Richard Seewald, PhD (Canada), and includes Drs. John Bamford (UK), Patricia Stelmachowicz (USA), Eva Orzan (Italy), Judith Gravel (USA), Melody Harrison (USA), Anne-Marie Tharpe (USA), Kevin Munro (UK), Patricia Roush (USA), and Andrea Bohnert, MTA-F (Germany), Stefan Launer (Switzerland), and Ora Buerkli-Halevy, MSc (Switzerland).
On Saturday (November 6), four post-conference pediatric audiology workshops will be held respectively on the topics of electrophysiology measurements (ASSR), electroacoustic verification, rehabilitative strategies for the audiologist, and counseling for success. The workshops are offered twice during the day so that attendees can elect to attend more than one of the workshops. Additionally, a tour of the Phonak US headquarters and manufacturing facility is available.
For more information, visit the Phonak Web site at www.phonak.com, or contact Liz Brassine at (800) 777-7333; email: [email protected].
---
ATA Appoints Hopmeier and Salvi to Leadership Positions
Portland, Ore – The American Tinnitus Association (ATA) recently installed W.F. Samuel (Sam) Hopmeier of Chesterfield, Mo, as chair of the organization's Board of Directors and Richard Salvi, PhD, of the State University of New York (SUNY) at Buffalo as chair of its Scientific Advisory Committee. Both positions run for 2-year terms.
ATA Executive Director Cheryl D. McGinnis says Hopmeier brings a wonderful breadth of experience to the board position. The all-volunteer board guides strategic and financial planning. The ATA is reportedly the only national nonprofit dedicated to helping people live with tinnitus, a condition that is frequently associated with ringing in the ears. The organization also funds basic research that increases scientific knowledge vital to the development of medical treatment and cures for tinnitus.
"Sam has been a hearing instrument specialist for over 37 years, helping his patients deal with hearing loss and tinnitus," says McGinnis. "He is certified by the National Board of Certification in Hearing Instrument Sciences. He is known for his compassion as much as for his professional skill. Among his peers, he has long been regarded as a leader whose involvement on boards and projects helps ensure success." Among many professional activities, Hopmeier has been an ATA member for 15 years and recently served as president of the International Hearing Society. In 1999, he received The Hearing Review's Professional Leadership Award.
Richard Salvi, PhD, will chair the Scientific Advisory Committee (SAC) which reviews grant applications for the ATA, awarding monies twice a year for tinnitus-related research. Dr. Salvi's research at SUNY-Buffalo focuses on neural activity changes in the brains of rats after tinnitus has been introduced through the use of aspirin (sodium salicylate). The 2-year study, funded by ATA, may lead to greater scientific understanding of how certain drugs cause tinnitus, and to better treatments for people who experience drug-induced tinnitus. Dr. Salvi has been a member of ATA's Scientific Advisory Committee for 4 years.
Approximately 1 in 6 Americans, or 50-million people, experience tinnitus. Roughly 12 million of those people seek medical help to manage extreme symptoms, such as depression, loss of sleep, and difficulty concentrating. ATA is a national nonprofit charitable organization dedicated to advancing tinnitus research, and to helping tinnitus patients and the professionals who treat them. For more information, visit www.ata.org.
---
Sebotek Expands Distribution to UK, Ireland, and Holland
Tulsa, Okla — Sebotek® Hearing Systems has expanded its distribution of its Voice-Q™ Post-Auricular Canal (PAC) style hearing instruments to England, Ireland, and Holland.

Sebotek recently announced several distribution agreements in Europe, with the first being Progress Hearing of The Netherlands. Above Progress Hearing's Managing Director John Scholte and Sebotek's International Business Manager Brian Hill.
Progress Hearing B.V. of Rotterdam, The Netherlands, signed a distribution agreement with Sebotek in late June, becoming the company's first European distributor. "This is an exciting time for SeboTek" says Sebotek International Business Development Manager Brian Hill. "With recent attainment of our CE marking, SeboTek can now bring to Europe the benefits of deep-canal fittings in a practical, same-session, personalized fit."
"The response to the new PAC style hearing instrument has been spectacular, and we at Progress Hearing look forward to introducing this exciting new design throughout the Netherlands," says Progress Hearing's Managing Director John Scholte.
In July, Lavis Medical Systems, Bradworthy, Devon, UK, signed a distribution agreement with SeboTek to become the first European manufacturer to distribute PAC hearing instruments. "The SeboTek PAC style fits naturally with our extensive experience in deep-canal fitted products," says Paul Lavis, managing director of Lavis Medical Systems. "The design is ideal for modernization of the hearing aid service delivery model."
"Lavis Medical Systems' representation in the UK and Ireland expands our ability to bring to Europe the benefits of deep-canal fittings in a practical, same-session, personalized fit," says Hill. Helen Belcher, audiology manager for Lavis reports that response to the new PAC-style hearing instrument "has been fantastic during pre-market introduction training programs."
---
ASHA Joins WCHH Project
Rockville, Md – The American Speech-Language Hearing Association (ASHA) reports that it has signed on as a founding member to the Deafness Research Foundation's (DRF) World Council on Hearing Health (WCHH). "ASHA is committed to the prevention of hearing loss and excited to join forces with WCHH to conduct global outreach for hearing health," says audiologist and ASHA President Larry Higdon, MS.
According to WCHH, 10% of the world's population is affected by hearing loss. It is projected that, by 2015, more than 700-million people worldwide will have some form of hearing loss. A major objective of WCHH is to establish, endorse, and promote a simple "Gold Standard for Hearing Health" and bring it to the public, in the United States and abroad, as a way for people to prioritize their hearing health, just as they do their dental and mental health.
Some of the goals of WCHH are to focus on the platforms of prevention, detection, intervention, and research, with the goal to make a lifetime of hearing possible for all. As a founding member, ASHA has contributed funding to support WCHH activities and programs and will provide assistance to WCHH established projects like the Hearing Healthy Vans program and future conferences.
"We are proud to align with ASHA as one of our newest members," said Nick Laperle, chairman of the WCHH and president and COO of Sonomax Hearing Healthcare Inc of Montreal, Canada. "As the WCHH continues to grow, we have more opportunities to increase awareness of our mission worldwide." WCHH plans to have corporations, educational and medical institutions, associations, and government agencies concerned with hearing health as members.
To educate the public on the importance of hearing health in everyday life, WCHH will launch a multimedia outreach campaign using television, radio, newspapers, the Internet, public service announcements, and corporate cause-related sponsorship programs. The culmination of WCHH's activities will be the first ever "World Summit on Hearing Health", planned for 2006. The event will be a forum for global public health, medical and government leaders to join with corporate leaders and consumers to establish goals on ending hearing loss and permanently reducing the number of people affected by it.
WCHH was formed in April of 2004, and is the advocacy arm of Deafness Research Foundation (DRF). Founded in 1958, DRF has served as the venture capital arm for hearing research, granting more than $22 million for hearing research to over 1800 investigators. For more information on the WCHH, see the March 2004 HR, p 12 or contact (202) 289-5850; Web site: www.wchh.com.
---
Panasonic Chooses DSP Factory as Chip Supplier
Waterloo,. Ont – Panasonic Hearing Instruments, Hong Kong, has selected Dspfactory Ltd's Toccata Plus digital signal processing (DSP) chip for its AYA Plus series of hearing aids which are sold primarily in Japan. Dspfactory is a leading provider of low-power DSP technology for digital hearing aids, wireless headsets, and other portable audio devices.
"We were impressed by the flexibility of Toccata Plus," says Masami Kawabuchi, president of Panasonic Hearing. "We've developed some very sophisticated technology to make AYA Plus uniquely suitable for the Japanese market. Toccata Plus had the versatility to do what we needed to give our hearing aid users an outstanding listening experience."
Toccata Plus has an open system architecture designed for easy configuration and intended to give hearing aid manufacturers a proven and highly adaptable platform to quickly deliver superior sound quality. The company reports that one-third of the world's largest hearing aid manufacturers rely on this chip to make communication easier for hearing aid wearers.
Dspfactory's DSP-based audio systems are specifically designed for devices where exceptional sound quality, ultra-low power consumption, and miniaturization are critical design requirements. Toccata Plus is being supplied to Panasonic through Dspfactory's Tokyo-based distributor, JEPICO Corp, which announced a partnership with Dspfactory in February.
---
BHI Physicians Referral Program to Add 15,000 Unit Sales in 2004
Alexandria, Va – Better Hearing Institute (BHI) Executive Director Sergei Kochkin, PhD, presented a study at the recent International Hearing Society which shows that the BHI Physicians Referral Program will generate 15,000 more unit sales of hearing aids in 2004 for a total additional retail revenue of $29 million. The program was used by 1,729 hearing care offices in 2003. The average participating office (ie, the ones that have followed the program instructions) is estimated to have generated an average of $17,000 more in revenues from referrals. The study is based on a large number (784) of practices over a 36-month period.
For more information on the BHI Physicians Referral Program, visit the organization's Web site at www.betterhearing.org.
---
Wall Street Journal Publishes Second Article on Hearing Aids
New York City – The Wall Street Journal's August 9th edition carried an article by Joseph Hallinan entitled "Sounds of Silence" which outlined the range of social and emotional benefits of hearing aid use.
In contrast to a March 24th article ("Noisy Debate Over Hearing Aids: Why So Expensive?", see April HR News, p 10) which had as its emphasis over-the-counter (OTC) hearing aids and pricing issues, this article appeared to incorporate much of the unpublished responses to the first article, and also detailed the importance of accessing qualified hearing assistance, quality of life issues, and the risks of people who elect not to seek help for their hearing problems.
---
Corrections
• In the May 2004 HR article, "A Clinician's Encounter with the Auditory Steady-State Response (ASSR)" by Ted Venema, PhD, the caption in Figure 1 on p. 26 should read: "Comparison of MLR and 40 Hz steady state response in a subject age 40." In the same article, point #3 on page 71 should refer to Figure 10, not Figure 12.

• In the June 2004 HR Industry Personalities, the Unitron Hearing staff announcements applied to Unitron Hearing's US office, not the company's Canadian office.

• In the June 2004 HR article, "2004 Dispenser Survey" by HR editor Karl Strom, the number of first-time users in 2003 stated on p. 22 should have read 529,000, not 331,000. Additionally, on p. 58, Figure 33, the price for DSP aids in 2002 is incorrectly printed as $2,389; it should be $2,159.