Digital Hearing Instruments
GN ReSound announces the completion of the Canta4 product family with the introduction of the Canta 4-430 ITC and the Canta 4-410 CIC. Both instruments feature Digital Cochlea Dynamics sound processing, 14 band noise reduction, and digital feedback suppression. The ITC provides two environmental programs accessed by a push button, while the CIC is a single memory instrument.
---

New Product Designation
Hearing Aid Telephone Interconnect Systems (HATIS), Walnut Creek, Calif, announces their European Union (EU) CE-Mark compliance and designation. The CE-Mark is the official European symbol required by the EU for all electric and electronic equipment sold or placed into service for the first time. HATIS is an assistive communications technology solution that is designed for individuals wearing behind the ear, telecoil (T-coil)-equipped hearing aids in need of distortion-free audio clarity while using the telephone.
---

Live Speech Mapping
MedRx, Seminole, FL, offers the OtoWizard counseling and fitting system, which incorporates a tympanometer designed for easy use. The hand-held tympanometer downloads data to the system by infrared, removing the clutter of cables. The system also incorporates a live speech mapping feature, which monitors live speech input while a hearing instrument is programmed. The aided response can be further explored by using ICRA simulated speech signals or an audio CD.
---

Digital Sound Processing
Rexton, Plymouth, MN, offers the Sensation 100% digital hearing instrument. Available in a range of models, the instrument incorporates 100% digital sound processing in up to three independently programmable memories, including telecoil. Two independent gain controls (high frequency and low frequency), two channel wide dynamic range compression, and two channel AGC-I with adjustable kneepoint are all designed to maximize the hearing healthcare professional's ability to fine-tune the instrument. Other features include a programmable telecoil, volume control, microphone noise reduction, manual notch filter system, power-on delay and low battery alert tones.
---

Wax Guard System
Oto-Med™ Technologies, Casselberry, FL, distributes the Ridwax™ barrier system, which is designed to protect hearing instruments from cerumen damage. The system has a rotational barrier door for easy maintenance. The acoustically transparent door also comes color coded for identification of the left and right ear.
---

Universal Fit CIC
Audio 'D,' Scarborough, ME, offers the Fit-n-Fly Series, a family of universal fit CIC products. Using the foam ComplyTM Snap Tips, the series can reportedly fit approximately 70% of all ears. According to the company, the instrument is ideal for fitting ears which are typically difficult to fit with CICs, including those ears with excessive mandibular motion, because the instrument is designed to conform to the shape of the ear canal.
---

Amplified Cordless Phone
HARC Mercantile Ltd, Kalamazoo, MI, offers the Dialogue CL40 amplified cordless phone. The amplifier reportedly increases sound up to 100 times (40 dB) with an adjustable tone control for clarity. The phone features 900 MHz technology for extended range and an audio jack to accommodate the optional headset or a cochlear implant.
---

DSP Instrument Line
Oticon Inc, Somerset, NJ, introduces the Adapto, a fully digital hearing instrument that automatically detects and prioritizes human voice over other sounds in the environment, according to the company. The instrument's VoiceFinder technology is said to immediately detect human voice sounds and processes them for better understanding. Adapto's Dynamic Feedback Cancellation System and special design allow for a more open fitting, so that users can enjoy sound quality and a more natural perception of their own voices. Oticon has developed a comprehensive training video that many professionals have used for their own introduction to Adapto and the Genie software, and for training sessions with staff. Recently, the company has also expanded the number of training seminars to meet increased requests from professionals.
---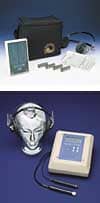 Digital Microphone
Microtronic, Minnetonka, Minn, introduces the 7466 digital microphone, featuring a combination of the 9000 series cartridge and the latest in A/D/ converter ASIC design. The 7446 also has an unformatted serial digital bitstream output signal, which allows hearing instrument designers to format the data to their own system requirements. The product contains EMI suppression and is compatible with digital/DSP systems.
---

DSP Instruments
Miracle-Ear Inc, Plymouth, Minn, introduces 3 new DSPs: The Confidante, the Interpreter, and the Interpreter II. The Confidante is a 2-channel device with adjustable gain, threshold kneepoint, crossover frequency, and frequency response shaping; the 4-channel Interpreter has those same features, as well as selectable compression type, microphone noise reduction, and a speech detection noise reduction system; the Interpreter II is a 4-channel, 8-band instrument with all of the above features, in addition to programmable volume control and a speech enhancement system.
---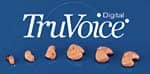 Sound Chamber
Frye Electronics, Tigard, Ore, introduces the 6050, an improved sound chamber to go along with the company's FONIX 6500-CX Hearing Aid Test System. The new chamber contains a number of improvements over the earlier 6020 version, including improved isolation from external noise and vibrations; improved internal physical layout with a larger, flatter hearing aid surface; a woven fiber screen on the internal surface; and a relocated battery pill module with the addition of the #5 battery.
---

Swimmers Plugs
Magnatone, Casselberry, Fla, is extending its Swimmers plugs, Custom BTE Ear Molds, Musician's Ear Plugs and hearing protection ear plugs accessory lines. Magnatone Swimmers plugs are available in blue, black, red, green, orange, white, swirl and yellow colors. Magnatone BTE Custom Ear Molds are featured in eight styles, manufactured from a variety of materials to fulfill individual needs, including Acrylic, UV Lucite for allergies, Silicone (clear) for allergies, MagnaFlex translucent and Acrylic w/flex canal. Soon to be available is a fiber camouflage ear mold for greater concealment.
---
Digital CIC
Phonak Inc, Warrenville, Ill, announces the expansion of its Claro line of hearing aids with the introduction of the Claro 11 CIC, a completely-in-the-canal instrument that is a supplement to the Claro in-the-canal, half-shell, and behind-the-ear models. The newly-designed microphone in this device reduces the risk of electromagnetic interference. The CIC is also built around a processing chip that only requires half the size and power consumption of the original model, thereby allowing for a reported battery life of up to 2 weeks. In addition, the microphone has been modified to allow signal processing to be digitized from microphone to receiver.