AAA features Secretary of HHS Tommy Thompson & rocker Huey Lewis

Secretary of Health and Human Services Tommy Thompson is presented to AAA attendees by Academy President David Fabry.
San Diego, CA — The American Academy of Audiology (AAA) convention enjoyed the power of government and the "Power of Love" with the one-two punch of Secretary of Health and Human Services (HHS) Tommy Thompson and rock-and-roller Huey Lewis as the Academy's 2001 keynote speakers. Secretary Thompson—who holds one of the most powerful seats in the Federal government as head of an agency that has 63,000 employees and spends approximately $1.5 billion per day—addressed AAA members on numerous issues including the necessity for more hearing science funding and the need for modernizing the Health Care Financing Administration (HCFA) and making that agency more responsive. Thompson, who was known for his "straight-talk"as governor of Wisconsin during the last 14 years, offered several candid observations on Washington politics, issues relating to reimbursement, his own hearing loss, as well as how hearing health care plays a crucial role in people's lives. "Your organization does so much good," said Thompson. "I didn't recognize what a great handicap it is not to hear until I had [a hearing problem] myself."

Huey Lewis (ctr) spoke about his experiences with sudden hearing loss. He is pictured with his audiologist, Robert Sweetow, and Academy President Fabry.
Huey Lewis, best known for his songs Power of Love and The Heart of Rock and Roll, told of his experiences with a sudden hearing loss three and a half years ago while duck hunting. After seeking help from a general practitioner, ENT, chiropractor, acupuncturist, radiologist and neurosurgeon, Lewis eventually visited audiologist Robert Sweetow at the Univ. of California-San Francisco. Lewis' hearing problem has now subsided. "I think it's because I agreed to speak to you folks," Lewis joked.
This year's AAA convention was attended by more than 7000 hearing care professionals and is thought to have been the largest gathering of audiologists in the history of the hearing care field. For more information on the AAA convention, see the upcoming June issue of HR.
---
AFA sponsors seek symbol for audiology
West Lafayette, IN — The Audiology Foundation of America (AFA) is inviting audiologists to participate in a contest to design a symbol for the profession. Many professions have a distinct symbol, and the AFA is currently seeking designs that would best represent audiology.
A committee comprised of leaders of the AAA, ADA, AFA and other professional organizations will choose three semifinalists from the entries that are submitted. An artist will then design a symbol using one or a combination of the semifinalists' entries, and a prize will be awarded to each of the semifinalists. The contest deadline is June 15. For contest rules and entry forms visit the AFA's web site at www.audfound.org.
---
Dozier to lead GN ReSound North American operations
Chicago — Alan P. Dozier has been named executive vice president and group president for GN ReSound North America by President and CEO Jesper Mailind. Dozier will be responsible for all of the group's businesses in North America, including Beltone (U.S. and Canada) and GN ReSound North America. Along with Mailind, he will also form the executive management team for GN ReSound Group, which is reportedly the second-largest manufacturer of hearing instruments in the world.
Dozier has a BA in Economics from Washington and Lee Univ. and received his MBA from the Univ. of Georgia in 1978. Since 1994, he managed Bausch & Lomb's U.S. pharmaceuticals business, then ran that company's North American Vision Care business. He was most recently the president and CEO of a start-up Internet business. Dozier will work from the company's North American headquarters in Chicago.
Also appointed to the company's management team was Richard B. Davis and Tim Joseph. Davis will assume the role of vice president of human resources for North America, while Joseph has been appointed senior vice president of US operations, responsible for the companies production facilities in California, Illinois and Minnesota. The two men join the North America Management team of Dozier, Jan Metzdorff, managing director of Beltone Canada, and Carsten Trads, president of GN ReSound North America.
---
Phonemic Regressives & Phonemic Aggressions tie in Siemens Trivia Bowl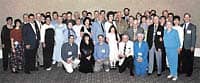 San Diego, CA — There must be something in the name. This year's Siemens Trivia Bowl, held at the conclusion of the AAA Convention and attended by about 1000 audiologists, had a surprise ending as two teams—the "Phonemic Regressives" and the "Phonemic Aggressions"—tied for first place. The annual Trivia Bowl tests participants' technical knowledge and familiarity with amusing anecdotes about members of AAA.
The Phonemic Regressives (pictured above), who are Trivia Bowl perennial champions (and last year's winners), now hold the record for most wins during the 12-year history of the event. This year's winning team members were Jay Hall (captain), Susan Boyle, Mike Metz, Wayne Staab, Mary Lou Luebbe-Gearhart, Georgine Ray, Frank Musiek, Debbie Monarieff and Krista and Bob Traynor. The Phonemic Aggressions team was composed of John Greer Clark (captain), Todd and Jane Porter, Steve Miller, David Kirkwood, Jayne Rayman, Dennis Colucci, Maggie Hamilton, Cathie Richards and Carol Flexer.
The "Cochlear Avengers" took second place and the "Trapezoid Bodies" won third place. A new student-team category was established this year and won by "Aud-acity Returns," also known as "Audibly Better," from Central Michigan State Univ. This year's winning team for most creative name was "Hidden Wax, Crouching Q-Tip."
Siemens President and CEO Paul Erickson presented a donation in the name of the winning team to AAA President David Fabry for educational purposes.
---
United Hearing Systems joins HIMSA
Central Village, CT — United Hearing Systems (UHS) has announced that it has joined the Hearing Instrument Manufacturers' Software Association (HIMSA). "We are very excited about joining the family of HIMSA members," says company president Ralph T. Campagna. "This will allow us to introduce our digital and programmable products to a greater number of audiologists and dispensing professionals."
UHS is a manufacturer and distributor of in-the-ear and behind-the-ear hearing instruments. The company recently moved and expanded its headquarters and factory in Northeastern Connecticut.
---
House Ear Institute awarded grants for hearing science research
Los Angeles — Scientists and physicians at the House Ear Institute (HEI) were awarded nine different research grants, totaling more than $10 million in the first quarter of 2001. All grants will fund scientific research in studies that contribute to advancements in hearing health.
The largest grant came from the U.S. Army for the study of Neurofibromatosis Type II (NF2), a genetic disease which causes the development of multiple tumors on both auditory nerves. HEI's study will assess how NF2 affects the hearing, balance, sensation and movement systems and the patient's quality of life.
Six of the nine grants awarded to HEI came from the National Institutes of Health (NIH) for hearing health studies, ranging from cell and molecular biology to post-treatment patient training. Xi Lin, PhD, received funding for his multi-disciplinary study of the molecular mechanisms of cochlear efferent functions. Xiaoyan Cindy Li, MD, PhD, received NIH funding to map and clone genes responsible for hereditary hearing loss, and also received funding from the American Otologic Society (AOS) for her molecular genetic study on otosclerosis.
NIH awarded grants for several other HEI scientific investigations, including research on perceptual experience and spoken words (Edward Auer, PhD), effects of training on adult cochlear implant users (Qian-Jie Fu, PhD), a novel method for targeted gene disruption in the ear (Andrew Groves, PhD) and time intensity patterns in electrical stimulation (Bob Shannon, PhD).
The National Organization for Hearing Research (NOHR) awarded two separate grants to HEI scientists this year. Neil Segil, PhD, and Andrew Groves, PhD, received funding for their study titled, "Sensory Hair Cell Progenitors in the Mammalian Inner Ear: Isolation, Molecular Characterization and Therapeutic Manipulation." Paul Webster, PhD, received a grant for his project on "Cellular Molecular Mechanisms of Bacterial Persistence in Recurrent Otitis Media." For more information on HEI research, as well as a summary by Segil & Groves on their research, see the March 2001 issue of HR.
---
HEARx commits to distributor relationship with major hearing instrument manufacturer
West Palm Beach, FL — HEARx has announced that "a major hearing instrument manufacturer" has agreed to supply up to 90% of the company's hearing instruments in exchange for a $7.5-million, five-year line of credit to HEARx. The agreement stipulates that, in each year, as long as the 90% commitment is achieved, 20% of the indebtedness (principle and accrued interest) under the line of credit will be forgiven, without cash payment by HEARx to the manufacturer, according to the company.
The agreement was announced as this issue of HR was going to press, and the identity of the hearing instrument manufacturer involved could not be verified. HEARx maintains approximately 80 centers located in California, Florida, New York and New Jersey.
---
Audioscan recognizes top distributors at AAA convention

San Diego, CA — Al Moore, of Dahlberg Sciences, Inc., Kitchener, ON, received the top awards at the recent Distributor Sales Award breakfast sponsored by Audioscan, div. of Etymonic Design, Inc. Moore received the "Highest Sales Above Target by a North American office in 2000" award from Audioscan President William Cole (pictured r). Grason Stadler, Chapel Hill, NC, received Audioscan's award for "Highest Sales by a U. S. Regional Office." The Dahlberg Sciences, Inc. office of Kitchener, ON, also received the "Highest per Capita Sales by a North American office in 2000" award. It was bestowed on Linda Byrd.
Don Atchison, of MSR West, Farmington, UT, received Audioscan's "Most Valuable Partner Award in 2000." Bonuses were also awarded to distributors.
---
Univ. of Illinois and Phonak work on joint technology project
Champaign, IL — Scientists at the Univ. of Illinois (UI) recently signed an exclusive licensing agreement with Phonak Inc. to commercialize an "intelligent hearing instrument system," according to the university. The technology is designed to spatially separate sounds and process them in a way much like the human brain. The new technology has been developed to allow a person to focus on surrounding conversations and hear the speaker clearly.
A key feature of the system is its ability to integrate signals coming from each ear so that a listener can focus on a desired voice or other sound. Wireless technology is essential for enabling signal integration in a convenient system, and the concept for the intelligent hearing aid was developed by an interdisciplinary team of 12 researchers at the university's Beckman Institute for Advanced Science and Technology, which reportedly specializes in artificial intelligence and human-computer intelligent interaction. Professors from the departments of physiology, electrical and computer engineering, and speech and hearing science contributed to the work. The hearing aid prototype consists of a pair of miniature microphones, a processor, an amplifier and two earpieces. At the heart of the system is what is called a binaurally-based Intelligent Auditory Processor, which filters the sounds and transmits only the desired voice to the amplifier. The processor works by comparing signals from the microphones and detecting subtle differences in their time of arrival.
To perform the brain's processing and filtering functions artificially, the researchers developed an algorithm that is designed to extract the desired speech signal in the presence of multiple interfering sounds. Using the algorithm, the researchers built a prototype that works in real time and is said to perform well in noisy environments.
"Our aim is to correct impairments in the most complex of all the human senses, to a degree of perfection that will bring us ever closer to the performance of the healthy ear," said Michael Jones, president and CEO of Phonak-North America. As part of the license agreement, Phonak will establish a laboratory in the UI's new South Research Park.
---
Rufus Grason honored by NASED with Lifetime Achievement Award

San Diego, CA — Rufus Grason, founder of Grason Stadler, Inc., received the Lifetime Achievement Award from the National Assn. of Special Equipment Distributors (NASED) at a ceremony during the recent AAA convention. Presenting the award, Barbara Kurman, president of organization, stated that "Rufus Grason was chosen for this award as an individual who deeply respects and cares about his work. His accomplishments are many, and his work always focused on helping hearing-impaired individuals, and how to make their lives better."
Grason began his career working as a student in psychoacoustic lab of Harvard Univ. in the 1940s. In 1949, he founded Grason, Inc., which later became Grason-Stadler, Inc. He was affiliated with the company until 1989.
His accomplishments are well-known to many hearing health care professionals. In 1952, he developed what is recognized by many as the first audiometer. Between the years of 1970 and 1978, he developed five new audiometers and two middle-ear analyzers. Retiring in 1990, he was chairman of the ANSI Standards Committee until 1997, a position his son, Lee Grason, now holds. A past member of the board of directors of the American Speech Language Hearing Assn. (ASHA), Rufus Grason holds four patents.
A reception followed the awards ceremony. Pictured above are Rufus Grason and his wife, Peg.