Before launching into a summary of the relatively steady hearing instrument sales of the third quarter, I need to provide some perspective. The psychological effects of the stock market crash of 2008—you know, the one where your 401(k)s suddenly became 201(k)s—didn't really occur until the first two weeks of October. Therefore, although the economy had been lagging, third-quarter hearing aid sales statistics do not reflect the general surprise, fear, and anger that came to characterize this wild economic period. So, it is with this acknowledgement that I present the third-quarter statistics; on the whole, they provide good news for us, but it seems likely there is at least one (hopefully only one) bleak quarter in the wings, and then we can move onto 2009.
Third-quarter sales down 3% for private sector. In the third quarter, hearing instrument net unit sales in the United States decreased by 1.2%, according to Hearing Industries Association (HIA) statistics. But this number was buoyed by a hefty 9.2% unit increase at the Veterans Administration whose sales now constitute 16% of the market. When viewing the (non-VA) private sector, unit sales decreased by 3.0%.
In the first three quarters of 2008, total net hearing instrument sales have remained about the same as last year (in fact, sales have increased by 0.2%). However, similar to the above statistics, VA unit sales have increased by 8.7% while private sector sales have decreased 1.2% during 2008.
One year ago, 2007 third-quarter sales experienced a slight increase of 1.9%, and on the year the market was up by 2.9% compared to 2006 sales. Since that time, quarterly net unit sales have been essentially flat, fluctuating between -1.2% and 1.1%.
BTEs still gaining in market share. Slim-tube, RIC/RITE, and open fittings continue to make gains in the market, as demonstrated by the HIA statistics. BTE market share has increased by approximately 5 percentage points during the last 12 months, with 57.5% of all hearing aids sold in the third quarter being BTEs compared to 52.6% for the third quarter of 2007. As shown in the graph, less than one-quarter of the market was made up of BTEs only 5 years ago.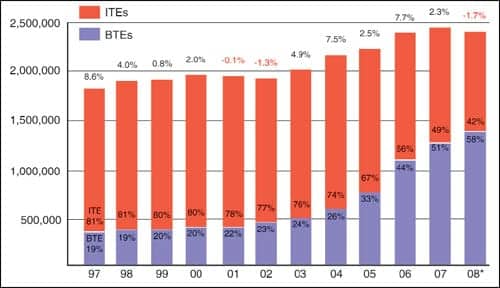 Despite the current economic upheaval, hearing instrument sales have held their own through the first three quarters of 2008. Total net unit sales in the United States were 0.2% above 2007 units, although private sector sales fell off slightly by 2.9%. HR estimates a slight decline in year-end sales (ie, a decrease of 1.5-2.5%) for 2008, with BTEs continuing to grow to about 58% of the market by the end of the fourth quarter. Source: HIA and HR estimates.
What's ahead? By most reports, October was not a good month for sales, and this isn't exactly a surprise. However, with a presidential election and change of administration (whoever wins), a huge infusion of government capital into the loan-frozen banks, and plummeting gas prices, it's anyone's guess as to what will happen during the balance of the year. But October will certainly have a negative effect on overall hearing aid sales, and this is reflected in the projections shown above.
As noted in my February 2008 Staff Standpoint article, "Are We Recession Proof?," the hearing industry has a history of being resilient even in the face of very poor economic times—including the Great Depression. Let's cross our fingers and hope that, in this case, "past performance is predictive of future results."
Karl Storm
Editor-In-Chief