Powerful Cochlear Battery
Rayovac, Madison, Wis, introduces the Cochlear Advanced Battery, the most powerful and consistent cochlear battery Rayovac has ever produced. Users will benefit from up to 30% more power, 30% more capacity, and 30% longer life (percentage versus previous design). The battery incorporates an "air management" system that allows it to access the precise amount of air needed at all times. This managed system results in a more consistent battery throughout its lifetime. Rayovac Cochlear Advanced also features Rayovac's 4-year freshness guarantee. Available in packs of 60.
(800) 356-7422
www.thepowerofhearing.com
---
Dehumidifier with Built-In Dessicant Lining

The Dri-Eze Hearing Aid Dehumidifier, made by Health Enterprises, North Attleboro, Mass, utilizes an innovative "built-in" desiccant lining guaranteed to remove damaging daily moisture for 6 months from first use. Safe, effective, and easy to use, with no batteries, electricity, or desiccant reactivating needed. In addition to removing moisture, Dri-Eze provides a safe, convenient location for storing hearing aids.
(800) 633-4243
www.healthenterprises.com
---
Portable Diagnostic System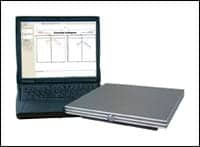 The Eclipse is a powerful and compact portable auditory diagnostic system available from Interacoustics, Eden Prairie, Minn. The new ASSR module for the Eclipse can assess the hearing of babies referred from hearing screening and has two features that work together to cut in half the time required to approximate the audiogram. The system has high retest reliability and can test both ears at the same time with 4 simultaneous frequencies that can be controlled independently. The system can deliver results directly into NOAH..
(800) 947-6334
e-mail: