OPERATIONS
AARP, HearUSA Partner to Provide New Hearing Care Program
AARP Services, a wholly owned subsidiary of AARP, and HearUSA, one of the nation's largest hearing care providers, will enter a new relationship to supply unique hearing care solutions to meet the needs of AARP's diverse 39-plus million members. Participating members will receive hearing care services from HearUSA's network of hearing care professionals and best-in-class hearing aid technology, education, and follow-up care, and they will have a choice of specialized hearing care solutions with flexible product features and access to thousands of hearing care professionals, such as audiologists and hearing-instrument specialists. The new program will include features for AARP members, such as state-of-the-art technologies, an extended warranty, battery supplies, aural rehabilitation, ongoing consultation, and cost savings. The program and products are scheduled to become available beginning in the fourth quarter of 2008; for more information, visit the HearUSA Web site at www.hearusa.com.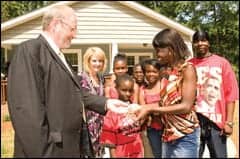 Habitat for Humanity Home Sponsored by Oticon Dedicated
Sounds of joy rang through the house at the official dedication celebration for the Harlee family's Habitat for Humanity home on July 30. Habitat for Humanity of Charlotte officials and representatives of sponsor Oticon Inc, Denmark, welcomed Carla Harlee and sons, Brennen, age 10, and Eric, age 8, and twin daughters Kayana and Dayana, age 14, to their new home.
The hearing-device manufacturer donated $60,000 to sponsor the single-family dwelling as part of its Building Sound Foundations program in celebration of the American Academy of Audiology's 20th anniversary.
Peer Lauritsen, the company's president, joined with Bert Green, executive director of Habitat Charlotte, and Cheryl Kreider Carey, CAE, executive director of the American Academy of Audiology, to present the keys to the new homeowner. The 1,230-square-foot, four-bedroom home on West Todd Lane in Charlotte is the 68th home constructed by Habitat for Humanity Charlotte this year.
CareCredit Celebrates Milestone
CareCredit, Orlando, Fla, is now offered in 100,000 practices nationwide and Canada, including audiologists, ophthalmologists, cosmetic surgeons, veterinarians, dentists, and other health care providers.
For more information, call (800) 300-3046 ext 4519, or visit www.carecredit.com.
CONFERENCES
OTO EXPO to Convene in September
The 2008 annual meeting & OTO Expo for the American Academy of Otolaryngology—Head and Neck Surgery Foundation (AAO-HNSF) will convene September 21 to 24 in Chicago.
The event will feature more than 165 scientific research sessions, 200 posters, and 300-plus instruction-course hours for attendees. Otolaryngologists are specialty physicians dedicated to diagnosing and treating disorders of the ear, nose, throat, and related structures of the head and neck. As many as 8,000 such specialists from North and South America, Europe, Asia, Africa, and Australia attend to learn the latest research findings in patient care.
The scientific program and poster sessions will address medical disorders that are among the most common afflictions to all ages and both sexes, such as hearing loss, sleep disorders, ear infections, voice disorders, sinusitis, head and neck cancer, and pediatric ENT health issues. Additional sessions will focus on the ENT health of US presidents, disaster healthcare disparities, and new guidelines for earwax removal. For more information and to register, visit www.entnet.org.
Phonak Announces European Conference on Pediatric Amplification Solutions
Phonak, Switzerland, announces the next in its series of pediatric conferences, scheduled to be held in England from November 24 to 25, with the goal of examining challenges and solutions for improving outcomes for children with hearing loss.
The program will feature a panel of 16 industry experts presenting their latest research and clinical experiences. In four sessions, attendees will learn more about: working toward optimal amplification for children; plasticity and high-frequency amplification issues and developments; auditory processing disorders and auditory neuropathy/dys-synchrony; and optimizing amplification benefits and language outcomes. The sessions include the latest in auditory development, hearing care for infants, new hearing-instrument features and technologies, management strategies for special populations, and communication development and family perspectives. For more information, visit www.phonak.com/conference.