Current Smoke Alarms Ineffective for Hard of Hearing
Washington, DC—According to the study, "Waking Effectiveness of Alarms for Adults Who Are Hard of Hearing," the typical audible signal used by smoke alarms failed to awake 43% of tested subjects who had mild to moderately severe hearing loss despite the fact that all were able to hear the 3100 Hz tone when awake. Strobe lights woke up only 27% of the hard-of-hearing subjects. In contrast, a specific audible multiple-frequency signal consisting of a 520 Hz square wave successfully alerted 92% of the subjects at the benchmark level of 75 dBA and alerted 100% at 95 dBA.
The study, authored by Dorothy Bruck and Ian Thomas of Victoria University, Australia, estimated at least 34.5 million people in the United States have partial hearing loss and projected that this number would increase due to the aging of the Baby Boomer generation.
It has long been suspected by the Hearing Loss Association of America (HLAA, formerly SHHH), as well as others, that people have died in fires because they could not hear or wake up to high-frequency smoke alarms, but government investigations of fire fatalities have not inquired into whether the victims had hearing loss. Neither audible smoke alarms nor strobe lights were specifically tested with hard-of-hearing people during stages of deep sleep. The findings of this study indicate that millions of people with hearing loss will not be wakened from deep sleep by audible alerts that use only one tone in the high frequencies, rather than a range of frequencies beginning at approximately 500 Hz.
"This study shows there is a critical need for emergency warning systems to be redesigned or supplemented as soon as technically feasible," says Terry Portis, executive director of the Hearing Loss Association of America.
AAA Opens Office on Capitol Hill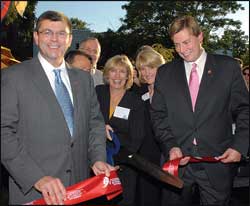 Celebrating the ribbon-cutting of AAA's new Capitol Hill office were Rep Mike Ross (D-Ark); AAA's Paul Pessis, Patrick Feeney, Alison Grimes, and Cheryl Kreider Carey; and Rep Jason Altmire (D-Pa). The office is four blocks from the Capitol.
Washington, DC—On September 18, American Academy of Audiology (AAA) President Alison Grimes, AuD, cut the ribbon to officially open the academy's newly acquired Capitol Hill office located at 312 Massachusetts Avenue NE, Washington, DC. Four members of Congress, Reps Richard Neal (D-Mass), Mike Ross (D-Ark), Jim McGovern (D-Mass), and Jason Altmire (D-Pa) were on hand for the special occasion.
"This is a monumental event for both our membership and the patients we serve," Grimes says. "We are proud to be taking a more active role in both the political process as well as the community of Capitol Hill, and it is imperative that we help Congress understand the important part we play in health care delivery." Rep Neal spoke about his own personal experience with hearing loss, while Rep Ross—chief sponsor of the Medicare Hearing Health Care Enhancement Act (HR 1665)—offered congratulatory remarks and updated the crowd on the growing list of cosponsors (56) that now support the bill. The academy intends to utilize its proximity to the Hill to make the public more aware of AAA's public policy initiatives.
Although contentious within the dispensing community, HR 1665 is endorsed by several consumer organizations, including the National Association of the Deaf (NAD), the Hearing Loss Association of America (HLAA), the American Tinnitus Association (ATA), and the American Association of People with Disabilities. "We are working to have Congress better understand the health care needs of patients as they approach their later years and require more access to quality care," Grimes says. The legislation is awaiting Sen Tim Johnson (D-SD) to introduce the Senate companion bill in the near future. Having a personal understanding of the health care delivery system, Sen Johnson is resolute in again leading the introduction of this legislation in the Senate, according to the academy.
Starkey to Play Role in Motion Picture Music Within
Eden Prairie, Minn—Starkey will be featured in the upcoming MGM motion picture, Music Within, the true story of Richard Pimentel. Essential to the film's storyline is Pimentel's initial struggle with hearing loss, which resulted from an explosion during the Vietnam War. After he is fitted with CICs from Starkey, his world changes and he begins to find his true purpose working on behalf of Americans with disabilities.
Starring Ron Livingston (Office Space, Band of Brothers, Little Black Book), Rebecca De Mornay (Risky Business, Hand That Rocks the Cradle, Wedding Crashers), Michael Sheen (The Queen, Underworld, Kingdom of Heaven), and Melissa George (Turistas, Mulholland Drive), the movie has already earned several film festival awards prior to its official release, and features the directorial debut of Steven Sawalich.
Music Within opens October 26 in select cities, including Minneapolis, Los Angeles, New York, Boston, Dallas, San Francisco, Chicago, and Washington, DC, followed by a nationwide release. For information, visit www.musicwithinmovie.com.