Better Speech And Hearing Month
BHI Offers Variety of BSHM Tools
May is Better Hearing and Speech Month, presenting an invaluable opportunity to educate people about hearing loss and its treatment, reports the Better Hearing Institute (BHI), Alexandria, Va. This year BHI is focusing on Baby Boomers. With nearly 15% of Americans between the ages of 41 and 59 already experiencing hearing problems, Boomers and their families are an important audience to reach.
A local press kit for hearing health professionals was released by BHI last month. The kit includes: a customizable press release, background on hearing health, fact sheet on Baby Boomers and hearing devices for use when talking to the press, income study fact sheet, downloadable income study in PDF format, NAPS article titled, "Money Matters: Hearing Loss May Mean Income Loss," as well as Web linkage to determine if it has been placed in local newspapers, and sample advertisement leveraging the income study. For the press kit, visit www.betterhearing.org/profession als/turnkey.cfm.
Also see this month's HR News for more information or visit the BHI Web site at www.betterhearing.org.
ASHA Sponsors NPR's Morning Edition Radio Program
Beginning April 29 and for several weeks in May, the millions who listen to the NPR programs Morning Edition, the most listened to morning radio program in the country, and the national news talk show Talk of the Nation will hear sponsorship spots promoting the American Speech-Language-Hearing Association (ASHA), May as Better Hearing and Speech Month, and ASHA's Web site (www.asha.org).
ASHA has become a corporate sponsor of NPR programming and will use the 10-second spots to promote the May observance. "ASHA plans to be more active using Better Hearing and Speech Month to educate the public about our professions and communication disorders," says ASHA 2007 President Noma Anderson.
"We have chosen to go with NPR this year because of its highly influential, civic-minded listeners," Anderson continues. "In a variety of ways, NPR listeners lead at the grassroots [level]. They are more likely than most to pass along what they hear to others in their communities."
Morning Edition is heard on nearly 650 public radio stations across the United States, with more than 13.5 million weekly listeners. It is the #1 rated morning radio show in the country, and the #2 radio show nationally overall. Talk of the Nation, NPR's popular and interactive midday news talk program, reaches 3 million weekly listeners through nearly 290 stations.
According to Anderson, the appeal of NPR is the quality of its journalism, its significant public following, and the value its listeners put on organizations that sponsor its programs. Nearly 90% of NPR listeners say their opinion of a given company or organization becomes more positive when they hear that it has sponsored public radio, nearly 70% believe that NPR sponsors represent higher quality products and services, and more than 60% believe that NPR sponsors are more credible.
ASHA is creating a special "landing page" on its Web site for those who hear the NPR sponsorship spots and want to learn more. The page will provide them with easy access to lay information about the speech-language pathology and audiology professions, and topics related to communication science.
For 5 weeks beginning at the end of April, ASHA will also have a sponsorship presence on NPR's Web site, www.NPR.org. In an average month, more than 3 million visit NPR's site; 20% of its users are from overseas.
"ASHA is committed to raising the visibility of our professions," Anderson says. "We believe that NPR will be an effective way to reach a large and influential segment of the public about the important care they provide."
ASHA is the professional, scientific, and credentialing association for more than 127,000 audiologists, speech-language pathologists, and speech, language, and hearing scientists in the United States and internationally. For more information, visit www.asha.org.
Conferences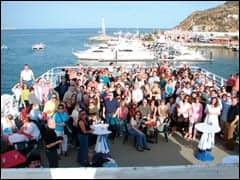 The Audigy Group held its Owners' Summit in Cabo San Lucas. The organization reports financial growth of over 400% in 2006.
Audigy Group Members Meet
Audigy Group members convened February 27 to March 4 at the Cabo San Lucas Owners' Summit. At the event, it was announced that in fiscal year 2006 Audigy Group achieved financial growth of over 400% over FY05 while maintaining a 25% pretax profit margin, according to company figures. Audigy also reported that the combined efforts of staff and the group of owner practitioners who comprise Audigy Group have the company positioned 12 months ahead of its scheduled growth plan and poised for explosive expansion in 2007.
The event, held in conjunction with strategic partner Sonic Innovations Inc, provided an opportunity for Audigy Group's practitioners—who represent more than $120 million in annual revenue—to gather and plan local market expansion strategies, contribute input on Audigy Group programs, and refine their best practices. Numerous members offered proof of achieving 35% to 55% revenue growth, along with up to 80% net earnings growth in FY06.
At the event key speakers from the hearing care industry made presentations, including Audigy founder and managing member Brandon Dawson, who spoke on leadership and entrepreneurialism; Brendan Ford, president and member, on building a business system to become the unchallenged market leader; Terri Frain, director of human resources, on advanced compensation and equity strategies to attract and retain the industry's top talent; Stuart Lyon, director of marketing, on linking daily operations and branding to increase revenue and gain patients for life; Richard Gans, PhD, on the benefits of integrating vestibular services into the traditional hearing practice to achieve increased profitability and expansion; and Christopher Schweitzer, PhD, on the introduction of Audigy's codeveloped product with national technology partner Sonic Innovations Inc.
An overview of Audigy Group's newly introduced Audigy University was presented. Eric Hecker, PhD, director of Audigy U; Barry Freeman, PhD; and Ian Windmill, PhD, provided a preview of what the company says will be the preeminent business and technology school for the hearing care industry.
"AudigyU will empower each individual with the full spectrum of skills to successfully operate an elite hearing care practice," says Dawson. "No other school in the country can make that claim. AudigyU will be the exclusive business school for those who take their practice and careers seriously."
Biennial International Conference of the VA RR&D
The National Center for Rehabilitative Auditory Research will host the Biennial International Conference of the VA RR&D, "Hearing Therapies for the Future," September 27 to 28 in Portland, Ore. The event will feature keynote speaker Peter Steyger, PhD. Topics will include Noise Induced Hearing Loss and Tinnitus, Preventing Noise Induced Hearing Loss, Fixing a Damaged Cochlea, and Hearing Loss and Traumatic Brain Injury. AAA and ASHA CEUs will be offered. For more information, contact Gabrielle Saunders at (503) 220-8262 x56210; e-mail: . To learn more about the event, visit: www.ncrar.research.va.gov/Education/Conf2007/Index.asp.
Mid-Atlantic Hearing Care
The 2007 Mid-Atlantic Hearing Care Conference will be held August 9 to 11 in Charlotte, NC, at the Hilton Charlotte Executive Park. The conference is sponsored by the North Carolina Association of Hearing Care Professionals and the South Carolina Hearing Aid Society. Seven speakers will make presentations, and CEUs will be available from ASHA and HIS. For more information, contact Rick Beare at (919) 607-3430, or visit www.ncahcp.net.
Phonak Announces US and Latin American Pediatric Amplification Conferences
The 4th International "A Sound Foundation Through Early Amplification" will be held in Chicago from December 6 to 8. Sponsored by Phonak, the conference will be chaired by Richard Seewald, PhD, and John Bamford, PhD, with the Phonak Pediatric Advisory Board serving as the steering committee.
Speakers have been chosen from among leading experts in pediatric audiology to provide a mix of topics with high clinical relevance. "The program is exceptional by all international standards," says Seewald. "With this conference, we are bringing together some of the very best experts from throughout the world to discuss current developments and issues in pediatric habilitative audiology."
The program will focus on early identification and habilitation and will cover a wide range of topics. During the conference a separate session is planned to view submitted posters. Researchers from all over the world will present their findings relating to the conference's key subject areas. For further information and registration, go to www.phonak.com/conference.
Phonak will also host its first Latin American Pediatric Conference, August 3 to 4, at the Renaissance Sao Paulo Hotel in Brazil. The event is dedicated to the challenges associated with hearing care for infants and children, and will cover the latest developments in identification, fitting, verification, and management of children with hearing impairment. Participants will be able to integrate newly acquired knowledge into their daily practice.
The program has been designed to allow interaction and sharing of best practice with the international faculty as well as other participants.
EDI Launches New Redesigned Web Site
Earmold Design Inc (EDI), Minneapolis, recently redesigned its Web site. The new Web address is www.edimn.com. Visitors to the site can download new earmold catalogs, request boxes and order forms, and order supplies.