Hybrid Hearing Device Being Developed by Cochlear
Washington, DC—A new, experimental cochlear implant/hybrid hearing aid device—designed to supplement hearing without destroying it—is being developed and was the topic of a news story in the December 11th edition of The Los Angeles Times.
The hybrid system uses a thinner, shorter bundle of electronics—10 mm in length compared to up to 28 mm for traditional implants—and positions the implant at the opening end of the cochlea, stimulating the auditory nerve only when high-frequency sound waves enter the ear. During implantation, the probe is not inserted as deeply into the cochlea as conventional cochlear implants, preserving much of the cochlea for natural hearing. This residual hearing can then be utilized for amplification with a hearing aid.
The article reports that about 80 patients have received the hybrid device since 1999, and clinical trials are underway at 15 US sites. Preliminary results show that hearing has been retained in about 96% of the patients. Before surgery, patients were able to understand about one-third of words on standard hearing tests; after 1 year or more with the hybrid implant, scores increased to an average of 75%, reports the article. Hybrid implant users are also said to function better than traditional implant users in noisy situations and are better able to follow and appreciate music. If successful, the hybrid device could serve a population up to twice the size of the current cochlear implant market, which currently stands at about 25,000.
The article interviews several noted hearing researchers and clinicians, including the NIDCD's James Battey, the University of Iowa's Bruce Gantz and Chris Turner who have been involved in the clinical investigation, and Aaron Parkinson of Cochlear Ltd.
Phonak Launches "Hear the World" Campaign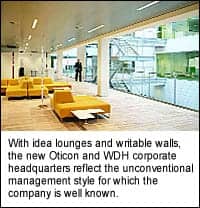 Plácido Domingo
Warrenville, Ill—Tenor and conductor Plácido Domingo and the Vienna Philharmonic Orchestra have joined Phonak to launch "Hear the World", an initiative aimed at raising awareness about the importance of hearing and the impact of hearing loss. Domingo and the members of the Vienna Philharmonic Orchestra joined Phonak to formally announce the initiative in December at Carnegie Hall.
While hearing loss is one of the world's most preventable disabilities, it is also one of the most common. More than 10% of the world's population is hearing impaired, and it is estimated that, by 2015, more than 700 million people will have some degree of hearing loss. The consequences of hearing loss can be severe and greatly affect the quality of life. The goal of the Hear the World initiative is to educate the public about the importance of good hearing, the social and emotional implications of hearing loss, and the available solutions for those with hearing impairment.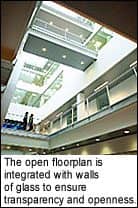 Valentin Chapero
An important element of the initiative is the non-profit Hear the World Foundation, which Phonak will launch in this month. The foundation will support charitable organizations and projects focused on helping hearing impaired people.
"Today, hearing is not perceived as an important topic," says Phonak Group CEO Valentin Chapero. "With Hear the World, we want to put hearing on the agenda and start a social dialogue. Hear the World wants to activate people to think about their hearing, to think about what it means not to be able to hear well. We want to show the public what can be done to prevent hearing loss, as well as what can be done to minimize its social and personal impact."
Plácido Domingo, tenor, conductor, and general director of both the Los Angeles Opera and the Washington National Opera stated, "As a singer and conductor, hearing is for me the most important thing in my life. You cannot sing or conduct if your ears are not in shape, so you have to keep them in shape. I am very enthusiastic about Hear the World, because people need to understand how valuable good hearing is."
"Hear the World—three simple words that represent an ambitious goal," says Clemens Hellsberg, president and first violin of the Vienna Philharmonic. "We are very proud to be involved. After all, our world revolves around the sense of hearing."
For more information, visit www.hear-the-world.com or www.phonak.com.
UK Project Explores In-Body Power Microgenerator
Caldicot, UK—A UK-based consortium of companies is developing an in-body microgenerator that will convert energy from human body movement into power for implanted medical devices, including cochlear implants, pacemakers, electrical stimulators, instrumented joints, and body area network applications. The project, led by Zarlink Semiconductor has received £500,000 (US$981,000) in funding from the UK Department of Trade and Industry (DTI), a sum that will be match-funded by the consortium.
The two-year SIMM (self-energizing implantable medical micro system) project will prototype a device capable of harvesting energy from movement in or on the body, including joint movement and heartbeats. Body energy will be harvested by means of a microgenerator manufactured as a MEMS (micro-electrical-mechanical system). This prototype design is expected to achieve 10-100 times more power than previous attempts to harvest human energy.
"This project has amazing potential to help huge numbers of people world-wide who have pacemakers and other medical implants," says UK Science and Innovation Minister Malcolm Wicks.
"The ability to fit and forget implantable devices in terms of their power supply is groundbreaking with significant clinical and quality of life advances," says David Hatherall, external project leader at Zarlink's Caldicot facility and SIMM project coordinator. "The operating life and size requirements of the battery are a chief concern in the design of implanted medical devices. Providing an in-body power supply will reduce the dependence on batteries for implantable devices, and facilitate the design of new self-powered devices for applications currently not feasible due to battery life and space restrictions."
According to industry research, there is great demand for improved power supply technology in many emerging medical applications, including neurostimulation, activity monitoring, bladder control valves, drug delivery systems, medical telemetry, and cochlear and retinal implants.
Marcon to Celebrate 30th Anniversary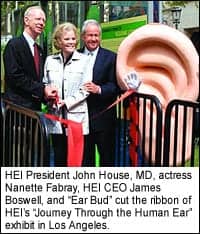 Ray Rich presents Jim Faust with a Marcon award.
Washington, DC—Marcon Hearing Instruments Inc is holding their annual meeting at the Hotel Monteleone in New Orleans on March 29-31, 2007, and the meeting will mark the organization's 30th anniversary.
"Even though Marcon is celebrating its 30th year in business, it's still one of the best kept secrets in the industry," says Marcon President Dale Thorstad. Marcon was formed and incorporated by a group of hearing care professionals who were looking for an answer to a number of industry-related problems that they faced in the operation of their businesses. To meet the challenges of the future, Marcon Hearing Instruments was incorporated in December 1977. From the original 20 members, Marcon has grown to more than 150 offices from coast to coast. Many of the original members have now retired and, in their place, have come a second generation of the family, most of them with audiology degrees.
There are two levels of membership in Marcon. One is as a shareholder of the corporation, and the other is as an associate member. Members wanting to be shareholders commit to buying a minimum of 100 shares of stock over a 3-year period. As a shareholder, the member is entitled to an exclusive territory, a year-end rebate based on the number of hearing aids purchased, and dividends paid on the shares. An associate member receives a smaller year-end rebate also based on the number of hearing aids sold. By Charter, Marcon returns the profits at year end to the membership, so to date more than $5,500,000 has been returned, according to the company. The Board of Directors is made up entirely of Marcon members, so decisions are made by people in the day-to-day hearing aid business, according to the organization.
For more information, contact Dale Thorstad, at 888-962-7266, or visit www.marconhearing.com.
The multidisciplinary consortium is made up of six companies chosen for their core engineering skill, product exploitation potential and clinical excellence. The group consists of Finsbury Orthopaedics, Innos, InVivo Technology, Odstock Medical, Perpetuum Ltd, and Zarlink Semiconductor. A proof of concept prototype as a result of the project is expected to be released in 2007. To learn more about the SIMM project, visit: www.implantgen.com.
Professor Turns Rapper to Attract More Audiology Students
Hempstead, NY—Levi Reiter, PhD, head of Hofstra University's audiology program and professor of speech-language-hearing sciences, was simply trying to promote the audiology profession and attract more audiologists to the field when he composed a rap song for freshman orientation and for their first day of classes in 2006.
However, this rapping grandfather of 17 was unprepared for the "props" he received soon thereafter from students, colleagues, and even the American Speech-Language and Hearing Association (ASHA). In fact ASHA, the national association for speech pathologists and audiologists, is using Dr. Reiter's rap, titled Say Whut? in an ambitious program designed to recruit undergraduates across the country for careers in audiology.
"It's a great icebreaker," says Reiter, a Chassidic Jew who also has a thriving audiology practice in Brooklyn. After initial positive feedback, he recorded Say Whut? in a professional studio with full instrumental backup. However, he is not thinking about Grammys or Billboard rankings. Getting students to consider a profession in the hearing sciences is reward enough for him. Some lyrics include:
Ya see
Hearin' good is critical
God knows dat I'm not jokin
If you're deaf and get no help
Den no word will be spoken
Now don't get me wrong
The example is extreme
But from hearin' good to deafness
Dere's lots a levels in between…
The National Institute on Aging estimates that the need for audiologists serving senior citizens will increase by 50% by the year 2020. The Americans with Disabilities Act mandates that workplaces and other services be made accessible to persons with hearing impairments, an obligation which audiologists are optimally equipped to meet.
In the January/February Hearing Products Report…
Hearing Conservation: Industry manufacturers and suppliers discuss the various products available to protect hearing, and why it is often difficult to get consumers to think about conserving their hearing before a problem arises.
Audiometers & Screening Devices: David Adlin and Tricia Mikolai of Maico Diagnostics talk about the company's 70 years in business, developing the latest diagnostic hearing assessment devices for a diverse market segment.
Hearing Instrument Care: A roundtable discussion with representatives from manufacturers and vendors on the products available to help care for hearing devices, and the most common mistakes end-users make in maintaining them.
Please visit our web site.