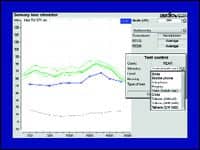 Software Update
Audioscan, Dorchester, Ontario, Canada, introduces the release of software 2.8 for both the Verifit and the RM500 SL. The company's new Sensory Loss Simulator is a cochlear hearing loss simulator for a real-ear/hearing aid analyzer. Additionally, DSL 5 provides multiple level speech targets for both adults and children, and accepts ABR and bone conduction threshold. Audioscan's new open-fit protocol takes care of the technical details to make it easier to accurately determine the audibility benefit of open fittings. Software 2.8 is a CD and is automatically sent to all owners of Verifit and RM500 SL. It can also be downloaded from Audioscan's Web site.
(800) 265-2093; www.audioscan.com.
---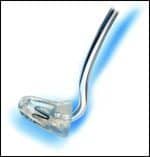 Self-Forming Earmold
General Hearing Instruments Inc, New Orleans, announces the SmartWear Self Forming Earmold (SFE). Based on coronary stent technology, the SmartWear SFE utilizes the patented MemoryFormT design: an ultra-soft silicone body containing a temperature-sensitive Nitinol endoskeleton. The SmartWear SFE senses the body temperature in the ear, and seeks the unique shape of the patient's ear canal. The Nitinol endoskeleton delivers precise radial force, yielding balanced interfacial pressure across the ear canal wall. The result is an acoustic seal that is secure yet extremely comfortable for extended wear.
(800) 824-3021; www.generalhearing.com.
---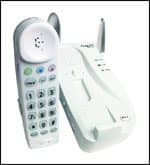 Cordless Telephone
Clarity, a division of Plantronics Inc, Chattanooga, Tenn, offers the C4105™. This telephone is part of the Clarity Professional® product line, which focuses on individuals with moderate to severe hearing loss. The C4105 is a 2.4 GHz cordless telephone offering up to 40 dB of amplification and three different audio tone selections for personal customization.
(800) 426-3738; www.clarityproducts.com.
---
Multifrequency FM Receiver
Phonak, Warrenville, Ill, introduces MyLink, a multifrequency FM receiver. The slim neck loop design allows it to be worn visibly or discretely under clothing. MyLink is used in combination with an FM transmitter, which will pick up the voice of the speaker. The signal is sent wirelessly to the MyLink receiver, which relays the signal to the hearing aids through induction. The hearing instruments need to have a T-coil to be compatible with MyLink. No programming is required during fitting. The device is compatible with any brand of hearing instrument.
(800) 777-7333; www.phonak.com.
---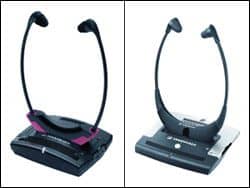 TV Listening Devices
Sennheiser, Old Lyme, Conn, introduces the IS 410 and Set 50 TV to its portfolio of TV listening devices. A transmitter connects to most televisions and sends audio straight to the stethoset receiver, which can pick up sound from a distance of up to 40 feet. The lightweight stethoset rests unobtrusively in front of the neck. The IS 410 infrared audio system switches on automatically when its headphones are opened for wear. It provides 16 hours of operation per battery charge. The Set 50 TV mono stethoset system provides 9 hours of sound, and is fitted with a combined on/off/volume switch and balance control feature.
(860) 434-9190; www.sennheiserusa.com.
---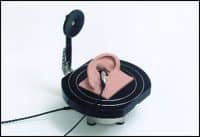 Ear and Cheek Simulator
GRAS Sound & Vibration, North Olmsted, Ohio, introduces an ear and cheek simulator that represents the section of the head important for realistic reproduction of the acoustic properties of the ear of an average human head. Sample applications for the Type 43AG are headsets, hearing aids, circum-aural headsets, and ear buds. The KEMAR Ear is interchangeable with other optionally available ears. The Type 43AG allows the use of an ITU-T type 3.3 pinna with a Shore hardness of 55-00 or 35-00 to be used with an IEC 60711 Ear Simulator (RA0045).
(440) 779-0100; www.gras.us.