Business
Sonion Launches New Web Site
Sonion, Roskilde, Denmark, has launched its new Web site—www.sonion.com—to provide more information about the company. New features include testimonials from employees worldwide, an image bank, online employment application and much more.
Bacou-Dalloz Expands Web Site to Provide More Hearing Conservation Resources
The Bacou-Dalloz Hearing Safety Group's Web site has recently been expanded to provide a wide range of resources to help safety officers and industrial hygienists implement better hearing conservation programs worldwide. In the Hearing Conservation section at www.hearingportal.com, users can find information on global hearing conservation regulations, as well as posters, presentations, literature, and other tools to help design, set up, and conduct people-oriented hearing conservation programs.
Free resources available at hearingportal.com are specific to the Americas, Europe, and Australia/New Zealand, and include regional regulatory information and links; technical information on hearing conservation topics and protection devices; and programming tools including literature, posters and presentations.
Hearingportal.com offers a number of hearing conservation program aids for download, including a Noise Thermometer Poster, Earplug and Earmuff Instruction Posters, an OSHA Regulation Poster, a poster on "The 4 Cs of Hearing Protection," and a PowerPoint presentation on Hearing Conservation Basics. Other downloads include a Hearing Glossary and hearing conservation literature. Many items are available both in English and Spanish.
The Americas regulatory section offers an OSHA Regulation Poster and links to OSHA regulations as well as other federal health and safety organizations' resources related to noise in the workplace.
Captel to Open Additional Captioning Center
Captel Inc, Madison, Wis, plans to open a new captioning center in Milwaukee. The company has an existing captioning center in the University Research Park, Madison, Wis.
Captel Inc provides telephone-captioning service for people who are deaf or hard of hearing. At the center, highly trained operators use sophisticated computer voice recognition technology to transcribe telephone conversations into real-time written captions. The written captions appear on the display screen of the user's specially designed CapTel™ telephone, enabling people who are deaf or hard of hearing to read word-for-word captions of what is being said throughout their telephone calls. Ultratec Inc, Madison, Wis, developed the CapTel telephone.
The service, which is provided as part of each state's Telecommunications Relay Service, is currently available in 39 states and nationwide for federal employees in any state.
---
Events
Phonak to Host Conference on Adult Hearing Care
Phonak, Stäfa, Switzerland, is hosting and sponsoring an international conference dedicated to the challenges associated with hearing care for the adult population. The conference will be held November 13-15, 2006, in Chicago.
The conference program features a high-profile list of more than 30 world-renowned international speakers who will present the most recent treatment evidence in a variety of areas critical to the management of adults with hearing loss.
Topics include findings on the latest evidence related to assessment and fitting as well as a review of current hearing aid technology, including interactions with assistive listening devices. Characteristics and demographics of the adult hearing-impaired population and their impact on audiology practices and services will be discussed. A group of speakers will address day-to-day practice issues highlighting outcomes assessment and post-fitting considerations.
For more information on the program and registration, visit www.phonak.com/conference or e-mail [email protected]
CAOHC to Present Professional Supervisor Course
The Council for Accreditation in Occupational Hearing Conservation (CAOHC), Milwaukee, will present a course for audiologists and physicians currently involved in occupational hearing conservation or who are thinking about expanding their services or practice into occupational hearing conservation. The course will be held November 11, 2006, in Rosemont, Ill.
Topics to be discussed include: elements and organization of successful hearing conservation programs, and surviving new OSHA and MSHA recordkeeping regulations.
For more information and to register, visit www.caohc.org/professional.html.
Tennessee Hearing Society to Hold Annual Meeting
The Tennessee Hearing Society (THS), Knoxville, Tenn, will hold its annual meeting/continuing education program March 31-April 1, 2007, in Pigeon Forge, Tenn. Ten CEU credits will be offered for the weekend event.
For more information, contact THS President Rick Carroll at 2001 Laurel Ave, Knoxville, TN 37916; (865) 525-0591.
---
Charity
Starkey Hearing Foundation Featured on 'Extreme Makeover'
The Starkey Hearing Foundation, Eden Prairie, Minn, was on the pre-season premier of ABC's Extreme Makeover: Home Edition on September 17.
On the show, a number of home designers go around the country rebuilding and designing homes for families in need. The November 7, 2005, episode of the show included Marlee Matlin, a deaf actress, who worked with the designers as they designed a home for a family of four—the parents are both deaf, one son is fine and is the glue that holds the family together, and one son is blind and autistic.
Matlin knows Bill Austin, who runs the Starkey Hearing Foundation, and encouraged the show to involve Austin and the Foundation in the 2005 episode.
Matlin was again involved in the taping of an episode of Extreme Makeover: Home Edition. The family who's home was rebuilt on the episode has a 15-year-old son who is hard of hearing. Again, Matlin wanted to get Austin involved.
Instead of just helping the 15-year-old, Austin decided to take two of the show's designers with him and his staff to Nicaragua, Guatemala, and El Salvador to see what it's like to help hundreds of children in need regain their hearing. The trip took place in May 2006. The designers included Ed Sanders and Eduardo Xol. They joined 14 Starkey employees and fitted 150 kids in each country—a total of 450 children received more than 800 total hearing aids.
---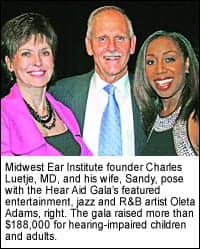 Fundraising
Midwest Ear Institute Gala Raises $188,000
More area people with hearing challenges will have access to services this year at one of the Midwest's premier centers for hearing testing and cochlear implantation, thanks to a successful fundraiser held August 10. Midwest Ear Institute's Hear Aid gala grossed $188,000 in contributions.
The Midwest Ear Institute, part of St Luke's Health System, has a mission of restoring hearing in children and adults. The gala, held at Starlight Theatre, featured jazz and R&B recording artist Oleta Adams.
"We appreciate the energy of the entire committee who worked so tirelessly to put together this event," says Midwest Ear Institute Founder Charles Luetje, MD.