Hank Netherton, customer service manager at Westone Laboratories Inc, Colorado Springs, Colo, tells HR about his company's products being used in many diverse professions.
Tell us about your company.
Westone Laboratories was founded in 1959, and since then we have grown to become the world's largest manufacturer of custom-fit products for the ear. Our earmolds provide comfortable hearing protection, effective sound transmission for hearing instruments, and are used in a wide variety of other applications.
Westone's original goal was to simply fill an industry need by building a better earmold backed by superior customer service. Over the years, we began to offer impression materials and related supplies. Westone now offers literally thousands of products that enhance the effectiveness of hearing care professionals and make life easier for their patients.
What can we expect from your company in the near future?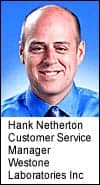 Westone is on the leading edge of product development for a number of diverse professions. Custom earpieces with communication technology developed by Westone were selected for use aboard SpaceShipOne, the first privately funded spaceship to fly in outer space. Partnering with the Air Force Research Laboratory, Westone created custom earpieces that provide clear communication and advanced hearing protection for military pilots and ground crews. Westone also played a pioneering role in the development of in-ear musicians' monitors. Our musicians' products are now considered an industry standard.
Westone is the first earmold laboratory in the United States to embrace 3D stereo lithography in the manufacture of custom-fit earmolds. Our laser production facility now offers a wide range of earmold styles and continues to expand.
What ideology keeps your company on track to meet the needs of your customers?
While Westone offers a wide variety of high quality products and services, our company's success is based on our core philosophy: The Golden Rule. With that in mind, Westone will meet future challenges as it has met those in the past—with a dedication to handcrafted quality and an unwavering commitment to our customers.