Loud Noise Exposure May Increase Risks for Acoustic Neuroma
San Francisco—According to new research at Ohio State University by Colin Edwards and Judith Schwartzbaum, repeated exposure to loud noise increases the risk of developing an acoustic neuroma that could cause hearing loss. The study appears in the February 15 edition of American Journal of Epidemiology.
"It doesn't matter if the noise comes from years of on-the-job exposure or from a source that isn't job-related," says Edwards, a doctoral student in the School of Public Health at Ohio State University. In the study, people who were repeatedly exposed to loud noise over the span of several years were, on average, one-and-a-half times more likely to develop an acoustic neuroma compared to people who weren't exposed to such noise on a regular basis.
Acoustic neuroma grows slowly and symptoms typically become noticeable around age 50 or older. Of the 146 people with acoustic neuroma in the study, nearly two out of three were 50 or older. As the acoustic neuroma grows, it slowly presses the cranial nerve that is responsible for sensing sound and helping with balance. Symptoms include hearing loss and tinnitus.
Edwards and his colleagues gathered five years of data from the Swedish portion of the INTERPHONE Study, an international study of cell phone use and tumors that affect the brain and head. The researchers used the Swedish portion of the study because health officials there keep meticulous data on rates of acoustic neuroma development in the country's population, according to Schwartzbaum, a study co-author and an associate professor of epidemiology in the School of Public Health at Ohio State. In addition to the 146 study participants with acoustic neuroma, another 564 people without the tumor who served as controls were also interviewed by a nurse. The participants in this group were randomly selected from the continuously updated Swedish population registry. Study participants ranged in age from 20 to 69.
All participants were asked if they were regularly exposed to occupational and non-occupational loud noise and, if so, for how many years. "Loud noise" was defined as at least 80 dB (eg, about the same sound level as traffic noise). If the subjects said that they had been regularly exposed to loud noise, they were then asked to describe the activities during which they were exposed to that noise. Categories for loud noise exposure included exposure to machines, power tools and/or construction noise, exposure to motors and airplane engines, exposure to loud music (including employment in the music industry), and exposure to screaming children, sports events, and/or restaurants/bars. The researchers also collected data on the use of hearing protection.
The two types of loud noise posing the highest risk of acoustic neuroma development were exposure to machines, power tools and/or construction (1.8 times more likely to develop the tumor) and exposure to music, including employment in the music industry (2.25 times more likely to develop the tumor.) Exposure to motors, including airplanes, increased acoustic neuroma risk by 1.3 times, while regular exposure to screaming children, sports events, and/or bars and restaurants increased the risk by 1.4 times. The number of years that a person was exposed to any category of loud noise also contributed to the development of acoustic neuroma. Just five years of regular exposure to loud noise increased the chance that a person would develop acoustic neuroma by one-and-a-half times.
"It's not surprising that the longer that people are exposed to loud noise, the greater their chances become for developing the tumor," says Edwards. The study also suggests the importance of wearing ear protection when exposed to loud noises. People who reported that they protected their ears from loud noise had about the same risk of developing acoustic neuroma as people who were not exposed to loud noise. People who protected their hearing were also half as likely to develop acoustic neuroma as people who didn't wear ear protection.
Acoustic neuroma is fairly rare, accounting for only about 6-10% of tumors that develop inside the skull. Depending on the population, anywhere from 1 to 20 people per 100,000 develop acoustic neuroma each year. The people with the tumor in this study had the most common type (unilateral acoustic neuroma). About 95% of all cases of acoustic neuroma affect only one ear. The other kind, bilateral acoustic neuroma, is inherited and affects both ears. If the tumor is caught early enough through a thorough examination and hearing tests, a physician may be able to surgically remove it. But as the tumor grows larger, it may become attached to the nerves that control facial movement, balance, and hearing, making it far more difficult to remove the entire tumor.
Edwards and Schwartzbaum conducted the study with researchers from the Institute of Environmental Medicine of the Karolinska Institutet, Stockholm, Sweden. Funding for the work was provided by the European Union Fifth Framework Program; the Swedish Research Council; and the International Union against Cancer. The above was adapted from a release written by Holly Wagner of Ohio State University.
---
Widex 2006 Pediatric Hearing Assistance Program
Lisle, Ill—The Widex Office of Clinical Research in Amplification recently hosted a group of hearing care professionals who constitute the Widex 2006 Pediatric Hearing Assistance Program partners. Now in its fifth year, the Pediatric Hearing Assistance Program brings Widex and clinicians together to provide state-of-the-art digital hearing aids to children whose families have limited financial resources. This year, Widex has donated $125,000 in hearing instruments to assist in the goals of the program. Pediatric professionals contribute resources to assist children in obtaining high-technology hearing instruments. In return, the children (and their families) will allow for their hearing, speech, and language development to be monitored to document the impact of this technology. The performance information is pooled across the sites and shared with the audiological community. It is hoped that the information obtained from the program will further increase the understanding of pediatric hearing aid fittings, as well as improve hearing aid reimbursement procedures for children. The Program, initiated in 2002, has over 150 children enrolled so far. The 2006 Pediatric Hearing Assistance Program Partners and the Site Managers are: Jace Wolfe, PhD, site manager at Hearing Enrichment Language Program (H.E.L.P) of Integris Baptist Medical Center, Oklahoma City; Kelly Tremmel-Howell, AuD, site manager at Oakland Children's Hospital and Research Center, Oakland, Calif; Susan Marshall, MA, site manager at Special School District of St. Louis County, St. Louis; Florence Himmelfarb, MA, site manager at New York Presbyterian Medical Center, New York City; and Briana Kelly Dornan, MS, site manager at The Learning Center for Deaf Children, Framingham, Mass.

Widex Pediatric Hearing Assistance Program partners provide state-of-the-art hearing aids to children whose families have limited financial resources. Partners include (seated, l to r): Jace Wolfe, Debra Quick, Heather Kasulis, Francis Kuk, Florence Himmelfarb, and Ellen Koslo; Standing (l to r): Kelly Tremmel-Howell, Alison Nachman, Natalie Thiele, Briana Kelly Dornan, Monique McKee, Margaret Pikora, Susan Marshall and Jane Auriemmo.
---
Lawsuit Alleges that iPods Damage People's Hearing
San Francisco—The Associated Press (February 1, 2005) reported that an owner of an Apple iPod music player has filed a federal lawsuit against the company, claiming that the device causes hearing loss in people who use it.
The suit, which seeks class-action status, wants compensation for plaintiffs' hearing loss and asks that upgrades be made to make the iPods safer. Part of the complaint alleges that the portable music players are "inherently defective in design and are not sufficiently adorned with adequate warnings regarding the likelihood of hearing loss." The suit also maintains that Apple contributes to the problem by including phrases such as "crank up the tunes" and "bring in the noise" in its products' instructional literature.
The AP article also quotes Deanne Meinke, an audiologist at the University of Colorado, who points out that other products in the marketplace also have potential to damage one's hearing, and that the risks lie primarily with the usage of the product. Apple ships a warning with each iPod, cautioning that "permanent hearing loss may occur if earphones or headphones are used at high volume."
The iPod can produce sounds of more than 115 decibels, according to the complaint. A recent survey by ASHA found the iPod capable of volumes of 120-125 dBA (p 18), and Fligor reports a top volume of 111 dBA for an iPod Nano (see p 72); however, it can be seen on p 18 that other players reach similar volume levels. Apple has sold more than 42 million of the devices since they went on sale in 2001, including 14 million in the fourth quarter last year. Companies manufacturing personal music players in Europe were recently forced to limit output levels to 100 dB.
---
Audiology Education Summit II Held
Phoenix—"Audiology Education Summit II: Strengthening Partnerships in Clinical Education" was held February 3-5. Representatives from the American Speech Language Hearing Association (ASHA) and the Council on Academic Accreditation in Audiology and Speech-Language Pathology (CAA) served on the planning advisory committee, along with individuals representing the Council of Academic Programs in Communication Sciences and Disorders and the American Academy of Audiology (AAA). The purpose of the meeting was to share information among clinical preceptors and educators about evolving practices in audiology doctoral programs, and to recommend best practices for universities and clinical sites to incorporate into their training models.
A traditionally contentious issue between the ASHA and AAA, last year's summit—which focused on identifying the characteristics of clinical doctoral programs in audiology (AuD programs)—was not attended officially by AAA's leadership.
The Summit Advisory Committee will be issuing a written report in the next few months, which will be disseminated to all summit attendees and made available on the ASHA Web site. According to ASHA, it is hoped that the report will identify many areas of consensus, and thus can serve as a basis for improvement and standardization across audiology doctoral programs in the future. The written report also will identify areas in which consensus does not currently exist, which will require further study and discussion.
---

NAOSH Week Includes Hearing Conservation
Washington, DC—The National Hearing Conservation Association is joining with the American Society of Safety Engineers (ASSE), the US Occupational Safety and Health Administration (OSHA), the Canadian Society of Safety Engineering (CSSE), and other organizations and companies to increase public awareness of the importance of workplace safety and health during the April 30-May 6, 2006 North American Occupational Safety and Health Week (NAOSH, www.asse.org/naosh06). The national kick-off will take place Monday, May 1, 2006 in Washington, DC, at the US Department of Labor while other events will take place countrywide. The event also coincides with National Hearing and Speech Month.

Currently, more than 5,000 people die on the job each year and 4 million more suffer from on-the-job illnesses and injuries. NAOSH Week is another way ASSE, CSSE and OSHA work to increase the understanding of the benefits of investing in occupational safety and health; to raise awareness of the role and contribution of safety and health practitioners; and, to reduce workplace injuries and illness by encouraging new workplace safety and health initiatives. The NAOSH Week theme is 'Prevention is the Cure.'

NHCA is the only national organization dedicated to prevent hearing loss due to noise and other environmental factors in all sectors of society. Its membership includes audiologists, engineers, industrial hygienist, safety professionals, physicians, nurses, and other professions.
---
Misonix Developing "Audible Ultrasound" Technology
Farmingdale, NY—Misonix Inc, a developer of ultrasonic medical device technology for the treatment of cancer and other health care purposes, has announced that it has contracted Ceres Biotechnology LLC for services to assist in bringing to market its ultrasonic medical devices for those with severe hearing impairment.
Misonix's strategy is to prepare for commercialization the products that had previously been in development by Hearing Innovations. Following its reorganization under Chapter 11, Hearing Innovations—a developmental company with patented HiSonic ultrasonic technology designed to address profound deafness and tinnitus—became a wholly-owned subsidiary of Misonix.
Virginia-based Ceres Biotechnology has been contracted to provide professional consulting services for the development of technology, software programming, technical and product development engineering, and the creation, testing and development of prototypes. As part of the contract, Ceres Biotechnology will conduct a clinical trail intended to prove efficacy. Ceres envisions the development of a multifunctional unit that will incorporate technologies addressing sensory processes essential for hearing and interpreting sound. The technology is also designed to enable improved hearing by those less impaired, thus significantly expanding the addressable market.
The background and rationale for the HiSonic device was reported in the February 1998 HR by Staab et al ("Audible Ultrasound for Profound Losses") and a follow-up article ("Audible Ultrasound…Revisited") by Lenhardt was published in the March 1998 HR.
Hearing Innovations offered the HiSonic-TRD which delivered low levels of ultrasound through bone conduction, and according to the company, studies demonstrated clinically that it offers significant long-term relief, and a residual inhibition effect (eg, temporary disappearance of tinnitus after use of the device) has been noted in several subjects.
---
ASHA Study Assesses Portable Music Players
Rockville, MD—With press attention focused on portable music players and their risk to hearing, ASHA investigated further, testing the decibel levels of a range of randomly chosen devices that produce sound which is plugged into the ear. ASHA looked at nine examples of popular technology. Test results underscore the need for a concerted public education so that consumers can safely enjoy society's most popular technology, say ASHA experts.

"All of the devices we tested can produce sound well above the maximum safety level of 85 decibels," says Pam Mason, ASHA's director of Audiology Professional Practices. Irreparable hearing loss could result, Mason notes, her concern bolstered by recent research as well as accounts that Baby Boomer icons like rockers Pete Townshend and Mick Fleetwood now have trouble hearing because of their long and constant exposure to excessively loud music.

ASHA used a laboratory sound-level meter for the testing in the field study. All of the examined devices produced sound well above the safety level identified by federal standards for controlling occupational noise exposure. While the well-publicized iPod had an upper range of more than 120 dB, lesser known but still popular products like the Bratz Liptunes and Mix Stick—MP3 players marketed to younger children—nearly matched the iPod, showing decibel levels as high as 120 and 118 dB respectively. Specifically, ASHA's testing showed the following (data reflect dBA readings):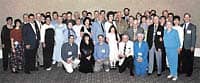 "The high decibel range on products like the Bratz and Mix Stick are especially worrisome because they are marketed to younger children," Mason says. "For a child, even minimal hearing loss can have devastating life-long ramifications, significantly impairing their educational and social development." ASHA encourages consumers to lower the volume, limit the time spent listening, and wear ear phones that block out unwanted "ambient" sound, reducing the need to increase volume levels. The Association would also like to work with the makers of the devices to educate the public—particularly children— about safe usage.
"Many kids who are using this type of technology are plugging virtual rock concerts into their ears," Mason says. "Parents, grandparents, and all other significant adults in our children's lives need to be aware of the risk and make sure the children are, too."