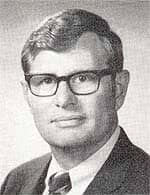 1971: Jim Curran's article "Understanding and Using CROS Fittings and Open-canal Amplification" had many astute observations foreshadowing the future of open fittings.
40 Years Ago in August 1971. In the August Hearing Dealer, Jim Curran, MS, of Dahlberg Electronics published an article on CROS fittings that featured a lengthy and prescient discussion of open-fittings including "[In open fittings], studies show that the low frequencies in the response of the hearing aid, more specifically those below the 1000 Hz and 1500 Hz range, are greatly suppressed with the result that only the higher frequencies in the speech signal are amplified and transmitted to the ear drum. This fact would be of no real interest in itself, except that it is intimately related to one of the most difficult tasks facing the dealer today, ie, making amplified speech sound clear to the listener." In the very next article, T.E. Nielsen, MSc, VP of Oticon A/S, detailed a new continuously adjustable earmold of soft non-toxic material that could be instantly fitted without an impression. Hearing Dealer Editor (and former HR Editorial Director) Marjorie Skafte announced that Bob Edgell, the magazine's founding editor and publisher (and a co-founder of the Hearing Aid Industry Council, later to become HIA), had been promoted to president of Harcourt Brace and Jovanovich, one of the world's largest book and magazine publishers (and owner of HD).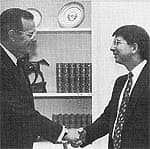 1991: President Bush extends a warm Oval Office welcome to Ross Roeser, PhD, honorary president, Council for Better Hearing and Speech Month.
30 Years Ago in August 1981. Hearing Instruments carried a news article on the opening of the new Bosch Hearing Instruments facility in Long Island, NY, which featured "special carousel-type manufacturing machines designed to assemble up to 50 aids each." The issue also carried an article on ambient noise levels in sound rooms by James Lankford, John Franks, and Cynthia Martin, and a report on the 3rd Annual Academy of Dispensing Audiogists Spring Conference meeting held in Orlando.
20 Years Ago in August 1991. William Herzog, president of GN Danavox, announced the merger of his company with Hearing Technologies Inc. The new senior management team consisted of Herzog, VP of Sales Martie Ormsby, and VP of Professional Services David Smriga (Smriga went on to establish AuDNet).
10 Years Ago in August 2001. The August 2001 HR reported significant changes at two major dispensing chains: HEARx and HearUSA merged with funding from Siemens (HearUSA is now in bankruptcy proceedings, see July 2011 HR Online News). Additionally, Sonus announced that Daniel Kohl was assuming the CEO position from founder Brandon Dawson (Dawson went on to establish Audigy Group). The issue also featured an article by K. Ray Katz, BC-HIS, on why owning your office building can be a great investment, and an article by Richard Gans, PhD, about obtaining the AuD via distance learning.

1991: A conference on future directions in amplification at UTD-Callier included presentations by (l to r) Peter Assmann, Jim Kates, Lucille Beck, Carl Crandell, Harry Levitt, Brian Moore, David Preves, Miriam Henoch, Brad Stach, Linda Thibodeau, Carol Sammeth, and Richard Tyler.