Hearing Aid Remote Control Wristwatch
PHONAK, Warrenville, IL, introduces WatchPilotTM, reportedly the first wristwatch with a built-in hearing instrument remote control. The device features four discreet buttons: volume up, volume down, change programs and FM input. Users can choose from "sports" or "elegant" watch styles in black or brown color schemes. WatchPilot is compatible with any Claro digital hearing instrument.
---

Sound Level Meter
Quest Technologies, Oconomowoc, WI, announces the release of Metrosonics 2800M Integrating Sound Level Meter intended for industrial hearing conservation professionals. The device provides measurements of SPL, Lmax, Lmin, Leq, SEL and elapsed time. Selectable response time constants include slow, fast, impulse and peak. Measurements range from 80-140, 60-120, 40-100 and 20-80 dB. A choice of two optional octave band filter sets may be added to the 2800M at any time. The OB-100 filter set provides 11 full octave bands while the OB-300 allows the selection of 11 full octave bands or 33 1/3 octave bands. The 2800M generates fully formatted reports that can be sent directly to serial printers or captured by PCs via serial port communications and stored for later use using Windows utility programs such as HyperTerminal.
---

Faceplates
Beltone Electronics Corp., Chicago, IL, introduces the Image Series, a line of newly designed faceplates for the company's programmable hearing instruments. The series replaces the current programming port with a "behind-the-door" ribbon cable programming system. The series features a low-reflective matte finish with shell colors that allow each Image Series hearing instrument to blend with the contours and coloring of the patient's ear, and offers a patient-adjustable volume controls on the Lumina, Polara and Silica digital circuits.
---

Telecoil
Micro-Tech, Plymouth, MN, introduces the automatic Touchless Telecoil® (patent pending) for the 100% digital Dx3 and the analog programmable Nx2. The patients use the telephone the same way they always have except the device is designed to allow instant activation of the telecoil mode when a telephone is placed near the instrument. The patient holds the telephone receiver to the hearing instrument and, without switching a toggle, the telecoil mode activates. The instrument is available in canal, half-shell and full-shell ITE custom applications.
---

Shell Manufacturing System
Loctite Americas, Rocky Hill, CT, introduces a new family of products, Loctite® ResinAidTM, formulated to transform the traditional process of manufacturing hearing instrument shells. The product line includes curable molding compounds, adhesives and light cure equipment that reportedly can integrate into existing manufacturing processes. By integrating the one-part ResinAid molding compounds and the ResinAid light cure equipment into the shell molding process, hearing instrument manufacturers can speed production cycles, achieve consistent shell-wall thickness, increase throughput, reduce the overall size of the hearing aid and control manufacturing costs, according to the company. The molding compounds are available in a variety of colors and in low and high viscosity formulations.
---

Digital Hearing Instruments
Intrason, France, introduces Digison, a DSP platform providing signal processing algorithms, available in four models: Digison II, Digison III, Digison IV and Digison V. Designed for patients with light to medium hearing loss, Digison II is a 2-channel hearing aid featuring noise reduction, interchannel intelligence and optimized compression. Digison III is a 3-channel instrument with similar features as Digison II except that it is designed for patients with medium-to-severe hearing losses. Digison IV (32 bands) and Digison V (64 bands) are 8-channel hearing instruments with speech optimization systems and feedback suppression designed for light-to-moderate hearing losses. Digison V can also be used for light-to-moderate sensorineural hearing losses and features spectral/temporal enhancement. All products can be provided in CIC, BTE or in prewired kits.
---

Impression System
Siemens Hearing Instruments, Piscataway, NJ, announces the release of the SilhouetteTM Plus impression system, a mechanical design in the Silhouette dispensing gun that provides more leverage so less pressure is required to squeeze the handle and dispense the material. The device uses polyvinysiloxane material formulated to deliver accurate ear impression, and includes yellow, pink and blue/green mixing tips. The small yellow tips are for pediatric patients, deep canals or very narrow/collapsed ear canals, pink tips are for standard canals and blue/green tips are for void-free, non-canal impressions. Designed to maximize precision and minimize the required time, the material is soft and comfortable for the patient while the impression is made, according to the company. The material continues to cure after the impression is removed from the patient's ear and then becomes extremely hard by the time it reaches the lab so that technicians are assured of accurate impressions. The start-up kit for the Silhouette Plus consists of the redesigned dispensing gun, four cartridges and 18 standard mixing tips that make up to 20 impressions. Refill kits contain eight cartridges and 36 tips.
---

Universal Fit Device
General Hearing Instruments, Inc., New Orleans, LA, introduces Simply Soft™, reportedly the only ready-wear, universal-fit device that features the patented all-soft body design. Developed for entry-level customers, Simply Soft is meant to enhance rather than compete with the custom-fit hearing instrument market. It targets consumers who are looking for occasional amplification in certain situations, such as meetings, dining out, sales calls and those who are not ready to commit to a custom hearing instrument purchase. Consumers who are in need of loaner aids while their custom instruments are being repaired can also use Simply Soft. The all-soft body of medical-grade-silicone reportedly can conform to almost any ear canal shape. The device is compact and is designed as a starter hearing instrument.
---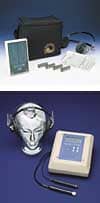 Canal Lubricant
Westone Laboratories, Inc., Colorado Springs, CO, announces the availability of the super-slippery OtoEase® lubricant in single dose packets. OtoEase assists in the insertion of custom-fit products into the ear, and helps create a good seal for difficult fittings. OtoEase single-dose packets can make good giveaways for dispensing professionals by encouraging patients to sample OtoEase® and then return to the office for a standard-size bottle.