PRODUCT CATEGORIES
ASSISTIVE DEVICES
Intuitive Mobile Phone Link
Phonak, Warrenville, Ill, offers Click'nTalk, a wireless transmitter for mobile phones that turns hearing instruments into wireless headsets. Using Phonak's Hearing instrument Body Area Network (HiBAN) link, Click'nTalk streams phone calls in digital quality to both hearing instruments simultaneously. Plugging directly into the mobile phone, Click'nTalk is powered by the mobile phone, activated automatically, and maintenance free, and works with all CORE hearing instruments without fitting (except Petite models).
(800) 888-7333
www.phonak-us.com
---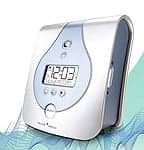 Sound Therapy System
The Sound Oasis Sound Therapy System S-650-01 from Sound Oasis Company, Marblehead, Mass, is a next-generation sound conditioner that delivers a premium therapeutic sound experience. Featuring clinically proven sounds, the S-650-01 blocks out irritating noises, helps circumvent tinnitus discomfort, and creates a soothing aural atmosphere. The S-650-01 incorporates "sound card" technology, which enables users to change sound themes by simply inserting a new memory card containing 12 different sounds. Other features include a patented technology that slows down sound playback to lull users to sleep, a unique "gradual off" volume reduction feature for a peaceful decrease in sound volume. The S-650-01 can be powered by four AA batteries for portability or by the included AC adapter.
(780) 631-5337
www.sound-oasis.com
---
Nokia Wireless Loopset
Irving, Tex-based Nokia's new LPS-5 Wireless Loopset provides t-coil-equipped hearing aid users with a hassle- and hands-free connection to mobile phones. Compatible with handsets that use Bluetooth 2.1 connectivity, the loopset enables mobile calls to be accessed wirelessly through the hearing aid. Key features of the Nokia Wireless Loopset include: vibrating alert for incoming calls; user-adjustable sidetone level; optimized volume range and frequency response; single button for call handling; induction technology enabling acoustic background noise to be filtered, which greatly increases speech discrimination. Nokia expects to begin shipping its LPS-5 worldwide later this year.
(469) 583-3553
www.nokiaaccessibility.com
---
New NoiZfree Beetle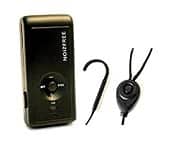 Oaktree Products, Chesterfield, Mo, offers the new NoiZfree Beetle H-3ST stereo Bluetooth headset that enables wireless, hands-free listening to cell phone conversations, stereo music from audio devices, and now FM radio stations. The H-3ST offers speech clarity, crisp music listening, and FM radio reception. The unit has a built-in scanner for FM radio and volume control to amplify incoming speech and sound from Bluetooth-enabled devices. Two listening options are included for telecoil equipped hearing aid wearers, a neckloop and silhouette. The XTRA-3 version is available with dual earbuds for non-hearing instrument wearers.
(800) 347-1960
www.oaktreeproducts.com
---
Siemens' ePen Gets Product Design Award

Germany-based Siemens Audiology (with US headquarters at Siemens Hearing Instruments Inc in Piscataway, NJ) has been awarded the red dot award: product design for its hearing instrument remote control, called ePen. The ePen is a remote control for Siemens hearing aids that is shaped like a writing instrument, allowing hearing instrument wearers to discreetly adjust the volume and listening programs. By simply pulling it open and making a few small turns, wearers can easily set their hearing aids as desired. The ePen works with Siemens Life, Pure, and Motion hearing instruments.
(800) 766-4500
www.usa.siemens.com/hearing
---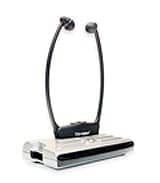 Williams Sound Showcases New TV Talker
Williams Sound, Eden Prairie, Minn, turned the spotlight on its new TV Talker FM TV listening system at the 2010 AudiologyNOW! conference in San Diego in April. The TV Talker FM provides high-quality stereo sound for users, and the wireless FM technology means they can leave the room while still listening to their favorite TV program. The system connects directly to a TV, DVD player, or other audio device, and features a lightweight, under-the-chin-style receiver with rotating eartips for hours. Offering three selectable channels, the device provides a range of 100 feet, and a battery life of up to 6 hours.
(800) 328-6190
www.williamssound.com
---
Remote Connect Adapter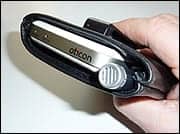 Pehratek Products, Chaska, Minn, offers the new Remote Connect Adapter (RCA), which can be used with the Oticon ConnectLine TV transmitter to remotely pick up sounds at meetings, restaurants, and other places where a remote microphone can assist hearing ability. The RCA consists of a custom handheld pouch with built-in clothes clip to attach to car visor or pocket, long-lasting built-in lithium battery, and noise-canceling directional microphone that plugs into the Oticon ConnectLine TV unit, essentially turning the TV adapter into a portable wireless microphone.
(866) 470-3532
www.pehratek.com
---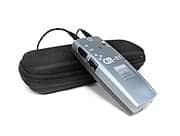 Bluetooth Neckloop Amplifier
Warner Tech-care Products, St Paul, Minn, has introduced the Williams Sound CM-BT Bluetooth Neckloop amplifier. This amplifier provide everything needed to listen to a mobile phone, computers, or other Bluetooth-enabled devices with telecoil-enabled hearing aids. Convenience is the key: with a push of a button, calls can be answered or terminated. Also listen to music stored on a Bluetooth–enabled device. The CM-BT provides 6 hours of talk time and supports Bluetooth 1.2 specification.
(800) 328-4757
www.warnertechcare.com
---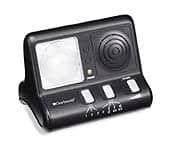 Amplified Phone Ring Signaler
Naperville, Ill-based ClearSounds' CR200 ensures there will never be another missed phone call. The bright flashing light and loud ring are sure to draw attention. Key features include a 95dB audible ringer with various tone levels, bright LED flasher, jack for optional vibrating pad, built-in dual modular phone jack for easy installation, and tabletop or wall convertible.
(630) 321-2348
www.clearsounds.com
EARMOLDS, EARPLUGS, AND IMPRESSION MATERIALS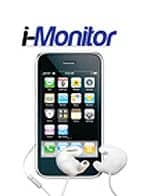 Puretone Introduces New i-Monitor
Puretone, Kent, United Kingdom, has announced the release of its new i-Monitor in-ear monitors that bring together the sound of the company's micro monitors with hands-free communication as an accessory for a smartphone or mp3 player. Made from soft silicone, the custom-made earmolds fit precisely to the user's ear contours, helping to maximize the low-frequency response (bass boost), while the silicone helps ensure comfort with high-quality noise attenuation. The inline headset cable features a small microphone and push button that allow the monitors to be used as a hands-free kit. Pressing the button answers an incoming call (even during music playback), so users can carry on with current tasks. Each ear piece is fitted with a user-replicable wax guard system to help ensure long life and high-quality sound reproduction.
+44 (0)1634 719427
www.cens.puretone.net
---
Earbud Enhancers
Selected by Forbes as the 9th Most Promising Company in 2009, Yurtopia, St Louis, makes Yurbuds Earbud Enhancers out of soft medical-grade silicone that slip directly over standard headphones, some in-canal headphones, and many Bluetooth headsets. Utilizing ergonomics, patent-pending design, and audiology to eliminate the pain and instability of in-ear headphones, Yurtopia offers sound-enhancing Yurbuds in a variety of sizes tailored to an individual's concha and ear canal for a precise fit so they will stay in place during rigorous activity.
(888) 987-2831
www.yurbuds.com
---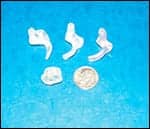 Thin-Tube/Open-Ear Fittings
Mid-States Laboratories, Wichita, Kan, offers a variety of thin-tube/open-ear fittings. Choose from a selection of styles to custom fit each client's hearing needs. When possible, Mid-States prefers to use its Apollo or Marveltex/vinyl materials, which allow for friction fit, an advantage when considering the need to retube.
(800) 247-3669
www.mid-stateslabs.com
---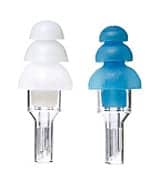 Hearing Protection for Small Ear Canals
Etymotic Research, Elk Grove Village, Ill, offers a second size of high-fidelity hearing protection for children and adults with small ear canals. The earplugs, called BabyBlues, have the same flat 20-dB sound reduction as Etymotic's standard ETYPlugs HI-FI earplugs. All earplugs from Etymotic are flat attenuation to protect hearing and reduce noise fatigue while keeping music and voices clear, and can be used for playing and listening to music, attending concerts, and traveling.
(888) 389-6684
www.etymotic.com
HEARING INSTRUMENTS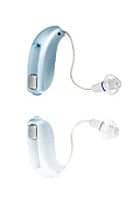 Oticon Launches Agil
Oticon Inc, Somerset, NJ, has launched Agil, a second-generation wireless hearing instrument family that the company says takes speech understanding in noise to a new level using significantly reduced cognitive effort. Oticon says the Agil family offers a range of premium features and end-user benefits: excellent speech understanding in noise; significant reduction in the cognitive efforts needed to understand speech, leaving more mental energy to reflect, remember, and respond; improved audio through wireless technology for open fittings and enhanced 3-D listening; new audiological concepts: Speech Guard, Spatial Sound 2.0, and Connect(+); two performance levels: Agil and Agil Pro; and fully ConnectLine compatible.
(800) 526-3921
www.oticonusa.com
HEARING INSTRUMENT ACCESSORIES
Age-Appropriate Care Kits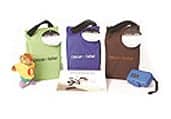 Oticon Pediatrics, Somerset, NJ, has introduced a series of children-friendly, age-appropriate Care Kits packaged with its Safari hearing aids to equip them as they encounter the everyday adventures of childhood with their new hearing instruments. Color-coded by age, the kits contain a range of practical and fun accessories to meet the needs of youngsters, and their parents, from infancy through the high school years. Care Kits are available for three age groups: infancy to 4 years (apple green); school age children, 5 to 10 years (royal blue); and middle/high-schoolers, 11 to 18 years (espresso). Each kit also contains age-appropriate brochures, Safari-themed Ear Gear, listening tubes, and an OtiCare Clean and Dry Kit
(800) 526-3921
www.oticonusa.com
HEARING INSTRUMENTS COMPONENTS AND PRODUCTION/REPAIR SUPPLIES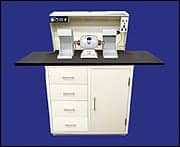 Hearing Aid Workstation
With its all steel construction and attractive powder coated cabinet, the Audio Repair Bench from Lightning Enterprises, Limington, Me, includes a two speed Model 26A Red Wing Lathe with Mod Tool Kit, Dual-Lite UV Cure Unit, VAC-1B Hearing Aid Cleaning System, VAC-1D Desiccator Chamber for hearing aid drying, two Model 550 dust collectors with splash hoods, and CM-3 Control Module, as well as extended sides to give the technician plenty of working room. The table top is designed to resist scratching and wear, and under-shelf fluorescent light illuminates the work area.
(877) 546-1797
www.l-ent.com
---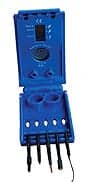 New Easy Hearing Aid Care Kit
Hearing Technologies International Inc, Pinellas Park, Fla, now offers its Easy Hearing Aid Care Kit to help prevent costly breakdowns and repairs for all styles of hearing instruments. Features include: digital battery tester with holder; cleaning brush; wire wax-loop; battery door opener; magnet for removing and inserting batteries; and vent and tube cleaner for all styles including Open-Fit. Compact size—fits in your pocket or purse.
(800) 553-6003
www.hearingtech.com
---
Liquid Repellent Nanocoating

Oxfordshire, United Kingdom-based P2i Ltd, makers of Aridion, a liquid repellent nanocoating that protects hearing aids against corrosion and failure, showcased the product at AudiologyNOW! 2010 in San Diego in April. The company says that Aridion is applied using a special pulsed ionized gas (plasma), which is created within a vacuum chamber, to attach a nanoscopic polymer layer—1,000 times thinner than a human hair—to the hearing aid. This lowers the product's surface energy, so that when humid air or sweat comes into contact with it, beads form and roll off. Aridion can be cost-effectively applied to finished products using compact, high-throughput P2i processing machines, says the company. These integrate with existing assembly lines, and can be operated at the touch of a button. In a typical production environment, one P2i machine can reportedly treat a hearing aid in less than 10 seconds.
---
Jodi-Consumer Vacuum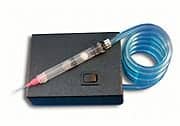 Jodi-vac LLC, Portland, Ore, is now offering its first vacuum system for consumers to help them protect their hearing aid investment. Jodi-Consumer is a compact, portable, and affordable hearing aid cleaning solution for home use that takes just a few minutes each night to ensure against wax build-up and reduce the need for professional cleanings. Jodi-Consumer comes with a 1-year warranty for personal use; 3-month warranty for professional use. The unit measures 4.5"x 7.25"x 3", and operates via a 12V DC power supply.
(866) 856-5634
www.jodivac.com
---
Universal Sanitizer Dryer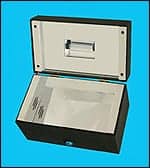 Hearing Technologies International Inc, Pinellas Park, Fla, now has available its brand-new Universal Sanitizer Dryer, designed to sanitize and remove harmful moisture from hearing aids. With US and international patents pending, the Universal Sanitizer Dryer's drying compartment can accommodate all types of hearing instruments, including body-worn, implants, microphones, headpieces, and speech processors, and operates anywhere in the world with a simple plug change. Weighing less than two pounds and measuring a compact 7.4" x 4.25" x 4.57", the unit has a drying cycle of about 8 hours, first utilizing a germicidal lamp that automatically shuts off after about the first 8 minutes. Then a fan circulates warm air through the drying compartment for the remainder of the cycle. The life of the UV-C lamp is at least 10,000 hours.
(800) 553-6003
www.hearingtech.com
MARKETING, PRACTICE MANAGEMENT, AND INFORMATION RESOURCES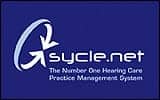 Sycle.net Expands Features
San Francisco-based Sycle.net has announced new features to its popular hearing care practice management system, including third party tracking, new and improved intake report, enhanced referral report, and new cancelled appointment report.
(888) 881-7925
www.sycle.net
---
Blueprint Solutions' Office Management System Comes to the US

Blueprint Solutions LLC, Eden Prairie, Minn, has introduced its hearing care office management system (OMS) in the United States, after 5 years of successful implementation in hearing clinics in Canada. The system has been modified and enhanced to provide total business solutions: it manages patient data, hearing equipment, medical information, and billing, and provides a marketing and promotion module that helps business owners and managers stay in touch with their patient base. The Internet-based system is using advanced database and application tools to create an intuitive user interface that can be accessed from any computer with Internet access.
(877) 686-8410
www.blueprintsolutions.us
---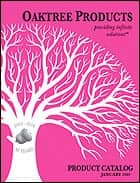 Oaktree Offers 2010 Catalog
The 126-page 2010 product catalog just released by Oaktree Products Inc, Chesterfield, Mo, features the latest products and solutions in cerumen management, infection control, hearing assistive technology, repair and modification, diagnostic equipment, light sources, earmold and impression supplies, resale accessories, and more.
(800) 347-1960
www.oaktreeproducts.com
TESTING AND FITTING EQUIPMENT
Otovation Releases OTOPod M2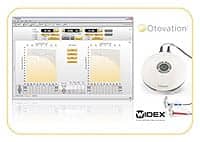 Otovation, King of Prussia, Pa, has released the OTOPod M2 diagnostic audiometer and hearing instrument programmer. Similar in form to the company's patented OTOPod M1 audiometer, the M2 adds capabilities to program a variety of Widex hearing aids, including the mind440, mind330, Passion, Inteo, AIKIA, Flash, REAL, Senso, Bravo, and Bravissimo product families. Support for the OTOPod M2 has been added to Widex's upcoming Compass 5.0 software, which is used in conjunction with Otovation's Symphony NOAH Module software to provide a complete diagnostic testing and instrument fitting system with the uniquely portable M2 device, according to the company. Concurrent with release of the M2, Otovation is now shipping an updated version of its Symphony and Symphony NOAH Module software, which offers a number of new features. The new Symphony will now be included with all new OTOPod M1 and M2 devices, as well as Amplitude T-Series models.
---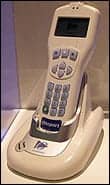 Portable OAE System
From Sherrills Ford, NC-based Otodynamics Ltd comes the Otoport Screener from the company's Otoport family of handheld OAE devices. Fully customizable protocols and a large database make the Otoport Screener ideal for coordinated universal newborn hearing screening programs with quality control procedures. The Otoport Screener uses the TEOAE Quickscreen method of testing, popular with many major and national screening programs since 1990. Features include an illuminated keypad, long battery life, wireless printing option, and four screening modes.
(828) 478-9880
www.otodynamics.com
---
MedRx Offers AVANT REM Speech+ and A2D+
MedRx Inc, Largo, Fla, offers two new systems: The AVANT REM Speech+ Real Ear and Live Speech Mapping System, and the AVANT A2D+ diagnostic audiometer, both featuring an advanced ergonomic design. New features of the REM Speech+ include the Sure Probe microphone system with lighted visual cues and an adjustable loop design that will fit any ear. Also new is a selectable dual probe measurement option that allows the user to do live speech mapping on both ears simultaneously. The AVANT A2D+ is a two-channel, air, bone, and speech audiometer with a new integrated Quick SIN testing feature. The A2D+ audiometer comes standard with insert ear phones and custom carrying case. Both systems weigh less than a half pound each, connect to a USB port, and are NOAH System 3 and TIMS compatible.
(888) 392-1234
www.medrx-usa.com
---
Vivosonic Unveils Aurix Screener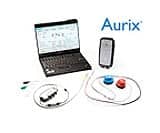 Vivosonic Inc, Toronto, has introduced the Aurix newborn hearing screening system. Aurix uses the same Kalman weighted algorithm as Vivosonic Integrity, the company's flagship product. The fully automated auditory brainstem response (ABR) system can obtain reliable results, in even the most difficult screening situations. User-friendly, the Aurix conducts infant hearing screenings in three steps: Create a record, perform the test, and then print the result. The administrative area housed within the software package allows program managers to tailor the system to their individual program needs, and it is fully compatible with industry database software such as Oz Systems and HiTrack.
(877) 255-7685
www.vivosonic.com
---
Audioscan Introduces Axiom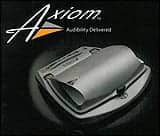 Audioscan, Dorchester, Ontario, Canada, lifted the covers off its latest creation, Axiom, in San Diego at AudiologyNOW! 2010 in April, showcasing the sleek new hearing instrument fitting system, which offers a large and easy-to-use test chamber, dual HDMI monitor display capability, and a unique stand that combines speaker and probe microphone management. Key features include speechmap and text box, user-friendly operation, patient-friendly visuals, accurate fittings focused on speech audibility, and more. Audioscan projects to start shipping Axioms this summer.
(800) 265-2093
www.audioscan.com