UV Adhesive Curing Light
Kinetic Instruments Inc, Bethal, Conn, features SpotCure-C cordless UV adhesive curing light light. The unit is completely portable and self-contained, and is ideal for field repairs. SpotCure-C uses the latest LED technology to cure most acrylic-based adhesives, and is ideally matched to cure Loctite® 4304 and 4305 adhesives to a smooth, tack-free surface in less than 5 seconds. The high-density rechargeable battery provides many hours of service, and a built-in low battery indicator provides several days' warning before recharging is needed. The unit comes complete with probe, battery pack, and wall charger. (800) 233-2346; www.kineticinc.com.
---

Trimmer-Controlled Digital BTEs
Siemens Hearing Instruments, Piscataway, NJ, offers a new line of PHOENIX™ BTE digital instruments with conventional trimmer controls. The PHOENIX 113 (for mild to moderate hearing loss) is a mini-BTE with trimmer controls for gain, low cut filter, and maximum output. The mid-size PHOENIX 213 BTE (for moderate to severe hearing loss) offers trimmer controls for high-cut and low-cut filter and maximum output. The PHOENIX 313 is a super power BTE (for severe to profound hearing loss), which features trimmer controls for high and low cut filter, as well as maximum output. The 313 is also compatible with most FM systems. All models include microphone noise reduction for clearer sound quality and audible low battery signal indicators. (800) 766-4500; www.siemens-hearing.com.
---

Ultrasonic Cleaner
SY KESSLER SALES INC, Sole Importer for RENATA Consumer Batteries, Dallas, will be featuring: GemOro "Sparkle Spa" ULTRASONIC CLEANER Model SS-1780 at the AAA show in April. GemOro cleans quickly and easily, with powerful ultrasonic waves in 3 minutes or less. No scrubbing and no harsh chemicals are required. The unit uses water and an optional cleaning solution. MODEL SS-1780 features a bright blue LED illuminated stainless steel tank, 1 pint/600 ml capacity, 42,000 energy producing sound waves per second, an electronic pushbutton timer with auto shut-off, a transparent cover/lid, a metallic silver color removable basket is included. Please visit SY KESSLER SALES INC at AAA booth #813. (214) 351-0380; (800) 527-0719; www.sykessler.com.
---

Engineering Expertise
At In'Tech Industries Inc in Ramsey, Minn, engineering experts strive to produce a product that matches its customers' design criteria. Whether producing a complete design based on generic sketches or integrating an existing design into a final product, combining the company's services with its customers' creativity is the key. (763) 576-8100; www.intech-ind.com.
---

Amplified Telephone
Clarity®, a Division of Plantronics Inc (formerly Walker Ameriphone), Chattanooga, Tenn, offers the XL50 Amplified Telephone. The unit delivers up to 48 dB extra amplification and features a separate adjustable tone control (600 Hz-2,400 Hz) for high-frequency sounds. Its backlighted keypad with big buttons makes it easy to use. Other features include an extrabright flasher, a superloud ringer with adjustable volume control, voice mail, and missed call indicators. The XL50 includes 12 memory buttons, plus redial, hold, and flash buttons. The product is wall-mountable and has a battery backup in case of power outage. The XL50 is hearing aid telecoil compatible and has an audio output jack for connection to a headset, neckloop, or cochlear implant. (800) 426-3738; www.clarityproducts.com.
---

Instructional CD-ROM
Oaktree Products Inc, Chesterfield, Mo, offers an instructional CD-ROM, "The Illustrated Guide to Cerumen Management," edited by Sam Kelso, AuD. Featured are more than 100 color illustrations of actual procedures with various instruments in use on differing amounts and consistencies of cerumen. In addition, there are detailed instruction on infection control and cerumenolytics, as well as an overview of third-party reimbursement and liability. (800) 347-1960; www.oaktreeproducts.com.
---

Digital Processor
SeboTek® Hearing Systems, Tulsa, Okla, offers a second PAC (post auricular canal) digital processor. The Voice-Q™ 510 processor has many of the same characteristics of the original SeboTek PAC unit, and uses the same Ultra-Soft Ear Tips and speaker links as the original model. The patented design features acoustic feedback, significantly reduced occlusion effect, and more natural sound quality. In addition, the PAC is virtually invisible while being worn. (800) 388-9041; www.sebotek.com.
---

Hearing Screening Booth
Acoustic Systems, Austin, Tex, introduces the RE-125 hearing screening booth. Shipped preassembled, the RE-125 offers improved isolation and meets OSHA standards. The unit is easily moved through most office doors and is kept in stock for rapid delivery. Acoustic Systems is accredited by the National Voluntary Laboratory Accreditation Program (NVLAP) and submits its audiometric rooms and suites to regular testing. Factory-trained representatives help with selection and installation. (512) 444-1961; www.acousticsystems.com.
---

Digital Hearing Instruments
Lotus Technology, Inc., Mooresville, NC, offers the LEGACY® series of 100% digital hearing instruments. Available in both two and four channels, LEGACY features DSP technology designed to fit most hearing losses with high-quality digital sound. LEGACY is fitted using simple to operate, yet powerful, programming software. The software actively involves patients in the fine-tuning of their instruments with its seven adjustable parameters and independently adjustable compression ratios and time constants. LEGACY is available in all models, and with optional features including multi-memory buttons, manual VCs, telecoils, and a directional microphone designed to improve speech intelligibility in difficult listening situations. (877) 483-1072; www.lotustechnology.net.
---

Tabletop Displays
S & S Laser, New Port Richey, Fla, offers the "ready to show" briefcase tabletop display. It sets up in less than a minute and is completely self-contained. The display morphs from a briefcase to a 48-inch x 24-inch fabric-covered display. The header attaches to the top and is stored inside when not in use. Velcro-ready fabrics are available in assorted colors. The display weighs just nine pounds. Also available: graphics packages and larger style displays. (800) 934-6815.
---

Measurement System
Interacoustics USA, Eden Prairie, Minn, features the Affinity. Affinity can be used with Windows-based software, and can be tailored as a HIT system, audiometer, and/or Real Ear Measurement system while connected to the hearing professional's office PC. Customized tests are up-to-date with current hearing aid manufacturers' test specifications. Please visit Interacoustics USA at AAA booth #1237. (800) 947-6334; www.interacoustics.com.
---

5.8 GHz Cordless Amplified Telephone
Hearing Loss Help Co, Worcester, Mass, offers the Uniden 5.8 GHz Cordless Amplified Hearing Enhanced Telephone. The 5.8 GHz modified phones feature caller ID/call waiting, a powerful loop transmitter in the handset, external jack on the back of the handset, and 30 dB of boosted volume with volume control. In addition, the phone has a jack on the handset that allows for a neckloop, speakers, or cochlear patchcord to be attached. It also has a 30 number caller memory, 10 memory dial locations, and a voice mail waiting indicator. (508) 755-1120; www.hearing-loss-help-co.com.
---

High-Gain ITE Receiver
Knowles Electronics, Itasca, Ill, offers the PHF series of Pantograph High-Output receivers that help power ITE hearing aids achieve significantly higher acoustic gain levels. While conventional ITE aid designs are often limited to 50 dB to 55 dB acoustic gain, the Knowles PHF receiver helps newer aids achieve 60 dB, 65 dB, or even 70 dB acoustic gain while minimizing feedback problems. The PHF receiver uses a "mass-balanced diaphragm and armature system" to greatly decrease the vibration problems common to traditional receivers. Combined with Knowles' high-output armature geometry, the PHF receiver provides increased acoustic output with reduced vibration. The result is maximum gain-before-feedback and acoustic gains previously unrealizable in custom instruments. (630) 250-5113; www.knowleselectronics.com.
---

Hearing Health Care Solutions
Siemens Hearing Instruments, Piscataway, NJ, provides the solutions professionals need to make the most of their practice. By integrating hearing solutions, such as TRIANO™ and PHOENIX™ One, and information technology, like mySiemens and Practice Navigator™, work-flow processes are redefined supporting hearing care professionals in the hearing care environment. Please visit Siemens Hearing Instruments at AAA booth #1527. (800) 766-4500; www.siemens-hearing.com.
---

Practice Resource Center
CareCredit' Anaheim, Calif, a nationwide patient financing program, has developed a new Practice Resource Center, specifically designed for the hearing market. The Resource Center features audio programs, article reprints, and other information providing valuable insights and techniques from leading consultants and field experts like J. Scott Bailey, a top professional sales trainer for the Sandler System, and Frank Conaway, a 30-year marketing and advertising veteran and mature market expert. In addition, the Resource Center gives practices access to materials they can use to effectively market and present patient financing including patient brochures, patient payment presentation charts, and other high-quality promotional materials. CareCredit offers a comprehensive range of plans, including 3-, 6-, and 12-month no-interest arrangements, and up to 24-, 36-, and 48-month low-interest payment options. (800) 300-3046, ext 4519; [email protected].
---

In-Office Demonstration Program
SeboTek® Hearing Systems, Tulsa, Okla, and Energizer Batteries offer an in-office demonstration program designed to stimulate consumer awareness and interest in SeboTek's PAC (post auricular canal) hearing instrument and other advanced hearing technology. For a limited time, hearing professionals conducting demonstrations of PAC qualify for free Energizer "EZ Change" battery dispensing packages. (800) 388-9041; www.sebotek.com.
---

Silicone Earmolds
Mid-States Laboratories, Wichita, Kan, now offers Crystal Clear, the newest in its silicone family of earmolds. The unique material blends cosmetically into the wearer's skin tone for an appealing appearance. Also, the material is strong and durable, as well as soft and pliant. In addition, it offers excellent sealing qualities. (800) 247-3669; www.mid-stateslabs.com.
---

Feedback Cancellation System
Apherma Corporation, Sunnyvale, Calif, offers Adaptive Echo Cancellation (AEC)— a patented feedback cancellation system—to resolve the feedback and occlusion problems associated with an ITE device. AEC significantly increases the available headroom for gain amplification, while effectively minimizing occlusion. ITE devices with Apherma's AEC offer flexibility in selection of larger vent sizes, canceled feedback, and improved overall patient speech intelligibility. Available on the 180 line for all custom styles. (877) 274-3762; www.apherma.com.
---

Hands-Free Communication
All American Mold Laboratories Inc, Oklahoma City, offers custom earpieces for a variety of communication devices for cellular telephone users, air traffic controllers, news broadcasters, etc. The custom devices increase clarity and comfort. (800) 654-3245; www.Allamericanmold.com.
---

Amplified Phone
HITEC Group, Burr Ridge, Ill, announces the release of the Freedom Phone. The ClearSounds 40XLC has Caller ID, amplification up to 50 dB, and hands-free operation with both a 2.5 mm and 3.5 mm audio jack for use with any headset, neckloop, T-hook silhouette, or patchcord. It is a speaker phone with volume control, and it has a built-in signaling system including a loud ringer, a flashing strobe, or an optional bed shaker. A three-level speech output control enables volume adjustment of outgoing voice control. Large buttons and memory dial make it easy to use. It is stylish, elegant, and hearing aid compatible with a 2-year warranty. (800) 288-8303; www.hitec.com.
---

Ear Wax Removal Kit
Warner Tech-care Products, Minneapolis, offers its Ear-wax Removal Aid Kit formula. The kit is complete with an ear bulb syringe and ear drops (part #927732). Refill drops are available (part #927745). (800) 328-4757, www.warnertechcare.com.
---

Integrated Audiological System
MedRx Inc, Largo, Fla, introduces the AVANT™, the next generation of completely integrated audiological systems. This patient-intuitive system provides a complete NOAH™ compatible solution to diagnostic testing, fitting, and validating test results. The AVANT system features USB connectivity, therefore existing computers can be used. This unique user-friendly system is specifically designed to enhance the patient/practitioner relationship. (888) 392-1234; www.medrx-usa.com.
---

Lipreading Course CD-ROM
Audiological Engineering Corp, Somerville, Mass, offers a lipreading instructional course on CD-ROM (with multimedia capabilities) for hearing health professionals and self-study programs. This CD-ROM can be used alone or in combination with tactile aids or a hearing aid. The course enables adults and children to participate in home therapy. The course offers lessons ranging from individual vowels and consonants to running speech. (800) 283-460; www.tactaid.com.
---

Online Supply Ordering
Westone Laboratories Inc, Colorado Springs, Colo, offers 24-hour, online service through its hearing health care Web site at www.westone.com/supply. An easy three-step process is categorized to correspond with the Westone Price Guide, and includes such categories as impression materials, batteries, battery testers, and point of purchase products. Users must have a Westone account number and a recent version of Microsoft Internet Explorer. (800) 525-5071; www.westone.com/supply.
---

Fitting Software
Audina Hearing Instruments, Longwood, Fla, announces the release of ezFIT version 4.0. Additions to this model include the revised AutoFit to better assist practitioners in tackling out-of-the-ordinary hearing loss configurations; an interactive Fitting Wizard, designed to streamline fittings quickly and easily; and six new environmental fitting programs, including restaurant/noise, telephone/telecoil, and music listening to allow the dispenser to customize the patient's multi-memory settings. Furthermore, Audina has expanded its fine-tuning guide for "tweaking" fittings as needed. (800) 223-7700; www.audina.net.
---

Phone Line Simulator
Effective Communication Solutions Inc, Independence, Ky, offers a phone line simulator that enables hearing professionals to plug an amplified phone into the voice tester/line simulator. The unit is battery operated and has a pre-recorded message that allows clients to pick up the demonstration phone and test the volume gain on any phone or speakerphone. (800) 838-1649; www.BeyondHearingAids.com.
---

Wireless Patient Response System
Pehratek Products, Chanhassen, Minn, offers the PATIENT-LINK wireless patient response system, a wireless alternative to standard wired patient response buttons that tangle and limit freedom in small sound rooms or for people in wheelchairs. The PATIENT-LINK can be added to most audiometric testing systems that have a built-in patient response light system. To upgrade the current wired patient response to a wireless version, the receiver just needs to be plugged into the audiometer jack. The lighted handheld unit is lightweight and features a large push button with LED that lights up when pressed to give the patient feedback during the test procedure. (952) 470-9063; www.pehratek.com.
---
Tinnitus Treatment
EAR Inc, Boulder, Colo, introduces RingSTOP™, an all-natural product for people suffering from tinnitus. The product is a homeopathic formula that is available in capsule form. Ingredients include amino acids, herbal extracts, antioxidants, and vitamins that have been reported to reduce the symptoms of tinnitus, a condition for which there is no known remedy. (800) 525-2690; www.earinc.com; www.freehearingtest.com.
---

Digital Hearing Aids
Oticon Inc, Somerset, NJ, offers the Atlas Plus family of digital hearing aids. Atlas Plus takes Atlas to a whole new level by incorporating Oticon's unique technology to effectively address the side effects of occlusion and acoustic feedback. Atlas Plus builds upon the success of Atlas, and incorporates significant technology improvements including OpenEar Acoustics™, Dynamic Feedback Cancellation, and two programs. Atlas Plus is available in a full range from CIC to BTE power, including directional models. (800) 426-3921; www.oticonus.com.
---

Long-Lasting Batteries
iCellTech, Seoul, Korea, offers hearing aid batteries. The company guarantees superior quality by strict piece-by-piece in-house inspections and reliability tests under ISO-9001-2000 quality management. According to the test results by customers and authorized laboratories, the average running times of iCellTech batteries are much longer compared to most of the other leading brands. iCellTech batteries deliver enhanced power under high current drain and provide better performance for a larger range of devices including most of the cochlear implants. Magnatone (for the United States and Canada) (800) 789-6543; [email protected].
---

Hearing Aid Vacuum System
Hearing Loss Help Co, Worcester, Mass, offers the JODI hearing aid vacuum system designed for consumer and home use. The consumer-rated 400-hour motor should provide 10 to 12 years of operations, and operates on a 13.5 vDC with transformer. The unit has a replaceable filtered syringe assembly for simple maintenance. The syringe has a flow indicator showing the suction at work, and it also acts as a warning that the syringe is clogged. The JODI hearing aid vacuum system can be used with all hearing aid types. (508) 755-1120; hearing-loss-help-co.com.
---

Audiological System
MedRx Inc, Largo, Fla, features the AVANT™ Audiological System, which can be configured to include clinical audiometry, real ear measurements, live speech mapping, hearing loss simulation, hearing instrument test chamber with directional microphone testing ability, video otoscopy, loudness scaling tympanometry, and Hi-Pro. It is also NOAH compatible. The AVANT features USB connectivity, that can be interfaced with a laptop or desktop computer. (888) 392-1234; www.medrx-usa.com.
---

Tympanometer
Maico Diagnostics, Eden Prairie, Minn, features the MI 24 tympanometer, which offers an optional high-probe tone feature with automatic impedance testing, as well as ipsi and contra reflex testing. The lightweight, portable model includes a backlit LCD screen and an internal thermal printer, making it a strong performer in its price category. Visit Maico during AAA at booth #1019. (888) 941-4201; www.maico-diagnostics.com.
---

Dual Alarm Clock
Harris Communications, Eden Prairie, Minn, offers the Sonic Boom Dual Alarm Clock (SBD375ss), featuring two alarm settings—a feature not found in many loud alarm clocks. Other features include: adjustable volume and tone control, hi/lo dimmer switch, large 1.8 inch LED display, and extraloud pulsating alarm. The clock comes with a powerful 12 v bed shaker. Harris Communications is the largest distributor of Sonic Alert Products. (800) 582-8569; www.harriscom.com.
---

Flex Strips
Deltek, the electromechanical solutions division of Knowles Electronics, Elgin, Ill, has released Models 9200 and 9201 battery door style programming flex strips. The Model 9200 is a replacement flex strip that can be used with existing press-fit modules. The Model 9201 incorporates a Deltek Model 0009 four-pin socket at one end to accommodate a standard micro-plug/mini-DIN style programming cable. Its design offers superior resistance to lead fracture as a result of torsion or flexion during use. Deltek does not seal the contact ends in Kapton (popular among existing products) eliminating the need for overprinting of gold-plated contacts, known to be susceptible to contact fracture through normal use. Deltek's design provides a consistent and reliable contact point and minimizes contact resistance. (847) 841-3000; www.deltekelectronics.com; www.knowles.com.
---

Curing and Inspection System
Kinetic Instruments Inc, Bethal, Conn, features the SpotCure-P benchtop instrument, which provides two very useful tools—a high-intensity probe for UV adhesive spot curing, plus a brilliant white light probe for inspection of small, difficult to reach spaces. Both probes use the latest LED technology and can be run continuously on line power, or its long-life built-in rechargeable battery. The curing probe's output cures most acrylic-based adhesives, and is ideally matched to Loctite® 4304 and 4305 to provide tack-free curing in less than 5 seconds. (800) 233-2346; www.kineticinc.com.
---

Customized Newsletter
Hearing HealthCare News®, a customized newsletter for patients published since 1986, and Audiology HealthCare News®, a customized newsletter for physicians and other health care providers, are both edited by Dennis Hampton, a dispensing audiologist based in White Plains, NY. The newsletters are valuable resources for marketing a practice to patients and physicians. The newsletters are published quarterly, and delivered ready to mail. Samples and marketing videos are available. (800) 342-1643; www.hearinghealthnews.com.
---

New Product Line
In'Tech Industries Inc, Ramsey, Minn, a leading supplier of miniature plastic hearing aid components introduces its new VTM™ product line. Services include providing high-quality, highly accurate, digitally created ear shell services and rapid manufacturing to hearing instrument manufacturers. Proven technology includes precision scanning, electronic detailing, and stereo-lithography services while offering multiple surface finishes and color options that can improve your customer satisfaction ratings. This service is now available to all hearing aid manufacturers. www.intech-ind.com.
---

Wireless, Handheld ABR/ASSR
Vivosonic Inc, Toronto, is developing a clinical EP (auditory evoked potential) instrument with ABR (auditory brainstem response) and ASSR (auditory steady state response) functions for release in 2004. By using Vivosonic's proprietary Amplitrode™, a miniaturized combination of electrode and optimized EP amplifier, the system provides for exceptional low-noise performance and near immunity to background electromagnetic artifacts, which results in faster test times. The instrument can be connected to a PC through Bluetooth wireless communication for enhanced user interface, data management, and integration with the VivoScan™ OAE instrument. Please visit Vivosonic Inc at AAA booth #2201. (877) 255-7685; www.vivosonic.com.
---

Personal Care Products
Warner Tech-care Products (formerly Hagemeyer), Minneapolis, features its own line of personal care products, including Earmold Cleaner, Sta-Dri dehumidifier jar, Ear-gel, Ear-fresh, Derm-aid Cream, and Tech-care ear wax removal system. All of the Tech-care products are alcohol-free to prevent ear irritation. (800) 328-4757; www.warnertechcare.com.
---

Instant Online Application
CareCredit' Anaheim, Calif, has introduced its Instant Online Patient Application, which enables patients to apply for financing in the comfort of their own home or from the practice—and receive a decision in seconds. The online application requires no paperwork or loan documentation to review or sign, and has only a few fields of information to complete. Go to the Web site, click on the "patients/clients" link to apply. Application results are given within 30 seconds. A great time saver for practices, the online application option lets patients secure financing on their own in less than 30 seconds. Once the patient has received an approval, they simply inform the practice of the decision and, upon verification, can begin care right away. (800) 300-3046, ext 4519; www.carecredit.com; [email protected].
---

Powerful Personal Amplifier
HITEC Group, Burr Ridge, Ill, offers its redesigned Sound Wizard ergonomic powerhouse of a personal amplifier. Use the new Sound Wizard II alone for personal amplification with tone control for clarity, or share it with a friend (it has two headset jacks). A choice of the omni directional or the directional built-in microphone is adjustable for optimum listening. Use it with the optional 95 kHz infrared receiver module for TV listening or theater use. The optional teleconnect module lets you use it as a powerful in-line telephone amplifier. You can even hook it up to optional speakers to use in a conference room. It comes with powerful ear buds, but you can use it with a headset or neckloop. (800) 288-8303; www.hitec.com.
---

VNG Laptop Platform
Micromedical Technologies, Chatham, Ill, introduces a laptop platform for VisualEyes VNG. The standard system includes a laptop VNG computer, our micro-interconnect station, portable digital light bar, and wireless mini-switch to move forward or backward in tests. Options include electrode capability, VORTEQ active head rotation, and LCD stimulus projector. The laptop was designed specifically to meet the mobility and space limitation needs of vestibular and balance testing centers. (800) 334-4154; www.micromedical.com.
---

Clinical Vacuum
jodi-Vac, LLC, Portland, Ore, offers jodi®-XL, a clinical vacuum desiccator for office, clinic, and hospital use. Two 2,000-hour vacuum pumps power this unit. The desiccator has a heated plate and a desiccant for maximum moisture absorption. The motor turns off when it reaches vacuum, until needed to keep the desiccator at vacuum. The second pump powers the needle vac, which is identical to the pro unit. It is a 15-volt DC unit with a dual 110-230 transformer, and can be used anywhere in the world. (866) 856-5634; www.jodivac.com.
---

High Performance Batteries
ZeniPower, Zhuhai, China, offers new hearing aid batteries with a 20% increase over last year's IEC pulse test results. Suitable for full digital and cochlear implants, as well as general purpose hearing aids. Free samples are available.Visit us at AAA at booth #1906. (814) 825-8398; www.hearing-aid-batteries-co.com; www.zenipower.com.
---

Natural Ear Treatment
MiraCell Inc, Orem, Utah, offers the MiraCell skin conditioning ear care product. Made of botanical extracts, MiraCell is used to soften earwax before appointments for easier removal, is applied to the otoblock to make taking ear impressions less irritating, and is used to prep patients' ears 2 to 4 weeks prior to fittings. (800) 748-5040; www.miracell.com.
---

Private Label Batteries
Westone Laboratories, Colorado Springs, Colo, features private label batteries for hearing health care providers. Westone's private label batteries provide high quality and long life, and are more economical. In addition, private label batteries are an excellent marketing tool. Whether the batteries are offered through retail, provided with a service agreement, or both, private label batteries keep the business name in front of loyal customers and serve as a constant reminder of the professional services provided. (800) 525-5071; www.westone.com.
---

Digital Product Line
Audina Hearing Instruments, Longwood, Fla, has added the Instinct to its digital line of hearing instruments. The Instinct is a 16-band, 4-channel WDRC product with adaptive phase cancellation feedback management and adaptive noise reduction. The noise reduction algorithm is designed to minimize distortion and applies attenuation only to the bands in which the noise predominates, thus maximizing gain for the patient. Concurrently, the feedback cancellation system continuously and adaptively self-adjusts for varying conditions in the feedback pathway, which cancels the feedback without gain reduction. (800) 223-7700; www.audina.net.
---

Single-Wall Screening Booths
Acoustic Systems, Austin, Tex, offers single-wall screening booths for screening environments where the ambient conditions require increased attenuation, or clinical testing may be required. The booths are constructed with the company's standard, Type 2, 4-inch-thick wall panels and provide isolation. Acoustic Systems is accredited by the National Voluntary Laboratory Accreditation Program (NVLAP) and submits its audiometric rooms and suites to regular testing. (512) 444-1961; www.acousticsystems.com.
---

Physician Marketing Video
A video about a physician newsletter publishing service is being offered by the publishers of Hearing HealthCare News®, White Plains, NY. The 9-minute presentation, available on CD or VHS, describes how a physician newsletter can benefit an audiology practice. (800) 342-1643; www.hearinghealthnews.com.
---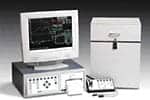 Video Otoscope
ADCO Hearing Products Inc, Littleton, Colo, offers a convenient hand-held Video Otoscope from WelchAllyn. Economical and portable, the video otoscope head is designed to work with any WelchAllyn 3.5-inch handle. The camera is located in the head of the otoscope. Use the video otoscope to view the ear canal, ear drum, or even magnify small details of a hearing aid. A 12 foot cord with RCA jacks on both ends easily connects to a TV, monitor, VCR, or computer video capture device. (800) 726-0851; (303) 794-3928; www.adcopro.net
---

Live Speech Mapping
MedRx Inc, Largo, Fla, offers the DSM-PRO™, an affordable system that can interface with a computer, via the USB port, and provides the practitioner with the ability to use a variety of fitting protocols. Features include live speech mapping, a hearing loss simulator, and a hearing instrument simulator. It is NOAH™ compatible. (888) 392-1234; www.medrx-usa.com.
---

Cerumen Removal Device
Oaktree Products, Chesterfield, Mo, offers the Lighted Ear Curette™, by Bionix, for safe cerumen removal. The unit combines disposable ear curettes with a powerful LED light source, which illuminates the ear canal from the tip of the curette, enabling quick, efficient, and sterile cerumen removal. (800) 347-1960; www.oaktreeproducts.com.
---

New Released Batteries
ZeniPower, Zhuhai, China, offers patented hearing aid batteries with low impedance and stable voltage (above 1.1V) with high drain use to ensure longer wear with new high-power hearing aids. A strictly controlled manufacturing process guarantees high reliability and consistency. Free samples are available. Visit us at AAA at booth #1906. (814) 825-8398; www.hearing-aid-batteries-co.com; www.zenipower.com.
---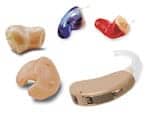 Impression Material
Mid-States Laboratories Inc, Wichita, Kan, offers its line of impression material, Yellow Stuff™. The product is available in three formulas: oil-free Yellow Stuff; Yellow Stuff II™, with oil-added comfort and easy removal; and Yellow Stuff III™, made with a new "in-between" formula that allows ease of removal with fewer oil-related manufacturing problems. (800) 247-3669; www.mid-stateslabs.com.
---

Hearing Aid Sweat Band
VanB Enterprises of West Valley, NY, offers the Hearing Aid Sweat Band, a disposable soft fabric sleeve that protects behind-the-ear (BTE) devices from moisture. Available in four colors and five sizes, the Hearing Aid Sweat Band protects BTE hearing aids from perspiration, snow, and rain, as well as from infiltration of damaging dirt and grime. The sleeve is easily slipped over the microphone of a hearing aid, without the need for a tool. (716) 942-6313; www.vanbenterprises.com.
---

Personal Listening System
Sennheiser, Old Lyme, Conn, offers the Set 810 Personal TV Listening System. Designed for seniors, the hard of hearing, and those wishing to listen to audio entertainment without disturbing others, the easy-to-use, easy-to-install system features an infrared transmitter, with both stereo and mono options, and a wireless stethoset listening device (with a large, easy-to-use volume control for level adjustments). Additional features include automatic off/on, ergonomically adjustable ear bows, and compression drivers to attenuate loud programming and boost soft passages for a more even audio level and better speech intelligibility. The Set 810 includes a Sennheiser MKE 800-TV external microphone (a $49 value) for use where an audio output socket is not available. The transmitter features a charging cradle, a separate spare battery charging compartment, and a quick charge feature so that the receiver battery can be ready for use in 3 hours. (Note: infrared systems are not designed for use with plasma television screens.) www.sennheiser.com.
---

New Battery Technology
SY KESSLER SALES INC, Dallas, sole Importer for RENATA Consumer Batteries, will be launching RENATA's Newest Generation technology, featuring higher voltage and improved overall performance at this year's AAA show. RENATA, a company of the SWATCH GROUP, has been producing zinc-air batteries for over 11 years. Renata's batteries are always freshness dated, and now have longer tabs. Free samples are available from battery suppliers. Please visit SY KESSLER SALES INC at AAA booth #813. (214) 351-0380; (800) 527-0719; www.sykessler.com.
---

Acoustic Impedance/Microprocessor Audiometer
Micro Audiometrics, Murphy, NC, introduces the Earscan® middle-ear analyzer and pure tone audiometer. According to the company, the device is lightweight, durable, and affordable; performs an acoustic impedance test in 1 or 3 seconds; and can test ipsilateral reflexes. It reportedly presents signals from 250 through 8K, at 0 to 90 dB in a pulsed or continuous mode, and can test automatically. The Earscan comes complete with the audiometric headset, impedance probe, eartips, and a limited 3-year warranty. The first factory calibration is free. (800) 729-9509; www.microaud.com.
---

Digital Hearing Aids
Interton, Minneapolis, introduces IQ™, a digital hearing aid family, built around a new DSP hybrid. The product features 14 independently adjustable frequency bands, adaptive feedback control, and three-channel expansion. In addition to the hearing aid itself, IQ is being marketed in a "no hassle" format that includes conveniences for the dispenser and extras for the patient. IQ also offers a unique "sound blending" scheme that accurately balances a WDRC and AGCo/AGCi gain/compression scheme for more comfortable listening. (800) 247-4741; www.interton-usa.com.
---

Cordless Amplified Telephone
Clarity®, a Division of Plantronics Inc (formerly Walker Ameriphone), Chattanooga, Tenn, offers the CL40 Amplified Cordless Telephone, increasing incoming sounds up to 40 dB and featuring a separate tone control (600 Hz-2,400 Hz) for high-frequency sounds. The unit's 900 MHz technology and an automatic channel scanner provide a stable, extended operating range and static-free transmission. The CL40 is hearing aid telecoil compatible and has an audio output jack for connection to a headset, neckloop, or cochlear implant. (800) 426-3738; www.clarityproducts.com.
---

Hearing Protection
Perfect Seal Laboratories of Wichita, Kan, offers many styles of hearing protection. No matter what your client's needs, Perfect Seal can accommodate them. From the electronic series (shown) to solid plugs, Perfect Seal can provide solutions for many specific industrial applications. (800) 311-9810.
---

Digital Product Line
Apherma Corporation, Sunnyvale, Calif, introduces its complete digital product line featuring Adaptive Echo Cancellation (AEC)—Apherma's own patented feedback cancellation system, exclusive to the 180 model. Model lines utilize independently adjustable six-channel WDRC, signal fidelity preservation, adjustable time constants, and compression knee points. Optional features include adaptive directionality, multi-channel noise reduction, multi-channel expansion, volume control, and telecoil. Up to three independently programmable memories. (877) 274-3762; www.apherma.com.
---

Digital Family
Oticon Inc, Somerset, NJ, introduces its GO line of affordable digital hearing instruments. GO features two-channel WDRC, NAL-NL1 rationale, Directional ITEs and BTEs, automatic feedback manager, optional programmable telecoil, and volume control, and is available in a full range of models. (800) 426-3921; www.oticonus.com.
---

Hearing Aid Dryer
S & S Laser Productions, New Port Richey, Fla, offers the Moisture Guard Electronic Hearing Aid Dryer. The Moisture Guard provides users with a way to properly maintain their hearing aids. It is safe, easy to use, and portable. The unit is made of cherry wood and carries a money-back guarantee. (800) 934-6815.
---

Infection Control Book
Oaktree Products Inc, Chesterfield, Mo, offers the book Infection Control in the Hearing Aid Clinic. The book provides basic information on immunology, microbiology, and infectious diseases, including CMV, hepatitis, and SARS. It also outlines eight specific reasons why hearing aid-specific infection control procedures should be implemented in the dispensing clinic, including a review of recent infection control research findings from the audiology literature. The book is also supplemented by a comprehensive outline of federally mandated, OSHA infection control requirements, associated regulatory agencies, a glossary of over 60 terms, a sample written infection control plan template, and a comprehensive index. (800) 347-1960; www.oaktreeproducts.com.
---

Office Management Software
Starkey Laboratories Inc, Eden Prairie, Minn, offers ProHear office management software for hearing health care professionals, providing fast, accurate methods for accessing customer information, finances, analyzing business trends, creating marketing strategies, and scheduling. ProHear 5.5 now provides instant access to NOAH 3.0. Measure and record a patient's hearing loss with any NOAH 3.0 certified device using 5.5's audiogram, speech test, or loudness scaling features. Results are then passed automatically to a common database, for use by any fitting system from any manufacturer. (800) 328-8602; www.starkey.com.
---

Convenient Hearing Aid Repair
Precision Laboratories, Altamonte Springs, Fla, offers a kit to repair or modify hearing aids that are made of acrylic. Use the appropriate color of polymer along with the adhesive to make a "liquid plastic" to repair and modify hearing aids. (800) 327-4792; www.precisionweb.com.
---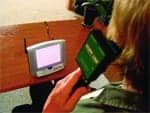 Digital Products
Beltone Electronics Corporation, Chicago, is introducing two additions to its digital product family, Corus and Mira. Corus helps eliminate common fitting problems including feedback and occlusion. It automatically monitors and eliminates feedback while in the ear. Corus uses a new advanced compression system, which provides extremely fast signal processing. Mira offers multi-channel curvilinear compression for sound quality and comfort. (800) 621-1275; www.beltone.com.
---

Programmable Voice Enhancement Software
SeboTek® Hearing Systems, Tulsa, Okla, introduces an upgrade to Pro-VES 4.0 programmable voice enhancement software for the Voice-Q™ digital sound processor. Features include: print function allowing parameter settings and audiograms to be printed, a restore function for saving and retrieving previous burn information, enhanced copy/balance function enabling ear-to-ear and memory-to-memory options, a parameter summary page for tracking programming settings and changes, and a view setting that creates a session history and highlights the most recent changes. The advanced autofit function quickly programs one or all memories. These enhancements complement the feedback management, directional microphone, and T-Coil parameters of the current Pro-VES software. A comprehensive guide for the NOAH and Stand-Alone versions of the software will be provided to aid in dispenser training. (800) 388-9041; www.sebotek.com.
---

Dealer Program
TV Ears Inc, Amsterdam, NY, announces the launch of its "Authorized TV Ears Dealer Program" and its "Put On Your TV Ears" marketing campaign. Authorized dealers will be listed on the TV Ears Web site and included in the TV Ears telephone referral program. The "Put On Your TV Ears" marketing kit includes everything an office needs to generate doctor referrals, attract new customers, and stimulate existing customers. Each kit includes ads, postcards, statement stuffers, brochures, "TV Bucks," and an eye-catching point of purchase display. (888) 883-3277; www.tvears.com.
---

Joint Program
Ear Technology, Johnson City, Tenn, announces that Interton is now including a Dry & Store® Global with every IQ hearing aid fitting in the United States. With two models available, Dry & Store accommodates all types of hearing instruments including cochlear implant hardware. In addition to Interton's program, Cochlear Americas includes Dry & Store with every implant system shipped in the Western Hemisphere. Information is available on how to become an authorized distributor. (800) 327-8547; www.dryandstore.com.
---

Tinnitus Management Devices
General Hearing Instruments Inc, New Orleans, offers a complete line of tinnitus management devices. Designed to accommodate the various needs of tinnitus patients, product choices include combination units (amplification/sound generator), custom open-ear sound generators, and readywear devices. Combination devices can be ordered with analog or digital amplifiers. (800) 824-3021; www.generalhearing.com.
---

Rotational Chair
SYNAPSYS, Austin, Tex, offers the Ulmer™ VNG-enabled MED4™ Rotational Chair. The combined features of the chair allow for enhanced vestibular testing, without requiring the patient to move to various locations during the course of testing. A rotary chair is necessary to assess the whole range of frequencies to obtain the most positive clinical outcome of vestibular patients. (866) 796-2779; www.synapsysusa.com.
---
Free Practice Growth CD
CareCredit®' Anaheim, Calif, a nationwide purveyor of comprehensive patient payment programs, is offering "Growing Your Practice—Effective Communication Techniques," a free CD or audiotape featuring J. Scott Bailey, a sales consultant at the Sandler System. Bailey has more than 25 years' experience working with companies and professional groups teaching effective communication techniques that can be used to uncover patients' emotional needs, "buying cycles," and buying objectives. Developed specifically for hearing health care professionals, the CD/tape provides Bailey's insights on developing pricing approaches, and identifies the most common mistakes professionals make during sales presentations. (800) 300-3046, ext 519; [email protected].
---

ALD Brochure
Effective Communication Solutions Inc, Independence, Ky, introduces a full-color ALD brochure designed for hearing health care professionals to use for patient counseling. The devices chosen for this brochure were based on extensive ALD experience working with consumers and represent the most frequently purchased products for home and work. (800) 838-1649; www.BeyondHearingAids.com.
---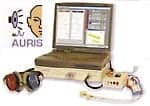 Desiccant Packaging
Ear Technology Corporation, Johnson City, Tenn, introduces new packaging and d