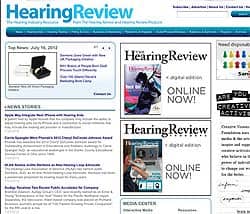 TOP NEWS and HEADLINES
Pop Idol Justin Bieber Sued for Causing Tinnitus
Over 100 Attend Oticon's Marketing Boot Camp
NIH: Brains of People Born Deaf Process Touch Differently
Battat, Healy, Isherwood, Kochkin, and Ostergaard Join Ida Institute's Judging Panel for Global Ideas Competition
Department of Education Invites Applications for Technical Assistance Grants
Oticon Publishes Results of Survey of First-Time Users of Intiga RITE
Sycle.net Announces Integration with LACE Aural Rehabilitation
Protein May Lead to New Therapies to Prevent Hearing Loss
Federal District Court Allows NAD to Sue Netflix
A federal court in Massachusetts has allowed the National Association of the Deaf (NAD) to move forward with its case against movie streaming service Netflix. The NAD is attempting to require Netflix to provide closed captioning on all of its streaming films.
NAD is suing Netflix under the Americans with Disabilities Act (ADA). Netflix argued that the ADA applied only to public buildings and structures, not to Internet services. However, the court denied Netflix's motion for dismissal, stating that it would be "irrational to conclude" that "places of public accommodation are limited to actual physical structures…In a society in which business is increasingly conducted online, excluding businesses that sell services through the Internet from the ADA would run afoul of the purposes of the ADA and would severely frustrate Congress's intent that individuals with disabilities fully enjoy the goods, services, privileges and advantages, available indiscriminately to other members of the general public."
Sycle.net Announces Integration with LACE Aural Rehabilitation System
Sycle.net has announced an agreement with Neurotone that gives Sycle.net's audiology practice management solution exclusive integration with LACE® Online, an auditory training software developed by Neurotone.
LACE is an acronym for Listening And Communication Enhancement. The interactive computerized aural rehabilitation program was conceived by audiologists at the University of California at San Francisco (see "Physical Therapy for the Ears: Maximizing Patient Benefit Using a Listening Retraining Program" by Robert Sweetow, PhD, in the September 2005 HR).
LACE's rehabilitation training system is designed to work with or without hearing aids by retraining the patient's brain to develop skills and strategies to deal with difficult listening situations. According to Sycle.net's press release, it also has been proven to reduce hearing aid returns and patient follow-up visits.
The integration between LACE and Sycle.net's practice management software reportedly allows for easier managing of LACE programs, viewing of patient progress, and analyzing database-wide reporting and metrics.
Med-El Launches Social Network for Cochlear Implant Community
Med-El has just launched HearPeers, a new social network for the cochlear implant community, including users, parents, and anyone else interested in learning about cochlear implants.
Like Facebook and other online social networks, HearPeers will have features for finding and inviting other members. In addition to searching by name, the search function will include searching via hearing loss history, implant story, and where people live.
Members will be able to engage each other through instant chat, messaging, news feeds, and forming subgroups. They also will be able to share experiences through pictures, videos, music, personal blogs, and public forums.
Med-El hopes that the HearPeers forum will become not only a social place to virtually meet fellow users, but also a support resource for parents of children with cochlear implants, teen users, and others.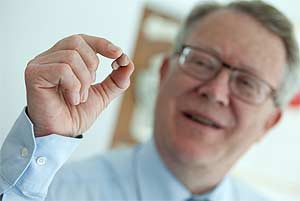 Widex CEO Jan Tøpholm
"Within minutes of HearPeers going live, people from as far away as Japan and Australia have begun sharing their stories and posting images. It's a fun and exciting way to 'tell the world' about first sounds, milestones, and more," said Darla Franz, MA, director of education and corporate communications at Med-El Corporation USA.
For an overview of HearPeers and to join, visit www.HearPeers.com.
Widex Wins European Inventor Award
Widex has won the prestigious European Inventor Award 2012. Besting 15 finalists, the Danish hearing aid manufacturer won for its ground-breaking CAMISHA technology, a sophisticated method of manufacturing individual hearing aid shells, earmolds, and ear-pieces.
The award was announced by the European Patent Office (EPO) at an award ceremony in Copenhagen, Denmark.
Speaking at the event, Widex CEO Jan Tøpholm said, "We are very proud to win this award, especially in competition with world renowned technologies such as Bluetooth and the heart attack diagnostic test from Roche. Innovation is part of our company DNA. This award underlines our role as a technology leader not only in the hearing aid industry, but as a high-tech company in general."
Widex's Søren Westermann, Jan Tøpholm, and Svend Vitting Andersen were recognized by the European Patent Office with the 2012 European Inventor Award for their development of CAMISHA shell manufacturing.
CAMISHA stands for Computer Aided Manufacturing of Individual Shells for Hearing Aids. It uses laser technology to make an impression of the hearing aid user's ear canal and turns this data into a 3D computer model. This is then used as a basis for the manufacturing of individual shells and earmolds that fit the user's ear canal exactly. The Hearing Review reported on this technology when it was first made available to the industry (see "Changing with the Times: Applying Digital Technology to Hearing Aid Shell Manufacturing" by Richard Cortez et al in the March 2004 HR).
Presenting the award to Widex, EPO President Benoît Battistelli said, "Jan Tøpholm, Søren Westermann, and Svend Vitting Andersen [the inventors] not only revolutionized the hearing aid industry with their invention, they also show how Widex is a lighthouse example of a small family-owned business becoming an internationally successful company by pursuing a well-defined innovation and patent strategy."
The award is a significant achievement for winning companies, and they often receive international media attention. In the case of Widex, Tøpholm was featured and quoted on CNN about the award and its recognition for the company. A video of the ceremony and acceptance speech is available on YouTube at youtu.be/A5Y_v7mIFqM.
Audioscan Opens New Headquarters and Manufacturing Building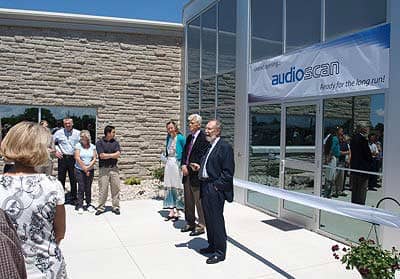 Audioscan President William (Bill) Cole with Jim and Joanne Jonkman prepare to cut the ribbon to the company's new headquarters.
Audioscan has opened its new headquarters and manufacturing facility in Dorchester, Ontario. The new building will house all of the functions of the business, including design, manufacturing, and customer service.
"We are excited about the opportunities that lie ahead for Audioscan," said Bill Cole, president of the company. "With nearly triple the space, this new facility will allow Audioscan to continue to expand its markets and its product line and to operate more efficiently."
Audioscan, a division of Etymonic Design, was formed in 1989 by Cole and Jim Jonkman to commercialize hearing instrument fitting systems. Today, their products include Verifit, Axiom, and the RM500SL fitting solutions.
Michigan Bus Line Installs First Hearing Loop System
The Michigan Department of Transportation (MDOT) and Indian Trails Inc, a private bus line, have teamed up to install hearing loops on a fleet of 17 buses operating 34 scheduled routes that serve passengers throughout Michigan.
"I'm quite sure this is the first American bus line with hearing loops," says David G. Myers, professor of psychology at Hope College in Holland, Mich, who has hearing loss and runs the Web site www.hearingloop.org.
Hearing Loop Systems and Contacta Inc, also of Holland, assisted with the custom design and engineering of the bus loop systems. MDOT also installed hearing loops on a pilot basis at bus stations in Saginaw and Bay City.
"This is proven technology that represents an enormous improvement in the on-board experience of many of our passengers who are hard of hearing," said Gordon Mackay, president of Indian Trails. "The cost was relatively low, about $800 per bus, and very little maintenance is needed. We would eventually like to see it installed in all of our motor coaches and in all bus stations."
---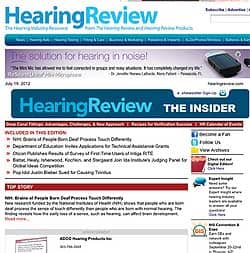 Get Your Weekly Edition of THE INSIDER
Every week The Hearing Review sends out THE INSIDER, a weekly FREE e-newsletter devoted to the top hearing-related news, research, product introductions, fitting topics, and marketing research stories that are influencing your business or practice, as well as the industry at large. [register]Sign up for your free subscription[/register].