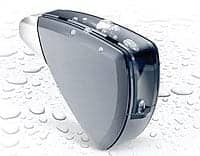 Standard and Power BTE in One Device
ReSound, Bloomington, Minn, has announced the ReSound Alera Fusion Behind-the-ear (BTE), the world's first standard and power BTE product in one housing, according to the company. The two-in-one hearing device can be converted to the needed configuration and allows dispensers to offer a very small power instrument. The product will reportedly enable dispensers to simplify fittings and inventory management. The company also introduced the ReSound Alera Custom Remote Microphone, designed to take advantage of the ear's ability to provide natural directionality and wind noise protection. Both models have wireless capabilities and are equipped with Surround Sound technology for improved sound quality.
(800) 248-4327
www.gnresound.com
---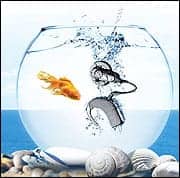 Rechargeable Battery System for Implants
Cochlear, Centennial, Colo, has announced that the FDA has approved the Nucleus 5 rechargeable battery system for adults and children with severe-to-profound hearing loss. According to Cochlear, when utilizing the Nucleus 5 implant with the rechargeable battery system, the Nucleus 5 Sound Processor is the world's only submergible sound processor. Cochear also states that the system's IP57 water protection rating means that the sound processor is not only splash resistant, but can be submerged into 3 feet of still water for up to 30 minutes.
(800) 523-5798
www.cochlearamericas.com
---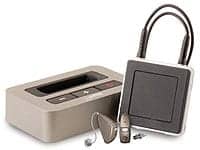 Wireless Canal Technology in Open Fit
Unitron, Kitchener, Ontario, introduces the Moxi 3G, a wireless 312 Canal Receiver Technology product line that offers wireless technology in open-fit hearing instruments. The Moxi line features a wide variety of fitting options, while the Unifi Wireless System provides simplified access to the wireless functionality in Bluetooth enabled technologies, such as cell phones, MP3 players, and FM systems. A new capability available with Moxi 3G is uTV, which gives wearers access to technology designed to deliver clear stereo sound from the television directly to the listener's hearing instruments. The Moxi 3G also includes a telecoil, which provides uncomplicated use of inductive phone and loop systems.
(800) 888-8882
www.unitron.com
---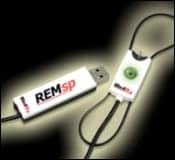 Compact Real Ear Measurement System
MedRx Inc, Largo, Fla, is offering a new micro real-ear measurement system, the AVANT REMsp—a compact system that contains testing and fitting features for most devices available today. AVANT REMsp provides comprehensive traditional real ear measurement tests and live speech mapping for accurate programming of hearing instruments. Features include multipurpose probe technology, a hearing loss simulator for third-party demonstrations, occlusion testing capability, DSL and NAL-NL1 targets for speech mapping, built-in sound files (MP3), open-fit testing, and input levels that can be viewed in either LTASS or peak hold mode. The AVANT REMsp has a small footprint of approximately 1" x 2" and is USB powered and NOAH compatible.
(888) 392-1234
www.medrx-usa.com
---
Heine Otoscope from Oaktree
The Heine Mini 3000, now available from Oaktree Products, St Louis, is a pocket otoscope with a compact design that may be utilized for travel and in-office use. The Mini 3000 uses enhanced XHL xenon halogen technology for reportedly 100% more light compared to conventional bulbs. The unit's bright, concentrated white light offers high-quality illumination. Additionally, a built-in swiveling viewing window provides 3X magnification. The otoscope is also designed for replaceable AA batteries, which are encased in a shockproof, nonslip handle; fiber optic and non-fiber optic models are also available.
(800) 347-1960
www.oaktreeproducts.com
---

New In-Ear Monitors
Puretone, Kent, United Kingdom, has announced the release of its new i-Monitor in-ear monitors that bring together the sound of the company's micro monitors with hands-free communication as an accessory for a smartphone or MP3 player. Made from soft silicone, the custom-made earmolds fit precisely to the user's ear contours, helping to maximize the low-frequency response (bass boost), while the silicone helps ensure comfort with high-quality noise attenuation. The inline headset cable features a small microphone and push button that allow the monitors to be used as a hands-free kit. Pressing the button answers an incoming call (even during music playback), so users can carry on with current tasks. Each ear piece is fitted with a user-replicable wax guard system to help ensure long life and high-quality sound reproduction.
+44 (0)1634 719427
www.cens.puretone.net