OPERATIONS
Starkey Signs Exclusive Licensing Agreement with Nickelodeon & Viacom Consumer Products to Create Pediatric Hearing Aids
Starkey Laboratories Inc, Eden Prairie, Minn, has entered into an exclusive licensing agreement with Nickelodeon & Viacom Consumer Products (NVCP) to launch cobranded pediatric hearing aids. The pediatric earmolds specifically created for children ages 0 to 13 will feature characters from Nickelodeon's most popular TV shows, including SpongeBob SquarePants, iCarly, Go, Diego, Go!, and Dora the Explorer.
"We are thrilled to have the opportunity to work with Nickelodeon on this initiative," says Chris McCormick, Starkey's senior director of marketing and communications. "We choose our partners carefully and feel that Nickelodeon will provide a fun and engaging way to connect with kids and make the entire process less frightening for them."
Starkey is one of Nickelodeon's latest partners, which include Norwegian Cruise Line, Mall of America, the Boys & Girls Club of America, and the Kaiser Family Foundation. Nickelodeon & Viacom Consumer Products manages one of the largest licensing businesses, representing leading properties and managing merchandising for Nick Jr, Nickelodeon, Comedy Central, MTVN International, and Spike TV.
House Exempts Hearing Aids from Medical Device Tax
The House of Representatives has adopted a Health Reform Reconciliation Bill to amend the Senate's overall health reform bill, which the House also adopted verbatim as part of the process.
During final negotiations over the weekend of March 20, the FDA Class I medical device tax exemption was dropped; however, a specific hearing aid exemption that was included in the legislation on March 18 was retained, according to the Hearing Industries Association (HIA), Washington, DC. This will exempt hearing aids from the medical device tax that will be imposed on almost all other devices not sold at retail. The Senate will now consider adoption of the House's Reconciliation Bill through a simple majority vote, although the process is likely to be challenged on various legal and procedural grounds, notes HIA.
Rep Carolyn McCarthy (D-NY), lead sponsor of the Hearing Aid Tax Credit, organized much of the opposition to a hearing aid tax. In addition, every representative who attended an HIA-sponsored local AG Bell/HLAA/IHS event since 2007 in support of the tax credit championed a hearing aid tax exclusion, including Reps Shelley Berkley (D-Nev); Dave Camp (R-Mich); Ron Kind (D-Wis); Allyson Schwartz (D-Pa); Mike Thompson (D-Calif); Dina Titus (D-Nev); and Chris Van Hollen (D-Md). This demonstrates the effectiveness of hearing health organizations working together in Washington and across the country, says HIA.
As part of the final House Reconciliation Bill, the medical device tax rate was lowered from 2.9% to 2.3%. This reflects the widened tax base created by the inclusion of Class I devices, which was the desire of numerous Class II and III device manufacturers. The House Reconciliation provisions are not binding until adopted by the Senate through its reconciliation process. The Senate bill will be enacted into law when signed by the President. That bill does contain the Class I exemption, which also excludes hearing aids from the tax.
In Closing Its Doors, AFA Claims Mission Accomplished
After more than two decades spent transforming audiology to a doctoring profession with a single unifying designator, the Audiology Foundation of America (AFA), Lafayette, Ind, has announced it is closing its doors.
"Our mission has always been about upgrading the profession with improved education, more autonomy and independence for practitioners, and quality care for consumers from audiology professionals," said AFA Executive Director Susan Paarlberg. "With the number of AuDs in the profession now over 50%, we feel confident that time and momentum will continue to propel the profession forward. It's a real victory for the profession."
In its final act as a nonprofit foundation, the AFA has assigned the remainder of its funds and assets, worth a reported $1.2 million, to the audiology program at AT Still University (ATSU) in order to launch the new AFA Institute. The AFA Institute will allow the audiology program at ATSU to provide cutting-edge resources for its students and further enhance the audiology practice model.
"This grant to ATSU will be the AFA's enduring legacy," said AFA Chair Deborah Price, AuD. "ATSU came to the AFA with a proposal that secures a win-win for the profession and the school. Graduates will be prepared to succeed in all aspects of audiology practice.
"The AFA Institute honors all the practitioners who have supported the AFA and participated in the profession's transition through the years," added Price. "The AFA always worked very hard to treat its donations with respect and, by doing so, is now able to make a substantial grant to ATSU that will set a new standard and revolutionize clinical audiology education."
This winter, the AFA also granted almost $60,000 in scholarships funds to Salus University and the Northeast Ohio AuD Consortium, as well as to the Academy of Doctors of Audiology (ADA) for its student-mentoring program. All grants were made in the spirit of the AFA's charitable mission.
The AFA office had planned to remain open through mid-April 2010 to finish the remaining business of the foundation.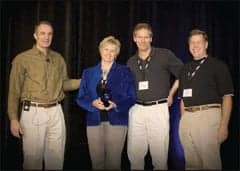 The winners of AHAA's Leadership Award together with AHAA CEO Vince Russomagno (far left). After Vince, left to right, are Kim Bryant, MEd, FAAA; Douglas Bryant, PhD, FAAA; and Frank Butts, PhD, FAAA, Hearing Clinics of Virginia, Richmond.
AHAA Convention Stresses "Doing the Right Things"
Chadds Ford, Pa – Nearly 300 network associates and exhibitors attended American Hearing Aid Associates' 14th annual convention earlier this year in Dallas.
Despite the difficult economic environment, AHAA's message throughout the proceedings was that opportunity exists in all market conditions. CEO Vince Russomagno and President Tina Soika stressed that in their addresses, saying that the most successful practices coming out of the multiyear recession will be those that focus on executing well the fundamental business principles. AHAA calls it doing "All the Right Things," which was the theme of the meeting.
Using a new program format, the planners presented 25 highly interactive, hands-on workshops where attendees shared ideas and experiences with one another more than just listening to solo presenters.
As in previous years, the sessions were divided into five tracks for owners/CEOs, directors of operations/practice managers, audiologists/dispensers, practice development representatives, and telemarketers/front office personnel.
Attendees gave the program overwhelmingly high marks for its scope, relevance, and immediate practical applications.
Major hearing aid manufacturers and software vendors were exhibitors, and many of them also gave program presentations.
AHAA's associate managers nominated top-performing practices in AHAA's nationwide network to receive Centers of Excellence awards. The top President's Award went to Lewis Breslau, AuD, Hearing Health Associates, New York; the Growth Award went to Chris Eckert, MS, CCC-A, Hearing Unlimited, Pittsburgh, Pa; and the Leadership Award to Kim Bryant, MEd, FAAA; Douglas Bryant, PhD, FAAA; and Frank Butts, PhD, FAAA, Hearing Clinics of Virginia, Richmond.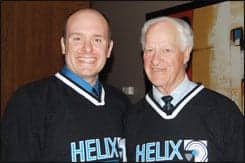 Helix Hearing Care President Jeff Geigel and hockey legend Gordie Howe.
Hockey Legend Gordie Howe Signs on with Helix
In addition to extensive training on the latest technologies for those with hearing loss, Helix Hearing Care Centre, Cumberland, Ontario, and its staff members attended an Ottawa Senators hockey game. Before the game, Helix President Jeff Geigel advised meeting attendees that hockey great Gordie Howe is the company's new spokesman. Helix plans to boost hearing care awareness throughout Canada through its association with the prominent Canadian figure. The company says Howe has a hearing impairment that used to impact his daily life, but that after addressing it, he is able to fully enjoy social activities and events. The crowd at the game gave Howe a 2-minute standing ovation. "Hockey is a perfect example of a daily Canadian activity that can only be fully enjoyed if you're hearing properly," said Howe. "I cannot imagine being successful on the ice without being completely aware of your surroundings, and I cannot imagine being an avid spectator without hearing the sounds of the game," said Howe, who sported new hearing aids and his Helix Hearing Care jersey.
AWARDS
Phonak Succeeds with Audeo MINI at Red Dot Product Design Award 2010
Phonak, Stäfa, Switzerland, with US headquarters in Warrenville, Ill, has been awarded the "red dot" at this year's red dot product design awards for the design and innovation of its Audéo MINI hearing system.
The device disappears behind the ear and automatically adapts to changing hearing situations. The integrated directional microphones focus on the speech source and reduce surrounding noise, providing excellent understanding even in challenging conversation situations, says the company.
The product was selected by an international jury of 30 design experts among 4,252 submitted products from 57 different countries. The official prize ceremony will take place on July 5 in Essen, Germany. More than 12,000 submissions from more than 60 countries were submitted for the competition. Awards are given in the categories of product design, communication design, and design concept. The award-winning products are displayed in the red dot design museum.