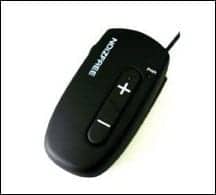 Handsfree Stereo Headset Works with Telecoils
Available from Oaktree Products Inc, St Louis, the new NoizFree Beetle H2-2T allows hearing instrument users with Bluetooth-enabled mobile phones to hear conversations through the telecoil of their hearing aid. At 10 grams, the small unit comes with a neckloop and induction hook so that the user can choose their preferred listening method; it also works with other Bluetooth devices such as MP3 and CD players.
(800) 347-1960
www.oaktreeproducts.com
---
New Bluetooth LoopSet
Westone Laboratories Inc, Colorado Springs, Colo, introduces the Artone Bluetooth LoopSet, offering hearing instrument wearers wireless communication without interference or feedback. When a call is received, a signal from the mobile phone is wirelessly sent to the Bluetooth LoopSet. The call is processed, cleared, and amplified and then sent to the hearing instrument's telecoil where the instrument processes the signal once again and adjusts it to the wearer's personal level. The LoopSet microphone transmits the wearer's replies to the handset while reducing unnecessary background noises. It also works with MP3 players and other Bluetooth-compatible music devices.
(800) 525-5071
www.westone.com
---
Clock Offers Multiple Combinations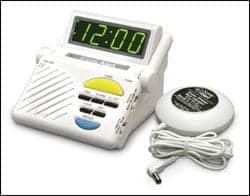 Potomac Technology, Rockville, Md, presents its Sonic Boom Alarm Clock, an all-in-one model that lets you select any combination of sound, flashing light, or optional bed vibrator wake-up signals. A built-in receiver allows it to pick up transmissions from other signalers.
(800) 433-2838
www.potomactech.com
---
Economical Video Otoscope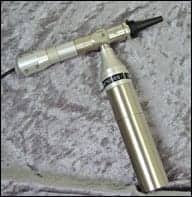 MedRx Inc, Largo, Fla, now offers a new economically priced video otoscope that provides clear and bright live video images with a built-in, battery-powered LED light source that eliminates the need for additional external hardware. The standard system includes a compact probe/camera assembly, a battery charger, a supply of AAA rechargeable batteries, a sleeve of Welch Allyn 4 mm specula, and all necessary cables—all of which fits into a foam-filled hard-sided carrying case. A video capture kit can be added.
(888) 392-1234
www.medrx-usa.com
---
Comprehensive Auditory Test Introduced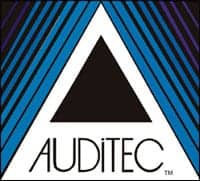 AUDiTEC, St Louis, has announced the introduction of the Multiple Auditory Processing Assessment (MAPA) battery, a comprehensive series of tests developed to identify patients ages 8 through adult with auditory processing disorders. MAPA's purpose is to provide professionals with an auditory examination that is both thorough and convenient. Standardized with two forms, the battery covers the three most important auditory processing domains as defined by ASHA, and uses convenient CD technology for application in the classroom or sound booth. The test areas covered are monaural, temporal, and binaural, and supplementary tests include pattern perception, speech in noise, and gap detection. Administration of the test is approximately 21 minutes, with scoring taking an additional 5 minutes.
(800) 669-9065
www.auditec.com
---
High-Powered Portable Vacuum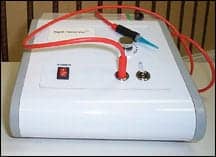 The Super Power-Vac from Hearing Technologies International, Pinellas Park, Fla, is designed to save money. The desktop portable hearing aid vacuum with a powerful 26 inHG of suction offers features that include: adjustable suction control, cleaning tools (included to help remove wax or debris), cone-shaped suction tips to clear the receiver and microphone ports. Placement of the hearing aid on the standard suction tube will complete the cleaning by combining suction and vibration. Available in 110V and 230V. Contact your accessory distributor or Hearing Technologies.
(800) 553-6003
email:
---
Digital Directional BTE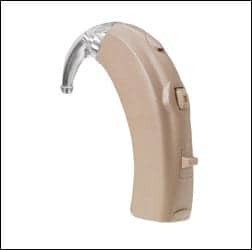 Starkey Laboratories Inc, Eden Prairie, Minn, now has a Destiny option for patients with severe to profound hearing loss. Thanks to AFI, the new Destiny 1200 Power Plus is a powerful digital directional BTE. This robust (140/80) hearing instrument has all the standard features of the Destiny 1200—unique indicator tones, automatic telephone response, continuous data logging, and Acoustic Signature for fully automatic environmental switching. Added features that are important when fitting patients with severe to profound hearing loss include unique output compression control and a selectable automatic telecoil.
(800) 328-8602
www.starkey.com
---
Noise-Reduction Earphones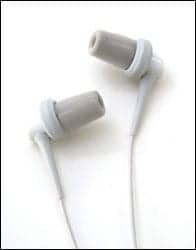 Hearing Components, Oakdale, Minn, provides NR-1 earphones, which combine state-of-the-art electronics and miniaturization with the convenience of Hearing Components' patented Comply™ Platinum Canal Tips. The patented NR-1 earphones are based on the same technology used by US Army helicopter crews. When utilized in a noisy environment, the NR-1 earphones deliver to personal audio device users greater noise reduction, sound, and in-the-ear comfort.
(800) 872-8986 or (651) 739-9427
www.hearingcomponents.com
---
FM Tour Guide System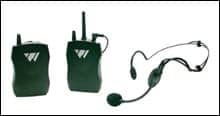 Williams Sound, Eden Prairie, Minn, has begun shipping its new Whisper FM Tour Guide System, designed to ensure everyone on a tour has an equal hearing experience. Tour participants use the R863 receiver equipped with headset, earphone, or neckloop to pick up the guide's transmissions from the T863 transmitter up to 98 feet (30 meters) away. Individual volume controls on the receiver allow participants to listen at their personal comfort level. The Whisper system features three selectable operating frequencies, allowing up to three groups to communicate in the same location simultaneously with no crosstalk or interference.
(800) 843-3544
www.williamssound.com
---
Personalized Batteries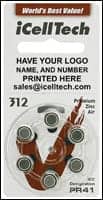 iCellTech Corp, Seoul, Korea, offers a private-label service direct from the manufacturer. The company guarantees to ship the private-label batteries within 3 working days of the order. Free delivery via door-to-door courier is available.
Fax: 011-82-2-6735-6965
email:
---
Instant Earmold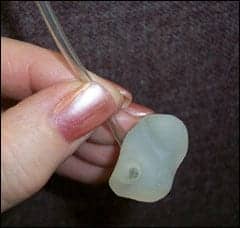 Warner Tech-care Products, Roseville, Minn, introduces its new direct-fit Instant Earmold Material. The new gun-dispensed silicone is ideal for temporary or demo molds and superior to cumbersome stock molds. After it is dispensed into the ear canal, the material sets in 5 to 7 minutes. Instant Earmold provides practices with a custom mold that can be made, tubed, and vented in the office while patients wait. Available by individual cartridge, Instant Earmold Material is clear, very high strength, and thixotropic with a 45-shore value.
(800) 328-4757
www.warnertechcare.com
---
New Vacuum Cleaner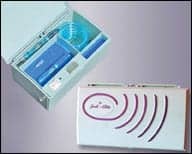 JodiVac LLC, Portland, Ore, releases its newest vacuum model, the Jodi-Elite. The vacuum has improved performance with more power and runs more quietly than the Jodi-Consumer. Storage and portability have also been improved by having the vacuum hose, needle assembly, and new storage compartment fit into their own boxes. The Jodi-Elite will join the company's regular line of vacuum systems to continue its commitment to preserving the sound quality of hearing aids by users and hearing aid service providers.
(866) 856-5634
www.jodivac.com
---
Cordless Amplified Phone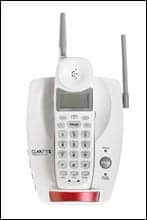 Potomac Technology, Rockville, Md, offers the Clarity C420 Cordless Amplified phone. Incoming sounds are amplified up to 30 decibels making phone conversations louder and clearer. Caller ID and 50 name and number memory make it easy to keep all your family's and friends' phone numbers handy!
(800) 433-2838 (V/TTY)
www.potomactech.com
---
Digital Hearing Aid Family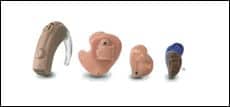 Starkey Laboratories Inc, Eden Prairie, Minn, offers Destiny™ hearing aids. Powered by nFusion™ technology, Destiny hearing aids are sensitive, adaptive, and nearly as intuitive as the human ear. These devices easily transition from one acoustic environment to the next and allow for highly customized adjustments through data logging. Additionally, all Destiny products feature Active Feedback Intercept, which provides feedback erasure; automatic telephone response; adaptive indicator tones; and standard direction speech detector, a directivity index.
(800) 328-8602
www.starkey.com
---
A Dryer for All Hearing Aids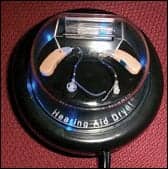 Hearing Technologies International, Pinellas Park, Fla, offers its Universal Hearing Aid Dryer whose accelerated heat removes harmful moisture and reduces earwax damage to receivers to help prevent costly repairs while maintaining peak performance. The unit's hinged cover provides maximum temperature and moisture removal. Cleaning tools are included.
(800) 553-6003
email:
---
Wireless Communication System
Oaktree Products Inc, St Louis, has introduced the Contego, a full-performance wireless communication system designed to improve and enhance sound quality. The microphone (transmitter) and receiver have built-in zoom microphones that are user-adjustable for maximum customization. The microphones can be set for omnidirectional or directional, based on conditions, and the volume level can be adjusted by remote.
(800) 347-1960
www.oaktreeproducts.com
---
Battery Promotion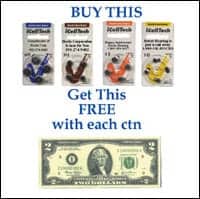 For a limited time, Hocks Hearing Healthcare Products, Portland, Ore, will give a $2 bill with each purchase of a carton of iCellTech hearing aid batteries. The giveaway is Hocks' way of thanking its customers for their patronage.
(800) 654-6257
www.hocksproducts.com
---
Amplified Telephone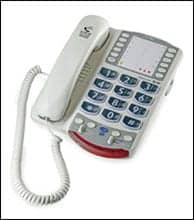 Westone Laboratories Inc, Colorado Springs, Colo, offers the new and improved XL50D that amplifies incoming calls up to 60 dB. Designed especially for hearing instrument users, the XL50D features adjustable ringer volume (up to 100 dB), a superbright visual ring indicator, and large, easy-to-use buttons. The amplifier automatically resets when the phone is hung up. Additional features include tone control, an antifeedback filter, signal processor to minimize background noise, and 11 memory dialing buttons.
(800) 525-5071
www.westone.com
---
Thin-Tube/Open-Ear Fittings
Mid-States Laboratories, Wichita, Kan, offers a variety of thin-tube/open-ear fittings. Choose from a selection of styles to custom fit each client's hearing needs. When possible, Mid-States prefers to use its Apollo or Marveltex/vinyl materials, which allow for friction fit, an advantage when considering the need to retube.
(800) 247-3669
www.mid-stateslabs.com
---
Handheld OAE Screener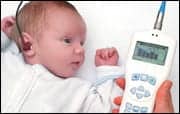 Otodynamics Ltd unveils Otoport, a handheld OAE instrument with the power and flexibility of the Echoport, with software tailored to the hearing professional's needs. The light, compact, handheld OAE system features "ILO" compatibility, an interactive graphic display, frequency band or waveform analysis, and 1,000-patient database accessed by a cell phone–style keypad. First in the family is the newborn screener, with later models designed to address pediatric screening and clinical diagnosis. Advance notice of features pending FDA clearance.
(800) 659-7776
www.otodynamics.com
---
Patient Finder Program

AudioCare Inc, San Diego, presents the AudioCare Patient Finder Program. New patients are the lifeblood of a practice. Future growth and future success helping individuals who have a hearing impairment are directly related to the number of new patients who come to you for help. The AudioCare Patient Finder Program, which blends together multimedia advertising, has a 45-year track record. The components of the Patient Finder Program are direct-response mail, newspaper ads, and point-of-purchase help.
(800) 974-4100
www.audiocareinc.com
---
Instant Hearing Protection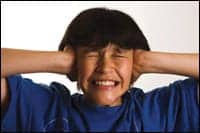 Warner Tech-care Products, Roseville, Minn, introduces its new Ear-guard Instant Hearing Protection, which protects hearing while working or playing in loud environments. Ear-guard is ideal for factory workers, hunters, law-enforcement officers, motorcyclists, musicians, and homeowners wanting to protect their hearing while using loud equipment. Gun-dispensed Ear-guard silicone is speedy, sanitary, and durable. No hand mixing is needed. This custom hearing protection can be modified, vented, and lacquer coated all in less than an hour. Ear-guard is highly thixotropic and easy flowing, and has a 40-shore value. Ear-guard products are sold in a convenient starter kit with seven colors. The new Warner Tech-care catalog is now available.
(800) 328-4757
www.warnertechcare.com
---
Loaner Bank Program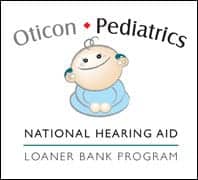 Oticon Pediatrics, Somerset, NJ, unveiled a new national program to assist hearing care professionals in providing optimum care for infants and toddlers newly identified with hearing loss. The Loaner Bank Program provides hearing instruments to children, up to age 3 in need of immediate amplification when amplification is not readily available. Typically, such a delay occurs when a child must await third-party reimbursement approval or undergo cochlear implant evaluation. The Loaner Bank provides hearing instruments for a 3-month period. A range of Oticon hearing instruments are offered, shipped with tamper-resistant battery doors. An EarGear hearing aid retention device is provided with each loaner order. To use the Loaner Bank, hearing care professionals must have an Oticon account and complete a one-time application. Upon acceptance, practitioners must verify that they have completed training on Oticon fitting software and the available loaner hearing instruments, and submit a request form for each child requesting hearing aids. There is no fee to participate.
(888) 684-7331
www.oticonusa.com
---
New Compact, Efficient Interface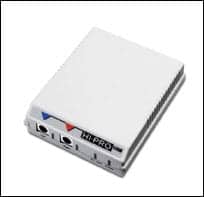 GN Otometrics, Copenhagen, Denmark, has launched a new generation of the Hi-Pro programming interface. The Hi-Pro USB is a smaller and more efficient device than its predecessor. Measuring approximately 5.3 x 4.5 x 1.5 inches, it draws power directly through its USB 2.0 connection, benefiting users not only with its smaller footprint but faster operation. The Hi-Pro USB is fully backwards compatible with the old Hi-Pro and can be used with already existing and installed fitting modules.
---
Ear Cleansing System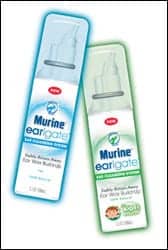 Hal-Hen Company Inc, Garden City Park, NY, presents a new approach to ear hygiene, Murine® Earigate™ Ear Cleansing System. Designed and tested by an ENT physician, Earigate helps keep ears clean longer. Using patented "reverse spray action," Earigate safely rinses away earwax and cellular debris with no pressure on the tympanic membrane. Easy to use, Earigate extends the time between ear cleanings and helps prevent hearing aid failure due to wax and debris buildup. Clinically tested, Earigate is chemical- and preservative-free, hypoallergenic, and can be used as often as necessary. Earigate is available in two sizes: adult and child. Each 100 ml can of Earigate delivers 30 to 50 applications.
(800) 242-5436
www.halhenpro.com
---
Custom Open Earmold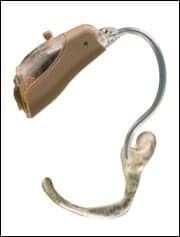 Amplisound/United Hearing Systems Inc, Danielson, Conn, offers an optional selection of custom earmolds specially designed for its line of digital micro-BTEs. There are three styles to suit anatomy and degree of hearing loss: Skeleton, Concha Lock, and Deep Canal—vented or hollow. New acrylic allows thinner, break-resistant design.
(800) 835-2001
---
Benchtop Polishing Unit
Kingwood Industrial Products Inc, Hackettstown, NJ, offers a new Multifunction Bench Top Polishing Unit that provides customers with a clean, easy way to do grinding and polishing in the office. The unit is designed as a self-contained workstation with an adjustable shield to protect the technician from flying debris. The dust collectors remove smaller particles from the air, eliminating dust and odor from the work area. The unit comes complete with a grinder and polisher, twin dust collectors with replaceable filters, and two dust hoods with removable trays for easy cleanup. The cabinet is equipped with a shelf armrest for comfortable, sustained operation. This unit will ease grinding and polishing in small laboratories and offices, as well as in larger manufacturing plants.
(908) 852-8655
www.kingwoodindustrial.com
---
Natural Ear Treatment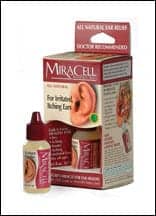 MiraCell Inc, Orem, Utah, offers MiraCell natural ear treatment, which eases cerumen removal, makes wearing hearing aids and earmolds more comfortable, and relieves sore, dry, flaking, or itching ears, caused by detaching keratin and tympanic membrane plaque. MiraCell Inc offers an income-making opportunity that will reduce returns and remakes.
(800) 748-5040
www.miracell.com
---
Assistive Devices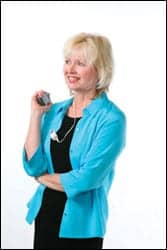 Warner Tech-care Products Inc, Roseville, Minn, offers DirectLink's line of Bluetooth® devices for individuals who are hearing impaired. These new products are designed to connect a BTE to a variety of Bluetooth-compatible electronics, such as mobile phones, home phones, iPods, MP3 players, computers, and televisions. Powered by a rechargeable Li-polymer battery, the Blue Freedom™ and Mach 2™ offer 6 hours of hands-free talk time and 250 hours of standby time. The Blue Freedom is standard mono, while the Mach 2 is a stereo headset. The devices both offer one-touch answer, reject, and voice-dial calling.
(800) 328-4757
www.starkey.com
---
Cleaning Tool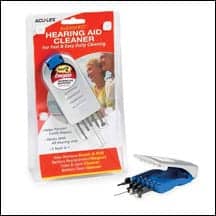 Westone Laboratories Inc, Colorado Springs, Colo, offers the Acu-Life Audio-Kit™ Hearing Aid Cleaner, featuring five cleaning tools built into a comfortable, easy-to-hold handle. The Audio-Kit was designed to make it easy for the average 70-year-old hearing instrument user to clean the instrument effectively. The five-in-one tool contains a wax removal brush, wax removal pick, battery replacement magnet, tube and vent cleaner, and battery door opener. It also acts as a spare battery container.
(800) 525-5071
www.westone.com
---
Wireless Television Amplifier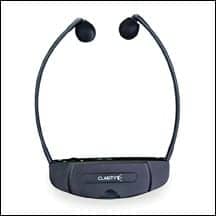 Westone Laboratories Inc, Colorado Springs, Colo, is offering a versatile television listening device from Clarity. Featuring Clarity Power technology, the C120 amplifies up to 50 dB and offers two modes of use: "Home" provides high-fidelity 2.3/2.8 MHz stereo television sound, and "Away" switches to 95 KHz for use with public infrared systems. A home phone line can be plugged into the transmitter so the user receives call notification through the headset. The lightweight stereo headset features automatic shutoff and adjustable volume, tone, and balance. Also compatible with stereos, computers and MP3 players, the C120 comes with two rechargeable batteries, an AC adapter, two audio cords, and an external microphone.
(800) 525-5071
www.westone.com
---
Cerumen Remover Kit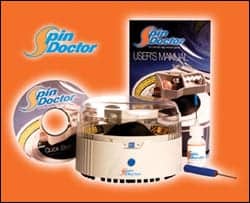 General Hearing Instruments Inc, New Orleans, announces the availability of the SpinDoctor Pro, a lab-quality centrifuge designed to expel cerumen from within the receiver, internal tubing, and diaphragm area. This is where problematic wax blockage typically occurs. The SpinDoctor will spin any size ITE hearing device at a precise speed, generating a gravitational force great enough to expel all internal wax and other debris, but will not damage the receiver or other components. SpinDoctor is quick to use; an average cleaning cycle lasts only 20 seconds. The SpinDoctor features adjustable rotor with clear collection cone, antivibration shock mount, nonskid base, and automatic shutoff timer. Items included in the Pro kit: cleaning solution, wax wire tool, color instruction book, quick-start DVD, and 1-year warranty.
(800) 824-3021
www.generalhearing.com
---
Educational CD

CareCredit, Costa Mesa, Calif, offers the free educational CD The Six Pathways to a Successful Practice, featuring Kevin D. St. Clergy, MS, CCC/A, president of Transitus Consulting Co. On the CD, St. Clergy discusses how to maximize effectiveness in processes, promotions, products, practice location, personnel, and profits—six crucial elements in achieving success. Using real-world examples, he details which processes and systems need to be mastered to determine success, the training and tools a team needs to enhance performance, how to decrease staff turnover, and how to market a practice effectively. He also provides insight on how to gain a competitive edge, overcome the challenges of a less than ideal location, and how to build a great team. CareCredit offers a comprehensive range of no-interest and low-interest payment plans, helping more than 6 million patients get the recommended hearing instruments they want and need.
(800) 300-3046, ext. 4125
www.carecredit.com
---
Hearing Aid Sweat Band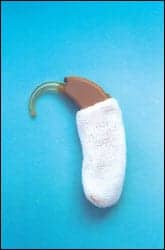 VanB Enterprises, West Valley, NY, offers the Hearing Aid Sweat Band™, a disposable, soft-fabric sleeve that protects BTE devices from moisture and other infiltrating contaminants. This spring, the company introduced the "Slim Series" of sweatbands in Mini-Slim, Small-Slim, and Medium-Slim sizes. The Hearing Aid Sweat Band is available in nine sizes, including 5 XL (specifically designed for FM systems), and in six colors. It slips easily over the aid, extending to the microphone, without the need for a tool.
(866) 644-2500
www.vanbenterprises.com
---
Shooters Protection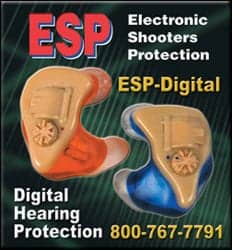 Electronic Shooters Protection, Brighton, Colo, offers the ESP-Digital, its state-of-the-art digital, high-fidelity ITE hearing protectors for shooting enthusiasts. This digital technology enables sound to be processed using bits and bytes, which are noise free, unlike analog circuitry. With an effective dynamic range of 95 dB, and 16-kHz bandwidth, the ESP-Digital offers low noise, while providing true high-fidelity audio processing without compromise. The difference to the shooter is comparable to hearing music played on a CD versus a cassette tape. Standard electronic hearing protectors shut down when excessive noise levels are detected, removing the shooter's ability to hear. All ESP amplifiers are designed to limit their output to 90 dB without shutting down, leaving shooters with their hearing intact. This safety factor is relied upon by instructors and competition shooters who depend on being in touch with their students, fellow competitors, and surroundings.
(800) 767-7791
www.espamerica.com
---
Volume Control with Digital Output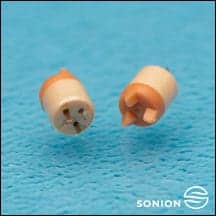 Sonion, Minnetonka, Minn, offers the DCU 254, its smallest volume control with digital output. With a body diameter of only 0.1 inch (2.54 mm), it is ideal for small ITEs and ITCs. The digital output format allows for advanced hearing instrument functionality. The DCU 254 is size-compatible with the analog volume control PJ 185, so hearing instruments can be fitted with either the DCU 254 or PJ 185 without changing the faceplate. The DCU 254 is available for sampling and orders now.
(952) 543-8300
www.sonion.com
---
Medical-Grade Silicone Swim Plugs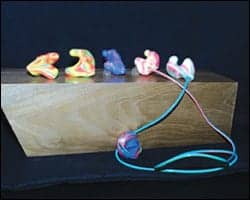 Perfect Seal Laboratories, Wichita, Kan, offers Aqua-Tite swim plugs made from medical-grade silicone. They are hypoallergenic and can be tinted to almost any color, or swirled with a combination of up to three colors. Each plug comes with embedded handles, designed to make them easier to insert and remove. A connecting cord also can be ordered.
(800) 311-9810
www.perfect-seal.com
---
Pocket Otoscope
Hal-Hen Company Inc, Garden City Park, NY, offers the Heine Mini 3000® Conventional & Fiberoptic Pocket Otoscopes. The otoscopes have a compact design and provide exceptional illumination. Using XHL Xenon Halogen Technology, 100% brighter lighting is achieved for homogenous, reflex-free illumination of the ear canal and tympanum. The viewing window has 3x magnification, and the optimized casing surface yields razor-sharp images and minimal reflection. The units switch off automatically when returned to the pocket. The handle and chrome-finish upper section/refined plastic make the otoscopes shockproof, sturdy, and nonslip. The Mini 3000 is available in black, green, and blue. Uses two standard "AA" alkaline batteries (included).
(800) 242-5436
www.halhenpro.com
---
Triangular-Shaped Hearing Aid

Oticon Inc, Somerset, NJ, offers the Oticon Delta, a hearing device that combines cutting-edge technology with contemporary design to attract image-conscious users. With its trendy triangular shape and stylish colors, Delta is aimed at boosting speech understanding in difficult listening situations for people with all configurations of hearing loss up to 80 dB flat. The Delta XR extended range enables hearing care professionals to fit high-frequency losses—often found with first-time users—and more traditional flat-broadband hearing losses. With the expanded range, hearing care professionals can fit more than 80% of their patients with a hearing device that users want and can continue to wear, even if their hearing loss progresses. Delta XR is available in three models—including a new lower-priced Delta 4000—and in 17 colors and styles, from Cabernet Red and Samoa Blue to the exotic Wildlife leopard pattern and Diamond Black.
(800) 526-3921
www.oticonusa.com
---
Integrated Faceplate Module
Knowles, Itasca, Ill, announces its fully integrated, removable 8200 Faceplate Module. In partnership with In'Tech, Knowles brings to the industry a product to enhance efficiency. The 8200 features an integrated push button, microphone, battery door, and flex programming module block. This module securely fastens to a frameless faceplate, and can be removed using a single extraction tool. It not only addresses ease of manufacturing and serviceability, but also remains flexible to a variety of applications. Customers may order the module preassembled to the flex, ready-for-hybrid attachment, or the entire hybrid may be preassembled.
(630) 250-5189
www.knowles.com/8200 or
www.intech-ind.com
---
Dispensing Book on CD

AudioCare Inc, San Diego, announces that The Book on Dispensing Hearing Aids is now available in a four-CD set. Roy Bain's book has been professionally read so you can listen while driving. Learn all of Bain's time-tested techniques going to and from work.
(800) 974-4100
www.audiocareinc.com
---
Sound Alert System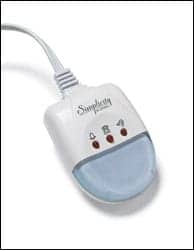 WCI, Santa Monica, Calif, offers Simplicity™, which alerts you to the important sounds of everyday life, from the telephone ringing to the doorbell chime or a baby's cry. Simple and easy to use, Simplicity's system comprises attractive signalers working individually or all together, and it's compatible with other common brands, making it easy to add on to any existing system. Just one of the many assistive devices available from WCI, the "one-stop shop" for hearing technology.
(800) 233-9130 (V/TTY)
www.weitbrecht.com
---
Impression Material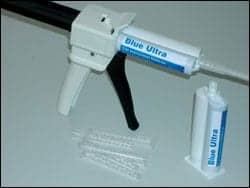 Precision Laboratories, Altamonte Springs, Fla, offers Blue Ultra ear impression silicone cartridges. This thixotropic formula has a low viscosity that resists slumping and distributes the material evenly. Pressure-free delivery eliminates distortion from stretching of the ear. Blue Ultra responds to the increasing need for high-quality ear impressions—a perfect fit for today's high-tech hearing aids.
(800) 327-4792
www.precisionweb.com
---
Telephone Office Display

ADCO Hearing Products Inc, Englewood, Colo, offers a turnkey marketing tool for practices. The Clarity telephone office display holds four Clarity Professional Digital Clarity Power™ phones, sets up easily in minutes, is freestanding, and is small enough to fit in tight spaces. Clarity's office display is the perfect solution for a busy office or waiting room.
(800) 726-0851
www.adcopro.net
---
Micro-BTE Sound Generators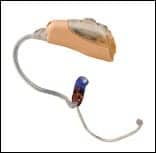 Amplisound/United Hearing Systems Inc, Danielson, Conn, offers digital micro-BTE sound generators for the treatment of tinnitus. The sound generator frequency response can be tuned to the patient's preference. The micro-BTE is designed with the receiver in the canal, providing optimum performance while keeping the canal open. The company also offers a combination unit featuring a programmable sound generator and an advanced 4-channel digital processor to provide exceptional sound quality.
(800) 835-2001
---
Water Protection for BTEs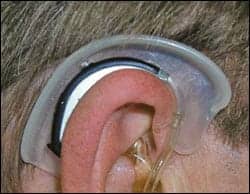 Westone Laboratories, Colorado Springs, Colo, introduces The Deflector™, an awning-like protective cover that slips over the ear and between a BTE and the head. The simple, lightweight, clear plastic design deflects moisture away from the hearing instrument without affecting sound or directional quality. The instrument remains protected and dry. The easy on-off application allows the user to slip The Deflector on when moisture situations occur and remove it when no longer needed. There is nothing to install and no need to remove the instrument. Also helpful in dusty situations since dirt is not as attracted to dry areas. One size fits all.
(800) 525-5071
www.westone.com
---
Advanced-Performance Hearing Instruments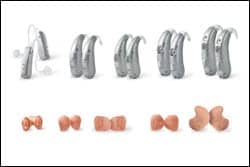 Siemens Hearing Instruments Inc, New York, announces ARTIS™ 2 and CIELO™ 2. Designed for advanced performance, the ARTIS 2 is equipped with DataLearning technology that automatically learns and adjusts to wearers' volume preferences. DataLearning allows a faster, more precise fitting by recording usage data that enables the hearing care professional to fine-tune the instrument and counsel the wearer. ARTIS 2 also offers Siemens' proprietary e2e wireless technology, designed to provide a natural and effortless binaural hearing, including precise sound localization, harmonized volume and program settings, and better hearing comfort in noisy environments. CIELO 2 is equipped with a data-logging feature that collects information on hearing preferences, such as duration of instrument use, volume control position, hearing environments, volume changes, and program usage. The information obtained from data logging can be used for easier fine-tuning of the instruments, resulting in a more customized fitting.
(800) 766-4500
www.usa.siemens.com/hearing
---
Wireless Connectivity

Oticon Inc, Somerset, NJ, presents the new Oticon Epoq. Its proprietary binaural, high-speed wireless technology enables a pair of Epoq hearing devices to communicate at data transfer speeds 100 times faster than hearing instruments on the market. This real-time connectivity with voices and other sounds provides accurate, stereophonic auditory information that is in sync with a user's visual experience. The same wireless connectivity enables Epoq to provide a new and previously unavailable hearing solution to the use of cell phones. With the addition of the small, sleek Streamer, Epoq becomes the equivalent of a hands-free Bluetooth®-intelligent headset without having to attach bulky devices or wires to the hearing instrument. The Streamer, an optional wearable device that functions like an MP3 player, facilitates effortless audio streaming from cell phones, personal computers, GPS systems, and other popular electronic devices. Epoq is available in two performance levels: the premium choice Epoq XW, and Epoq W.
(800) 526-3921
www.oticonusa.com
---
Free with Minimum Purchase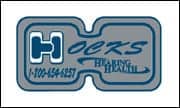 Hocks Hearing Healthcare Products, Portland, Ore, would like to thank their customers for their patronage. With four gift levels to choose from, there is something for everyone. Place your order today; limited quantities are available.
(800) 654-6257
www.hocksproducts.com
---
CIC Instrument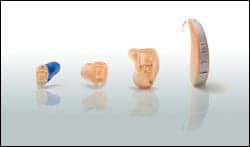 Audina Hearing Instruments Inc, Longwood, Fla, offers the INTUITION® 4 and INTUITION 4AD, featuring state-of-the-art technology that results in crisp, digital sound without the distortion associated with previous generations of hearing instruments. The INTUITION addresses a wider range of hearing loss than the majority of hearing instruments available today—up to 22 dB added stable gain, realizing up to 60 dB of gain in the CIC instrument without reducing spectral information important for speech understanding. It allows larger venting and more open fittings for better fit and patient comfort.
(800) 223-7700
www.audina.net
---
Bone-Conduction Hearing Aid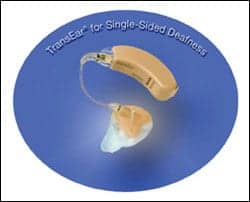 Ear Technology Corp, Johnson City, Tenn, announces the next generation of the TransEar® bone-conduction hearing aid for single-sided deafness: the TransEar 270. Using a new, improved, and smaller oscillator, TransEar can now fit patients with small ear canals, including children. The new, soft wire connector and half-shell design almost eliminate the possibility of feedback, while making the new model much less visible without compromising performance.
(888) 382-9327
www.transear.com
---
Custom Earmolds, Earplugs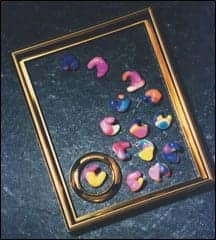 Hocks Hearing Healthcare Products, Portland, Ore, manufactures a wide variety of earplugs and custom earmolds for swimming, sleeping, and hearing protection, including the Hocks Noise Braker® and Pikaso Plugs.
(800) 654-6257
www.hocksproducts.com
www.noisebrakers.com
---
ALD Marketing Products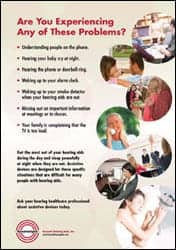 Beyond Hearing Aids, Florence, Ky, offers several ALD print products for professionals. A stylish poster, catalog, brochures, and telephone demonstration board that describe the benefits of ALDs are available. The poster can be placed outside the testing booth for family members to see, helping them begin a conversation on ALDs and how the devices may be helpful. Measures 17 x 24 inches.
(800) 838-1649
www.beyondhearingaids.com
---
Sweat Band Display Rack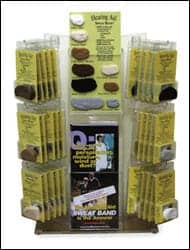 Westone Laboratories Inc, Colorado Springs, Colo, brings you the Hearing Aid Saver display rack designed to boost sales of Hearing Aid Sweat Bands. For a limited time, orders of 12 packs of Hearing Aid Savers at the regular price will include a free full-featured display stand, which holds up to 30 packs of Hearing Aid Sweat Bands and includes a handy color and size chart along with customer brochures.
(800) 525-5071
www.westone.com
---
Hands-Free Operation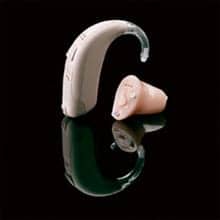 Sonic Innovations, Salt Lake City, offers Velocity, a hearing instrument that uses environmental sound cues to automatically adjust settings to a particular listening situation without requiring the wearer to press a button. Velocity features patented digital signal processing and advanced noise reduction, patent-pending adaptive directional technology, automatic directionality, adaptive feedback cancellation and several advanced user options, including patient-friendly voice alerts and automatic telephone listening.
(801) 365-2800
www.sonici.com
---
TV Listening Device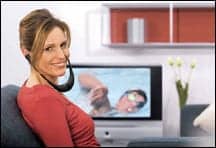 ADCO Hearing Products Inc, Englewood, Colo, offers the Sennheiser Model IS-410, a new device for TV listening. With a sleek design that will appeal to younger patients, this product gives ALDs a whole new look. It features adjustable volume and balance control on the headset and operates on 2.3 to 2.8 MHz mono or stereo frequency. This system also has a compression feature, which suppresses loud passages and boosts soft passages for a more even audio level. The transmitter easily connects to audio-out jack, and charges the ultralightweight receiver and an optional spare battery. There is a 2-year manufacturer's warranty.
(800) 726-0851
(303) 794-3928
www.adcopro.net
---
Resource Guide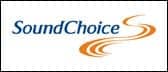 CareCredit, Costa Mesa, Calif, has developed a new SoundChoice Resource Guide to help hearing health care professionals promote, present, and integrate SoundChoice patient payment plans into their practice to increase sales. Designed and formatted to provide quick and easy access to information needed to achieve optimal results and practice growth, the resource guide features an overview of SoundChoice and the benefits the program offers to practices and patients. The guide explains how the program works and details each of the no-interest and low-interest payment plans available through SoundChoice. Sample scripts illustrate how to discuss SoundChoice and use the program effectively as a tool to improve business. The resource guide concludes with an overview of the support materials provided to help educate patients on the payment options to overcome cost concerns and increase acceptance of optimal hearing aid technology. Practices that offer SoundChoice can order a copy of the new resource guide.
(800) 859-9975
www.carecredit.com
---
Long-Running Battery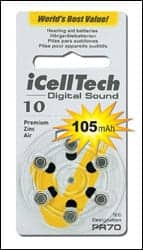 iCellTech Corp, Seoul, Korea, introduces its 10DS batteries with 105-mAh capacity. Strong stainless steel housing cuts bulging and is guaranteed to be rust-free under any weather conditions. Nickel plating promotes better conduction, and high technology provides extra running time.
Fax: 011-82-2-6735-6965
email: www.icelltech.com
---
National Advertising Campaign

TV Ears Inc, Spring Valley, Calif, is building a bridge between consumers and hearing care professionals by placing full-page advertisements in AARP Magazine, Parade, USA Weekend, Newsweek, and other publications, resulting in thousands of referrals. Join the TV Ears network and benefit from this massive exposure. TV Ears has also partnered with GE to offer GE's See and Hear. Loud and Clear.™ amplified telephones. TV Ears' product line includes a 2.3-MHz system for mild hearing loss, the 95-KHz original system, a 95-KHz professional system, and the 95-KHz home theater system, designed for moderate to severe hearing loss as well as GE amplified telephones for mild and moderate to severe hearing loss. To become an exclusive TV Ears dealer, call Jason Rimestad.
(877) 854-1040
www.tvears.com
---
Wax Protection System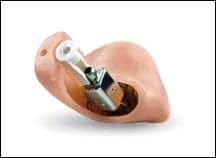 Rexton Inc, Plymouth, Minn, has released C-Guard, its latest advancement in wax protection, available on all Calibra premier digital custom instruments. C-Guard effectively seals the receiver with a membrane barrier that protects against cerumen and moisture. This low-maintenance technology works without affecting the hearing instrument response curve. It is available on all custom instrument styles, from CIC to full shell, and is fitted during initial production. A replacement kit with removal/replacement tool and additional guards is available for customer use. For best results, C-Guard should be changed every 3 months. A specially designed tool is supplied for removing and inserting the guard.
(800) 876-1141
www.rexton-online.com
---
Binaural Hearing System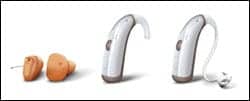 Hansaton Hearing Systems, Tampa, Fla, offers the Leonardo Exclusive. Using the same housing design that won Leonardo the Red Dot Design Award, Leonardo Exclusive now features i-com, making it a truly binaural hearing system. With i-com, the two hearing instruments are constantly exchanging information to achieve a balanced sound that is far more adapted to the environment than what can be achieved with two instruments working independently. Leonardo Exclusive also features DataLogging to allow hearing health care professionals to use real data about a customer's various hearing environments and truly customize the hearing instrument. Leonardo still features multiple memories, adaptive directional microphones, 4D noise cancellation, and its patented push/scroll memory/volume wheel—just like the scroll button on a mouse—for a familiar look and feel. Available in every fitting style.
(866) 449-9757
www.hansatonusa.com
---
Digital Hearing Aid Line

Magnatone, Casselberry, Fla, introduces POWER to its digital line. The Monet™ and Claret™ Full Shell POWER ITE have a maximum output of 130 dB and peak gain of 65 dB. The POWER line, with LazerVeyor™ Digital Shell technology, ensures a perfect fit that can maximize gain with up to 15 dB of adaptive feedback phase cancellation.
(800) 789-6543
www.magnatone.com
---
Ear Hair Remover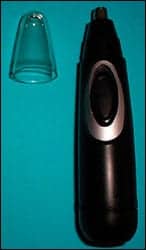 Hearing Technologies, Pinellas Park, Fla, introduces a new ear hair remover. Design safely and painlessly removes hair in the ear canal. Operates on one AA battery (included).
(800) 553-6003
email:
---
Wax Protection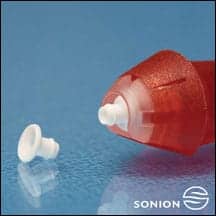 Sonion, Minnetonka, Minn, introduces the C-Barrier, a new wax protection system for all hearing instrument manufacturers. Earwax is the most common cause of hearing aids being returned for repair. While wax protection systems are nothing new to the industry, most of the systems on the market act like a trap to help catch cerumen and prevent it from entering the instrument. The C-Barrier is a thin membrane that physically sits over the sound port of the receiver to block out the unwanted cerumen, but still allows the acoustic information to be passed through. The C-Barrier also can be easily cleaned and replaced, if needed. The benefits of the C-Barrier are to provide increased life expectancy of hearing instruments in the field. For ease of use, Sonion has designed a package that contains four C-Barriers, including a simple removal and insertion tool. The C-Barrier is available for sampling and orders now.
(952) 543-8300
www.sonion.com
---
Ultrasonic Cleaner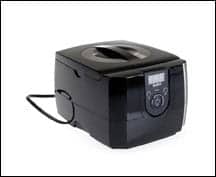 Westone Laboratories Inc, Colorado Springs, Colo, offers the new, powerful GemOro 1.2QT Ultrasonic Cleaner. With an adjustable digital control system, LED display, stainless steel tank, and a piezoelectric ultrasonic transducer, it offers the power and features usually found in much larger ultrasonic cleaning tanks. The tank size is 6 3/8 x 5 1/8 x 2 3/8 inches and features a removable, full-size basket and clamshell basket for small items. One-year manufacturer warranty.
(800) 525-5071
www.westone.com
---
Lipreading Instructional Guide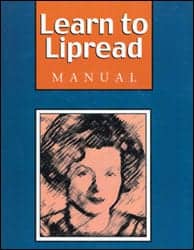 ADCO Hearing Products Inc, Englewood, Colo, offers Learn To Lipread, an educational guide for consumers. It is designed to develop skill through speech-reading practice and thereby reduce frustration for those who cannot understand enough conversation to participate. The lessons consist of lip-reading and auditory training on DVD, with a manual to provide additional practice. For adolescents and adults, Learn To Lipread will supplement linguistic auditory information and increase communication skills. These lessons provide an excellent supplement to training from a class or for home study.
(800) 726-0851
(303) 794-3928
www.adcopro.net
---
Portable Hearing Aid Vacuum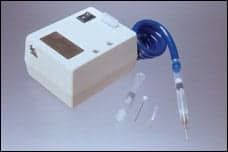 JodiVac LLC, Portland, Ore, offers the Jodi-PRO, a portable hearing aid vacuum cleaner for hearing health care professionals. The 12-volt DC unit has a motor that provides 2,000 hours of clinical use, and two specially milled needles—one for ITE, ITC, and CIC instruments; another for BTE tubing and all other earmolds. The same replaceable filtered syringe provides ease of maintenance and infection control. Syringes and replacement needles are available in economical packages. The syringe has a built-in flow indicator to show when the needle is plugged. A brush is molded into the box for dislodging debris from the needle, and a reamer is included for blockages.
(866) 856-5634
www.jodivac.com