Promotional Materials
Micro-Tech, Eden Prairie, Minn, introduces "Hear, There and Everywhere" materials to support Radius hearing instruments before and during office visits. These promotional and patient-usage materials support Radius hearing instruments, present the benefits of amplification, and describe the adaptive nature of Radius instruments, using display advertisements and direct mailers, as well as brochures, sales tools, and posters. Powered by nFusion technology, Micro-Tech's Radius series of hearing instruments is available in all models and in a range of technology levels.
(952) 995-8800
www.hearing-aid.com
---
Inductive Loopset
MaxIT Ltd, Hong Kong, presents the MaxIT Inductive Loopset, which provides enhanced amplification and crystal-clear hearing and volume to hearing aid wearers. Worn around the neck, the loopset activates the Bluetooth® function on a mobile phone and the "T" switch on a hearing aid to make the connection. Once the two are connected, all external noise interference is eliminated. The MaxIT Inductive Loopset is compatible with Version 1.2 and 2.0 Bluetooth technology, which makes the unit adaptable to additional applications such as Bluetooth-equipped computers, iPODs, MP3 players, PDAs, and more.
011-852-3143-962
www.maxit.com.hk
---
Hi-Visibility Earmuffs
Bilsom, Smithfield, RI, offers Radio Hi-Visibility earmuffs. Bright green earcups and a reflective headband provide clear visibility and clear AM/FM sound, while the lightweight design and headband make it suitable for all-day wear. Its flexible antenna provides reception and is durable for industrial environments, indoors and out. The AUX input jack allows the earmuff to connect to MP3 players and other portable audio devices. A 3.5mm connection cable and 2 AA batteries are included. Listening volume does not exceed 82 dB, allowing workers to listen at safe levels and be protected during the workday without additional noise exposure. Radio Hi-Visibility earmuffs also feature Bilsom's patented Air Flow Control™ technology, which provides optimal attenuation across all frequencies when the radio is in the off position, and delivers a noise-reduction rating of 25 dB. Other features include exclusive snap-in ear and Quick-Click height adjustment.
---
Real-Ear Measurement Process
Starkey Laboratories, Eden Prairie, Minn, presents its Destiny 1600 Integrated Real Ear, a built-in real-ear measurement process that takes just seconds to complete. The 1600 is virtually hands-free, eliminating the need for volume controls or buttons to switch environmental modes, and is loaded with many intelligent features. It includes Voice Indicators to help patients who have difficulty remembering the significance of tones; Self Check, a diagnostic tool that allows patients and professionals to get a performance indication of a hearing aid's circuit, receiver, and microphone; and Auto Path, a first-fit protocol that's easy, fast, and so automatic that a patient can be fitted in less than 2 minutes.
---
Speech Mapping System
GN Otometrics International, Taastrup, Denmark, offers Aurical Visible Speech, a binaural speech mapping system that allows users to see the response of the hearing instrument and the effect of programming changes on audibility and dynamic range. The software analyzes and visually displays speech signals so users can share information faster with patients and their families. Aurical Visible Speech allows clinicians to explain the effects of higher performing instruments and ensures the accuracy of the first fit. In doing so, clinics can reduce the incidence of returns and repeat visits for fine-tuning.
+ 45 45 75 55 55
www.gnotometrics.com
---
Adaptive Hearing Instrument
Audina Hearing Instruments Inc, Longwood, Fla, features INTUITION® 4AD, a state-of-the-art hearing instrument that provides crisp digital sound without distortion. Adaptive Directionality™ automatically switches between omni and directional response, depending on noise in the environment. The INTUITION 4AD addresses a wider range of hearing loss than many hearing instruments available today—up to 22 dB added stable gain. It allows larger venting and more open fittings for better fit and patient comfort. Includes adaptive feedback cancellation, environmental recognition system, dynamic contrast detection, in-situ verification, programmable power-on delay, multimemory with tone indicator, low-battery indicator, and variable vent system.
(407) 331-0077
www.audina.net
---
Hearing Aid Dehumidifier
Health Enterprises Inc, North Attleboro, Mass, offers the Dri-Eze™ Hearing Aid Dehumidifier, which uses a built-in desiccant lining to remove damaging daily moisture for 6 months from first use. It also provides a safe, convenient location for storing hearing aids.
(508) 695-0727
www.healthenterprises.com
---
Zephyr by Dry & Store
Ear Technology Corp, Johnson City, Tenn, announces the newest product for hearing instrument care, Zephyr by Dry & Store®. Compact and affordable, Zephyr is designed to provide superior drying technology at a good value consistent with the company's flagship products, Dry & Store Global and Dry & Store Professional. Zephyr's power supplies are certified to all major electronic certification standards and are available in five plug configurations for worldwide use.
(423) 928-9060

---
Diagnostic/Fitting System
GN Otometrics International, Taastrup, Denmark, offers Aurical Plus, a diagnostic and fitting system that features full 2-channel clinical audiometry, real-ear measurement, NOAH/HI-PRO programming, and a built-in 2cc test chamber for hearing instrument testing. The PC-based Aurical provides objective fitting and verification.
+ 45 45 75 55 55
www.gnotometrics.com
---
Mini BTE System
Hansaton, Hamburg, Germany, offers the STYLE Exclusive Mini BTE system. This digital hearing system comes with 12-channel signal processing and uses a 312-type battery. The eMote remote control is available for the STYLE Exclusive Mini.
+49 40 29 80 11 0
www.hansaton.com
---
OTE Hearing Instrument
Audina Hearing Instruments Inc, Longwood, Fla, announces the newest OTE hearing instrument in its SPARO family, SPARO™ AD. It features Adaptive Directionality™, which automatically switches between omni and directional microphones, depending on noise in the environment. The environmental recognition system identifies unique sound environments and automatically adjusts for unwanted background noise such as wind, air conditioning, and fans. The SPARO AD comes with a standard in-situ verification to assist with comfortable fittings based on wearer preference and a programmable power-on delay to give patients sufficient time to insert their hearing instruments without the usual whistling or feedback.
(407) 331-0077
www.audina.net
---
Digital Directional BTE
Starkey Laboratories, Eden Prairie, Minn, offers the Destiny 1200 Power Plus— an option for patients with severe to profound hearing loss—thanks to the efficacy of AFI. The new Destiny 1200 Power Plus is a digital directional BTE. This robust (140/80) hearing instrument comes with all the standard features of the Destiny 1200—unique indicator tones, automatic telephone response, continuous data logging, and acoustic signature, for fully automatic environmental switching. It also includes unique output compression control and a selectable automatic telecoil.
(952) 941-6401
www.starkey.com
---
Introducing Dry-Brik® II
Ear Technology Corp, Johnson City, Tenn, has begun shipping the Dry-Brik II, a dessicant product for use with all Dry & Store models, including the new Zephyr. Dry-Brik II contains a more aggressive sorbent with much greater moisture-adsorbing capacity and is packaged in an attractive, molded, disposable container. The Dry-Brik II is being released in new, consumer-friendly 3-packs for easy storage and dispensing. The manufacturer guarantees a 2-month life for each Dry-Brik II, which provides end-users with 6 months of protection at a time.
(423) 928-9060

---
Noise-Reduction System
Etymotic Research Inc, Elk Grove Village, Ill, offers the Companion Mics system for those who have difficulty understanding conversations in noisy environments. The Companion Mics system lets people who are hard-of-hearing converse normally with up to three people by establishing a direct communication line between the speakers' microphones and the listener's receiver, alleviating the noise and reverberation of most large rooms. The microphones reduce noise by 10 to 1, making it easier for listeners to focus on and understand conversations. The Companion Mics user wears a compact pendant about the size of a mini iPod player around the neck; the listener attaches Etymotic noise-isolating earphones to tune in up to three people speaking simultaneously. Under line-of-sight conditions outdoors, the units can operate over a distance of 150 feet or more. Indoors, the suggested operating distance is 15 to 20 feet, which allows listeners and speakers to communicate even with backs turned.
(847) 228-0006
www.etymotic.com
---
Hearing Aid Cleaner
Health Enterprises Inc, North Attleboro, Mass, offers the Audio-Kit™ Hearing Aid Cleaner, which features five tools—a wax removal brush and pick, tube/vent cleaner, battery door opener, and replacement magnet—built into the handle. People of all ages will find it easy to use. Works with all hearing aids.
(508) 695-0727
www.healthenterprises.com
---
Cochlear Implant Battery
Rayovac, Maidstone, Kent, UK, introduces the Cochlear Advanced battery, which includes up to 30% more power, capacity, and life span than the previous design. Incorporated into the battery is the "air management" system that allows the battery to access the correct amount of oxygen at all times. Rayovac Cochlear Advanced also features Rayovac's 4-year freshness guarantee. According to the company, the battery has been through an exhaustive development process, and there have been lengthy consultations with all major stakeholders and a rigorous quality assurance program involving more than 100 quality checks.
+44 (0) 1622 358900
www.emea.rayovac.com
---
Feature-Rich Hearing Instruments
Unitron Hearing International, Kitchener, Ontario, offers the Element series. It consists of three feature-rich products—Element 16, Element 8, and Element 4—with varying degrees of automatic performance and comfort features. Element offers premium innovations to meet the specific lifestyles, listening preferences, and budgetary needs of more clients. New! Moxi™ CRT styles available with Element 16 Moxi, Element 8 Moxi, and Element 4 Moxi.
(519) 895 0100

---
Amplifier for Desk Phone
COMMidt, Levanger, Norway, has developed Tango, a multifunctional amplifier for desk telephones. Tango is an in-line amplifier that amplifies the handset, neck loop/headset, general conversation, and audio equipment. Tango is designed to provide high sound quality and suitability for all types of hearing aids and hearing losses. Separate tone and volume adjustments for all functionalities and adjustable microphone sensitivity make the Tango adaptable to the workplace and the home. Tango is available in six variations. A wide range of accessories gives Tango multiple connection possibilities: radio, MP3/CD player, PC and other audio equipment, microphones, external loop amplifiers, mobile phones, FM and CI Processors.
(+47) 74020000
www.commidt.com
---
Stylish Hearing Aid
Oticon A/S, Denmark, offers the Oticon Delta, a hearing device that combines cutting-edge technology with contemporary design to attract image-conscious users. With its trendy triangular shape and stylish colors, Delta is aimed at boosting speech understanding in difficult listening situations for people with all configurations of hearing loss up to 80 dB flat. The Delta XR extended range enables hearing care professionals to fit high-frequency losses—often found with first-time users—and more traditional flat-broadband hearing losses. With the expanded range, hearing care professionals can fit more than 80% of their patients with a hearing device that users want and can continue to wear, even if their hearing loss progresses. Delta XR is available in three models—including a new lower-priced Delta 4000—and in 17 colors and styles, from Cabernet Red and Samoa Blue to the exotic Wildlife leopard pattern and Diamond Black.
45 39 17 71 00
www.oticonusa.com
---
Interactive Hearing System
Unitron Hearing, Kitchener, Ontario, offers the Yuu, an interactive hearing system that pairs with an advanced, automatic hearing instrument that has an intelligent remote control. Yuu offers personalization with a Comfort-Clarity Control, allowing clients to control speech-enhancement and noise-reduction levels. Clients can train Yuu to remember preferred settings for improved satisfaction. Yuu's new feedback system dramatically improves listening comfort.
(519) 895 0100

---
Babyworn Accessory Pack
Cochlear Americas, Englewood, Colo, introduces the Babyworn Accessory Pack + Babyworn Cable, a dedicated baby wearing solution that addresses retention and comfort issues normally associated with cochlear implants. Babyworn is a pediatric offering for children of all ages, allowing the wearer to grow into the Cochlear Freedom system. Babyworn is designed to work well for children with small ears because it reduces the BTE size and weight, and it provides two flexible wearing options: a single controller-standard BTE configuration and an upper body configuration.
(303) 790-9010
www.cochlearamericas.com
---
Lightweight Digital RIE
Beltone, Glenview, Ill, has recently added a new receiver-in-the-ear product to its digital product line. The Marq17 is Beltone's smallest, most lightweight instrument to enter this class. The Marq17's receiver system provides more midfrequency gain so the device can fit a wider range of hearing losses.
---
Wireless Television Amplifier
Clarity, Chattanooga, Tenn, offers a wireless TV amplification device, the Clarity Professional® C120™. Infrared transmission technology allows the C120 to wirelessly transmit stereo sound from televisions, stereos, and MP3 players to a lightweight amplified headset, so users hear clearly without disturbing others. The C120 headset can also be used in movie theaters, public arenas, churches, museums, and venues that broadcast infrared signals for the hearing impaired. The C120 amplifies incoming sounds up to 50 db and uses patented Clarity® Power™ technology to make sounds louder, clearer and easier to understand. The C120 also offers telephone ring notification through the user's headset. Additional features include adjustable volume, tone and balance, and two rechargeable batteries, providing up to 8 hours total listening time.
(423) 629-3500
www.clarityproducts.com
---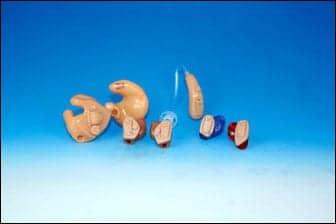 Spectrum Hearing Systems, Cornelius, NC, offers the Vertex® line of digital custom and BTE hearing instruments. Vertex provides high-fidelity audio processing with wide bandwidth, full dynamic range, and long battery life. Vertex is available in 2-, 4-, 12-, and 32-band configurations, and is programmed using Spectrum's easy-to-use fitting software. Vertex may be personalized with options such as external volume controls, multimemory buttons, manual or automatic telecoils, directional microphones, and indicator tones.
(704) 237-9100
www.spectrumhearing.com
---
Integrated Faceplate Module
Knowles, Itasca, Ill, announces its fully integrated, removable 8200 Faceplate Module. In partnership with In'Tech, Knowles brings to the industry a product to enhance efficiency. The 8200 features an integrated push button, microphone, battery door, and flex programming module block. This module securely fastens to a frameless faceplate, and can be removed using a single extraction tool. It not only addresses ease of manufacturing and serviceability, but also remains flexible to a variety of applications. Customers may order the module preassembled to the flex, ready-for-hybrid attachment, or the entire hybrid may be preassembled.
(630) 250-5189
www.knowles.com/8200
www.intech-ind.com
---
Portable Hearing Aid Vacuum
JodiVac LLC, Portland, Ore, offers the Jodi-PRO, a portable hearing aid vacuum cleaner for hearing health care professionals. The 12-volt DC unit has a motor that provides 2,000 hours of clinical use, and two specially milled needles—one for ITE, ITC, and CIC instruments; another for BTE tubing and all other earmolds. The same replaceable filtered syringe provides ease of maintenance and infection control. Syringes and replacement needles are available in economical packages. The syringe has a built-in flow indicator to show when the needle is plugged. A brush is molded into the box for dislodging debris from the needle, and a reamer is included for blockages.
(503) 774-4951
www.jodivac.com
---
Ear-Cleansing System
Hal-Hen Company, Inc, Garden City Park, NY, presents the Murine Earigate Ear Cleansing System, designed and tested to help keep ears clean longer. Earigate is said to safely rinse away ear wax and cellular debris with no pressure on the tympanic membrane. It extends the time between ear cleanings and helps prevent hearing aid failure due to wax and debris buildup. Earigate is chemical and preservative free, hypoallergenic, and can be used as often as necessary. Earigate is available in adult and child sizes. Each 100ml can of Earigate delivers 30 to 50 applications. Call for free sample while supplies last.
(516) 294-3200
www.halhenpro.com
---
Open-Fit Earmold
Open-fit hearing aids are highly effective and popular; they can be improved in many instances by adding a specially designed earmold from Microsonic Inc, Ambridge, Pa. Microsonic earmolds can offer increased comfort, improved retention, and, often, higher gain before feedback. Available in both acrylic and silicone, Microsonic's open-fit earmolds are easy to wear and allow simple, in-office tube changes as needed.
36-1-209-64-90

---
Hearing System
Starkey Laboratories, Eden Prairie, Minn, offers a solution for hearing aid fittings. Using best-fitting practices once required a great deal of time. Starkey's Inspire OS 2.0 and Destiny 1600 provide a more accurate, individualized fit that takes less time than a fit using averaged data. That's because this new hearing system works in perfect sync, using real-ear data immediately throughout Inspire OS. Auto Path provides one screen that leads through a fast, automatic fitting protocol in less than 2 minutes. Additionally, all Destiny instruments have expanded output controls for greater fitting flexibility, access to maximum stable gain through active feedback intercept, and a visible indicator of all screens accessed during the fitting session. All Destiny products will be compatible with the newest Surround Town scene, a dynamic theater that allows the patient to experience a virtual theater environment.
---
Digital Hearing Instrument Series
Hansaton, Hamburg, Germany, offers the FRESH hearing series in digital hearing technology. FRESH Pro is an entry-level digital hearing instrument that will accommodate medium to moderately severe hearing loss. Its housing is available in a variety of colors. FRESH Pro features a multimicrophone system, microphone noise reduction, 4/2-channel signal processing (4 gain channels and 2 AGC channels), noise reduction, and enhanced phase cancellation feedback management. FRESH Exclusive is an upper entry-level hearing instrument that has all of the features of the FRESH Pro plus voice detection and 4/4-channel signal processing (4 gain channels and 4 AGC channels).
+49 40 29 80 11 0
www.hansaton.com
---
Implant Power Batteries
ZeniPower, Zhuhai, China, has been proudly marketing the new generation of Implant Power batteries since 2006. These batteries provide 30%+ improvements, which can power a cochlear BTE speech processor for 3-6days. Comparison tests by Zenipower were reported to show longer life than another leading brand at 30mA discharge. Strictly controlled manufacturing process guarantees high reliability and consistency. Free samples available.
(814) 825-8398
www.zenipower.com
---
Multimemory, Open-Ear Instrument
Magnatone, Casselberry, Fla, introduces the Shadow X™ nonprogrammable, multimemory, open-ear instrument, a high-end digital solution. The Shadow line has a seamless unibody design and is compatible with ReSoundAIR™ tubing. Now available in a variety of colors and patterns.
(407) 339-2422
www.magnatone.com
---
Advanced Digital Hearing Aids
SONIC Innovations, Salt Lake City, manufactures and markets advanced digital hearing aids intended to provide the highest levels of satisfaction for both hearing-impaired consumers and hearing health care professionals across the globe. For more information about our breakthrough products—like ion and Balance—please visit our web site.
---
Small Personal Listening System
Hal-Hen Company, Inc, Garden City Park, NY, offers the Comfort Duett™ Personal Listening System, an affordable alternative for individuals who are hard of hearing and not ready for hearing aids, as well as offering enhanced hearing for hearing aid users. Offering a maximum gain of 60dB, the Comfort Duett provides clear, distortion-free, digital audio. The Duett's small size allows placement almost anywhere using the convenient clip. Sleek and easy to use, the Duett features a unique, built-in T-coil for direct pickup when used in loop-equipped buildings and environments. Fully flexible, the Duett can be used with headsets, earbuds, and induction loops, and operates for 14 hours on a 14-hour charge. Duett accessories provide easy linking to television, telephone, or other sound equipment.
(516) 294-3200
www.halhenpro.com
---
Snug Fit for Children
Cochlear Americas, Englewood, Colo, introduces the Freedom Snugfit, designed to keep processors and microphones in the most natural position on children's ears. The Snugfit consists of an upper ear hook, main body, and lower ear hook that keeps the sound processor in place, providing parents and caregivers confidence their child is receiving an optimal, uninterrupted hearing experience. Snugfit's adjustable upper and lower ear hooks ensure this optimal fit, while soft, durable unit material provides lasting comfort. The lower hook on the Snugfit is offered in beige, brown, or black to match the wearer's skin color and appear less conspicuous. The Snugfit is included as part of the pediatric option bundle.
(303) 790-9010
www.cochlearamericas.com
---
Small, Sensitive Reed Switch
Hermetic Switch, Inc, Chickasha, Okla, offers the HSR-0025, a small and sensitive, magnetically operated reed switch. The switch is designed to address the need for smaller electronic components in the medical and healthcare industry, but has created interest in other industries where size is critical, such as aerospace, electronics, computers, automation, manufacturing, robotics, security, telecommunications and military. The tiny, oval-shaped glass body of the HSR-0025 measures 4.06 mm (0.160 in) long, 1.22 mm (0.048 in) wide, and 0.89 mm (0.035 in) high. The 0.25 mm (0.010 in) diameter leads on the HSR-0025 allow it to perform as a magnetically sensitive reed switch that operates with as few as 2 ampere turns (AT).
(+1) 405-224-4046
www.hermeticswitch.com
---
Intelligent Rechargeable Instrument
GN Resound, Copenhagen, Denmark, offers the Pulse product line of digital hearing instruments, a selection that provides Supertune intelligent recharging and optimization. Users insert one or both instruments into Supertune, leave them charging for 5 hours, and devices are ready to go. Supertune can be powered by a computer's USB port, and Pulse devices allow patients to have an extra set of batteries charged within the unit.
+45 72 11 11 11
www.gnresound.dk
---
Hearing Aid Test Sequence
Frye Electronics, Inc, Tigard, Ore, introduces software version 1.6 for the FONIX 7000 Hearing Aid Test System, designed to provide the user with the opportunity to test hearing aids to the IEC 60118-7 2005 standard. This automated test sequence is called the IEC '05, and it can be added to existing 7000s and purchased with new units. It is of interest in Europe. The FONIX7000 is currently the only instrument that provides this automated test sequence, according to the company. A sample display is found on the Frye Web site, along with a description of other improvements made in version 1.6, such as the ability to program in a customer test sequence.
(503) 620-2722
www.frye.com
---
Hearing Aid Sweat Band
VanB Enterprises, West Valley, NY, offers the Hearing Aid Sweat Band™, a disposable, soft-fabric sleeve that protects BTE devices from moisture and other infiltrating contaminants. This spring, the company introduced the "Slim Series" of sweatbands in Mini-Slim, Small-Slim, and Medium-Slim sizes. The Hearing Aid Sweat Band is available in nine sizes, including 5 XL (specifically designed for FM systems), and in six colors. It slips easily over the aid, extending to the microphone without the need for a tool.
(716) 942-6313
www.vanbenterprises.com
---
Versatile T-Hook
COMMidt, Levanger, Norway, presents the Jazz T-Hook for mobile phones and cordless telephones. Jazz T-Hook is suitable for use with BTE hearing aids when using the "T" or "MT" function. The ear hook is designed to provide double-sided, high quality sound. The device is powered by the telephone and a reply button may be used on certain telephones. Jazz is designed to function as a single- or doubled-sided solution suitable for all telephones with headset outlets and can be used to amplify audio equipment.
(+47) 74020000
www.commidt.com
---
Promotional Products
EARA Advertising Resources, Los Angeles, is an audiologist/hearing aid dispenser–owned, promotional products company that has been in business 25 years. EARA Advertising Resources offers more than 630,000 imprinted products, including gifts, direct mail pieces, meeting and convention supplies, wearables, edibles, and office products. All our imprinted products are decorated with your company information to promote your business. Additional services include product sourcing, custom products, warehousing, and fulfillment.
(323) 851-6556
www.EaraAdvertising.com
---
Wireless Connectivity
Oticon A/S, Denmark, presents the new Oticon Epoq. Its proprietary binaural, high-speed wireless technology enables a pair of Epoq hearing devices to communicate at data transfer speeds 100 times faster than hearing instruments on the market. This real-time connectivity with voices and other sounds provides accurate, stereophonic auditory information that is in sync with the user's visual experience. The same wireless connectivity enables Epoq to provide a new and previously unavailable hearing option during use of cell phones. With the addition of the small, sleek Streamer, Epoq becomes the equivalent of a hands-free, Bluetooth®-intelligent headset without having to attach bulky devices or wires to the hearing instrument. The Streamer is an optional wearable device that functions like an MP3 player, and facilitates effortless audio streaming from cell phones, personal computers, GPS systems, and other popular electronic devices. Epoq is available in two performance levels: the premium choice Epoq XW, and Epoq W.
45 39 17 71 00
www.oticonusa.com
---
BTE Tamper-Resistant Battery Holder
The design of the BTE Tamper-Resistant Battery Holder from Cochlear Americas, Englewood, Colo, makes it more difficult for young children to access, remove, and lose batteries. The Tamper-Resistant Battery Holder is available in two sizes so both the BTE and Freedom Mini BTE recipients are able to use the product. A key ring pulling tool is provided to enable easy removal by parents and caregivers.
(303) 790-9010
www.cochlearamericas.com
---
NOAH Module
The FONIX NOAH Module, released by Frye Electronics, Inc, Tigard, Ore, works with all current FONIX instruments. It is a Windows-based program that runs inside NOAH 3. The FONIX 7000 Hearing Aid Test system and the FP35 Hearing Aid Analyzer always have the computer connection. It can be purchased for the FP40, the FA-10, and FA-12 Hearing Evaluator, as well as for the older 6500-CX. The instruments work as stand-alone devices or can be used through computers. The version 1.40 for the FONIX NOAH module has recently been completed. The ON-Top screen allows the user to open a hearing aid fitting module and perform adjustments to the hearing aid, while simultaneously performing hearing aid measurements, including the simple insertion gain and the Visible Speech program.
(503) 620-2722
www.frye.com
---
Complete Clinical Solution
MedRx Inc, Largo, Fla, offers the AVANT™ computerized testing and fitting system that consists of the AVANT A2D audiometer and the AVANT REM Speech Live Speech Mapping and real ear measurement system. Each device weighs less than half a pound, connects to a USB port, and arrives in a compartmentalized carrying case. The entire system, with all of its accessories, weighs less than 7 pounds.The A2D audiometer allows fast and accurate air, bone, and speech testing, and offers an intuitive user interface for data collection, patient monitoring, and counseling. With the AVANT REM Speech system, fittings can be verified via Live Speech Mapping or traditional real ear measurement. Both instruments are NOAH™, System 3, and TIMS® compatible..
(727) 584-9600
www.medrx-usa.com
---
Portable Vacuum-Aspirator
Hearing Technologies, Pinellas Park, Fla, introduces the Pro-Power™ Vacuum-Aspirator, a hospital-tested portable vacuum. It is designed as an aspirator and set up as a hearing aid vacuum with 24.5 inHG suction and an adjustable suction control. Cleaning tools are included to help remove wax and debris. Cone-shaped suction tips clear the receiver and microphone ports. Placing the hearing aid on the standard suction tube will complete the cleaning by combining suction and vibration. New cost-saving design is available in 110V and 230V.
(727) 525-7770

---
Multifunctional Neck Loop
COMMidt, Levanger, Norway, presents Classic, a multifunctional neck loop with integrated voice amplifier for use with mobile phones and audio equipment. Classic is designed to provide good sound on both ears and is suitable for hearing aids with "T" or "MT". A control button allows users to answer, terminate, or reject incoming calls, and an appropriate telephone connector is provided with the device. Classic's integrated voice amplifier allows users to listen to general conversation at home, work, or in restaurants or automobiles. The amplifier for audio equipment allows users to enjoy sound from radios, MP3/CD players, televisions, etc. A wide range of accessories extends the use of the Classic Neck Loop. Standby time: 200 hours. Call time: 48 hours. Rechargeable battery (charger included).
(+47) 74020000
www.commidt.com
---
2-Channel Custom Aid
Audina Hearing Instruments Inc, Longwood, Fla, introduces the INTUITION® 2FC, an advanced 2-channel custom hearing instrument with adaptive feedback cancellation system that provides up to 17 dB added stable gain. Constant monitoring automatically eliminates whistling and optimizes adaptation speed to maximize resistance to tonal artifacts such as horns, organ music, timer alarms, and bells. Additional features include a dynamic contrast detection system that enhances speech without distortion; a look-ahead monitor that works in conjunction with the dynamic contrast detection, automatically adjusting the signal to sudden loud inputs before they are heard; 12-band gain adjustment for precise target matching; and an advanced DSP chip.
(407) 331-0077
www.audina.net
---
Wireless Communication System
Hal-Hen Company, Inc, Garden City Park, NY, presents the Comfort Contego Wireless Personal Listening System, a 30-channel, wireless communication system designed to provide clear digital sound over a secure connection. With a range of 75 feet, Contego's two Zoom microphones—1 in transmitter, 1 in receiver—provide sound customization and control. LCD screens provide positive indication of volume level and directionality settings on both microphones. Rechargeable system can be used with headsets, earbuds, and induction loops and operates for 16 hours on a 4-hour charge. Special offer: Buy 1 Get 1 Free Demonstrator, limit one per practice, while supplies last.
(516) 294-3200
www.halhenpro.com
---
Private Label Batteries
ZeniPower, Zhuhai, China, provides new, private label batteries at higher capacity. A10 will be at 100mAh industry leading with extra low impedance to ensure longer lasting time for digital hearing aids. Strictly ISO9001 controlled manufacturing process guarantees high reliability and consistency. Overall performance within top 3 of the industry while offered at competitive prices.
(814) 825-8398
www.zenipower.com
---
Engineering Expertise
At In'Tech Industries Inc, Ramsey, Minn, engineering experts strive to produce products that match customers' design criteria. Whether producing a complete design based on generic sketches or integrating an existing design into a final product, combining the company's services with customers' creativity is the key.
(763) 576-8100
www.intech-ind.com