Egger Corp Opens US Operations

Egger Corp's new US headquarters in Atlanta.
Atlanta — Egger Corp, which has its world headquarters in Kempten, Germany, opened its first US facilities in Atlanta. The company produces hygiene products, impression materials, professional product presentation materials for dispensing professionals, and provides unique production techniques (ie, photo-polymerization) including materials and equipment for the furnishing of a complete laboratory. Their product range contains all materials and devices necessary for the production of earmolds, training, impression-taking materials, as well as for hearing protection and earmolds.

Staff members at the new Egger-Atlanta facility include (l to r): Rimma Shagiyeva, Michaela Hold, Mike Sauter, George Messner, Pete Loyd, and Markus Rollig.
"The new facility has been established to be closer and come up even faster to the customers' requirements," says Pete Lloyd, company technical and sales representative. Egger has been a visible player on the US market for several years due to its long-term business relations to many customers, as well as its regular presence at exhibitions like the AAA convention during the past years. Its product technology is based on more than 40 years of experience achieved by the world-wide parent company in Germany which is one of the largest earmold producers in Germany, reportedly serving more than 80 countries. For more information, contact Egger Corp. at (866) 344-3787.
---
JAMA Publishes Paper that Urges Physician Hearing Screening
Just in time for May's Better Hearing and Speech month, an article that appears in the April 16 Journal of the American Medical Association (JAMA) documents how hearing loss is being underdiagnosed by doctors, and reports that "the primary care physician should vigilantly ask about hearing loss in older patients and recognize common symptoms of hearing impairment, such as communication impairment and social withdrawal." The article, "Screening and Management of Adult Hearing Loss in Primary Care: Scientific Review" by Bevan Yueh, MD, MPH, Nina Shapiro, MD, Catherine H. MacLean, MD, PhD, and Paul G. Shekelle, MD, PhD, concludes that, "while untested in a clinical trial, older adults can be screened for hearing loss using simple methods, and effective treatments exist and are available for many forms of hearing loss."
Hearing loss is the third most prevalent chronic condition in older adults and has important effects on their physical and mental health, say the researchers. Most patients making a routine doctor's visit are not checked for hearing loss, even though 40% of the US population older than age 65 suffers from it and simple screening methods can detect it. However, fewer than 10% of internists offer routine testing to older patients. Further, their study finds that only 25% of patients with treatable sensorineural hearing loss receive hearing aids.
The researchers examined a number of databases for information on hearing screening within the time period of 1985-2001 and found 1,595 articles. Although they report that screening is endorsed by most professional organizations, the "value of routine screening for improving patient outcomes has not been evaluated in a randomized clinical trial." They found that the use of an audioscope, a hand-held combination otoscope and audiometer, and a self-administered questionnaire, and the Hearing Handicap Inventory for the Elderly (HHIE) are the common methods for assessing hearing handicap among physicians.
Some types of hearing loss, including gradual nerve-related (sensorineural) impairment, might not be obvious in a quiet doctor's examination room and patients may not mention their hearing problems. The authors also say that hearing loss is strongly linked to depression and decreased quality of life.
While noting that "non-adherence to hearing aids is high," the article documents the effectiveness of hearing aids, and cites randomized trials that show improved outcomes for patients who have sensorineural hearing loss. Although most hearing loss is of the sensorineural form (ie, presbycusis), the study notes that up to 30% of elderly patients with hearing loss have cerumen impaction or otitis midia that can be treated by the primary care clinician. The researchers also warn about the need to assess sudden onset hearing loss.
---
Freeman Honored with Larry Mauldin Award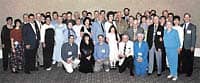 Barry Freeman, PhD, of NOVA Southeastern University.
San Antonio— Barry Freeman, PhD, a champion of the AuD movement and chair of the Department of Audiology at NOVA Southeastern University, was presented with the 2003 Larry Mauldin Award. Established in 1999, the award celebrates the life of the late Larry Mauldin, a person who exemplified excellence in audiological education and professionalism, and seeks to recognize the outstanding achievements of like individuals. Mauldin's career ended at Beltone Electronics, and the company along others in the field who appreciated his work have since commemorated his legacy by hosting the award and awards ceremony. This year's award was made particular special because the Mauldin family was in attendance.

Presenting the award to Freeman were Beltone President James Curran (r) and Senior Vice President of Brand Management Steve Hannibal (l).
Freeman has been a leading figure in the development of the AuD program at NSU and is known as a mentor by many people in the field of audiology. Throughout his career, he has published and presented on a host of topics, mostly relating to amplification, professional and educational issues, practice management, and auditory processing.
The Larry Mauldin Award is dedicated to those who exemplify "the highest standards and commitment to the hearing care profession. For pioneering new ideas and expanding the horizons of hearing care professionals and for pursuing the dreams that change people's lives." Last year's recipient was Don Worthington, PhD. For more information on the award, contact Cydney Fox of the Tracy Family Hearing Center, at [email protected].
---
US Hearing Instrument Sales Continue Downward Slide
Alexandria, Va — Hearing instrument net unit sales in the US declined by 3.0% in the first quarter of 2003, according to the Hearing Industries Association (HIA). A total of 455,744 units were dispensed in the first quarter of 2003 compared to 469,654 units in the first quarter of 2002 (which, in turn, represented a nominal 0.4% increase over 2001 figures). In total, the hearing instrument market has not experienced a 3% or greater increase in quarterly sales in three years.
Meanwhile, digital instruments continue to grow remarkably in market share. In the first quarter, digital instruments accounted for 58.2% of all the hearing aids dispensed in the US, while analog non-programmable and programmable aids accounted for 23.9% and 17.9%, respectively. In the fourth quarter of 2002, DSP aids accounted for 52.9% of all US hearing instrument units.
---
Funding for UNHSP Saved
Washington, DC — Congress' recently designated $9.9 million in funding for the Universal Newborn Hearing Screening Program (UNHSP) which is currently allocated in the fiscal year 2003 federal budget. President Bush's fiscal year 2003 budget recommended eliminating dedicated funding for the UNHSP and several other grant programs in favor of a Material and Child Health Block Grant. A consortium of professional and consumer organizations began discussions with several members of Congress in an effort to protect this program.
AG Bell reports that maintaining a dedicated funding source for this two-year old program was critical to ensuring state operated Early Hearing Detection and Intervention (EHDI) programs become more fully operational and that universal hearing screening programs are properly linked with audiology services, early intervention, and the child's routine medical care. "Today, 41 states and the District of Columbia have Universal Newborn Hearing Screening Programs," says AG Bell Executive Director K. Todd Houston. "If we can identify infants with hearing loss at birth, then we can prescribe the most appropriate hearing technology and get these children and families enrolled into early intervention services. It is vital that we identify them early in order to ensure better communication and academic outcomes. As well, it is critical that we maintain federal funding at these levels so states can support these programs."
As Congress deliberated over the fiscal year 2003 Omnibus Appropriations Act in January and February of 2003, the consortium of organizations worked aggressively with Sen. Arlen Specter (R-Pa), Sen. Tom Harkin (D-Iowa), Rep. Ralph Regula (R-Ohio), and Rep. James Walsh (R-NY) and their staffs on this issue. Due to the collective efforts of the hearing care advocates, Congress rejected the Bush Administration's proposal and provided $9.9 million in funding to this critical program for fiscal year 2003. While funding for the UNHSP has been preserved for this fiscal year, more work will be needed to save the program in 2004, says AG Bell.
---
Oticon Focus on People Awards

Adam Boardman

Katie Sullivan

Sherri Collins

Maxine Sutcliffe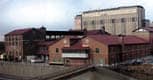 Amanda Beers
San Antonio – The 2003 Oticon Focus on People Awards honored 12 hard-of-hearing people prior to the start of the American Academy of Audiology convention. The individuals prove that hearing loss does not limit a person's ability to live a full, productive and inspiring life. The national awards competition, sponsored each year by Oticon, Inc., Somerset, NJ, particularly celebrated the accomplishments of Adam Boardman of Ohio, Katie Sullivan of New Jersey, Dr. Maxine Sutcliffe of Florida, and Sherri Collins of Arizona. Additionally, a special award recognizing the critical role of hearing care professionals in improving the world of hearing-impaired people was presented to Elizabeth Cook of Denville, NJ; Blaine Smith of San Antonio, Tex; and John Wright of Birmingham, Ala.
Selected from over 300 nominees, the 15 winners each earned top honors in one of the program's five categories which were Youth, Student, Adult, Advocacy, and Practitioner. Now in its seventh year, the Oticon Focus on People Awards program is designed to focus attention on common misconceptions about hearing loss, correct negative stereotypes, and motivate people with hearing loss to take advantage of the help that is available to them.
"Oticon created the Focus on People Awards to show the world that hearing loss does not diminish a person's ability to live life to its fullest and most productive," says Oticon President Mikael Worning. "Most importantly, we want to encourage those with hearing loss to seek professional guidance and take advantage of the new technologies and procedures that enable them to live the life they want."
The current Miss Washington and Miss America finalist, Amanda Beers, who is hearing impaired, served as a special guest speaker for the awards ceremony. She spoke of her own experience with hearing loss and applauded Oticon's commitment to changing negative stereotypes.
Second place Oticon Focus on People Award winners were: Blaine Smith ACA, BC-HIS of San Antonio, Tex, (Practitioner), Denise Jones, PHR, of Spokane, Wash (Advocacy), Dr. Sandra Harris of Piscataway, NJ (Adult), Lauren Kovarik of Albuquerque, NM (Student) and Margaret Judith Katter of Indianapolis, Ind (Youth). Third place winners were John D. Wright, M.S., CCC-A of Birmingham, Ala (Practitioner), Scott DeLoach of Aurora, Ill (Advocacy), Myrle Green of Birmingham, Ala (Adult), Austin Nelson of South Kent, Conn (Student), and Daniel Ocasio of Livermore, Calif (Youth).
---
New Pediatric Tools Available
Two new parent completion instruments, the Early Listening Function (ELF) and the Children's Home Inventory of Listening Difficulties (CHILD), are now available that can assist in developing parent understanding of the implications of hearing loss and the need for timely and consistent amplification management, according to Karen Anderson, PhD, who works in the field of early intervention for infants and toddlers with hearing loss in the state of Florida.
Increasing numbers of young children are diagnosed with hearing loss in the first few months of life—well before most parents have enough experience with the child to begin to suspect a hearing problem. Hearing loss is not easy to understand. Providing parents and caregivers with a means to systematically observe their child under circumstances typical of the child's everyday life benefits their understanding of what it means to have a child with a hearing loss, says Anderson.
ELF: The ELF test instrument was designed to encourage the parent's participation in the hearing loss discovery process. The ELF defines 12 contrived listening activities that can easily be performed in the home environment. Parents perform the activities in the child's typical environment and determine if a behavioral response can be obtained at 6 inches, 3 feet, 6 feet, 10 feet, and 15+ feet (next room).
The objective of caregivers performing the ELF contrived listening activities and observing their child's responses is not to double check to see if the audiological diagnosis is correct; As the parents gain comfort in estimating the size of their child's listening bubble, these observations can be very valuable to the audiological management of the child.
CHILD: Like the ELF, the CHILD employs the parents in the role of observer of their child's behavior. The 15 situations specify home communication at different distances, in background noise, and varying child interest levels. The ELF contrived listening activities were aimed at detection alone, whereas the CHILD questions relate to dynamic communication situations. The CHILD also is sensitive to the subtle difficulties experienced by children with mild, fluctuating, or unilateral hearing loss. An 8-point scale has been provided for the parent to choose from as they estimate their child's listening abilities. The CHILD can provide valuable information to the parents about the access the child has to the typical communication dynamics of the family.
The ELF and CHILD can be downloaded by visiting www.phonak.com or www.oticonus.com; and the Educational Audiology Web site www.edaud.org after June 30. Questions can be directed to Karen Anderson, author of the ELF and co-author (with Joseph Smaldino) of the CHILD, at [email protected] For more information on both validation instruments, see Anderson's article in the November 2002 HR, pages 24-27,56.