ASHS Graduates 92 AuD Students

Mesa, Ariz — The Arizona School of Health Sciences (ASHS), a school of A.T. Still University, granted 92 Doctor of Audiology (AuD) degrees to transitional students at its March 15 commencement in Mesa, Ariz. In addition, A.T. Still University President James McGovern, PhD, bestowed the University's first honorary doctor of humane letters to ASHS alumna Anita T. Pikus, AuD, of Bethesda, Md.
"All of our graduates should be very proud in achieving this major milestone in their professional career," said ASHS Provost Craig M. Phelps, D.O., FAOASM. "By obtaining an ASHS degree in their respective health care discipline, these health care practitioners will further advance the principles of high-quality patient care benefiting their practice, their profession and their community."
Keynote speaker and ASHS alumna Anita Pikus, AuD, provided the ASHS graduates with insight on professional pioneering and personal responsibility. "I commend you to guard your personal and professional freedoms with both alertness and courage," noted Pikus. "Your professions and the public need you. I know in you they have the best health care has to offer in compassion harnessed to competence and confidence." For more information, visit www.atsu.edu.
Academy of Federal Audiologists and SLPs Appoints President
The Executive Committee of the Academy of Federal Audiologists and Speech-Language Pathologists (AFASLP) announced the selection of Douglas Noffsinger, PhD, as the Academy's first president. The Academy seeks to bolster inter-agency cooperation within the Federal Government and to promote the membership's interests to private and commercial concerns in the hearing and communications industry, as well as to professional associations. It creates or reviews consensus statements on major issues of interest to its membership, and promotes those interests, while providing active support to a mission that includes clinical service, education and research. It composed of the Association of VA Audiologists (AVAA), the Military Audiology Association (MAA) and the Association of VA Speech-Language Pathologists (AVASLP).
The Academy presidency rotates among the three organizations. Noffsinger is past-president of the Association of VA Audiologists (AVAA) and chief of audiology and speech pathology at the VA Greater Los Angeles Healthcare System.
AFASLP membership includes military and civilian audiologists and SLPs employed by branches, departments, and agencies of the US Government, both in the United States and overseas. As the umbrella organization for the three government employee associations, it is one of the largest organizations of its type in the world.
The executive group also announced the appointment of David L. Miller, PhD, as president-elect and Thomas L. Hutchison, MA, MHA as Secretary-Treasurer of the Academy. Miller is president of AVAA and chief of audiology and speech pathology at VA San Diego Healthcare System. Hutchison is head of the audiology division, Naval Health Care New England, in Portsmouth, NH.
In addition to its officers, the Executive Committee of AFASLP includes Beverly Hildebrand, PhD, chief of audiology/SLP at VA Central Arkansas Healthcare System and president of the AVASLP, Dr. Miller of AVAA, and Lt Col Angela Williamson, AuD, flight commander, audiology/hearing conservation at Robins Air Force Base, Ga, and president of the MAA. Other members are Lucille Beck, PhD, director of the VA National Program in Audiology and Speech Pathology and chief consultant to the secretary of Veterans Affairs for the Rehabilitation Strategic Health Group, and the Audiology Service Consultants to the Surgeon Generals of the Army, COL David Chandler; the Navy, CDR Nancy Hight; and the Air Force, Lt Col Martha Ann Stokes.
---

Richard Gans Elected AAA President-Elect
McLean, Va — The American Academy of Audiology (AAA) announced the results of this year's election for president-elect and board members-at-large. Richard Gans will assume the office of AAA president-elect effective July 1, 2003. Gans is director of The American Institute of Balance in Seminole, Fla. He has been serving on the Academy board of directors since 2001 and is currently the secretary-treasurer of the board. Gans heads a multi-office group of offices in Florida specializing in vestibular/balance diagnostics and treatment. He is an adjunct faculty member of numerous AuD programs, and has authored two series of articles on the subject of vestibular assessment, rehabilitation, and audiovestibular dysfunctions for The Hearing Review, as well as the books Vestibular Rehabilitation: Protocols and The ENG Handbook. Following his term as president-elect, he will assume the office of AAA president on July 1, 2004 for a one-year term.
Three nominees were also elected to the Academy board of directors for a three-year term from July 1, 2003 to July 1, 2006. Ted Glattke is a professor in the Department of Speech and Hearing Sciences at the University of Arizona in Tucson. Glattke is a noted authority in physiological measurement of hearing and hearing disorders.
Lisa Hunter is a recent addition to the University of Utah in Salt Lake City, Utah where she is associate professor in the Department of Communication Sciences and Disorders. Hunter was previously at the University of Minnesota for 14 years in various audiology staff positions.
Sharon Kujawa is an associate professor in the Department of Otology and Laryngology at the Harvard Medical School. She is also the Director of the Department of Audiology at the Massachusetts Eye and Ear Infirmary in Boston, MA.
---
Multi-disciplinary Team Makes Annual
"Hearing Lion" Mission to Mexico
Indianapolis — In April, a group of hearing care professionals set off for the Hearing Lion annual hearing care mission to Mexico. "We never know what to expect, other than [that there are] many hearing-impaired children in Mexico, and they need hearing help," says Duane Wass, BC-HIS. "Many people in Mexico cannot afford hearing evaluations, let alone hearing aids. The average income in this area is $5-$10 per day, which happens to be the average price in Mexico for a pack of hearing aid batteries."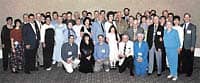 Duane Wass, MS, BC-HIS (right) and Hearing Lion partner John Pickett, BC-HIS have been sponsoring missions to Mexico since 1995.
Headed by Wass and John W. Pickett, BC-HIS, the team has been making these trips since 1995. Both men are hearing impaired and members of the Lions Club, as well as Melvin Jones Fellows. Dani Land, BC-HIS, president of the Jackson County Sertoma Club, and Charlie Robinette, BC-HIS, of Florence, Ky, each made their second trip with the group, raising almost $1000 each for this year's mission. Making their first trip was Kathy Wass, a licensed hearing instrument dispenser, Bruce Campagna, BC-HIS, and Wilma Ell, who joined her husband Gerald (who had experienced his first Hearing Lion mission trip last year). Carla Rondeau, PhD, and husband Frederic from El Salvador, clinical director and program director (respectively) of the Starkey Hearing Foundation, assisted with much of the trip. The couple has been conducting hearing aid missions around the world (eg, see article, "Oye Amigo helps hundreds of children in El Salvador", December 1997 HR, page 41).

The Hearing Lion Team journeyed to Mexico, fitting more than 730 hearing aids on those individuals needing hearing help. Making special contributions were Frederick & Carla Rondeau and the Starkey Foundation, Dora Ayala, Spence & Janet Simmons, Lions Club Intl, as well as several Lions and Sertoma Clubs and churches across the US.
"Our objective is to test the hearing of needy individuals, and try to deliver the needed amplification," says Wass. "Further, we would like to establish a local person or facility where those fitted could seek follow-up service after we leave. This follow up service may involve replacing batteries, changing tubing, cleaning earmolds, replacing earmolds due to change in canal size and/or shape, or replacing hearing aids due to change in hearing loss or [malfunction]."
"The wonderful sight is the 'hearing smile' that comes across their face when they hear Mama or Papa's voice for the first time, and you know that they might possibly have a chance…to speak and develop language," says Wass. "This is why I am in the hearing health profession, why I am proud to say that I am a Lion, and why I help lead these missions." The group accepts donations of old hearing aids (working or not) to recycle for future use. For information, contact: Duane Wass, A Hearing Service East, 1523 N. Post Road, Indianapolis, IN 46219-4213. Tel: (317) 899-4511.
---
Study Provides New Insights into CI Use in Children
St Louis — A landmark study on the topic of prelingually deaf children who are implanted by five years of age has been completed by the Central Institute for the Deaf (CID) and contributing researchers across the nation. The study, according to an epilogue written by Jean Sachar Moog, PhD, and Ann Geers, PhD, which appears in a supplement to the February 2003 edition of Ear & Hearing, seeks to "determine the child, family, implant and educational characteristics that account for differences in achievement for 181 implanted children in five outcome skill areas: speech perception, speech production, spoken language, total language and reading."
All of the children in the study were less than five years old at age of implant, prelingually deaf, had no other handicaps, and were 8-9 years old when tested. The study found that the children, as a group, had strong skills in "communication and literacy, regardless of whether the children were in programs using sign with speech or enrolled in programs using only spoken language." Over half were reading at the same level as their hearing peers at the grades of two and three. Not surprisingly, the study found that those children with good speech perception benefit resulting from their CIs were the same ones who attained good intelligible speech, language, and reading skills. And this range of performance was closely tied to the characteristics of the children and their families.
In general, the study found that higher IQs of the children (as measured by the Wechsler Intelligence Scale for Children) and smaller family size were significant in producing better outcomes in all areas except reading (ie, speech perception and production, spoken language, and total language). The SPEAK processor, more electrodes, larger dynamic range, loudness growth, and oral classroom settings were important for these same parameters. Total language was also associated with the above, but this attribute was strongly influenced by later onset of deafness and higher SES. One surprising finding of the study was that female subjects were better performers along all scales except speech perception.
In general, the study is extremely encouraging, say the researchers. The results show that children who receive cochlear implants before age 5 can achieve exceptional levels of speech, language, and reading skills compared to those levels attained by implanted children in the past. The data also suggest that parents of these children may do well to select educational environments that encourage listening and speaking skills (eg, oral and mainstream classrooms) and receive audiological management that includes the most current processors and technology.
Authors contributing to the supplement include Dianne Altuna, Chris Brenner, Miranda Cleary, Lisa Davidson, Gretchen Gabbert, Johanna Nicholas, Allison Sedey, Michael Strube, Emily Tobey, Nancy Tye-Murray, and Rosalie Uchanski. Ann Geers will address components of the study in the May HR.
---
Medicare Fee Schedule Altered by Congress
Washington, DC—The falling Medicare payments have stopped— for now—as Congress passed the FY 2003 Omnibus Appropriations Bill and replaced the 4.4% decrease in the 2003 Medicare Fee Schedule conversion factor with an increase of 1.6% over the 2002 rate. The Fee Schedule is used to adjust the base formula for all Medicare services. The new provision became effective March 1.
Hearing-related organizations teamed up with associated health care providers, most notably the American Medical Association, to lobby Congress—with some health care entities warning that they would no longer be able to afford to care for Medicare patients. In 2002, the fee schedule took a 5.4% cut. The legislative change allows the Centers for Medicare and Medicaid Services (CMS) to go back and make the changes, resulting in a 1.6% increase in the conversion factor.
According to the American Speech-Language-Hearing Association (ASHA), the change in the conversion factor will not affect the implementation of the new speech-language pathology and audiology CPT codes that went into effect this year, but will affect the reimbursement rates for these services. The new conversion factor took effect on March 1, although there may be some delay in the payment adjustments as CMS contractors update their payment systems.
The Medicare law requires annual updates to the conversion factor, which is based on a mathematical equation taking into account several economic factors. The original decreases in payment rates stemmed from underestimates of gross domestic product (GDP) and the number of Medicare fee-for-service beneficiaries made by CMS for 1998-1999.
---
Beltone Cookbook Makes Wish Come True

Beltone President James Curran presents a $7,000 check to the Northern Illinois Chapter of the Make-A-Wish Foundation.
Chicago — Frog Eye Salad, Moonshine Pie, Gone All Day Stew, and Top of the Morning Cinnamon Rolls are a few of the 500 dishes offered in a recently released cookbook entitled Recipes for Success, featuring recipes submitted by employees and Beltone's national network of hearing care practitioners. Beltone published and sold the book, donating $7,000 from those sales to the Make-A-Wish Foundation, an organization that grants the wishes of children with life-threatening illnesses.
"We really wanted to make a contribution to a cause would benefit children," says Beltone President Jim Curran. "The thing we love about Make-A-Wish is that you can actually see how your contribution directly impacts a child's life." Gail Curran, his wife, first proposed the cookbook idea in July 2002. After gaining approval for the plan, she asked Beltone employees and hearing care professionals nationwide to submit their favorite recipes. The response was overwhelming: even after extensive editing, 500 recipes appeared in the finished book. The cookbooks, which sold for $10 each, were published in September 2002 and sent out in time for Thanksgiving.
"Taking the time to compile and produce this wonderful recipe book was a true labor of love on behalf of the entire Beltone family," said Michelle Jimenez, corporate relations manager for the Make-A-Wish Foundation of Northern Illinois. "Thanks to Beltone's efforts, and to everyone who bought the cookbook, one of our children will have a chance to make their wish come true."
The Beltone contribution went to Haley, a 3-year-old from Cook County, Ill., who was diagnosed with Wilm's tumor in December 2000. Her wish to take her family to Disney World will be fulfilled with the donation money.
---
Audiologist Donates Time and Experience in Brazil
Dallas — In March, Deborah Price, AuD, spent nine days in Brazil's rainforest where she tested and treated 216 people living in seven remote villages along a 210-mile stretch of the Upper Rio Negro River. Among them, 10 people were fitted with hearing aids including a 4-year-old girl who was born unable to hear and has never spoken.
Working through the Rio Negro Foundation, Price makes periodic visits to train practitioners and treat patients in South America. On this trip, she also donated $10,000 of medical equipment, including an audiometer and impedance bridge, and coordinated the donation of 14 hearing aids from Widex and Phonak, as well as $20,000 in additional supplies including hearing aid batteries and ear cleaning equipment.
---
AHAA Holds Annual Convention in Las Vegas for Over 400 Hearing Care Professionals

Las Vegas— More than 400 Associates and exhibitors attended American Hearing Aid Associates' 8th annual convention in February in Las Vegas—a record number for the event. Many of the almost 30 program sessions focused on positioning practices to increase revenue in a down economy. Attendee Ronda Condie, MS, Sandy, UT, summarized the positive reactions to the program saying, "I learned so much and got many ideas for new marketing tactics to increase my business." At the convention, AHAA announced the 2003 national advertising campaign for its network members. The organization will use major magazines, such as Modern Maturity (AARP), Saturday Evening Post, USA Today Weekend, and Prevention. It will also be in 200 local, regional, and major metropolitan newspapers, and on selected cable TV channels and programs, including BBC America, Biography, and Discovery Health, according to AHAA.

At the AHAA Convention, five of AHAA's 18 regional managers were cited for exceptional performance in 2002. Renee Erno (center) was named National Manager of the Year. Divisional Regional Managers of the Year were (l to r) Jeff Livingston, Central Division; Pat Marotta, Northeast Division; Kerri Bell, Southeastern Division; and Tod Borges, Western Division.
The independent network group also officially introduced a comprehensive compliance guide for HIPAA that it has produced for its Associate members. On CD-ROM, the guide is designed to demystify the Act and provide Associates with the tools they need to bring their practices into compliance.
Each year at its convention AHAA recognizes outstanding marketing efforts of its Associates. Megan Nightingale, AuD, Poulsbo, WA, received top honors for 2002 for her practice's local advertising programs. AHAA plans to return to Las Vegas next February for its 9th annual convention.
---
Bennett Announces Retirement from HIA General Counsel
Minneapolis — Russell Bennett, the Hearing Industries Association's (HIA) general counsel since 1955, announced his retirement during the annual HIA meeting in Tucson, Ariz. A partner of the Minneapolis law firm Gray, Plant, Mooty, Mooty and Bennett, he joined the firm in 1954 following his discharge from the US Navy. At about the same time, hearing instrument manufacturers in Minneapolis agreed to organize a trade association, spearheaded by Leland Rosemond of Otarion and Leland Watson of Maico. They chose the name Hearing Aid Industry Conference (HAIC), which was essentially an offshoot of the public relations organization called the American Hearing Aid Association. Bennett says that Watson chose him partly because of the firm's location, partly because he was cheap, and partly because he wanted someone who was young and would be around for awhile.
Bennett has since witnessed much of the best and worst of times in the industry. In the Spring of 1962, he served as HIA counsel at the famed Kefauver Committee hearings; the Health, Education and Welfare Dept., Federal Trade Commission (FTC) and Food and Drug Administration (FDA) actions of the 1970s, as well as the anti-hearing aid testimony of Senator Church. In the 1980s, Senator Claude Pepper and the House Subcommittee on Health and Long Term Care carried out an investigation of the hearing industry with no result. The mid-90s brought with it Commissioner David Kessler and his investigative actions of hearing-related advertising, as well as the Agency's intention to revise Federal regulations on the sale and distribution of hearing aids (which has since been tabled). Through it all, Bennett has been a keen negotiator and expert in guiding the industry.
Bennett's association with the hearing industry nearly cost him his life in 1960 in an incident that profoundly affected his outlook. Upon arriving at the Minneapolis airport for a trip to Miami, Bennett and Watson were told that, due to a mistake in reservations, there was only one seat left on the aircraft. Since Watson was his client, Bennett offered to give up his seat and take a plane leaving in the evening. When Bennett arrived at the Miami airport, he learned that the Northwest flight on which Watson was flying had crashed. There were no survivors. "The tragedy has taught me never to be upset whenever there is a delay or cancellation of a flight," says Bennett.
Bennett has tremendous respect and influence in both Washington and in the Twin Cities area. He has been involved in the Boys Club and the United Way, and in 1988 he and his wife, Beth, received the National Society of Fund-Raising Executives Award for Outstanding Volunteer Leadership. More recently, Bennett served as chairman of the University of Minnesota's fundraising campaign—an effort that yielded $1.6 billion. Bennett is an accomplished mariner (he crossed the Atlantic in a 36-foot catamaran), and he and Beth now plan to spend more time on the water. Bidding adieu to his friends in the industry, Bennett said: "Yesterday is history, tomorrow a mystery; you should live as if today is the last day of your life, because someday you'll be right!"
Editor's Note: Much of the above was taken from Marjorie D. Skafte's excellent article on Bennett, "A Long-Term Relationship—The Russell Bennett Story," which appeared in the first-ever edition of The Hearing Review, January 1994 (page 20).