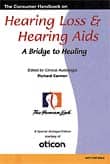 Battery and Charger
Energex, Plainview, NY, announces the availability of the Aid-Mate 13 system, a #13 rechargeable battery with a microprocessor-controlled automatic charger. The battery reportedly offers a life span of up to 1000 charge/discharge cycles, works 1-3 years with continuous daily use, and provides up to 20 hours of continuous use before recharging, depending on the hearing instrument brand. The charger has a six-hour timer with automatic shut-off, and can charge two batteries simultaneously. Light-emitting diodes indicate charge status. The charger is available with wall-mount, and plug-in power sources for both US and international use.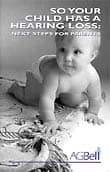 Earphone Cover
AudiologyProducts, Wenatchee, WA, introduces its improved disposable AcoustiCover earphone cover, which features a tissue liner to promote greater comfort and reduced "crinkling." The covers have Class II medical device classification, are acoustically transparent, and provide an infection control barrier, according to the company.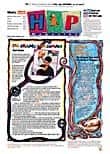 Fitting Software
GN ReSound, Bloomington, MN, announces the release of Aventa 1.1 fitting software, used to program the company's Canta line of hearing instruments. New features include: the ability to store audiogram data in the instrument; increased gain levels for the low battery warning and programming beeps; volume control range for the 780-D power BTE; and enhanced PowerFit target calculation.

Digital Hearing Instrument
Rexton, Plymouth, MN, introduces the 3D Ultra digital hearing instrument. The instrument incorporates a three-channel, six-band processing system with up to three independently programmable memories for maximum fitting control. The additional features added to the Parameter Assistant fine-tuning option, including the Optifit programming feature and Timeloop compression system, are designed to help dispensing professionals effectively adjust the instrument. Other features include six-band sensitive voice processing, six-band frequency response shaping, microphone noise reduction, extended directional microphone programming options, power on delay, low battery, and memory alert tones.

Diagnostic Audiometer
Madsen, Bloomington, MN, introduces the Itera diagnostic audiometer. Its design is intended to provide an extremely small footprint for clinical settings and to ensure maximum portability. Standard features include testing to 12.5 kHz, and the system can be upgraded to conduct testing to 16 kHz. In addition, it offers Stenger, ABLB and SISI special tests and provides a master hearing aid module with 6, 12, or 18 dB slopes as standard features. It is NOAH™ 2.0 and 3.0 compatible and Audi-Link is standard. Standard signals include tone, warble, pulsed and impulse, and masking with ipsi, narrow band noise or white noise. The travel case is designed to carry an external CD or tape player, which can remain connected to the

Office Management Software
Siemens Hearing Solutions, Piscataway, NJ, introduces the Practice Navigator™ FirstStep™ edition, an office management software system. The system includes a new electronic custom products order form that ensures that only valid information is entered by allowing users to select options from a menu. When the form is printed, it includes a bar code containing all order information that is scanned at the production facility, eliminating the need to manually enter order information. In addition, the software includes other features that enable the user to manage patient and hearing aid data, track devices, and run reports.

Amplifiers
Resistance Technology, Inc., Arden Hills, MN, offers a line of amplifiers that incorporate Class D output stage technology and feature lower noise and lower power supply ripple, according to the company. Three products are available: Clari-D 2 Programmable, a true two-channel WDRC programmable hybrid amplifier with 11 programmable parameters that measures .185" x .105" x .080" in size; Clari-D 285, a complete hearing aid amplifier for linear and AGC-O applications from CIC to BTE (hybrid size .160" x .085" x .060"); and Clari-D 272, a Class D output stage that can reportedly replace the use of integrated receivers with any amplifier (hybrid size .115" x .060 "x .050").

Silicone Impression Materials
Insta-Mold Products Inc., Oaks, PA, offers Dur-A-Sil Equal silicone impression materials, reportedly formulated with deep-ear impression taking procedures in mind. With a durometer hardness of 20-22 Shore A, the impression materials are designed to be easier to remove from the bony portion of the ear canal with less irritation to the ear. The material also has a low viscosity, creating less pressure and less distortion of the ear canal for more accurate impressions with no sag or shrinkage. The product is currently available in economy-size kits and pre-measured "mini-paks," and will soon be available in a cartridge system.

Middle-Ear Analyzer
Grason-Stadler Inc, Milford, NH, offers the TympStar middle-ear analyzer. The system comes pre-programmed with a series of default parameters for each test mode, but it also allows for the altering of test parameters through its Program Mode. The program mode also enables multiple operators to program their own default parameters for tympanometry and reflex-threshold testing. Options for managing and storing data include: internal memory for storing up to 26 test results; standard RS 232; NOAH-compatibility for easy data management; and multilingual display, instrument controls, and printouts.

Ear Care Kit
Earmold Design Inc, Minneapolis, offers its EarGuy™ Ear Care Kit. The kit includes several products to help patients care for their ears, earmolds and/or hearing instruments, including: EarGuy Ear-gel, a gel lubricant for aiding insertion; EarGuy Earmold Cleaner, an alcohol-free cleaner and sanitizer; EarGuy Ear-fresh, a cooling alcohol-free solution for outer-ear hygiene; and EarGuy Desert Pouch, designed to remove unwanted moisture.

Cable Tester
Kingwood Industrial Products, Hackettstown, NJ, offers the PCT-1 device for testing the integrity of programming cables commonly used in the industry to communicate with programmable hearing instruments. The company is currently having a model 34S standard manufactured, which tests 3 and 4 pin socket style cables with standard wiring configurations. The company can also supply 3 and 4 pin flex style and battery compartment type cables. In addition, the company reports that it will develop custom plug-in modules for unique wiring and/or socket configurations, and can develop a cable tester to custom configurations that will accept other plug in.