Washington, DC — The American Assn. of Retired Persons has released its latest publication concerning hearing instruments, the Consumer Guide to Hearing Aids, a 19-page booklet that covers everything from the nature of hearing loss to warranty and reimbursement information.
The Consumer Guide represents a positive departure from AARP's last publication on the hearing care field, A Report on Hearing Aids, which used a member letter-survey and a Florida "Shopping Experience Study" to criticize the "standards of practice" in a variety of hearing health care office/practice settings. The Consumer Guide, in contrast, presents the hearing care disciplines and amplification products in a positive light and may be seen as an excellent resource for helping to motivate hearing impaired consumers to take action in remediating their hearing problems.
The booklet is available from AARP (800-424-3410) and a review of the Consumer Guide can also be found on p. 58 of this issue of The Hearing Review.
---

Symphonix receives FDA approval for its middle ear implant
San Jose, CA — The Food and Drug Administration has approved the Vibrant Soundbridge for use in the U.S., and it is currently available at several hospitals across the country. The device is a surgical middle ear implant designed to work with the natural structures of the middle ear to enhance hearing and communication for people with hearing impairment. It can be implanted during a short, outpatient procedure, and more than 400 patients have been implanted with the device to date, according to the company. (For a more detailed description of the device and other implants currently being developed, see "Update on Implant Technology, Part 2: Implantable Hearing Aids" in the Dec. '99 HR).
The Naval Medical Center in Portsmouth, VA, has become the first military medical facility to offer the device. A 66-year-old man with 22 years of active naval service received the implant during an outpatient surgical procedure at the medical center in September.
Symphonix also recently received authorization to affix the CE Mark for the next generation of its Vibrant Soundbridge system. The system integrates eight-channel digital signal processing technology (DSP) from Siemens Audiologische Technik GmbH. This technology integration is the first joint project between Symphonix and Siemens.
"Our partnership with Siemens enables us to effectively leverage their gold-standard technology and existing relationships with hearing health care professionals to continue to grow our business," says Kirk Davis, president and CEO of Symphonix. "The design of the Vibrant Soundbridge enables us to provide greater functionality through the external component, so patients don't have to face another surgery to gain the benefits of the future system improvements."
The Vibrant Soundbridge will now utilize Siemens' PC-based CONNEXX fitting software which is currently used by audiologists worldwide to program Siemens hearing aids. Benefits of using CONNEXX software include the ability to better customize the Vibrant Soundbridge to an individual's hearing loss.
The Vibrant Soundbridge has been commercially available in the European Union (EU) since March 1998.
---

IHS Focuses on Legislation & Education

Anaheim, CA — The International Hearing Society (IHS) held its 49th annual convention at the Disneyland Hotel during September, drawing approximately 500 hearing care professionals to the four-day event. Legislation on the provision of hearing health care took center stage at the meeting, as the Society reported on its efforts relative to the Hearing Aid Rule which is reportedly now with FDA Commissioner Jane Henney (see August News-At-A-Glance, p. 12). Additionally, a new Hearing Instrument Specialist two-year associate degree program at Spokane Falls Community College (SFCC) in Spokane, WA, was unveiled.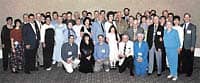 IHS and the American Academy of Otolaryngology-Head and Neck Surgery (AAO-HNS) have worked together to encourage the FDA to retain open access for consumers who are seeking help for their hearing problems. Citing the FDA's 1977 ruling that said any regulation should not put up barriers to the accessibility of hearing aids, IHS Legislative Counsel Tim Waters said that the organization has advocated an inclusive approach with hopes of getting all three major disciplines of hearing care working together rather than fighting each other.
Based on reports from a number of sources, if the FDA does release a revised Hearing Aid Regulation, individual states may be left to decide the criteria for audiological assessments and/or other requirements for dispensing hearing instruments. A grass-roots letter-writing campaign has been initiated by IHS to inform members of Congress and Health and Human Services Secretary Donna Shalala about the value of open access, the confusion that might be caused by each state having its own set of requirements, and the potential impact that any new regulation would have on small businesses, according to IHS.
Education also figured prominently at the convention, as Diane Bernath, BC-HIS, announced the first 20-student program which started in September at SFCC, and Ayers D'Costa, PhD, (shown in bottom photo with Former IHS President Alan Lowell, BC-HIS) explained the work entailed in the development of the NBC-HIS examination.
IHS Outgoing-President Kathy Harvey, MA, BC-HIS, passed the organization's gavel to new President Scott Austin, BC-HIS (top photo). W.F. Samuel Hopmeier, MBA, BC-HIS, was elected as the Society's new president-elect.
Look for more information on the IHS Convention and SFCC program in the November issue of HR. (HR extends thanks Don Cloutier for the photographs used in this article.)
---
HearPO Corp signs exclusive VA contract for FL, GA & PR
Chicago — Hear PO Corp. has obtained an exclusive audiology service agreement with the Dept. of Veterans Affairs in Florida, Georgia and Puerto Rico, according to the company. The agreement covers diagnostic audiology, hearing aid evaluations, earmold impressions, earmolds, hearing instrument fittings and two years of follow-up services post hearing aid fitting for more than 5000 veterans. The agreement covers over 100 counties in Florida and Georgia and 78 municipalities in Puerto Rico.
"This contract will reduce veterans'waiting time to receive hearing benefits while ensuring a high-level of quality service," says Kathy A. Foltner, president of Hear PO. "The result is increased breadth and depth that continues to support the versatility and strength of HearPO."
HearPO was awarded this contract after receiving the highest ranking for technical, professional and management standards, according to the company.
---
Helix retains Linear Capital Corp.
Montreal, Quebec — Helix Hearing Care of America Corp. (Helix Hearing Care) has retained Linear Capital Corp. (Linear) of Toronto, Ontario, to provide public relations services.
"The hiring of Linear is the first step in a series of corporate initiatives intended to increase public and investor awareness of Helix Hearing Care on the national and international scene," says Steve Forget, president and CEO. "We have a great growth company, and we need to increase investor and public awareness within the Canadian and American marketplace. Linear Capital has that expertise surrounding small cap growth."
Linear is a financial, public relations and corporate advisory firm that provides companies guidance within the financial marketplace.
---
IHS awarded national association honor
Livonia, MI — The International Hearing Society (IHS) received the Associations Advance America Honor Roll, sponsored by the American Society of Association Executives (ASAE). IHS received the award for its public information service, Hearing Aid Helpline (800-521-5247). The toll-free number is designed to educate people who have hearing impairment, as well as their families and friends, about hearing loss and provide products and professional care.
The Helpline was implemented in 1979 and has handled more than 70,000 requests for information. Sixty percent of these requests have been referrals to IHS member specialists within the caller's area. IHS currently handles 5000 helpline requests annually.
"IHS truly embodies the spirit of the Associations Advance America campaign," says Michale Olson, ASAE president. "It is a perfect example of how associations play a vital role in helping the nation adapt to complex and changing times. It is an honor and an inspiration to showcase the Helpline as one of the many ways associations are advancing American society."
"I am pleased that the efforts of the IHS staff have been recognized by an organization representing their peers," says IHS Past-President, Kathy Harvey.
---
Wynd Communications receives approval for WyndTell service
San Luis Obispo, CA — Wynd Communications Corp. announces that its WyndTell service, the two-way wireless communications service for people with hearing impairment, has been approved for sale on the General Services Administration (GSA) Schedule 70 for General Purpose Commercial Information Technology Equipment, Software and Services. With this approval, WyndTell is now available at special government-only pricing for government agencies and departments throughout the U.S.
---

Siemens Opens New Asia-Pacific Facility
Singapore — Siemens Medical Instruments (SMI) has opened a new state-of-the-art manufacturing facility in Singapore to increase its global distribution capabilities. The 6000-sq.-meter facility, which has a staff of 400, will manufacture a complete spectrum of Siemens hearing instruments for global markets. The facility will also house the Asia Pacific competence center for sales and marketing, and a research and development laboratory for Siemens Audiologische Technik GmbH, Germany. The Asia Pacific headquarters will focus on the development and application of new high-tech microelectronics assembly processes, precision molding and information technology. Singapore's Minister for Trade and Industry, B.G. Yeo officially opened the new SMI facility along with Dr. Gerhard Roehrlein, managing director of SMI, and Dr. Roger Radke, managing director of Siemens Audiologische Technik GmbH. "Some six to 10 percent of the world's population—which means 180 million people in Asia alone—suffer from some form of hearing loss," says Radke. "SMI's hearing care solutions enable its customers to participate fully in family, working and social life."
---
Single-dose course for AOM treatment submitted to FDA
New York — Pfizer Inc. has released results of a clinical study that indicate a single dose of the company's Zithromax® (azithromycin for oral suspension) is as effective in the treatment of acute otitis media (AOM) as Augmentin® (amoxicillin/clanvulanate potassium, a product of SmithKline Beecham) administered twice a day for 10 days. Zithromax® is an oral antibiotic, approved for use in children and adults, which is said to achieve high, sustained levels in infected tissues, making short-course dosing possible.
The study found that the treatment response of children with middle ear infections who received a single dose of Zithromax® was clinically equivalent to the response of those treated with a 10-day course of Augmentin (86% vs. 88% respectively; 75% of patients in both drug groups achieved success upon observation after 32 days). The data to include the single-dose regimen as an option for children with AOM will be submitted to the U.S. Food and Drug Administration (FDA) for review. Zithromax® currently has a five-day, once-daily dosing schedule that may make finishing the medication easier than with the conventional 10-day antibiotic regimens, according to the company.
AOM is an inflammation of the middle ear, often caused by bacteria. Other than colds or coughs, OM is the most common illness of young children, accounting for 30-million sick child visits to doctors each year. Because ear infections can occasionally cause temporary hearing loss and may impair speech and language skills, parents should understand treatment options, according to Pfizer. Physicians often prescribe an antibiotic since bacteria are a frequent cause of the infections. Children may not always finish the medication, a situation that can lead to possible treatment failure and may lead to the development of resistance to that treatment medication, says the company. The single-dose administration is designed to encourage improved patient compliance so children are treated successfully the first time, reducing the risk of developing resistance to the antibiotic.
A related study conducted by the Southern California/RAND Evidence-based Practice Center (sponsored by the Agency for Health Care Research and Quality [AHRQ]), showed that almost two-thirds of children with uncomplicated acute AOM recover from pain and fever within 24 hours of diagnosis without treatment with antibiotics, and over 80% recover within 1-7 days. When treated with antibiotics, up to 93% of children will recover during the first week. They also found no evidence that short-duration (< 5 days) versus long-duration (7-10 days) therapy made a difference in the clinical outcome for children over two years old. It is routine to use antibiotics for AOM in the U.S., whereas in other countries, such as The Netherlands, the standard practice is to use "watchful waiting" for 1-2 days after onset of AOE in children over age two, treating only if the infection fails to improve during that time. It has been reported that the rate of bacterial resistance in The Netherlands is about 1% compared to about 25% in the U.S. For more information on the EPC study, visit the AHRQ website at www.ahrp.gov/clinic/epcix.htm.
---
Use of FM system plays role in BT Global Challenge Yacht Race
Petaluma, CA — The 2000/2001 BT Global Challenge Yacht Race, a 10-month journey around the world "the wrong way" against prevailing winds and currents commenced on September 10. Charlotte New, a 23-year old equestrian from England who has been profoundly deaf since birth, will be one of the 200 crew member volunteers on 12 yachts who will be taking place in what has been called "the toughest race on earth." Founded in 1989 by Sir Chay Blyth, the first man ever to sail around the world against prevailing winds, the BT Challenge is known not only for its backwards route but also because the volunteers that sign on usually have little or no sailing experience. Part of the challenge for the participants is to raise $40,000 for Save the Children, the race's charity.
Charlotte, who had been on a boat only three times before she began her race training, will be one of the bowmen for team BP Amoco. She first became aware of the BT Challenge when she saw the racing yachts at a London boat show in 1992. She tried out for a spot in the 1994 race when she was 16, but the race officials ultimately decided that she was still too young. Finally her persistence paid off and she was selected in March to be in this year's race.
As a bowman, part of her duties involves climbing atop the mast. From that height she can see from the ripples in the water where the best winds are coming from, and tell her skipper where he should direct the yacht. "You move around a lot way up there," says New, "but I haven't gotten sick yet!"
Living on board a 70-foot boat with 18 other people will be very challenging. "We have only a 1-foot square cubby hole for our belongings," she says. "And to keep the boat clean, we have to move everything to one side of the boat, clean that side, then move everything over to the other side to finish the job!"
On board, Charlotte will be using the Phonic Ear's new Sprite hearing instrument. "We believe the built-in FM receiver will really help her during crew meetings and on deck," says product manager Todd Bissey. Group discussions, roaring winds and other noisy situations can present real challenges to hearing instruments—something an FM component can easily help overcome. In addition, the Sprite's design includes drainage ducts and circuitry sealed against corrosion.
At scheduled layovers in London, Boston, Buenos Aires, Wellington, Sydney, Cape Town and La Rochelle, New plans on visiting local schools to talk about life during the race. Throughout the race, Phonic Ear will track her progress on its website ( www.phonicear.com ). Children will also be able to read her online journal, ask her questions via e-mail, and see pictures of her journey.
---
Habilitative issues for infants with hearing loss scheduled in November
Dallas — The Univ. of Texas at Dallas and the Callier Center for Communication Disorders is sponsoring its conference, "Habilitative Issues for Infants with Hearing Loss" Nov. 9-10. For information, contact: (214) 905-3100; www.callier.utdallas.edu/events.
---
Corrections
In the August 2000 issue of HR, the correct contact information and email address for Barbara Beck, PhD, author of the article "CAPD Intervention: Strategies that Work!" (pgs. 30-34) is Barbara Beck, PhD, 1682 Carman Mill Dr., Manchester, MO 63021; email: [email protected].
In August (p. 51), the phone number for obtaining more information on Richard Carmen's consumer handbook, Hearing Loss & Hearing Aids, is 520-284-0860.
On the September 2000 contents page (p. 1), the name of author Jörg Haubold, director of Research & Engineering at Geers Hörakustic, was inadvertently omitted from his and Christopher Schweitzer's article, "Fitting for an 'Auditory Life'", pgs. 42-51, 76. u