In this issue, the Hearing Review presents a special Literature Review, a guide to some of the new product brochures, catalogs, product specification sheets, flyers, and other informational literature currently available from various hearing industry companies. Descriptions of the products and services listed in this review were provided by companies on request of HR. To receive more information on any of the following literature, contact the listed numbers or fill out one of the enclosed Action Cards (found on page 62).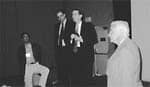 CareCredit, an Anaheim, Calif-based patient financing company, offers a new, full-color brochure to help increase patient knowledge of recommended care and technologies. The brochure sits in an acrylic holder and can be displayed in the reception area of participating centers to help make patients aware of the many payment options available through the company. CareCredit is currently at work in more than 35,000 healthcare practices nationwide. For more information on how the company's payment plans can increase patient volume and practice revenue, call (800) 300-3046, ex. 519;

[email protected]

.

Entific Medical Systems Inc, Powell, Ohio, presents a 2-page flyer describing its BAHA system for single-sided deafness (SSD). In addition to color images of the product, the brochure offers a comprehensive Q&A section, featuring information about SSD, how it affects the patient, and the benefits of the BAHA. The BAHA works through bone conduction with a sound processor attached to a tiny titanium implant. The processor is placed on the deaf side, behind the ear, and sound is transferred through the bone of the skull, stimulating the cochlea of the hearing ear. The brain is then able to distinguish between the sound that it receives from the deaf side via the BAHA system, from the sound that it receives from the hearing ear. To order this flyer, contact Entific at (888) 825-8484; www.entific.com.

The Frye Electronics catalog is a compilation of new and updated information about the company's FONIX line of products. The company says that, as it is constantly making improvements to products, they are also continually adding new pieces of information. The FONIX 6500-CX hearing aid test system has a new sound chamber, and the new ability to test "group delay and phase" of digital hearing aids. In addition, the catalog has information on the NAL-NL1 fitting software for the FP35 hearing aid analyzer. The company wants its users to have information at hand about all the features and options on its analyzers and audiometers. The information in the electronic catalog is also found on the company's Web site, www.frye.com; (800) 547-8209.

GN ReSound, Bloomington, Minn, presents a full-color booklet describing its new ReSound AIR digital hearing instrument. Entitled "High Frequency, High Performance: Fast, stable fitting success," the brochure features full color illustrations and charts that show gain settings, ear canal sound pressure, attenuation, compression, and other features. This new product provides all the benefits clients need in a non-occluding fitting without hitting the feedback barrier, according to the company. The small digital device is particularly designed for people experiencing high frequency hearing loss and for whom design is a necessary part of what they wear. Also included are pictures of the product itself, along with accessories such as the carrying case. (800) 248-4327; www.gnresound.com.

Great Lakes Earmold Laboratory Inc, Cleveland, presents its 2003 Earmold Catalog, a 39-page full-color guide to the company's wide variety of earmold products. The catalog, complete with color photographs and illustrations, features detailed guides to the company's wide variety of impression materials, impression techniques, earmold materials, earmold styles and color options,swim and sound plugs, specialty molds, and laboratory policies. In addition, a special section is included in the brochure that explains the company's earmold acoustics and theories. This special section comes complete with charts and graphs describing tubing and venting options, dampers, and horn effects. To order a copy of the catalog, call Great Lakes at (800) 842-8184. The product can also be ordered online, by visiting www.greatlakesearmold.com.

Interacoustics offers "Audiometry and Impedence Precision," an 8-page, full-color leaflet about its Audio Traveller AA222/AA220 Audiometer/Middle Ear Analyzer. The new brochure contains photographs of the various testing procedures, as well as descriptive charts and graphs showing the results of the product's air, bone, and speech conduction testing. In addition to these features, a detailed, full-page breakdown of the technical specifications of both products is also listed in the leaflet. Included in this technical specification list is a large chart illustrating the various frequencies and intensity ranges of the products. The catalog also provides information on optional parts and accessories for both of the products, as well as other general sales and contact information about the company. (800) 947-6334; www.interactoustics-us.com.

Lightning Enterprises presents Hearing Aid Repair Equipment, its new brochure for 2002. The catalog features descriptions and ordering information for most of the company's products, which include UV cure equipment, vacuum pump systems, programming cable test systems, listening chamber systems, battery substitutes, and control modules. For information, (877) 546-1797; www.lightning-enterprises.com.

Oticon Inc, Somerset, NJ, offers a color booklet introducing its adapto™ hearing aid. Titled The Explanation, the book covers all aspects of the adapto™, including full descriptions of the following features: VoiceFinder™; OpenEar Acoustics™; Client-Focused Fitting™; and the Genie™ interactive software. Also included are specifications, full-color illustrations and photographs of the product, and diagrams. To order, call (800) 526-3921; www.oticonus.com.
Pehratek Products, Chaska, Minn, offers a color brochure on its new Earware Cell Phone Amplifier. The product, designed to provide the necessary compensation to hear better in adverse conditions, works with any hands-free or headset, and is easily operated with one hand. The product also compensates for a cell phone's low volume output to overcome background noise or poor signal connections. In addition to technical descriptions, the Earware brochure contains a full-color reproduction of the device, with illustrations of users in every day settings. To order a copy of the brochure and receive more information about the product, contact Pehratek at (866) 470-3532.
Phonak Hearing Systems, Warrenville, IL, presents its new 2003 catalog entitled Solutions for Better Hearing. This full-color catalog features pictures and descriptions for all its digital, programmable, wireless, ITE, BTE, and pediatric hearing instruments and FM listening devices. Products include Claro, the state-of-the-art in signal processing; Aero, a line of digital instruments to fit any loss from mild to severe; and Supero, the latest digital system designed specifically for those with severe-to-profound hearing loss. Each product description includes fitting recommendations as well as available options. In addition, there is a comprehensive reference guide and BTE color chart. To order a copy of this new catalog, call Phonak directly at (800) 777-7333; www.phonak.com.

Rayovac Corp, Madison, Wis, offers a new full-color brochure providing up-to-date ordering information for its complete line of Ultra Pro-Line battery club program products. Featured in detail in the brochure is information on how to order the following: a battery club booklet; battery club punch card; battery club coupon; and a customized battery club postcard. The company also manufactures a full line of alkaline, heavy duty, rechargeable alkaline, and rechargeable nickel metal hydride batteries, plus a complete line of battery chargers, flashlights, and lanterns. To order a copy of this brochure, call the company at (800) 356-7422; www.rayovac.com.
Rexton Inc, Plymouth, Minn, introduces a 12-page consumer brochure highlighting the company's new Voyage™ line of digital hearing instruments. Intended as a pre-sale item for hearing care professionals to present to potential users of the product, the document clearly presents the technological highlights of the instrument, such as its adaptive noise reduction and speech preservation system. The company offers a variety of fully digital technologies including Rexton 3D Ultra, Emotion, Sensation, and Reflection. To order, call (800) 876-1141; www.rexton.com.

SeboTek, Tulsa, Okla, offers a Dispenser Guide to its Post Auricular Canal (PAC) Hearing System Voice-Q™ Series. The 14-page color booklet contains technical descriptions of the fitting range of the product, a comprehensive overview to the fitting process, and information about cleaning and maintenance. In addition to technical specifications and PAC components, the guide offers color illustrations showing highly detailed information on all aspects of the product. A nearly transparent wire connects the system's digital sound processor, which is worn deep in the ear canal. According to the company, the PAC's benefits are its discreetness and wearing comfort. It can be worn immediately after the user's first visit to their hearing professional's office. To order a copy of the guide, call SeboTek at (800) 388-9041; www.SeboTek.com.

Siemens Hearing Instruments, Piscataway, NJ, introduces a full-color product guide for hearing care professionals describing the Triano™ hearing comfort system, from the Micro-CIC™ to the Triano 3 BTE with TriMic. Triano is the newest advanced digital family of hearing instruments offered by the company, with 16 channels and up to 4 hearing programs. The 10-page guide features a detailed description of the product's highlights, such as the Speech Comfort System. Also included are descriptive charts and graphs illustrating speech in background noise in the Speech Comfort System, the TriMic's Directivity Index, a summary of hearing loss compensation, and detailed, step-by-step instructions on how to properly fit Triano with the CONNEX 4.4 fitting software. To order a copy of the brochure, call Siemens at (800) 766-4500.

Starkey Labs presents "Say What? Common myths and facts about your hearing." This full-color, 2-page brochure features a comparison of myths and facts about hearing loss and amplification. Among the myths dealt with are: "Hearing aids are too expensive," "Wearing hearing aids is a sign of old age," "If I had a hearing problem, I'd know about it," and "I'm too old to benefit from hearing aids." The brochure contains 12 myths/facts in total, and is illustrated with photographs. For more information on this and other Starkey literature call (800) 328-8602; www.starkey.com.

Unitron Hearing Ltd, Plymouth, Minn, is now offering a color brochure describing its new Conversa™ with ClearCall digital hearing solution. According to the company, the Conversa offers a solution for telephone use by those with hearing loss, eliminating the need for a telecoil or separate program. The brochure describing this product includes technical specifications and is also fully illustrated, complete with pictures of the actual instrument as well as detailed product information. To order this brochure, call Unitron at (800) 888-8882; www.unitronhearing.com.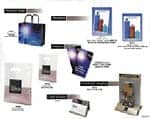 Widex Hearing Aid Company Inc, Long Island City, NY, offers a brochure compiling all of the company's Senso Diva marketing materials currently available. Among the items featured are fliers, postcards, posters, bookmarks, ad mats, dispenser marketing kits, window decals, dispenser advertising materials, product bags, displays, card holders, brochure displays, and videos. To order a copy of this brochure, contact any of the customer service representatives at Widex, at (800) 221-0188; www.widexusa.com.