Scientists Reveal:
Men Really DO Have Trouble Hearing Women
A recent article published in Great Britain's The Daily Mail (August 5, 2005) reported that hearing specialists have determined that men have problems hearing women's voices.

The paper quotes an article published in the scientific journal, NeuroImage, that researchers at Sheffield University, in northern England, have discovered differences in the way the brain responds to male and female sounds.

According to researcher Michael Hunter, MD, "The female voice is actually more complex than the male voice, due to differences in the size and shape of the vocal cords and larynx between men and women, and also due to women having greater natural 'melody' in their voices. This causes a more complex range of sound frequencies than in a male voice.

"When a man hears a female voice, the auditory section of his brain is activated, which analyses the different sounds in order to 'read' the voice and determine the auditory face.

"When men hear a male voice, the part of the brain that processes the information is towards the back of the brain and is colloquially known as the 'mind's eye.' This is the part of the brain where people compare their experiences to themselves, so the man is comparing his own voice to the new voice to determine gender."

The study determined that men hear female voices using the auditory part of the brain that processes music, while male voices engaged a simpler mechanism.

In addition to these findings, the study could also help determine why those who experience hallucinations generally hear male voices. According to the article, "the brain may find it much harder to conjure up a false female voice accurately than a false male voice."
---
Sales and Product Managers Announced
Clarity®, Chattanooga, Tenn, a national supplier of telephone products for the hearing loss community, and a Division of Plantronics Inc, has named two new managers to its sales and product management teams, according to Carsten Trads, president of Clarity.
As channel marketing manager, Shelley Fow is responsible for developing and implementing marketing initiatives that grow the various channels' revenue base and market position. She works closely with the sales team to capitalize on channel prospects and train sales representatives on new marketing opportunities and products.
"Shelley has a strong background in marketing and product management," says Trads. "Her experience will help bring Clarity's sales force and product management team closer together in order to pursue otherwise unidentified revenue channels. She is certainly a valuable addition to our staff."
Prior to joining Clarity, Fow worked as new product and business development manager for Scripto-Tokia Corporation, Rancho Cucamonga, Calif. There she supervised all new product development and new business activities for various consumer packaged goods. She also served as product manager for McKee Foods Corporation, manufacturer of Little Debbie and Sunbelt Snacks, in Collegedale, Tenn.
Product manager Ronald Webber is responsible for the development and management of new products from the conceptual stages throughout the product life cycle. He is a key participant in overall product strategy, research and development, and manufacturing coordination for new and emerging products. Webber also works closely with the sales staff, customers, and corporate partners for product presentations and training.
Trads says, "Clarity is committed to the ongoing development of innovative products and technologies. Ronald's rich background in both product management and engineering will be instrumental in allowing us to continue that growth. We are delighted to have him on our team."
Previously, Webber held the position of product manager and marketing representative at Multilink Broadband Inc, Elyria, Ohio. During his 3-year tenure, he developed and implemented the sales and marketing plans for fiber-optic products, performed market analysis, conducted customer training, and managed new product launches.
Clarity is a supplier of amplified telephones, notification systems, assistive listening devices, and other communications devices for the hearing loss and deaf markets.
---
Hearing Companies Forge Partnership
ClearSounds Communications, Burr Ridge, Ill, a manufacturer of assistive listening devices (ALD), recently announced an exclusive partnership with Minnesota-based Harris Communications, another established company in the ALD market. Harris Communications will be delivering the newly engineered ClearSounds CL600 Emergency Connect Telephone to the assistive listening device industry. The CL600 is equipped with 50+ dB amplification, ultraclear™ tone control, and wristwatch style remote control.
According to ClearSounds' president, Michele Ahlman, "Partnering with Harris Communications just seemed like the natural thing to do; they provide one of the best delivery systems in the industry. Being able to align ourselves with a company that delivers quality products and top-notch customer service is the key; it's a win-win situation for both companies."
"We are excited to be working with ClearSounds," says Robert Harris, PhD, the founder and president of Harris Communications. "[It is] a company that has quickly become a leading manufacturer in the assistive listening device industry."
Harris went on to say that the partnership with ClearSounds is a "great fit" for both companies and that the relationship will provide "a great product to all of our customers."
---
Director of Retail Operations Joins Corporate Roster
Beltone Electronics Corporation, Chicago, recently announced the appointment of Jim Cornett as the director of retail operations. He will be responsible for all corporate store operations.
According to Todd Murray, president of Beltone North America, "Our retail business has become a larger, more important part of our organization. [Cornett's] extensive retail expertise makes him the perfect choice to lead our current efforts and ultimately take our retail operations to the next level."
Cornett joins Beltone from Pearle Vision, where he has spent most of his career in multi-unit operations. He assumed increasing levels of responsibility and eventually became the key leader of integration activities for several of the company's acquisitions and initiatives. Cornett has also led a hearing aid business for the last 7 years, as part of his business responsibility. He lives with his wife and two daughters in the Cincinnati/northern Kentucky area.
Founded in 1940, Chicago-based Beltone Electronics Corporation, LLC is part of the GN Hearing Care Group of global hearing care companies, using advanced technology to produce hearing instruments sold in the United States, Canada, and internationally.
---
Business Development Manager Appointed as Company Expands
In a move to meet the expanding needs of its orthotics and prosthetics customer base, CareCredit, a Costa Mesa, Calif-based patient financing company, has appointed Mark Swirsky as business development manager.
Swirsky's comprehensive work experience includes a clinical background as a paramedic and nearly 15 years in health care sales and information management. He will be serving and assisting manufacturers and large practices. "Mark will play a strategic role as part of the CareCredit team," says Rob Morris, vice president of marketing. "His solid knowledge of the health care industry will be a benefit to our customers, just as his integration of sales and business management will positively impact practice revenues and patients' expectations."
CareCredit offers a comprehensive range of patient payment plans, including no interest and low interest options. The company is used by more than 45,000 health care practices nationwide.
---
Hearing Company Receives Research Grant
The National Institutes of Health has awarded Hearing Components, Oakdale, Minn, a small business research grant.
"[The funding] is for the development of viscoelastic foam for use in reducing noise for people who are exposed to high-noise environments, but must be able to hear-in-noise," says Robert J. Oliveira, PhD, president of Hearing Components. This is the seventh grant awarded to Hearing Components to help improve and protect hearing.
The grant is to develop enhanced viscoelastic foam material and the manufacturing process for these materials. These materials will be produced and incorporated in currently available noise regulating devices.
Hearing Components is a research and development company specializing in ear canal and hearing-in-noise research. The company has commercialized its research efforts through the manufacturing and marketing of a variety of products including Comply™ Snap Tips and Comply Canal Tips.
---
Vice President of Sales Announced
Audina® Hearing Instruments Inc, Longwood, Fla, has appointed Paul M. Bryant vice president of sales. In his new role with Audina, Bryant will be responsible for the Longwood-based sales team, and will report to Audina's executive vice president and co-owner, Frank Robilotta.
Most recently, Bryant was owner and president of Hearing Success Inc, in Sarasota and Bradenton, Fla, a hearing instrument dispensing practice. He has an extensive global background with more than 15 years' experience in the hearing industry and is board certified as a hearing aid specialist by the state of Florida.
According to Robilotta, "With [Bryant's] executive level management proficiency and understanding of both the dispenser and supplier operations—we know he will be a great asset to the Audina organization." Bryant holds an MSc from Greenwich University, London, England.
Audina Hearing Instruments Inc is a manufacturer of custom in-the-ear hearing aids.
---
Technical Presentations Scheduled at Assembly Tech 2005 Expo
On September 28, application engineers from Rocky Hill, Conn-based Henkel Corporation, an adhesives supplier whose products include the Loctite® brand, will deliver two technical presentations at the 2005 Assembly Tech (AT) Expo at the Rosemont Convention Center, Chicago. Both presentations will take place as part of the Formulation Session scheduled to run from 1 pm to 5 pm.
Application engineer Jamie Hubbard will present "Replacing Mechanical Fasteners with Adhesive Bonding," an overview of available light cure adhesive technologies, benefits to manufacturers, related design and process considerations, and a look into the future of light curing adhesives and equipment. Application engineer Tom Buckley will present "Integration of Structural Adhesives into Your Assembly Process," a look at available manual, semiautomatic, and fully automated dispensing options for two-part epoxy, acrylic, and urethane adhesives. In addition to the two technical presentations, Henkel Corporation will sponsor the 25th Anniversary Networking Reception at AT Expo. The event will take place on September 27, from 5 pm to 6:30 pm.
For more on the event, e-mail Henkel's marketing department at [email protected].
---
Sharing the Global Gift of Hearing
As the Director of Custom Product Development for GN ReSound Group, a parent company of Beltone, Eric Lindberg sought an opportunity to use his knowledge and position to give back to the global community. He got that chance when, as a member of the Josh McDowell Ministries, he was invited to attend the Morocco-USA Business Forum in Fez from May 2 to May 5.
The conference was intended to stimulate the exportation of crafts, handiwork, and humanitarian efforts to Morocco. Lindberg knew he would be in the company of medical professionals from all walks of life, all interested in bringing their talent and experience to those in need around the world.
The agenda for the weekend included a visit to the Imouzzer Foundation for speech and hearing impaired children, located about an hour away in the Atlas Mountains. The Foundation is a place where hearing impaired children live and work together, and are taught crafts to help develop skills, such as cutting hair. The children range from having moderate to complete hearing loss, and their affliction can cause them to be isolated from their families and the rest of society.
However, prior to their visit, event organizers made arrangements to bring a family with three hearing-impaired children down from the mountains. Lindberg arranged to have a doctor on site to fit each child with a new Beltone Prima BTE hearing aid—using infant-fit ear molds—so that no ear impression was required. By evening, all three children were hearing for the first time. The following day, Lindberg brought almost 40 more hearing aids—all donated by Beltone—to other children living at the Imouzzer Foundation.
"It's hard to describe the look on the children's faces (and the faces of their parents) when they are suddenly able to hear the world around them for the very first time," Lindberg recalled. "Beltone has given me the opportunity to change the lives of those who might otherwise never even dream of this possibility. It has certainly changed my life, as well."
Immediately following his trip to Morocco, Lindberg was given the opportunity to continue his hearing crusade—this time by joining a fellow GN ReSound group employee, Stavros Basseas, on a trip to Mexico. Prior to their arrival, Beltone donated 230 Beltone hearing aids and two audiometers to the Instituto de la Comunicacion Humana in Ayala, Mexico. A ceremony was held to celebrate the event and hold the fittings for patients. According to Lindberg, about 20 patients were fitted with new hearing aids that day, and free screenings and fittings will continue as long as the supplies last.
"There are so many opportunities for us to donate our time and equipment and really change people's lives," Lindberg said. "I look forward to revisiting these sites. Because to truly make a lasting difference, we have to stay involved and work on building upon the infrastructure of support in the communities. That way, patients will continue to receive the medical attention necessary to maintain benefits from the hearing aids."
Founded in 1940, Chicago-based Beltone Electronics Corporation LLC is part of the GN Hearing Care Group of global hearing care companies.
---
Foundation Raises Record $4M-plus at Annual Humanitarian Benefit
The Starkey Hearing Foundation recently held its annual "So the World May Hear" awards gala in St Paul, Minn, raising a record $4 million-plus. The yearly fete recognizes individuals for their significant humanitarian contributions. This year's event honored Garth Brooks' Teammates for Kids Foundation, Olive Osmond's Children's Miracle Network, the Wayne Gretzky Foundation, and the Richard Schulze Family Foundation. Garth Brooks, who attended the event with his fiancée, fellow country singer Trisha Yearwood, showed his appreciation by bidding $250,000 during a live auction to fund a Starkey trip to South Africa to give hearing aids to people in need.

Country singers Trisha Yearwood and Garth Brooks were among the celebrities who attended the annual "So the World May Hear" awards gala. Yearwood performed at the event.
The evening included performances by Trisha Yearwood, singer/songwriter Michael Bolton, and pop and stage performer Donny Osmond. Among other celebrities in attendance were Lorraine Bracco, Robert Culp, Lou Ferrigno, former US Senator John Glenn, Marlee Matlin, Leslie Nielsen, Mickey Rooney, and Marion Ross.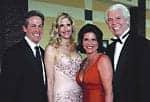 From left: Senator Norm Coleman (R-Minn), wife Laurie Coleman, Tani Austin, and husband Bill Austin, founder of the Starkey Hearing Foundation.
Since 1973, the Starkey Hearing Foundation, Eden Prairie, Minn, has been "giving the gift of hearing" to the world's underprivileged—especially children—through its internationally recognized mission trips and its domestic program, Hear Now. Since 2000, the Foundation has provided more than 115,000 hearing aids to those in need around the world.
Ten-year-old Matthew Holmstrom of St Paul, Minn, performs "Amazing Grace." Holmstrom received hearing aids from the Foundation 2 years ago and was "poster child" at last year's gala.