An Extreme Humanitarian Act
HITEC Group International, Burr Ridge, Ill, a distributor of assistive listening devices, was recently asked to be part of ABC-TV's Extreme Makeover: Home Edition (EMHE) team for a special show that will air on October 24.

Extreme Makeover: Home Edition host Ty Pennington (left) and Michelle Ahlman, vice president of HITEC Group International. HITEC provided the cutting edge solutions for a Detroit family with extensive communication requirements.
In the episode, the EMHE team will take 7 days to transform the home of a Detroit couple who are deaf and the parents of two children—a 12-year-old blind/autistic son, and a 14-year-old son, who has learned at a very young age to communicate for and take care of his parents and brother. As the 14-year-old prepares to enter high school and then move to college, he has concerns about his family and their ability to communicate over the phone, since their primary method of communication is American Sign Language (they do not communicate verbally).
For this episode, the mission of Extreme Makeover: Home Edition—and that of the team they assembled—was to give this family every high-tech communication and safety solution that is available to individuals who live with hearing loss.
According to Michele Ahlman, vice president of HITEC and president of ClearSounds™ (the manufacturer of HITEC's new signature line of ALD products), "This project presents us with a great opportunity to use our knowledge and expertise and to find innovative ways in which to deal with this family's special needs in order to make a difference in their life. We are proud to offer our unique product solutions, designed to make their everyday living much easier, safer, and more enjoyable, as well as to enable them to be more connected to and involved with the outside world."
Ahlman continues, "HITEC's tech team includes such high-profile names in communication as SBC Communications Inc, NXI, and MCI, which recognize the importance that technology plays in the lives of people with special needs. Our plan is to create a unique system that will allow the parents to communicate with each other using sign language, even when they are in different rooms. In addition, this system will enable them to communicate with friends and family outside the home. We will install a communications system with video capability, which will allow the family to make high-speed, real-time (TTY) phone calls using their natural ASL language; in addition, the universal design will allow their 14-year-old son to use the computers to do homework and surf the Net. Our tech team will also install a variety of signaling devices for the convenience and safety of the family."
---
Company Appoints New Execs
Siemens Hearing Instruments, Piscataway, NJ, has announced that Mike Jolley and Petra Felkl have been appointed to the newly created positions of vice president of manufacturing and operations and vice president of human resources, respectively.

Mike Jolley
With more than 20 years of experience, Jolley joined Siemens in May 2004. Prior to joining Siemens, he worked at United Technologies Corporation in Georgia, where he was most recently plant manager responsible for all manufacturing operations. He was instrumental in helping to grow business and improve productivity. He has also served as the director of continuous improvement and materials with York International Corporation in Pennsylvania. In his new position, Jolley is responsible for all manufacturing and operations activities throughout Siemens Hearing Instruments in the United States.
Petra Felkl
As vice president, human resources, Felkl is responsible for establishing HR strategies, policies, and practices that will enable Siemens Hearing Instruments to attract, develop, and retain the best talent. Prior to joining Siemens Hearing Instruments in February, she was the HR project manager with Siemens Medical Solutions in Malvern, Pa. In her new position, Felkl will serve as an integral part of Siemens' senior executive team, working to help drive the company's continuing development. She brings 13 years of international HR-related experience within various functions and businesses within Siemens.
---
European Expansion Announced
Lavis Medical Systems, United Kingdom, and Progress Hearing BV, the Netherlands, recently signed distribution agreements with SeboTek® Hearing Systems LLC, becoming the European companies to distribute SeboTek Voice-Q™ post auricular canal (PAC) style hearing instruments.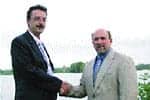 John Scholte (left), managing director of Progress Hearing, the Netherlands, is shown with Brian Hill, SeboTek's international business development manager. Progress has signed a European distribution agreement with SeboTek.
John Scholte, managing director of Progress Hearing, states, "The response to the new PAC-style hearing instrument has been spectacular, and we at Progress Hearing look forward to introducing this exciting new design throughout the Netherlands."

Lavis Medical Systems audiology director Helen Belcher (left) and SeboTek's international business development manager Brian Hill. UK-based Lavis has recently become a European distributor of SeboTek's PAC-style hearing instruments.
Paul Lavis, managing director of Lavis, comments, "The SeboTek PAC style fits naturally with our extensive experience in deep canal fitted products. The design is ideal for modernization of the hearing aid service delivery model."
According to Lavis' audiology manager, Helen Belcher, the response to the new PAC-style hearing instrument has been "fantastic during premarket introduction training programs."
Brian Hill, international business development manager for SeboTek, is pleased to have both companies represent SeboTek in Europe. Says Hill, "This is an exciting time for SeboTek. With recent attainment of our CE marking, SeboTek can now bring to Europe the benefits of deep canal fittings in a practical, same-session, personalized fit."
---
Company Christens New Headquarters
Business and community leaders gathered recently for the official dedication of the Clarity global headquarters in Chattanooga, Tenn. Earlier this year, Clarity, a division of Plantronics Inc, consolidated its Garden Grove, Calif, facility and moved all operations to Chattanooga, where its 14,000-square-foot location had underwent a large-scale renovation, including total reconstruction of the company's call center.

From left, Ken Kannappan, president and chief executive officer of Plantronics (Clarity's parent company), presents a commemorative plaque signifying the dedication of Clarity's global headquarters to Carston Trads, president of Clarity.
"By consolidating Clarity under one roof in our Chattanooga headquarters, we are now well positioned to further advance our cutting-edge technological capabilities and our reach," says Clarity President Carsten Trads, who is an international expert in the hearing loss technology field. "We are pleased to be a part of this community and look forward to becoming even more involved with the people and businesses here."
Among those who attended the dedication ceremonies and unveiling of a commemorative plaque were Carston Trads; Ken Kannappan, president and chief executive officer of Plantronics (Clarity's parent company); Steve Hiatt, Chattanooga Chamber of Commerce director of existing business development; and Suzanne Wyatt, executive director of The EAR Foundation, Clarity's partner in hearing loss education.
"Clarity is a fast-growing, integral part of Plantronics Inc, and an innovator and market leader in its industry," says Kannappan. "Clarity products significantly improve the overall quality of life for people with hearing loss. Our reliable, attractive, technologically original products offer effective solutions to issues faced by this ever-growing population."
Clarity's products have been featured frequently in the national media, including CNN, NBC's Today, and ABC's Good Morning America. Among the company's latest products is the Clarity C430, an amplified cordless phone featuring caller ID. The C430 makes telephone conversations clearer and easier to understand for those with mild to moderate hearing loss.
---
Hearing Products Company Announces Personnel Changes
Clarity, a Division of Plantronics Inc, Chattanooga, Tenn, a national supplier of products for the hearing loss community, announced the appointment of Michael Freibrun to the position of national sales manager, and Wendy Yu to the position of western region sales representative, according to company representatives.

Michael Freibrun
"With Michael's experience as Plantronics' senior sales manager, he understands how to build and maintain strong business relationships," says Carsten Trads, president of Clarity. "His significant contributions to the company and success managing major accounts will help bring Clarity and its customers closer together."
For his position as national sales manager, Freibrun will handle all retail accounts nationwide. In addition to building superior relationships and developing enhanced sales opportunities with existing channel partners, he will work to identify unexplored sales opportunities. A main focus for Freibrun will be the exploration of sales opportunities with health care-focused national retail outlets.

Wendy Yu
Prior to this promotion, Freibrun worked as senior sales manager for the retail division of the eastern region for Clarity's parent company, Plantronics Inc, Santa Cruz, Calif.
Lisa DeLeuil, the national sales manager of Clarity, says of Yu's promotion, "With Wendy's successful track record as a member of Clarity's sales team, she is a natural selection for promotion to this regional position. Her ability to analyze complex business needs and quickly identify solutions make her a valuable asset to our team."
As western region sales representative, Yu will be responsible for managing and increasing sales for the western region of the United States, maintaining business with established customers, and targeting growth with new customers. Prior to her promotion, Yu held the position of sales coordinator for Clarity.
---
Company Announces Technology for ITE Hearing Aid Wearers
Hearing Components, Oakdale, Minn, announces new technology to make loaner hearing aids available for in-the-ear (ITE) hearing aid users. Hearing Components' Natural Fitting Comply™ System uses viscoelastic foam with a specially designed capsule with built-in patented acoustic coupling technology. The mini-canal-sized capsule was designed to hold the electronic parts necessary to build multi-channel digital aids. Hearing aid manufacturers can now utilize this system with their own unique electronics and software to create their own branded loaner hearing aid to fit 80% of the adult population. The Comply hi-tech viscoelastic foam comes in many sizes to comfortably fit the unique characteristics of each individual ear canal. Comply Snap Tips can seal or vent sound for the specific needs of each individual. Retention is enhanced, and feedback is dramatically reduced. In addition, the hygienic Comply System includes a built-in cerumen guard system that dramatically reduces wax build-up. Modern digital electronic technology allows customization of circuits and adjustments for each individual's hearing loss using standard methods and software. This information is stored electronically in the hearing professional's office, and it can be directly downloaded into the electronic capsule in seconds. When the electronics are combined with the Comply Capsule and Snap Tips, this system offers patients the first customized digital loaner ITE. "Patients who wear ITE hearing aids that need routine or other service are asked to leave their hearing aids so they can be sent to the factory for repair," Joe Romeo, vice president of Hearing Components, said. "The hearing aid industry can now relieve this hardship with loaner ITE hearing aids. Our unique patented compliant technology now enables choices for patients, dispensers, and hearing aid manufacturers."
Hearing Components does research and development on the ear canal and introduced Comply Snap Tip, the latest innovation in acoustic coupling. For more information, contact (651) 739-9427, or www.hearingcomponents.com/naturalfitting.htm.