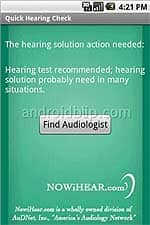 NowiHear.com Launches Android App for Testing Hearing Loss
NowiHear.com, Burnsville, Minn, has released a NowiHear app for the Android platform. The free app provides consumers with a quick hearing check adapted from the Better Hearing Institute revision of the American Academy of Otolaryngology-Head and Neck Surgery's "Five-minute Hearing Test" (by Kochkin & Bentler, November 2010 HR). The Android app also provides instant access to local audiologists via NowiHear.com's Audiologist Locator, as well as an educational video and other consumer-targeted audiology information. To download the NowiHear app 1.0, visit the Android Market. NowiHear.com is a Web-based audiology referral service.
(877) 669-4432
www.NowIhear.com
---
New Modular Fitting Solution from Otometrics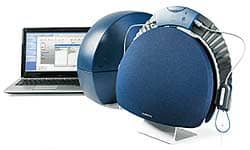 GN Otometrics, Copenhagen, has launched the updated version of AURICAL, a complete, modular fitting solution with a new design, providing flexibility by having both a complete solution and a collection of stand-alone components. The compact lightweight design lets the clinician bring the AURICAL on home visits or move it between offices.
The device is adaptable to the clinician's working environment with its ability to be mounted on the wall, under the desk, or on a VESA arm, enabling users to work closer to the client. The system includes wireless probe-tube microphone measurements (PMM), a binaural fitting audiometer, a wireless PMM unit, a loudspeaker, and an HIT box.
(800) 289-2150
www.futurefitting.com
---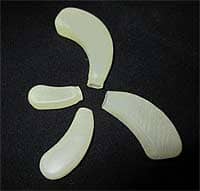 Just Bekuz Intros Micro Super Seal
Just Bekuz Products, Pierce, Colo, offers a new smaller size BTE case seal, adding to its Mini, Standard, and Large Super Seals. The new Micro model will accommodate the popular smaller size BTEs, such as those offered by Rexton, ReSound, Oticon, and Phonak's Audéo, says the company. Like its original Super Seals, the Micro is designed to guard BTE hearing aids against moisture, dirt, and other pollutants. Just Bekuz offers starter kits with 12 Super Seals and a three-pronged tool used to apply them to the BTE. Currently, the Micros are available in beige and neutral.
(800) 795-5153
www.justbekuz.com
---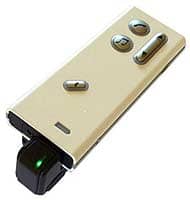 External Power Pack for Oticon Streamer
Pehratek Products, Chaska, Minn, is now offering POWER-CONNECT, a new external power pack for the Oticon Streamer Connectline Bluetooth system. The power pack is designed to extend the streamer's operating time by an additional 3 to 4 hours, allowing patients to use the Bluetooth system longer throughout the workday without having to stop to recharge the streamer. POWER-CONNECT is easy to use; it simply plugs into the bottom of the Connectline device. The device has a built-in lithium ion battery that can be recharged using the same charger as supplied with the Connectline.
(866) 470-3532
www.pehratek.com
---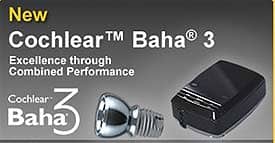 FDA Clears Cochlear Americas' Baha 3 Power
Cochlear Americas, Denver, announced that the US Food and Drug Administration (FDA) has cleared the Cochlear Baha 3 Power sound processor, a programmable bone conduction hearing solution for children and adults with conductive hearing loss, mixed hearing loss, or single-sided sensorineural deafness. According to the company, the Baha 3 Power is the industry's first power bone-anchored hearing solution with advanced automatic digital signal processing and a directional microphone.
(800) 523-5798
www.cochlearamericas.com
---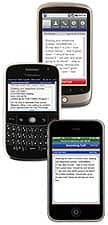 Captioned Telephone App for Android
Hamilton CapTel, Aurora, Neb, has released the Hamilton Mobile CapTel App for Android smartphones. The free app allows users to listen, read captions of everything that is said during phone calls, and naturally respond, allowing clear and easy conversation. With the introduction of this new app, Hamilton Mobile CapTel is now compatible withAndroid, BlackBerry, and iPhone. The Android App features include listening and simultaneously reading captions of what's said on the Android screen, free captions in English or Spanish, and other features.
(800) 233-9130
www.hamiltoncaptel.com/mobile_captel