Siemens Names Brian Kinnerk CEO in the Americas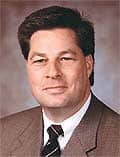 Brian Kinnerk
Siemens Hearing Instruments Inc, Piscataway, NJ, has appointed industry veteran Brian Kinnerk as CEO of Siemens Hearing Instruments in the Americas.
Kinnerk, who has amassed 19 years of industry experience, recently served as president and CEO of Unitron Hearing US, Plymouth, Minn. He served as president of the Better Hearing Institute, Washington, from 2007 to 2008.
"Kinnerk is a dedicated leader with a proven track record of growth and success," said Stefan Schaller, CEO of Siemens Audiology worldwide. "With his expertise, he is the ideal person to increase customer focus and drive Siemens towards becoming a better partner for the hearing care professional."
"Siemens is the leader in the hearing aid business globally," says Kinnerk. "I am thrilled to be heading its business in the Americas. I am eager to grow the company by pushing forth solid strategies, expanding our professional customer base, and helping to deliver a holistic approach to hearing health."
Jerry Yanz Named Director of Audiology for Hansaton USA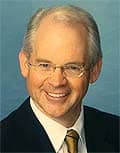 Jerry Yanz, PhD
As the new director of audiology for Hansaton USA, Plymouth, Minn, Jerry Yanz, PhD, will be responsible for training and education of the hearing aid manufacturer's partners and in-house staff, and he will be involved in ongoing product development. In January, Hansaton announced its products would be sold in the United States through audiologists and hearing aid dispensers.
Yanz is a senior audiologist and hearing scientist with more than 25 years of experience in academia, clinical audiology, and hearing aid industry education and research. After spending nearly a decade running an audiology practice in St Paul, Minn, he became a well-known fixture in the hearing aid industry while working for several major firms. Yanz was a member of the team that created the first hearing aid to use Bluetooth technology, and has created and delivered educational and training programs for hearing professionals across the country and around the world.
Yanz obtained a PhD in audiology from the University of Iowa, and was an assistant professor at the University of Minnesota in the Department of Communication Disorders.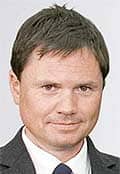 Alexander Zschokke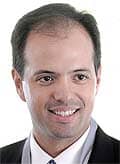 Gordon Walker
Alexander Zschokke Named Group VP, Channel Solutions Sonova Holding AG
Sonova Holding AG, Stafa, Switzerland, appointed Alexander Zschokke, as its new group VP, Channel Solutions, effective February 1. Since 2006, Zschokke served as group VP marketing for the implementation of a new marketing strategy. He will continue to manage the department until a successor as GVP marketing has been appointed, according to the company.
Gordon Walker Elected BHI President
Gordon Walker, VP, general manager of Knowles Electronics, Itasca, Ill, has been elected president of the Better Hearing Institute (BHI). Walker has been the VP and GM of the hearing components division of Knowles Electronics since 2005. Knowles, which has served the market for 60-plus years, is among the leading global suppliers of hearing aid transducers and silicon microphones for consumer applications. Walker has been with Knowles since 1997 in a wide range of responsibilities, from product development/product management on both the hearing components and consumer businesses, to component manufacturing.
"Calendar year 2009 was a good year for BHI; I believe CY 2010 will be an even better year as we launch a discussion forum for people with hearing loss, explore the use of Internet banner advertising and radio public service announcements to promote the BHI Web site, establish more relationships both within and without the hearing health industry, publish additional installments of the MarkeTrak VIII publications series, and issue a series of new eGuides and educational articles for consumers," Walker said.
The board also elected Cathy Jones of Phonak as vice president; Jeff Taylor of Sonion as secretary/treasurer; and added Peer Lauritsen, president of Oticon, to the board. Additional board members are: Brian Kinnerk (Siemens), Jerry Ruzicka (Starkey), William Luxford, MD (House Ear Clinic), Michele Fusco (Sonus), and Ray Jones (Jones Audiology).
William F. Austin, CEO/Founder of Starkey Hearing Foundation, Honored by Sparks Charities

William F. Austin
On February 3 during the Starkey Hearing Foundation's Super Bowl hearing mission in Miami, William F. Austin, along with friend and Foundation spokesman Lou Ferrigno, were honored by Jordin Sparks Charities for "Making a Difference" in the lives of children through the gift of hearing.
Bill Austin commended the Sparks Charities for their volunteer awareness campaign, which challenges teens to make a difference in their communities. The Sparks award was presented by P.J. Sparks at the Eden Roc Renaissance Hotel and the event was followed by an exclusive concert with American Idol stars, Jordin Sparks and David Archuleta.
The 130 children from the Miami area who were fitted with free hearing aids had an opportunity to test drive their new gift of sound as VIP guests at the concert.
A number of celebrities and NFL Football greats were on hand to entertain the children and lend support to Starkey Hearing Foundation volunteers. The Men in Purple made it to Miami after all. Minnesota Vikings Bernard Berrian and Sidney Rice posed for pictures with a happy fan. The young guests not only left with new set of hearing aids, but with pictures and autographs from Jordin Sparks, David Archuleta, Sam Moore, Leslie Nielsen, Chuck Foreman, Bernard Berrian, Ethan Bortnick, Sidney Rice, Davy Jones, Nesby Glasgow, Nickelodeon's Sponge Bob Square Pants, and Lou Ferrigno.
The Starkey Hearing Foundation, So the World May Hear, delivers more than 50,000 hearing aids through hearing missions in countries stretching from the United States to Vietnam. Since 2000 and through the end of 2009, the Foundation has supplied more than 412,000 hearing aids to people in need. The Super Hear Mission was cosponsored by the NFL alumni, Sproutloud, Comcast, Clear Channel Miami, NRA, Call Source, Publix, Royal Caribbean, Delta Zeta, Nickelodeon, and University of Miami Health.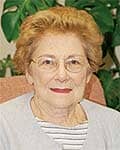 Marcia B. Dugan
IN MEMORIAM: Marcia B. Dugan
Marcia B. Dugan, 78, a community volunteer, author, and advocate for individuals who are deaf and hard-of-hearing, died on February 7 after a year-long battle with leukemia.
She worked at the National Technical Institute for the Deaf (NTID), a college at Rochester Institute of Technology, Rochester, NY, from 1980 to 1995 as director of public affairs and as special assistant to the NTID director. NTID provided the following memorial:
Dugan served for 9 years on the national board of trustees of Self Help for Hard of Hearing People (now called the Hearing Loss Association of America, or HLAA), and was its president from 1996 to 1998. She also served as officers in the state and Rochester chapters of the association and received the Howard E. "Rocky" Stone Humanitarian Award in 2002.
She was also president of the International Federation of Hard of Hearing People from 2001 to 2006.
In 1997, Dugan authored Keys to Living with Hearing Loss, followed by Living with Hearing Loss in 2003, books that are still popular guides.
"Marcia wrote that first book at a time when there wasn't much around on the topic," said Brenda Battat, executive director of HLAA. "It was good, down-to-earth common sense information people could use in their everyday lives. It was a very useful book for someone dealing with hearing loss."
Battat said Dugan was known to be very calm, gracious, and a great leader. "She was a very stable influence on any organization she was with, and very, very considerate of people's feelings. She'd never shoot from the hip, she always gave thought before making any decisions. And she was always called upon to be our Robert's Rules of Order person. She brought a lot of her own personality and personal experience to everything she did. We will certainly miss her."
Dugan was a representative to the International Alliance that was instrumental in drafting the 2008 United Nations Convention on the Rights of Persons with Disabilities.
Her other affiliations included the Council for Better Hearing and Speech Month, the Alexander Graham Bell Association for the Deaf, the Hearing Aid Dispenser Advisory Board, the American Association of University Women, and the Association of Women in Communication.
Dugan served on NTID's National Advisory Group from 1999 to 2002.
NTID Interim President James DeCaro, who knew Dugan when she came to NTID in 1980, says she touched countless lives with her advocacy. "She presented an extraordinary example of how to live a life and how to embrace its many phases with grace with dignity to the very end," he said.
Dugan is survived by her daughter Maggie Dugan, who resides in Paris; a son, Michael of Wayne, Pa; another daughter, Elizabeth Dugan of Washington; four grandchildren; and sisters Pat Bernstein of Weston, Fla, and Jeanne Wormser of Davie, Fla.
A celebration of her life will be held at a time yet to be determined in the late spring, her family says. Contributions may be made in her memory to the Hearing Loss Association of America's Marcia Dugan Memorial Fund, 7910 Woodmont Ave, Suite 1200, Bethesda, MD 20814; or to Keuka College, PO Box 98, Keuka Park, NY 14478.
Source: NTID