Payment Plans
CareCredit®, Cost Mesa, Calif, reports that a recent study shows that patients spend up to 37% more for optimal hearing aid technology when using No Interest Payment Plans from CareCredit compared to another plan. The study also revealed that patients spend up to 62% more for optimal hearing aids when given the opportunity to make low monthly payments with CareCredit's 48-month Extended Payment Plan. Practices that offer CareCredit experience a return rate of only 4%—a rate that is 75% lower than the industry average of 17%. Cost continues to be a barrier to optimal hearing aid technology—50% of older Americans who could improve their hearing health with hearing aids cite cost as the reason they do not use them. In fact, 29% of all hearing aid sales are being financed today, and that percentage is rising yearly. CareCredit is at work in more than 50,000 practices nationwide and has helped more than 3 million patients get care. (800) 300-3046, ext 4125 or [email protected]; www.carecredit.com.
---

Cable Management/Storage System
Westone Laboratories Inc, Colorado Springs, Colo, presents the NOAH'S ARC Cable Management/Storage System for the many programming cables every dispenser must have on hand. Save the time and trouble of having to untangle the cables before every fitting! This system neatly winds up cables into color-coded pods for easy cable selection. The pod storage rack can be placed conveniently on top of a HI-PRO box or on any flat surface. Each NOAH'S ARC comes with 10 cable pods, a storage rack, Mylar cable combiners (to wrap right and left cables together in one pod), and manufacturer's labels to assist in quickly identifying the right pod. (800) 525-5071; www.westone.com.
---

Micro BTE
Rexton Inc, Plymouth, Minn, presents Calibra FREE hearing instruments, the solution for customers seeking a comfortable, nonoccluding, natural-sounding hearing instrument with great cosmetic appeal. Available in five colors, the Calibra FREE Micro BTE is virtually invisible when worn. To maximize patient comfort when placed behind the ear, the Calibra FREE features rounded edges and an extremely compact housing. Calibra FREE also offers the choice between thin, clear instant-fit tubing and a standard earhook, allowing the instrument to change with your patient's hearing needs. (800) 876-1141; www.rexton-online.com.
---

Safer Irrigation
Warner Tech-care Products Inc, Minneapolis, now offers OtoClear® Delivery Devices for effective and safe ear irrigation. The OtoClear tip directs the water toward the walls of the ear canal, creating a turbulent spray that effectively dislodges the cerumen. The exit portals control backsplash and deliver the effluent into the basin. Warner also carries the battery-operated Portable Waterpik®, which features effective pulsed irrigation and a self-contained 5-ounce water reservoir. Additional products available through Warner Tech-care include: cerumen removal systems, accessories, tools, and infection control products. Call for a catalog. (800) 328-4757; www.warnertechcare.com.
---

Upgraded BTE
Hansaton Hearing Systems, Hamburg, Germany, presents LEONARDO II, winner of the 2005 reddot award for design and technology. The 16-channel LEONARDO II is even better in 2006 with adaptive, multidirectional microphone technology, 4-D noise cancellation, fully automatic situation management, and adaptive phase inversion feedback management. LEONARDO II is available with Hansaton's unique FUSION technology for ITE, and is still the smallest BTE design in its class (312 battery). The BTE also integrates the patented, innovative push-scroll control, which combines volume control and program change functionality, just like the scroll button on a mouse. The most exciting news is LEONARDO'S new open-fitting options: LEONARDO II OPEN with a standard open mini-tube and LEONARDO II NATURAL with the receiver placed in the ear for maximum output without feedback. Visit Hansaton's booth at the AAA convention (Booth 606/607). (866) 449-9757; www.hearing-usa.com.
---

Reed Switch
Hermetic Switch, Chickasha, Okla, offers a smaller, more magnetically sensitive reed switch. The HSR-0025, more than 50% smaller than its predecessor, was designed to address the need for smaller electronic components in hearing aids and other applications, such as pacemakers and implantable devices. An overmolded "pick and place" version, PRX+2450, is also available. (405) 224-4046; www.hermeticswitch.com.
---

Receiver Series
Sonion, Minnetonka, Minn, developed the 3100 series receiver to be in a class all by itself. The new size of the receiver along with its performance advantages has created new hearing instrument possibilities. The 3100 series contains the performance of other receivers twice its size, which allows for higher SPL output ITE hearing instruments. The size allows for slimmer-design BTE instruments without sacrificing SPL output. The 3100 is available for sampling and orders now. (952) 543-8300; www.sonion.com.
---

Bench Top Polishing Unit
Kingwood Industrial Products Inc, Hackettstown, NJ, offers a new Multifunction Bench Top Polishing Unit that provides customers with a clean, easy way to do grinding and polishing right in the office. The unit is designed as a self-contained workstation with an adjustable shield to protect the technician from flying debris. The dust collectors remove smaller particles from the air eliminating dust and odor from the work area. The unit comes complete with a grinder and polisher, twin dust collectors with replaceable filters, and two dust hoods with removable trays for easy cleanup. The cabinet is equipped with a shelf armrest for comfortable, sustained operation. This unit will ease grinding and polishing in small laboratories and offices, as well as larger manufacturing plants. (908) 852-8655; www.kingwoodindustrial.com.
---

Bone Conduction Device
Ear Technology Corporation, Johnson City, Tenn, is assuming responsibility for the manufacture and distribution of TransEar®, the first bone conduction hearing aid to overcome single-sided deafness without surgery, without bulky headbands, and without occluding the "good" ear. TransEar looks like a conventional BTE hearing aid, but instead of simply amplifying sound, it relies on bone to transmit sound to the better ear. (800) 327-8547; www.transear.com.
---

Post-Auricular Canal Aid
SeboTek Hearing Systems, Tulsa, Okla, manufactures the PAC hearing instrument, which offers discreet same-day fitting; delivers superior acoustic performance that traditional hearing aids can't achieve; and does so across a huge fitting range, including losses up to 90 dB. Its patented design eliminates occlusion effect and feedback, and its proprietary High-Fidelity Acoustic Coupling system delivers extended frequency response up to 14,000 Hz. Multiple models are available to meet consumer preferences and budgets. (800) 388-9041; www.sebotek.com.
---

Physician Referrals
McManus Consulting, Norristown, Pa, was developed after many years of frustration from the inability to receive referrals from physicians. I have assembled a program that will enable you to establish a relationship with the doctors in your area in order to increase the number of physician referrals. In my practice, medical referrals represented more than 30% of total sales for 2005. I have counseled practices that range from a single practitioner to a dealer with 35 locations. The doctors in your area are referring their patients to someone; if that someone is not you, call me today. (888) 272-6933.
---

Personal Listening Device
Hal-Hen Company Inc, Garden City Park, NY, offers Williams Sound's redesigned Pocketalker. The Pocketalker has a smaller sized unit that resembles a cell phone. It features external volume and tone controls, 100 hours of battery life (two AAA alkaline batteries), a removable microphone, and a belt clip—all in a new retail-friendly packaging. Hal-Hen offers a full range of assistive devices for the deaf and the hearing impaired. (800) 242-5436; www.halhen.com.
---

Physician Marketing Video
A video about a physician newsletter publishing service is being offered by the publishers of Hearing HealthCare News®, White Plains, NY. The 9-minute presentation, available on CD or VHS, describes how a physician newsletter can benefit an audiology practice. (800) 342-1643; www.hearinghealthnews.com.
---

Hearing Protection
Perfect Seal Laboratories, Wichita, Kan, offers many styles of hearing protection. No matter what your client's needs, Perfect Seal can accommodate them. From the electronic series (shown) to solid plugs, Perfect Seal can provide solutions for many specific industrial applications. (800) 311-9810.
---

Cordless Caller ID Telephone
Clarity, Chattanooga, Tenn, a division of Plantronics Inc and a supplier of products for those affected by a hearing loss, introduces the first caller ID-enabled cordless amplified telephone available through its Clarity Professional® brand. The C4210 amplifies incoming sound up to 40 dB and incorporates the new Digital Clarity Power™ technology, which utilizes advanced technology typically found in hearing aids to make soft sounds audible while keeping loud sounds bearable. The C4210 alerts users of a call with a bright, flashing visual ring indicator on the handset and base of the telephone. A lighted Type I Caller ID and Call Waiting Caller ID display allows users to quickly and easily see who is calling. The C4210 uses 2.4 GHz cordless technology, and features a large lighted dial pad, vibrating handset ringer, 2.5 mm headset jack for hands-free telephone calls, and 3.5 mm audio output port. (800) 552-3368; www.clarityproducts.com.
---

PC-Based Audiometers
OTOVATION LLC, Lederach, Pa, has released its Amplitude line of PC-based audiometers. Amplitude addresses the need for efficient and portable audiometric testing on a standard Windows PC. The first model in the Amplitude line, the A1, is based on a headset that can be connected directly to a USB port on a PC running the Amplitude software. The Amplitude A1 is designed to make audiometric testing quick and easy, portable, and usable on a variety of existing PCs, as well as the latest tablet and ultraportable PCs. Amplitude A1 features: USB connection to a desktop, laptop, tablet, or ultraportable PC; connect headset to PC, load Amplitude software, and be ready for testing in about a minute; keyboard, mouse, and touch-screen capable interface; built-in patient database and easy, flexible operation; 11 frequencies from 125 to 8 kHz and intensity range from -10 to 110 dB HL; as well as manual or automated (Hughson-Westlake) testing. (866) otovation (686-8284); [email protected]; www.otovation.com.
---

Wireless VRA/COR System
Pehratek Products, Chaska, Minn, introduces the XM-1000 Wireless Reinforcer VRA/COR system, a versatile and creative pediatric testing system. This unique visual reinforcer testing system offers multiple stimulus options to attract and maintain a child's attention throughout the testing period—all via a wireless handheld remote control. The XM-1000 can be operated inside and outside the booth to aid in the testing style. Complete control over the animation/motion, figure lighting, and light-bar lighting patterns can all be quickly adjusted from the wireless handheld remote control up to 50 feet away. The XM-1000 VRA/COR system comes complete with two Reinforcer plexiglass boxes (triangular-shaped to fit into the corners of the sound room above the sound field speakers), low-voltage power pack, and handheld wireless remote control. Optional centering box, mounting brackets, or CENTER-FOCUS hidden camera built in the centering box for monitoring of the child's attention outside the booth. (866) 470-3532; www.pehratek.com.
---

Zinc Air Batteries
VARTA Microbattery, White Plains, NY, manufacturers of power one brand batteries, has achieved a new performance benchmark in zinc air technology that delivers high capacity at high and stable voltage. The power one brand has increased battery capacities by a significant 10% in three of the four battery types. On average, this increase could provide an additional 16 hours of hearing device functionality. The new power one Cochlear 675 IMPLANT plus, designed for use in high-power devices, now delivers 20% higher operating time than its predecessor. Improved packaging ensures easy removal of cells from the rotary dispenser while at the same time providing maximum product protection. The "power seal" guarantees that batteries can be removed from the packaging only after the main seal has been broken. The rotary-wheel dispenser allows each cell to be easily removed and put back again, if needed. The rotary wheel has a patented indexed stop-mechanism for extra security and convenience. The resealable latching system guarantees secure closing of the packaging. The packaging is color coded for easy identification. (800) 468-2782; www.varta-microbattery.com or www.powerone-batteries.com.
---

Digital Frequency Compression
Sonovation, Eden Prairie, Minn, presents its Digital Frequency Compression (transposition) algorithm, which makes CICs, ITCs, and ITEs a reality for clients previously excluded from using custom instruments. By "moving" critical voiceless speech sounds, clinicians can tap into the high-frequency speech cues needed to improve speech intelligibility. See our DFC ad in this issue. (800) 462-8336; www.avrsono.com.
---

Antenna Technology
Vortis Technologies Ltd, Glasgow, Scotland, presents new antenna technology using the Vortis to provide audiologists/hearing aid dispensers with a patented and exciting solution for their hearing aid patients who use mobile phones. No need for wires, loops, or connection to a hearing aid. A simple Vortis antenna attachment to a mobile phone allows most hearing aid wearers use of their mobile phone without disturbing noise and interference. In the UK, 011 44 141 353 1330, or in the United States, (925) 348-3353; www.thevortis.com.
---

Touchless Sanitation System
Warner Tech-care Products Inc, Minneapolis, introduces the new germ control, touchless sanitation system, Germstar Hand Sanitizer. Germstar kills 99.9% of disease-causing germs instantly, using this convenient and automatic dispensing machine. The active ingredient in Germstar is a hospital-grade 70% isopropyl alcohol. The solution is dispensed in a 1-milliliter dose automatically when your hand is placed under the electronic dispensing activator. Hands never touch the dispenser. The solution goes through a three-stage process within 15 seconds. There is an immediate alcohol smell to the solution when the germ-killing phase begins. Second, the skin has a soft, healthy feel as the emollient replaces lost moisture, preventing the drying effect associated with most alcohol washes. Last, a mint fragrance emerges on the skin. This gravity-assisted dispensing machine is easily refilled and comes with brackets for easy setup. (800) 328-4757; www.warnertechcare.com.
---

Custom Open Fit Instruments
United Hearing Systems, Central Village, Conn, offers a complete line of custom ITEs and micro BTEs with custom open fit earmold. The Nuance Digital with feedback suppression will provide open fittings up to 50 dB loss. (800) 835-2001; www.unitedhearing.com.
---

Silicone Impression Materials
Insta-Mold Products Inc, Oaks, Pa, offers Dur-A-Sil Equal silicone impression materials, formulated with deep-ear impression-taking procedures in mind. With a durometer hardness of 20-22 Shore A, the impression materials are designed to be easier to remove from the bony portion of the ear canal with less irritation to the ear. The material also has a low viscosity, creating less pressure and less distortion of the ear canal for more accurate impressions with no sag or shrinkage. The product is available in economy-size kits, premeasured "mini-paks," and will soon be available in a cartridge system. (800) 523-4081; www.instamold.com.
---

Hearing Handbook For Kids
Westone Laboratories Inc, Colorado Springs, Colo, presents "I'm the Boss of My Hearing Loss!™" by Amy Kroll, MS, CCC-A. Using colorful drawings and a positive approach, this handbook is designed for children with hearing loss and their parents. Kids will learn important concepts about hearing loss, as well as how to manage challenging listening situations. This book uses lively and amusing illustrations the whole family will love. Any practice that sees even the occasional young patient should have this resource on hand. (800) 525-5071; www.westone.com.
---

Custom Battery Imprinting
Hocks Hearing Healthcare Products, Portland Ore, offers FREE custom imprinting on iCellTech hearing aid batteries. Interested in growing a business, increasing office traffic, selling more hearing aids, and increasing walk-in traffic? With quantity discounts as low as 21 cents a cell and fast turnaround time, Hocks can help. (800) 654-6257; www.hocksproducts.com.
---

Hearing Aid Battery Starter Kit
Invacare®, Elyria, Ohio, presents its Hearing Aid Battery Starter Kit, a heavy-duty, cardboard countertop display with metal hooks that holds 60 battery cards with six batteries per card. Included are two boxes of size 13 (orange), two boxes of size 312 (brown), one box of size 10 (yellow), and one box of size 675 (blue). The display also features a retail poster and an integrated literature holder. Some assembly is required. (800) 333-6900; www.invacare.com.
---

New Receivers
Sonion, Minnetonka, Minn, designed the new 3300 series receiver to meet the high demand of providing maximum SPL output with premium performance. The balanced twin motor design greatly reduces unwanted mechanical vibration without sacrificing acoustic bandwidth. The 3300 series receiver will offer customers new opportunities for instruments to have increased SPL output and gain, while reducing the annoyance of feedback. The 3300 is available for sampling and orders now. (952) 543-8300; www.sonion.com.
---
Advanced Digital Processor
Vivatone Hearing Systems LLC, Trumbull, Conn, presents the Entré 400, a new advanced digital processor that provides enhanced fitting range (from 50 dB to 70 dB between 500 Hz and 1,000 Hz, and from 80 dB to 90 dB between 2,000 Hz and 4,000 Hz); 4 channels with WDRC Compression Limiting AGC-O, 12 programmable bands, up to 4 memories; dynamic noise reduction system utilizing adaptive processing detectors; multiple frequency adaptive automatic feedback cancellation processor; programmable memory tone level; active Telecoil with full programmability; directional multi-microphone system with selectable polar plots; and low battery consumption (10A lasts 80 to 90 hours). (877) 278-8482; www.vivatone.com.
---

Cell Phone Solutions
Oaktree Products Inc, Chesterfield, Mo, introduces the new NoiZfree™ Telecoil Induction Earhook, a lightweight earhook that plugs directly into a cell phone, providing users the ability to talk on their cell phone without taking out their hearing instruments. Simply switch the hearing instrument to either "T" or "MT" and place the earhook over the ear. Sound from the cell phone will be directed through the hearing instrument. The NoiZfree Telecoil Induction Earhook is available in monaural and binaural. In addition to the 2.5 mm jack for cell phones, this product is available in a 3.5 mm jack for use with audio devices such as CD and MP3 players. (800) 347-1960; www.oaktreeproducts.com.
---

4-Channel Hearing System
Hansaton Hearing Systems, Hamburg, Germany, presents the SOUNDMANAGER, providing an alternative to conventional hearing systems. The 4-channel SOUNDMANAGER features manual volume control, API feedback management, and speech detection. SOUNDMANAGER OPEN utilizes a standard open mini-tube, while SOUNDMANAGER NATURAL puts the receiver in the ear for maximum output without feedback—while still maintaining the comfort of an open fit! Visit Hansaton's booth at the AAA convention (Booth 606/607). (866) 449-9757; www.hearing-usa.com.
---

Amplified Expandable Cordless Phone
ClearSounds Communications Inc, Burr Ridge, Ill, announces the newest addition to its signature line of assistive listening products, the A50 Amplified Expandable Cordless Phone with caller ID. It is one of the only proprietary amplified cordless phones with expandable handset options on the market. The A50 offers a comprehensive feature package, including vibrating handset ringer, UltraClear™ sound shaping tone control, amplification adjustable up to 50 dB, bright strobe ring signaler, and large caller ID display. (800) 965-9043; www.clearsounds.com.
---

Bluetooth Telephone Earset
Starkey Laboratories Inc, Eden Prairie, Minn, offers the SoundPort custom earset. Building on the success of the ELI system, SoundPort provides a custom-fit, wireless solution for Bluetooth-compatible mobile phone users. SoundPort is designed for nonimpaired consumers of all ages who want a more comfortable, hands-free communication solution. SoundPort offers a launching point for professionals to increase their visibility in their marketplace and build relationships with potential future customers. (800) 328-8602; www.hearwireless.com.
---

Noise Reduction Earphones
Hearing Components, Oakdale, Minn, introduces its NR-1 Earphones, which combines state-of-the-art electronics and miniaturization with the convenience of Hearing Components' patented Comply™ Platinum Canal Tips. The patented NR-1 Earphones are based on the same technology currently used by US Army helicopter crews. When used in a noisy environment, the NR-1 Earphones delivers to iPod users, MP3 player users, or other personal audio device users great noise reduction, sound, and in-the-ear comfort. The NR-1 offers the opportunity to offer a new product to your patients and their families. (800) 872-8986 or (651) 739-9427; www.hearingcomponents.com.
---

Miniature Sensors
Hermetic Switch, Chickasha, Okla, presents the PRX+2450 series, built with reliable and proven reed switch technology. The PRX+2450 series is an excellent choice for applications requiring microminiature, pick and place, surface mount sensors. Requiring no power to operate, these sensors will not deplete battery life. The hermetically sealed contacts ensure predictable and dependable performance. A medical implantable version is also available. (405) 224-4046; www.hermeticswitch.com.
---

Long-lasting Batteries
Rayovac, Madison, Wis, announces the launch of its latest product innovation, Rayovac Proline Advanced. ProLine Advanced delivers what hearing aid users are looking for—consistent and reliable long-lasting power. (800) 331-4522; www.rayovac.com.
---

Handheld Screening Device
EAR Inc, Boulder, Colo, presents a handheld screening device. The unit is a small compact screening device that emits critical pure tones (pulse) that are used for understanding speech and communication. It can be used at trade shows and sporting events, and can be sold directly to the consumer. The item features a fully calibrated, four-frequency PULSE tone generator, 40 dB HL at 500 Hz, 1,000 Hz, 2,000 Hz, and 4,000 Hz. The critical speech range is professionally considered to be 500 Hz to 3,000 Hz. Most hearing losses are due to excessive noise exposure beginning at 4,000 Hz. (303) 447-2619; [email protected]; www.earinc.com.
---

Hearing Aid Cleaner
General Hearing, Harahan, La, introduces the SpinDoctor, a new method for cleaning earwax and other debris from hearing instruments. SpinDoctor is a laboratory-quality centrifugal accelerator specifically designed to accommodate hearing instruments of all sizes. It quickly whirls away dry and liquid wax, even from inside the receiver, that an area vacuum cleaner can't reach. (800) 824-3021; www.generalhearing.com.
---

Portable Vacuum Pump Kit
Lightning Enterprises, Limington, Me, announces the Lightning Vac Traveler, a completely portable suction system designed for professional hearing aid cleaning and maintenance. The recently improved design includes: the Lightning Vac 2 vacuum pump with suction and blower ports (which can also be used as a stand-alone system in the office); a vacuum jar desiccator for fast drying; five needle tips, with convenient Slip-Luer fitting; and a durable hard-shell carrying case. (877) 546-1797; www.lightningenterprises.com.
---

Open Fit Technology
Rexton Inc, Plymouth, Minn, introduces the new Calibra 3 FREE D Open Fit instrument with Directional Microphone this year at "Audiology NOW!" Calibra 3 FREE D offers the latest in premier digital hearing technology. This open fit instrument is equipped with directional microphones for people in challenging listening situations. All Calibra 3 FREE D instruments offer high-tech features, including Fully Automatic Sound Profile Management. This system runs in real time, and allows the hearing instrument to automatically select and activate the appropriate settings, including directional microphone, required for an active lifestyle. The instrument offers cosmetic appeal with thin, FreeFit tubing and a small instrument housing. It is virtually invisible when worn behind-the-ear. In addition to its open fit option, Calibra 3 FREE D comes with a standard earhook, allowing it to change with your patient's hearing needs. (800) 876-1141; www.rexton-online.com.
---

Enhanced Listening Tools
Enhanced Listening Technologies Corp (Connections Unlimited), Riviera Beach, Fla, introduces PT tools™, a range of microphones, mixers, adapters, and couplings to help the audiologist and patient derive maximum benefit from the personal amplifier class (Pocketalker, Sound Director, Sound Wizard, Echo-Tech, etc). PT tools help patients with mild to moderate and severe to profound hearing loss. (800) 286-3481; www.eltgroup.com.
---

Battery Leaflets
Sy Kessler Sales Inc, Dallas, announces that RENATA, the Swiss battery manufacturer, has created unique end-user leaflets, designed to conveniently hang on the battery display. These leaflets educate consumers about zinc-air batteries while offering guidelines for handling and storage. Sy Kessler Sales is the official North American importer for RENATA batteries. For samples of RENATA's new Maratone® batteries and additional information, please contact your local battery distributor, or call (214) 351-0380 or (800) 527-0719; www.renata.com.
---

Hearing Aid Dispensing Book
AudioCare Inc, San Diego, is offering The Book on Dispensing Hearing Aids by Roy Bain. According to a review by TV and radio personality Art Linkletter, "A man with inspiration, a master at provocation without anger, and a good friend whose word you can trust—two thumbs up for The Book on Dispensing Hearing Aids! The elderly of our population who suffer from a loss of hearing need professionals to persuade them to accept available help. This book is a well-written, powerful presentation, spelling out exactly how to accomplish that task. Astonishingly rich in philosophy, this book should be studied by all who enter the hearing aid business." To find out how to get a copy, contact Ron Bain. (800) 974-4100; www.audiocareinc.com.
---

Custom Battery Imprinting
Hocks Hearing Healthcare Products, Portland, Ore, offers FREE custom imprinting on Energizer batteries, with a 10-carton order. Printing requires an extra day or two, so order early. Sales support is available, and consists of battery racks, dealer rebate enrollment forms, consumer rebate forms, mailing envelopes, and customer ID cards. Custom imprinted batteries have been proven to increase sales. (800) 654-6257; www.hocksproducts.com.
---

Instant Earmold Manufacturing
Insta-Mold Products Inc, Oaks, Pa, offers the Insta-Mold process. The process allows custom swimmolds, noise protectors, earmolds, and communication devices to be made on location, in minutes. According to the company, patients receive finished molds the same day because the original impression becomes the finished product. The process allows the hearing health care professional to insert tubing, acoustic filters, adapter rings, and core holes; vent and modify molds; apply silicone coatings; add handles and cords; and offer floatability in a variety of skin and neon colors, and swirl multi-color plugs. (800) 523-4081; www.instamold.com.
---

Scented Silicone Impression Material
Warner Tech-care Products Inc, Minneapolis, a single source supplier, introduces Tickled Pink, a scented, custom-blended silicone impression material. The clean and convenient cartridge material mixes easily through the cannula tip. Nongreasy, Tickled Pink produces a firm impression without distorting the ear canal. Patients can enjoy the fresh and soothing mint scent during the 3- to 5-minute setup. Tickled Pink is a 35 shore material, and is suitable for standard and CIC impression taking. The cartridge will make four or five impressions using the standard style impression gun. Tickled Pink is sold by individual cartridge, allowing the user the choice of mixing tip size. (800) 328-4757; www.warnertechcare.com.
---

Directional Technology
Starkey Laboratories Inc, Eden Prairie, Minn, offers Precision Directional Imaging (PDI) available for all Genesis digital products. A unique software addition to the Precision Audio Imaging operating system, PDI improves speech understanding in difficult listening situations found in restaurants, parties, and other loud environments. PDI's single microphone design also eliminates drift and yields significantly quieter directional performance in true in-the-canal instruments. Unlike manual systems, Axent II instruments equipped with PDI's dynamic algorithm continuously monitor signal strength in the omni and directional modes. When the system senses that directional processing will provide noise reduction benefit, it automatically activates a preprogrammed directional pattern. Arista, Sequel, and Endeavour feature user-activated PDI technology. (800) 328-8602; www.starkey.com.
---

Digital Tinnitus Technology
Hansaton Hearing Systems, Hamburg, Germany, offers THE WAVE, Hansaton's FDA-approved, 4-channel digital tinnitus noiser. This innovative solution to tinnitus management has programmable volume control, low and high frequency tone controls, and a white/pink noise option. WAVE CYMBA features a unique open-fitting housing design, while the ACTIVO WAVE offers tinnitus management combined with a digital hearing instrument. Visit Hansaton's booth at the AAA convention (Booth 606/607). (866) 449-9757; www.hearing-usa.com.
---

Poster Series
SeboTek Hearing Systems, Tulsa, Okla, presents a series of new in-office marketing posters, provided as part of its retail marketing support program. The poster series emphasizes the benefits of the PAC, SeboTek's patented hearing instrument, to those who wear it: virtually invisible; soft and comfortable; and brilliant, natural sound. The PAC offers discreet, same-day fitting; delivers superior acoustic performance that traditional hearing aids can't achieve through extended frequency response up to 14,000 Hz; and does so across a huge fitting range, including losses up to 90 dB. (800) 388-9041; www.sebotek.com.
---

Hearing Aid Protection
Discovery Hearing Aid Warranties, Mobile, Ala, provides loss, damage, and/or component failure protection for all makes and models of hearing aids, including cochlear implants and bone-anchored processors. A unique compensation plan generates continuous extra income for dispensers. Discovery Hearing Aid Repair is a rapid response, full-service, all-make repair laboratory. (800) 525-7936.
---

Alarm Clock with Bed-Shaker
Reizen Incorporated, Farmingdale, NY, features the Mega Quake Bed-Shaker (model #906555). The phone features a lighted snooze button, extra bright green LED display with large numbers (1.8 inches), and AM/PM and alarm on/off indicators that are right on the display. Wake up with your choice of superloud, adjustable alarm buzzer, or "Mega Quake" vibrations. Equipped with a battery backup (9 volt battery not included). The product has a 1-year warranty. (800) 881-4327; www.hearmore.com.
---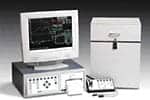 Expanded Open Caption Service
InSight Cinema, Santa Monica, Calif, is the primary resource to access information and locate captioned screening engagements in local areas. It has recently expanded services to include all captioned screenings throughout the United States. Now hearing-impaired patients do not have to miss out on the experience of enjoying a film on the big screen. (310) 452-8700; www.insightcinema.org.
---

Amplified Emergency Connect Phone
Harris Communications, Eden Prairie, Minn, is the exclusive distributor of the Amplified Emergency Connect (AEC) Phone, a feature-rich telephone with 50 dB amplification—one of the best amplifications available. Other features include a large caller ID display, superloud ringer, strobe light ring flasher, and a speakerphone. The Emergency Connect feature of the AEC sets it apart from other amplified phones. Pressing a button on the remote-dial wristband or pendant will dial up to six preprogrammed numbers and play a recorded message. This remote-dialing feature can be a great value for clients who live alone or have mobility concerns. Contact Bill Williams at (800) 582-8569 about dealership opportunities; www.harriscomm.com.
---

Convenient Hearing Aid Repair
Precision Laboratories, Altamonte Springs, Fla, offers a kit to repair or modify hearing aids that are made of acrylic. Use the appropriate color of polymer along with the adhesive to make a "liquid plastic" to repair and modify hearing aids. (800) 327-4792; www.precisionweb.com.
---

Warranty Coverage
Starkey Laboratories Inc, Eden Prairie, Minn, has expanded its warranty coverage into one comprehensive program designed for a variety of patients' needs. Coverage is available in four unique programs: Worry Free Deluxe Loss, Damage, and Repair Warranty Protection; Worry Free Loss and Damage Warranty Protection; Worry Free Repair Warranty Protection; and Worry Free Extended Warranty Protection. The new warranty plan gives hearing professionals the opportunity to set their own pricing based on their individual services and policies. (800) 328-8602; www.starkey.com.
---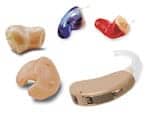 Practice Builder
The Wilson Group, Ft Worth, Tex, a national leader in practice building for the medical specialties, offers weekly 30-minute in-office telephone seminars by conference call. Independent research conducted by Wilson Group mystery shoppers discovered that most receptionists fail to know how to convert a phone call into an appointment. The Wilson approach is to turn inquiries into appointments by training a company's already efficient reception staff. (800) 346-6279, ext 11; www.jameswwilson.com.
---

PC-Based Clinical Audiometer
Interacoustics, Eden Prairie, Minn, introduces the Equinox stand-alone unit, a PC-based, two-channel, clinical audiometer. Desktop or mounted in a sound booth, it connects from the hardware to your PC with just one cable to the USB. A better connection means fewer errors, and less time spent readjusting equipment. (800) 947-6334; www.interacoustics.com.
---

Sales CD
CareCredit®, Costa Mesa, Calif, a national patient payment program, is offering a FREE educational CD titled "Increase Sales By Effectively Connecting With Patients," featuring Von Hansen, a consultant, communications specialist, author, speaker, and instructor for the American Conference of Audioprosthology. This entertaining and informative audio program details why hearing instrument sales remain flat and how practices can increase sales by connecting with patients. Hansen focuses on two critical communication opportunities: the initial telephone inquiry and the patient consultation. Through real-life examples, he provides communication techniques to help practices take control of phone inquiries, schedule "third-party" appointments, and understand patient needs before suggesting care. For treatment fees from $1 to more than $25,000, CareCredit offers a comprehensive range of plans including 3-, 6-, and 12-month No Interest, and 24-, 36-, 48-, and 60-month Low Interest Extended Payment Plan options. (800) 300-3046, ext 4125 or [email protected]; www.carecredit.com.
---

Amplified Power Neckloop
ClearSounds Communications Inc, Burr Ridge, Ill, introduces the CLA7 Amplified Power Neckloop for individuals with T-coils in their hearing aids. This compact and powerful product connects with corded and cordless phones, cell phones, audio devices, and iPods to deliver 30 dB gain of amplification. This hands-free and battery-powered device includes a built-in microphone, 2.5 mm connector, and 3.5 mm connection adapter. (800) 965-9043; www.clearsounds.com.
---

Toggle Switch
Deltek, the Electromechanical Controls division of Knowles, Itasca, Ill, announces the release of Model 2100, a two-position electromechanical toggle switch. The 2100 is designed for hearing aids, or other space-critical applications where high durability is a must. With the addition of the 2100, the company brings the number of switch families offered by Deltek to more than 10, and the number of active SKUs to more than 100. Whether a switch requirement is a slide, rotary, push-button, or toggle application, as your design partner, Deltek will give you the functional characteristics you need, such as tactile feel or moisture resistance, in the smallest possible package size. The standard part is available for immediate sampling. Other versions with alternate handle geometry, different colors, or different lead lengths can also be made, on a custom-order basis. (630) 250-5100; www.deltekelectronics.com.
---

Open Earmold
Westone Laboratories Inc, Colorado Springs, Colo, presents the new style #4VH earmold. This custom, hollow, canal-style open earmold is designed to work with virtually any instrument using "air" type tubing. It is created using FIT™ laser technology with built-in "spokes" and a "hub" to hold the tubing. This allows the tube, as it leaves the earmold, to be aligned as close to the head as possible. Each earmold will include an attached half-inch piece of tube to allow the dispenser to friction fit the thin hearing instrument tube into place. Simply adjust the angle of the tube to achieve optimum placement against the head. No gluing is required, making tube changes a snap. The style #4VH earmold is available in clear acrylic, and is produced only in the company's Colorado Springs facility. (800) 525-5071; www.westone.com.
---

RITE Hearing Device
Oticon Inc, Somerset, NJ, introduces Oticon Delta, designed to change the perception of hearing aids among the 50-plus generation. Oticon Delta's triangular design features, sleek lines, colors, and brushed metallic surface appear to have more in common with high-tech communication devices or fashion accessories than traditional hearing aids. The receiver is placed into the ear canal at the end of a thin, transparent sound wire, which has created a new category of hearing solutions, RITE (Receiver In The Ear). Powered by artificial intelligence, the device features a dual-mode directional microphone system that works with the TriState Noise Management system to provide the best voice-over-noise ratio. Delta's speaker, connected to the amplifier by an ultra-thin, transparent tube, is placed in the ear canal to ensure a flat natural frequency response and unmatched performance and comfort. The open fitting delivers the amplified signal with a clear sound quality and without tube resonance. (800) 526-3921; www.my-delta.com.
---

Lab Coats
Warner Tech-care Products Inc, Minneapolis, provides a great way to professionalize your office staff. Lab coats enhance the image you wish to create. A counter-length coat with blazer styling and a knee-length coat with a notched lapel collar are made of performance blended poplin. Both style coats are available in men's and women's sizes. Colorfully embroidered names and titles can be added to the lab coats for that personal touch. Adding a company logo will reinforce your business identity. Warner Tech-care is a single-source supplier for the hearing industry, and has a 132-page catalog that is now available. (800) 328-4757; www.warnertechcare.com.
---

Infection Control Products
Hocks Hearing Healthcare Products, Portland, Ore, has expanded its infection control line to include Sani Cloth, Sani Cloth Packets, Alcohol Packets, Sani-Dex Hand Wipes, Allcare Hand Cleaner (foam), Odor Eliminator Wipes, Cold Instrument Disinfectant, and Audio Wipes. (800) 654-6257; www.hocksproducts.com.
---

Turbo Torch Chip Technology
Mid-States Laboratories, Wichita, Kan, announces the addition of the new turbo torch chip technology Earlight with wide angle and focused beam. It offers 100,000 hours of light and no bulb to replace. Comes with probe tip for better otoscopic visibility. (800) 247-3669; [email protected]; www.mid-stateslabs.com.
---

Telephone Demo Board
Beyond Hearing Aids Inc, Florence, Ky, introduces a new bold telephone demonstration board that can be placed in any office area. The acrylic telephone display board comes with a phone line simulator and amplified telephone designed to take up little space on any table or desk. It encourages patients to hear what a good-quality amplified phone sounds like compared to the phone they have at home. The kit also includes color brochures of the most popular ALDs available as an educational handout. (800) 838-1649; www.beyondhearingaids.com.
---

Vacuum Pump
Lightning Enterprises, Limington, Me, increases the warranty on its VAC-1 professional vacuum pump for cleaning hearing aids to 3 years. According to the company, as a testament to the durability and dependability of VAC-1, the new 3-year warranty will cover the complete compressor system. A powerful unit, widely used for cleaning hearing aids, VAC-1 can also be configured with a vacuum desiccator chamber for fast hearing aid drying, as well as the Aspirator System for cleaning ears. (877) 546-1797; www.lightningenterprises.com.
---

Audio Repair Workstation
Kingwood Industrial Products Inc, Hackettstown, NJ, has introduced its redesigned Audio Repair Workstation with a new lower price. The unit offers everything the technician needs to build, repair, and modify aids. The workstation includes the workbench, grinder, splash hoods, dust collectors, vacuum pump with desiccator, and UV curing system. All items store neatly in the powder-coated workbench with plenty of storage left over for the technician's tools. Fluorescent lights keep the work area well illuminated and the bench top is stain resistant for easy cleanup. The entire workstation is powered through an easy to use control module designed to keep the unit as functional as possible. (908) 852-8655; www.kingwoodindustrial.com.
---

Shooter's Protection
Electronic Shooters Protection, Brighton, Colo, offers the ESP-Digital, its state-of-the-art digital high-fidelity ITE hearing protectors for shooting enthusiasts. This digital technology enables sound to be processed using bits and bytes, which are noise free, unlike analog circuitry. With an effective dynamic range of 95 dB, and 16-kHz bandwidth, the ESP-Digital offers low noise, while providing true high-fidelity audio processing without compromise. The difference to the shooter is comparable to hearing music played on a CD versus a cassette tape. Standard electronic hearing protectors shut down when excessive noise levels are detected, removing the shooter's ability to hear. All ESP amplifiers are designed to limit their output to 90 dB without shutting down, leaving the shooter with their sense of hearing intact. This safety factor is relied upon by instructors and competition shooters who depend on being in touch with their students, fellow competitors, and surroundings. (800) 767-7791; www.espamerica.com.
---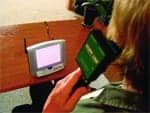 Wireless Video Otoscope
Pehratek Products, Chaska, Minn, introduces the SCOPE-LINK wireless video otoscope and seven-inch, color LCD monitor with built-in wireless video receiver. This lightweight, portable video otoscope system weighs less than eight pounds and can be easily taken to health fairs, open houses, satellite offices, or nursing homes for patient education, marketing, or hearing aid troubleshooting. The system can transmit clear images up to 100 feet through walls or sound booths without being tethered by a cord to the monitor screen. The SCOPE-LINK comes complete with the Welch-All