Battery Leaflets
Sy Kessler Sales Inc, Dallas, announces that RENATA, the Swiss battery manufacturer, has created unique end-user leaflets, designed to conveniently hang on the battery display. These leaflets educate consumers about zinc-air batteries while offering guidelines for handling and storage. Sy Kessler Sales is the official North American importer for RENATA batteries. For samples of RENATA's new Maratone® batteries and additional information, please contact your local battery distributor, or call (214) 351-0380 or (800) 527-0719; www.renata.com.
---

Small-Size Components
Sonion, Minnetonka, Minn, offers the CU 10, which is the smallest combination of six HI components ever seen. This high degree of integration results in such a small size that it allows for programmable CICs with pushbutton functionality. Sonion can brand the CU 10 according to a company's requirements. (952) 543-8300; www.sonion.com.
---
Enhanced Listening Tools
Enhanced Listening Technologies Corp (Connections Unlimited), Riviera Beach, Fla, introduces PT tools™, a range of microphones, mixers, adapters, and couplings to help the audiologist and patient derive maximum benefit from the personal amplifier class (Pocketalker, Sound Director, Sound Wizard, Echo-Tech, etc). PT tools help patients with mild to moderate and severe to profound hearing loss. (800) 286-3481; www.eltgroup.com.
---

Hearing Aid
Oticon Inc, Somerset, NJ, introduces Syncro 2, which features the state-of-the-art Activity Analyzer, Automatic Adaptation Manager, and Syncro 2 Power. Syncro 2's new advanced data logging technology collects data in three areas: environmental, client usage, and product performance. Syncro 2 is available in a full range of styles ranging from CIC to BTE instruments. Syncro 2 Power is available in a discrete compact power BTE. (800) 526-3921; www.oticonus.com/Syncro2.
---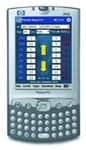 Portable Screening Audiometer
OTOVATION LLC, Lederach, Pa, features the Pocket Hearo, a pure tone audiometer on a PDA. The portable screening audiometer includes wireless printing, full data management and reporting, as well as all the capabilities of a PDA in an attractive handheld unit. (866) otovation (686-8284); [email protected]; www.otovation.com.
---

Monthly Payment Plans
The HELPcard, Springdale, Ark, a health care financing plan, has been providing affordable monthly payment plans to patients for more than two decades. Approval for patients takes only 5 minutes by phone, and payment to the provider is within 48 hours. (800) 935-3368, ext 475; www.hccredit.com.
---

Digital Open Fitted Instrument
Audina® Hearing Instruments Inc, Longwood, Fla, has released the ARC™ 100% digital open fitting hearing instrument. This instrument offers one of the only customized approaches to open fittings in the industry. The high-fidelity ARC features advanced technology, including the latest in 20-bit digital audio processing, which provides sophisticated sound quality, reduced distortion, and 128-band Adaptive Noise Reduction 3.0. Additional features include Adaptive Feedback Cancellation 2.0, 16 kHz bandwidth, and faster fitting times. The ARC enables custom open fitting, which takes advantage of the concha for more natural listening and an improved secure fit. The unique shell design reduces occlusion. (800) 223-7700; www.audina.net.
---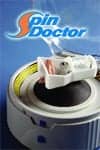 Hearing Aid Cleaner
General Hearing, Harahan, La, introduces the SpinDoctor, a new method for cleaning earwax and other debris from hearing instruments. SpinDoctor is a laboratory-quality centrifugal accelerator specifically designed to accommodate hearing instruments of all sizes. It quickly whirls away dry and liquid wax, even from inside the receiver, that an area vacuum cleaner can't reach. (800) 824-3021; www.generalhearing.com.
---

Open Caption Films
InSight Cinema, Santa Monica, Calif, provides option-caption services for big-screen, first-run box office movies. The service helps convey loud sound effects, narration, voice-overs, music lyrics, and garbled words that even hearing audiences miss. (310) 452-8700; www.insightcinema.org.
---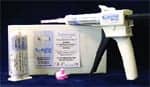 Scented Silicone Impression Material
Warner Tech-care Products Inc, Minneapolis, a single source supplier, introduces Tickled Pink, a scented, custom-blended silicone impression material. The clean and convenient cartridge material mixes easily through the cannula tip. Nongreasy, Tickled Pink produces a firm impression without distorting the ear canal. Patients can enjoy the fresh and soothing mint scent during the 3- to 5-minute setup. Tickled Pink is a 35 shore material, and is suitable for standard and CIC impression taking. The cartridge will make four or five impressions using the standard style impression gun. Tickled Pink is sold by individual cartridge, allowing the user the choice of mixing tip size. (800) 328-4757; www.warnertechcare.com.
---
Full Service, All-Make Repair Lab
Discovery Hearing Aid Repair, Mobile, Ala, is staffed with personnel who have extensive experience in all facets of repairing and reconditioning hearing aids. The team offers high-quality repairs, rapid response time, and competitive pricing. Discovery Hearing Aid Repair is one of the Discovery Companies, which also includes Discovery Hearing Aid Warranties and Hansaton. (800) 736-9903; www.soundaid.com/repair.htm.
---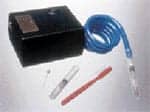 Consumer Vacuum
jodi-vac LLC, Portland, Ore, offers jodi®, the first hearing aid vacuum for consumers. The 12-volt DC portable unit weighs less than two pounds, and is 3 x 4 inches in size. A filtered syringe assembly is replaceable, enabling ease of maintenance. Also, the syringe has a flow indicator built in, showing when the needle is plugged with debris. A toothbrush is included to clear debris blockages from the needle. A reamer is also included to keep in the needle between uses. The unit is effective with all hearing aids. (866) 856-5634; www.jodivac.com.
---

New Battery Packaging
Sy Kessler Sales Inc, Dallas, announces that RENATA, the Swiss battery manufacturer, has created bolder professional packaging for the new Maratone® battery. The packaging prominently features RENATA's association with The SWATCH Group, an official Olympic sponsor and the world's largest watch manufacturer, recognized for many famous brands. RENATA's new packaging also features a best before freshness date and is available customized with the dispenser's logo and contact information. RENATA is also unveiling its new 6-pin battery displays, which are attractively designed for dispensers in the shape of an ear. For samples of RENATA's new Maratone batteries and additional information, please contact your local battery distributor, or call (214) 351-0380 or (800) 527-0719; www.renata.com.
---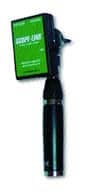 Wireless Video Otoscope
Pehratek Products, Chaska, Minn, introduces the Scope-Link wireless video otoscope and seven-inch, color LCD monitor with built-in wireless receiver system. This portable, lightweight system weighs less than eight pounds and can be easily taken to health fairs, open houses, or remote sites for troubleshooting hearing aids, patient education, or marketing purposes. In addition to the Welch-Allyn video otoscope, wireless video transmitter, and monitor, Scope-Link comes with rechargers and a carrying case. The system transmits clear images up to 100 feet through walls or sound booths and can be interfaced to a computer or printer for image storage. (866) 470-3532; www.pehratek.com.
---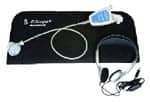 Amplified Stethoscope
Beyond Hearing Aids Inc, Florence, Ky, is the leading distributor of amplified stethoscopes and accessories with years of practical experience working with consumers with all types of hearing loss. Features the Cardionics Escope Stethoscope with specialist diaphragms and bells for superior sound conduction and a variety of accessories that interface the stethoscope to hearing aids. (800) 838-1649; www.beyondhearingaids.com.
---

Bluetooth Telephone Earset
Starkey Laboratories Inc, Eden Prairie, Minn, offers the SoundPort custom earset. Building on the success of the ELI system, SoundPort provides a custom-fit, wireless solution for Bluetooth-compatible mobile phone users. SoundPort is designed for nonimpaired consumers of all ages who want a more comfortable, hands-free communication solution. SoundPort offers a launching point for professionals to increase their visibility in their marketplace and build relationships with potential future customers. (800) 328-8602; www.hearwireless.com.
---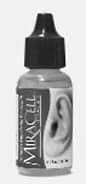 Natural Ear Treatment
MiraCell Inc, Orem, Utah, offers MiraCell natural ear treatment, which eases cerumen removal, makes wearing hearing aids and ear molds more comfortable, and relieves sore, dry, flaking, or itching ears, caused by detaching keratin and tympanic membrane plaque. Also, MiraCell Inc offers an income-making opportunity that will reduce returns and remakes. Call (888) 345-6223, ext 8601, for a free recorded message. (800) 748-5040; www.miracell.com.
---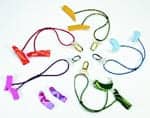 BTE Loss Prevention
Westone Laboratories Inc, Colorado Springs, Colo, presents Ear Gear, a new product for children and adults that is designed to prevent BTE hearing instruments from getting lost, while at the same time protecting them from dirt, sweat, rain, and chafing. In addition, Ear Gear is a great way to keep expensive FM boots attached to children's BTEs. With 13 brilliant color and pattern options, Ear Gear can also be a fashion statement. Available in six styles to accommodate monaural and binaural fittings, with or without cords and clips. (800) 525-5071; www.westone.com.
---

Next Generation Instruments
Audina® Hearing Instruments Inc, Longwood, Fla, introduces the ACCURIO™ with adaptive feedback cancellation 2.0. This next generation adaptive feedback canceller achieves 14 dB of added stable gain through accurate modeling of the feedback path. The unit offers 128-band adaptive noise reduction 3.0, which provides a precise next-generation noise reduction strategy. The algorithm offers improved performance without any perceived drop in speech levels. Additional features include 16 kHz bandwidth and faster fitting times, using new efficient software architecture to create faster programming speeds (two to three times faster than previous products) without compromising system flexibility. ACCURIO also offers 20-bit digital audio processing for reduced distortion and lower noise. (800) 223-7700; www.audina.net.
---

Hearing Aid Sweat Band
VanB Enterprises of West Valley, NY, offers the Hearing Aid Sweat Band, a disposable soft fabric sleeve that protects behind-the-ear (BTE) devices from moisture. Available in four colors and five sizes, the Hearing Aid Sweat Band protects BTE hearing aids from perspiration, snow, and rain, as well as from infiltration of damaging dirt and grime. The sleeve is easily slipped over the microphone of a hearing aid, without the need for a tool. (716) 942-6313; www.vanbenterprises.com.
---

Test Sequence
Frye Electronics, Tigard, Ore, introduces the ANSI 03 test sequence for the FONIX 7000, FP35, FP40, and 6500-CX Hearing Aid Analyzers. This test sequence is expected to replace the ANSI 96 currently required in the manufacturing process. (800) 547-8209; www.frye.com.
---

Bone Conduction Hearing Aid
United Hearing Systems Inc, Central Village, Conn, presents TransEAR®, a new bone conduction hearing aid. TransEAR allows individuals with unilateral deafness to regain the effect of hearing on that side without surgery or bulky headpieces. The device looks like a hearing aid, but it utilizes a miniature vibrator instead of an acoustic receiver, sending amplified signals through the skull to the individual's better ear. The hearing aid is also beneficial to many individuals with conductive hearing losses, where surgery is not an option. WNYT in New York featured TransEAR in a health report. To view the newscast, go to http://www.wnyt.com/health-news. (800) 835-2001; www.unitedhearing.com.
---

Amplified Telephone
Clarity, a division of Plantronics Inc, Chattanooga, Tenn, offers the Clarity® W425 featuring Clarity Power™ technology, which makes phone conversations not only louder, but also clearer and easier to understand. With amplification of incoming sounds up to 30 decibels and an ergonomic design, the W425 is the perfect solution for those who experience a mild-to-moderate hearing loss. (800) 552-3368; www.clarityproducts.com.
---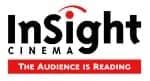 Expanded Open Caption Service
InSight Cinema, Santa Monica, Calif, is the primary resource to access information and locate captioned screening engagements in local areas. It has recently expanded services to include all captioned screenings throughout the United States. Now hearing-impaired patients do not have to miss out on the experience of enjoying a film on the big screen. (310) 452-8700; www.insightcinema.org.
---

Hearing Aid Dryer
S & S Laser Productions, New Port Richey, Fla, offers the Moisture Guard Electronic Hearing Aid Dryer. The Moisture Guard provides users with a way to properly maintain their hearing aids. It is safe, easy to use, and portable. The unit is made of cherry wood and carries a money-back guarantee. (800) 934-6815.
---

Single-Wall Screening Booths
Acoustic Systems, Austin, Tex, offers single-wall screening booths for screening environments where the ambient conditions require increased attenuation, or clinical testing may be required. The booths are constructed with the company's standard Type 2, four-inch-thick wall panels and provide isolation. Acoustic Systems is accredited by the National Voluntary Laboratory Accreditation Program (NVLAP) and submits its audiometric rooms and suites to regular testing. (512) 444-1961; www.acousticsystems.com.
---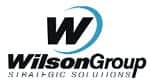 Practice Builder
The Wilson Group, Ft Worth, Tex, a national leader in practice building for the medical specialties, offers weekly 30-minute in-office telephone seminars by conference call. Independent research conducted by Wilson Group mystery shoppers discovered that most receptionists fail to know how to convert a phone call into an appointment. The Wilson approach is to turn inquiries into appointments by training a company's already efficient reception staff. (800) 346-6279, ext 11; www.jameswwilson.com.
---

Infection Control Products
Hocks Hearing Healthcare Products, Portland, Ore, has expanded its infection control line to include Sani Cloth, Sani Cloth Packets, Alcohol Packets, Sani-Dex Hand Wipes, Allcare Hand Cleaner (foam), Odor Eliminator Wipes, Cold Instrument Disinfectant, and Audio Wipes. (800) 654-6257; www.hocksproducts.com.
---

Master Digital Super Power
Oticon Inc, Somerset, NJ, introduces Sumo DM, an advanced digital super power instrument. The compact new Sumo DM improves listening performance in noise by using Oticon's unique tri-state noise management system to differentiate between speech and noise inputs—and apply narrow band noise reduction accordingly. Dynamic feedback cancellation effectively eliminates feedback without the loss of gain. A new gain and compression strategy for severe and profound hearing losses—dynamic speech enhancement—balances speech understanding and loudness compensation across eight frequency channels. The instrument also contains another industry first—a programmable LED light to indicate power on, preferred VC level, and program changes—making Sumo DM an ideal super power choice for children. (800) 526-3921; www.oticonus.com.
---

Custom Open Fit Instruments
United Hearing Systems, Central Village, Conn, offers a complete line of custom ITEs and micro BTEs with custom open fit earmold. The Nuance Digital with feedback suppression will provide open fittings up to 50 dB loss. (800) 825-2001; www.unitedhearing.com.
---

Poster Series
SeboTek Hearing Systems, Tulsa, Okla, presents a series of new in-office marketing posters, provided as part of its retail marketing support program. The poster series emphasizes the benefits of the PAC, SeboTek's patented hearing instrument, to those who wear it: virtually invisible; soft and comfortable; and brilliant, natural sound. The PAC offers discreet, same-day fitting; delivers superior acoustic performance that traditional hearing aids can't achieve through extended frequency response up to 14,000 Hz; and does so across a huge fitting range, including losses up to 90 dB. (800) 388-9041; www.sebotek.com.
---

Intelligent Amplification
Oaktree Products Inc, Chesterfield, Mo, introduces two new amplified telephones from Clarity's Professional™ brand: the corded C2210, and the cordless C4205 phones. Both phones feature new Digital Clarity® Power™, providing what the company refers to as "intelligent amplification," including digital signal processing, noise reduction, feedback management, and wide dynamic range compression. While this type of technology is not new, it is the first time that hearing aid technology is being incorporated into a telephone. Both phones provide up to 40 dB of amplification and a choice of up to three tone control options for optimum listening. The corded C2210 includes a built-in alarm clock with an optional bed shaker and lamp flasher available for additional notification. The cordless C4205 operates on 2.4 GHz technology and is equipped with a vibrating handset ringer. (800) 347-1960; www.oaktreeproducts.com.
---

External Ear Canal Dryer
Warner Tech-care Products Inc, Minneapolis, introduces DryEar Sahara™ for drying water trapped in ears after showers, hair washing, and water sports. Designed by an ear physician, DryEar safely and effectively dries the external ear canal in about a minute. Keeping the auditory canal dry helps eliminate a moist environment and the growth of fungus and bacteria, as well as prevents infections and itching. DryEar is recommended for hearing aid wearers who experience moisture buildup behind their hearing aids that makes it difficult to keep them in place. DryEar is powered by a rechargeable battery that will run the unit for as many as 50 drying cycles before recharging. The folding unit is portable and comes with five color-coded earpieces. (800) 328-4757; www.warnertechcare.com.
---

Compact Maintenance Kit
S & S Laser, New Port Richey, Fla, offers a compact version of its hearing aid maintenance kit. The kit includes Moisture Guard™, a 12-volt DC transformer, a battery tester, a combination tool (brush, waxpick, and magnet), and an SPV vent cleaning tool. (800) 934-6815.
---

Hearing Aid Cleaner
General Hearing, Harahan, La, introduces the SpinDoctor, a new method for cleaning earwax and other debris from hearing instruments. SpinDoctor is a laboratory-quality centrifugal accelerator specifically designed to accommodate hearing instruments of all sizes. It quickly whirls away dry and liquid wax, even from inside the receiver, that an area vacuum cleaner can't reach. (800) 824-3021; www.generalhearing.com.
---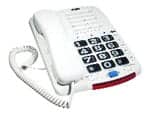 Amplified Telephones
Reizen Incorporated, Farmingdale, NY, offers a series of telephones with amplification of up to 50 dB, large lighted keypads, and telecoil compatible handsets. The instruments also feature a two-way speakerphone with volume control; 10 one-touch memory buttons; three programmable emergency buttons; redial/pause/flash buttons; and electronic hold with on-hold music. Model #907345 also features caller ID. The products are covered by a 1-year warranty. (Available styles include: #907304–40 dB; #907345–43 dB; and 907305–50 dB.) (800) 881-4327; www.hearmore.com.
---

Lower Patient Interest Rate
CareCredit®, Costa Mesa, Calif, a patient payment program, is now offering audiology patients a new, lower 9.9% patient interest rate on its 24-, 36-, and 48-month extended payment plans. The new 9.9% fixed interest rate is considerably lower than the national average fixed rate of 18.9% found on most consumer credit cards, giving practices a more attractive payment option to offer patients. CareCredit offers a comprehensive range of plans including 3-, 6-, 12-, and 18-month no interest and 24-, 36-, and 48-month low interest payment plan options, and is currently at work for more than 2.9 million cardholders in more than 50,000 practices nationwide. (800) 300-3046, ext 4519; [email protected].
---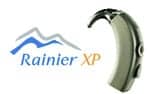 BTE Hearing Instrument
Micro-Tech Hearing Instruments, Eden Prairie, Minn, introduces the Rainier XP BTE, a behind-the-ear hearing instrument that provides the power appropriate for severe hearing loss without sacrificing the style patients demand. Power, directionality, and flexibility combine with multichannel digital signal processing, feedback management, and a versatile compression architecture to create the Rainier XP BTE. Feature highlights include 80 dB of gain and 140 dB output to handle severe-to-profound hearing losses; DiRx Directional Microphone System with supercardioid polar plot to enhance speech understanding in noisy environments; multiple channels with adjustable crossover frequencies that give flexibility to programs such as WDRC or Output Compression Limiting; Digital Feedback Management, which increases ease of fitting while protecting patients from annoying whistling; Broadband Expansion to reduce microphone and low-level environmental noise; and Resonance Booster to conquer high frequencies. Patients can choose from six colors. Controls have been redesigned for ease of use, and the sleek, modern case appeals to patients of all ages. (800) 745-4327; www.hearing-aid.com.
---

Noise Reduction Earphones
Hearing Components, Oakdale, Minn, introduces its NR-1 Earphones, which combines state-of-the-art electronics and miniaturization with the convenience of Hearing Components' patented Comply™ Platinum Canal Tips (Canal Tips). The patented NR-1 Earphones are based on the same technology currently used by US Army helicopter crews. When used in a noisy environment, the NR-1 Earphones delivers to iPod users, other MP3 player users, or other personal audio device users great noise reduction, sound, and in-the-ear comfort. The NR-1 offers the opportunity to offer a new product to your patients and their families. (800) 872-8986 or (651) 739-9427; www.hearingcomponents.com.
---

Warranty Coverage
Starkey Laboratories Inc, Eden Prairie, Minn, has expanded its warranty coverage into one comprehensive program designed for a variety of patients' needs. Coverage is available in four unique programs: Worry Free Deluxe Loss, Damage, and Repair Warranty Protection; Worry Free Loss and Damage Warranty Protection; Worry Free Repair Warranty Protection; and Worry Free Extended Warranty Protection. The new warranty plan gives hearing professionals the opportunity to set their own pricing based on their individual services and policies. (800) 328-8602; www.starkey.com.
---

Shooter's Protection
Electronic Shooters Protection, Brighton, Colo, offers the ESP-Digital, its state-of-the-art digital high-fidelity ITE hearing protectors for shooting enthusiasts. This digital technology enables sound to be processed using bits and bytes, which are noise free unlike analog circuitry. With an effective dynamic range of 95 dB, and 16-kHz bandwidth, the ESP-Digital offers low noise, while providing true high-fidelity audio processing without compromise. The difference to the shooter is comparable to hearing music played on a CD versus a cassette tape. Standard electronic hearing protectors shut down when excessive noise levels are detected, removing the shooter's ability to hear. All ESP amplifiers are designed to limit their output to 90 dB without shutting down, leaving the shooter with their sense of hearing intact. This safety factor is relied upon by instructors and competition shooters who depend on being in touch with their students, fellow competitors, and surroundings. (800) 767-7791; www.espamerica.com.
---

Multimedia Program
Oticon, Somerset, NJ, offers eCAPS, a new multimedia program designed to enhance the entire counseling and rehabilitation process. It combines Oticon's experience with the original CAPS (client assisted product selection) counseling tool, Syncro Counseling, and best practices from today's most successful hearing care professionals. eCAPS provides a framework that can be customized to suit a practitioner's own fitting, counseling, and sales process. Highlights of the program include a hearing loss simulator, a tour through the ear, everyday listening situations, a full product portfolio, and a comprehensive aural rehabilitation section. (800) 526-3921; www.oticonus.com.
---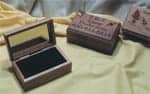 Engraved Gifts
S & S Laser, New Port Richey, Fla, features custom engraved items (see ad on page 51). The company offers unique and personalized gift items along with custom and standard signage, available to fit any budget. S & S Laser also offers the V-Series of indoor/outdoor signage. (800) 934-6815.
---

Physician Marketing Video
A video about a physician newsletter publishing service is being offered by the publishers of Hearing HealthCare News®, White Plains, NY. The 9-minute presentation, available on CD or VHS, describes how a physician newsletter can benefit an audiology practice. (800) 342-1643; www.hearinghealthnews.com.
---

Hearing Protection
Perfect Seal Laboratories, Wichita, Kan, offers many styles of hearing protection. No matter what your client's needs, Perfect Seal can accommodate them. From the electronic series (shown) to solid plugs, Perfect Seal can provide solutions for many specific industrial applications. (800) 311-9810.
---

Hand Sanitizer
Hal-Hen Company Inc, Garden City Park, NY, features its Instant Hand Sanitizer System (catalog #3625), which can be placed anywhere hand cleaning is required. The automatic, touch-free design delivers a 1 ml, 3 ml, or 5 ml dose of waterless hand cleaner, which has been clinically proven to kill 99.99% of germs in 15 seconds. Conveniently packaged in 1,000 ml disposable pouches. (800) 242-5436; www.halhen.com.
---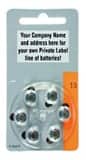 Private Label Batteries
Westone Laboratories, Colorado Springs, Colo, presents private label batteries for the hearing health care provider. Westone's private label batteries provide the same high quality and long life as name brand batteries, but are more economical. In addition, private label batteries are an excellent marketing tool. Whether providers retail the batteries, provide them with a service agreement, or both, private label batteries are an easy and convenient way to keep the business name in front of loyal customers and serve as a constant reminder of the professional services provided. (800) 525-5071; www.westone.com.
---

Hearing Screener
Oaktree Products Inc, Chesterfield, Mo, introduces the EarPeace Hearing Screener. This simple, inexpensive screening device is about the size of a credit card and emits a pulsed tone at 500 Hz, 1,000 Hz, 2,000 Hz, and 4,000 Hz. It is perfect for giving to physicians for referrals. It can even be custom printed with the individual practice information. According to the company, "it [EarPeace] is to ears what an eye chart is to eyes." (800) 347-1960; www.oaktreeproducts.com.
---

Receiver Series
Sonion, Minnetonka, Minn, presents the new 3300 series receiver, designed to meet the high demand of providing maximum SPL output with premium performance. The balanced twin motor design greatly reduces unwanted mechanical vibration without sacrificing acoustic bandwidth, creating a receiver that will offer customers a new opportunity to increase output and gain, while reducing the annoyance of feedback. The phrase "It's not what you get, it's what you don't get" describes this receiver perfectly. The 3300 is available for sampling now. (952) 543-8300; www.sonion.com.
---

Safer Irrigation
Warner Tech-care Products Inc, Minneapolis, now offers OtoClear® Delivery Devices for effective and safe ear irrigation. The OtoClear tip directs the water toward the walls of the ear canal, creating a turbulent spray that effectively dislodges the cerumen. The exit portals control backsplash and deliver the effluent into the basin. Warner also carries the battery-operated Portable Waterpik®, which features effective pulsed irrigation and a self-contained 5-ounce water reservoir. Additional products available through Warner Tech-care include: cerumen removal systems, accessories, tools, and infection control products. Call for a catalog. (800) 328-4757; www.warnertechcare.com.
---

Post-Auricular Canal Aid
SeboTek Hearing Systems, Tulsa, Okla, manufactures the PAC hearing instrument, which offers discreet same-day fitting; delivers superior acoustic performance that traditional hearing aids can't achieve; and does so across a huge fitting range, including losses up to 90 dB. Its patented design eliminates occlusion effect and feedback, and its proprietary High-Fidelity Acoustic Coupling system delivers extended frequency response up to 14,000 Hz. Multiple models are available to meet consumer preferences and budgets. (800) 388-9041; www.sebotek.com.
---

Custom Battery Imprinting
Hocks Hearing Healthcare Products, Portland Ore, offers FREE custom imprinting on iCellTech hearing aid batteries. Interested in growing a business, increasing office traffic, selling more hearing aids, and increasing walk-in traffic? With quantity discounts as low as 21 cents a cell and fast turnaround time, Hocks can help. (800) 654-6257; www.hocksproducts.com.
---

Full-Featured, Mid-Range Hearing Instruments
Siemens Hearing Instruments, Piscataway, NJ, introduces CIELO, a full-featured, mid-priced family of hearing instruments. Available in a variety of custom and BTE models, including the latest open-fit BTE style, CIELO offers six frequency shaping and compression channels with adjustable crossover frequencies, enabling precise fitting to the patient's audiogram and dynamic range. The noise reduction system suppresses disruptive sounds without impacting the speech signal. Extremely flexible, CIELO offers three hearing programs and features an adaptive directional microphone that can be configured in multiple programs. All directional models also contain wind noise reduction for outdoor activities. An adaptive directional microphone system is standard on CIELO Dir BTE, and optional on ITE, HS, and ITC models. The AutoPhone function, available in select CIELO BTE and custom models, enables telephone use without the requirement of manual adjustments by the wearer. The open-fit BTE design, CIELO Life, features soft, flexible, nonoccluding LifeTips that fit comfortably in the ear canal for a virtually invisible appearance. CIELO Life does not require a custom-made earmold, so patients can be tested and fit in one visit. All instruments come in an array of colors. (800) 766-4500; www.usa.siemens.com/hearing.
---

Directional Technology
Starkey Laboratories Inc, Eden Prairie, Minn, offers Precision Directional Imaging (PDI) available for all Genesis digital products. A unique software addition to the Precision Audio Imaging operating system, PDI improves speech understanding in difficult listening situations found in restaurants, parties, and other loud environments. PDI's single microphone design also eliminates drift and yields significantly quieter directional performance in true in-the-canal instruments. Unlike manual systems, Axent II instruments equipped with PDI's dynamic algorithm continuously monitor signal strength in the omni and directional modes. When the system senses that directional processing will provide noise reduction benefit, it automatically activates a preprogrammed directional pattern. Arista, Sequel, and Endeavour feature user-activated PDI technology. (800) 328-8602; www.starkey.com.
---

Open Earmold
Westone Laboratories Inc, Colorado Springs, Colo, presents the new style #4VH earmold. This custom, hollow, canal-style open earmold is designed to work with virtually any instrument using "air" type tubing. It is created using FIT™ laser technology with built-in "spokes" and a "hub" to hold the tubing. This allows the tube, as it leaves the earmold, to be aligned as close to the head as possible. Each earmold will include an attached half-inch piece of tube to allow the dispenser to friction fit the thin hearing instrument tube into place. Simply adjust the angle of the tube to achieve optimum placement against the head. No gluing is required, making tube changes a snap. The style #4VH earmold is available in clear acrylic, and is produced only in the company's Colorado Springs facility. (800) 525-5071; www.westone.com.
---

Powerful Personal Amplifier
ClearSounds Communications Inc, Burr Ridge, Ill, offers its redesigned Sound Wizard ergonomic powerhouse of a personal amplifier. Use the new Sound Wizard II alone for personal amplification with tone control for clarity, or share it with a friend (it has two headset jacks). Sound Wizard offers a choice of the omni directional or the directional built-in microphone, adjustable for optimum listening. Use it with the optional 95 kHz infrared receiver module for TV listening or theater use. The optional teleconnect module lets you use it as a powerful in-line telephone amplifier. You can even hook it up to optional speakers to use in a conference room. It comes with powerful ear buds, but you can use it with a headset or neckloop. (800) 288-8303; www.hitec.com.
---

Volume Control Series
Deltek/Knowles, Itasca, Ill, features the 7000 series ITE volume controls. Recently released, the volume control features improvements to the switch and resistor life over those offered by the competition. Switch life is rated to 15,000 cycles, but prelaunch testing has shown the switch life to last more than 25,000 cycles without failure. These improvements will be realized by manufacturers in a reduction of returns related to volume control switch failure and the cost associated with each return. Customizable features include a switched or switchless version, knob style, and knob color. The knobs are fully interchangeable with those of the competition. (630) 250-5100; www.deltekelectronics.com; www.knowles.com.
---

Central Auditory Processing Test
Oaktree Products Inc, St Louis, presents Gaps In Noise (GIN), a new test of central auditory processing designed to measure temporal resolution. Critical to speech perception, temporal resolution involves the ability of the auditory system to detect rapid changes in offsets and onsets of sound. In this test, patients are scored according to their ability to detect changes in the duration of gaps of silence embedded within a noise burst. Initial research suggests that the GIN is not influenced by maturational effects after age 6, making it a valuable addition to central auditory test batteries for children and adults. (800) 347-1960; www.oaktreeproducts.com.
---

Phone Line Simulator
Beyond Hearing Aids Inc, Florence, Ky, offers a phone line simulator. This indispensable product allows every office to display and demonstrate an amplified telephone without using an existing phone line. It plays a recorded message and can allow up to five phones to be connected at the same time (using a 5-way splitter). All that is needed is an electrical outlet to plug in the phone line simulator and amplified phone of your choice. Beyond Hearing Aids offers a full line of ALDs and support. (800) 838-1649; www.beyondhearingaids.com.
---

High-Tech Hearing System
Hansaton Hearing Systems, Hamburg, Germany, presents the SOUNDMANAGER, a comfortable, easy to operate, high-tech system that meets all the requirements of a modern communication system. It is distinguished by a small, elegant design, and appears almost invisible when placed in the ear. The Hansaton SOUNDMANAGER provides the best possible hearing and understanding in the most challenging environments thanks to its ultramodern, high-tech electronics. Clinicians can offer customers an extraordinary level of comfort and performance, since this new approach will not be associated with the "orthopedic" stigma of a standard "hearing aid." The SOUNDMANAGER could be seen as an ear accessory or associated with modern communication devices such as MP3 players or hands-free Bluetooth® cell phone adapters. (866) 449-9757; www.hearing-usa.com or [email protected].
---

Health Care Financing Plan
The HELPcard, Springdale, Ark, a health care financing plan, has been providing affordable monthly payment plans to patients for more than two decades. Thousands of audiologists and hearing specialists are making the latest digital technology available to patients by offering financing through The HELPcard. New technology is beneficial only when patients can afford it. (800) 935-3368, ext 475; www.hccredit.com.
---

Upgraded Hearing Instrument Verification System Software
Audioscan, Dorchester, Ontario, the manufacturer of the Verifit® hearing instrument verification system, announces the release of software version 2.4. New features include a fitting system for CROS instruments using insertion gain or Speechmap—when CROS is selected, the Verifit automatically uses the reference microphone on the nontest ear; a real-ear occlusion effect test; ANSI S3.22—2003 and ANSI S3.22—1996; new, reorganized, and updated help files; cursor readout on most graphs; support for shared and networked printers; manual control that shows SPL, gain, and distortion as bar graphs and values; and last-used fitting method, transducer type, stimulus type, and level that may be saved when power is turned off. Tests can be run in Speechmap with no need to enter an audiogram first. (800) 265-2093; www.audioscan.com.
---

Cable Management/Storage System
Pehratek Products, Chaska, Minn, introduces the NOAH's ARC Cable Management/Storage System for the many programming cables that dispensers have to maintain and find to fit and program hearing instruments. This new system neatly and efficiently winds up programming cables into color-coded Pods that store on top of the HI-PRO box or on any flat surface. Up to 10 cable Pods can be stored in each Noah's Arc within easy reach of the computer, eliminating tangled cords or the time spent searching for the right cable in a drawer or hanging behind a door. Each Noah's Arc comes with 10 Cable Pods, storage rack, Mylar cable combiners (to wrap right and left cables together in one Pod), and manufacturer's labels to find the right Pod quickly. Save time and the trouble of always have to untangle programming cables before each fitting. (866) 470- 3532; www.pehratek.com.
---
Turbo Torch Chip Technology
Mid-States Laboratories, Wichita, Kan, announces the addition of the new turbo torch chip technology Earlight with wide angel and focused beam. It offers 100,000 hours of light and no bulb to replace. Comes with probe tip for better otoscopic visibility. (800) 247-3669; www.mid-stateslabs.com or [email protected].
---

PC-Based Audiometers
OTOVATION LLC, Lederach, Pa, has released its Amplitude line of PC-based audiometers. Amplitude addresses the need for efficient and portable audiometric testing on a standard Windows PC. The first model in the Amplitude line, the A1, is based on a headset that can be connected directly to a USB port on a PC running the Amplitude software. The Amplitude A1 is designed to make audiometric testing quick and easy, portable, and usable on a variety of existing PCs, as well as the latest tablet and ultraportable PCs. Amplitude A1 features: USB connection to a desktop, laptop, tablet, or ultraportable PC; connect headset to PC, load Amplitude software, and be ready for testing in about a minute; keyboard, mouse, and touch-screen capable interface; built-in patient database and easy, flexible operation; 11 frequencies from 125 to 8 kHz and intensity range from -10 to 110 dB HL; as well as manual or automated (Hughson-Westlake) testing. (866) otovation (686-8284); [email protected]; www.otovation.com.
---

Volume Control
Sonion, Minnetonka, Minn, features the PJ 185, the world's smallest volume control with built-in on/off switch. Even though the body is small, the PJ 185 still provide users with a large diameter knob for designing all types of ITEs. PJ 185 is becoming the industry standard for small ITE volume controls. (952) 543-8300; www.sonion.com.
---

Cell Phone Solutions
Oaktree Products Inc, St. Louis, Mo, introduces the new NoiZfree™ Telecoil Induction Earhook, a lightweight earhook that plugs directly into a cell phone, providing users the ability to talk on their cell phone without taking out their hearing instruments. Simply switch the hearing instrument to either "T" or "MT" and place the earhook over the ear. Sound from the cell phone will be directed through the hearing instrument. The NoiZfree Telecoil Induction Earhook is available in monaural and binaural. In addition to the 2.5 mm jack for cell phones, this product is available in a 3.5 mm jack for use with audio devices such as CD and MP3 players. (800) 347-1960; www.oaktreeproducts.com.
---

Tools Catalog
Warner Tech-care Products Inc, Minneapolis, offers a full line of Specialty Tools for the hearing aid industry. Warner supplies tools manufactured by Handler, Dremel, and Foredom. If you are looking for tweezers, cutters, scissors, precision screwdrivers, needles, burs, and drills, call Warner for a catalog. The 132-page Warner catalog provides purchasing information on tools, infection control products, impression materials, accessory products, and diagnostic supplies and equipment. Call to receive the fifth edition catalog. (800) 328-4757; www.warnertechcare.com.
---

Ear Conditioner
Westone Laboratories Inc, Colorado Springs, Colo, presents Nurturell™, a safe, all natural conditioner developed to maintain healthy skin in the ear canal. Nurturell gently lubricates the ear, reducing discomfort with natural properties including aloe extract. It also helps with cerumen management by softening earwax, causing less damage to the keratin layer of skin in the ear during removal. Nurturell has many additional skin uses and nurturing properties. Packaged 24 – 1/2 ounce bottles per case. (800) 525-5071; www.westone.com.
---

Artificial Intelligence
Oticon, Somerset, NJ, introduced Syncro, the first hearing instrument with artificial intelligence. Now Syncro 2 introduces a range of innovative new features to this highly successful product: SYNCRO ACTIVITY ANALYZER, AUTOMATIC ADAPTATION MANAGER, and SYNCRO 2 POWER. It is all part of the Oticon promise to continuously improve everything we do—to help the practitioner build higher levels of client satisfaction and practice success. (800) 526-3921; www.oticonus.com.
---

Environmental Sounds DVD
Pehratek Products, Chaska, Minn, introduces a new method for testing and fitting hearing aids with the Environmental Sound Simulator DVD, which features high-quality multimedia recordings of typical listening environments such as groups, restaurants, churches and synagogues, television, automobile, outdoor traffic, and other background noise scenes to realistically recreate those settings that hearing aid wearers have difficulty hearing. This DVD can be played on any DVD-equipped computer or stand-alone DVD player. It is a stand-alone program (not part of any manufacturer's fitting software) that runs on the desktop or alongside Noah-based programs to evaluate and maximize hearing aid performance and patient satisfaction across models and styles of hearing instruments using the same test stimuli. Use the ESS DVD to assess current hearing aid performance, optimize user preferences, create realistic expectations, and demonstrate noise reduction, directional microphones, or multiple program settings. (866) 470- 3532; www.pehratek.com.
---

Personal Listening Device
Available from Hal-Hen Company Inc, Garden City Park, NY, Williams Sound's redesigned Pocketalker offers a smaller sized unit that resembles a cell phone. It features external volume and tone controls, 100 hours of battery life (two AAA alkaline batteries), a removable microphone, and a belt clip—all in a new retail-friendly packaging. Hal-Hen offers a full range of assistive devices for the deaf and the hearing impaired. (800) 242-5436; www.ha