CONFERENCES
Technitrol to Purchase Sonion
Oticon and Professionals to Build Family a New Home
Comfort Audio Opens Doors in US
---
CONFERENCES
Sonion A/S has announced an agreement with Technitrol to sell 100% of the shares in Sonion A/S for $385 million. Technitrol, a publicly listed company (NYSE:TNL) headquartered in Philadelphia, is a worldwide producer of electronic components, electrical contacts, and other precision-engineered parts. Sonion will become part of Technitrol's Electronic Components business. The transaction is subject to the relevant regulatory clearances.
Sonion is based in Roskilde, Denmark, with US offices in Minnetonka, Minn, and also has facilities in Poland, China, Vietnam, and the Netherlands. The company produces microacoustic transducers and micromechanical components for hearing aids, handsets, and other electronic equipment. Sonion employs about 4,900 people, including more than 140 research and development personnel, and had revenues of approximately $180 million in 2007. Technitrol reports that it intends to keep Sonion's current management and professional personnel largely in place.
"We are excited about the prospects of becoming part of Technitrol," says Sonion President and CEO Peter U. Scheel. "Sonion has come a long way over the past 8 years, and we now look into attractive new opportunities that we believe are better realized inside the Technitrol group."
"Sonion's businesses fit seamlessly into our Electronic Components group," says Technitrol Chairman and CEO James M. Papada III. "They serve rapidly growing markets with engineering-intensive, mission-critical products. They thrive on close, collaborative design relationships with customers, and they require expertise in high-volume, quality production operations."
For more information, see the January 24, 2008, edition of HR's weekly e-newsletter, The Insider.
Oticon Inc will work with a team of volunteers gathered from the 2008 AudiologyNOW! Convention to construct a new home which Oticon will donate to Habitat for Humanity. The single-family home will be awarded to a low-income family in Charlotte, NC, and will be dedicated in celebration of the American Academy of Audiology's 20th anniversary, according to an Oticon source.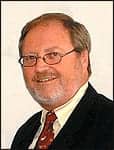 Peer Lauritsen
"We chose a humanitarian effort that would reflect our commitment to People First and allow us to partner with hearing care professionals, as we do everyday, in making an important difference for individuals and families," says Oticon Inc President Peer Lauritsen. "Habitat for Humanity was a perfect fit because the organization plays such an important role in improving the quality of life for many people in need, just as hearing care professionals enrich the lives of people with hearing loss by providing expert care and hearing solutions."
Oticon reports preliminary "blueprints" for the Habitat project are under way, and a key to the success of the effort will be securing volunteers from hearing care professionals who will gather at Charlotte for the AudiologyNOW! convention. "The Habitat house construction is a wonderful way to raise the profile of hearing care professionals and demonstrate the hearing care community's commitment to making a positive difference for individuals and families," Lauritsen adds. "We encourage hearing care professionals to join with us in building this very special Habitat home. We welcome volunteers who can spare as little as half an hour to support this important cause."
Oticon also reports it will provide a donation to Habitat for Humanity for each Oticon hearing device purchased from February 1 through April 5. According to the company, arrangements for the donations have been made so anyone unable to participate in the construction might still be able to support the Habitat project.
Volunteers are scheduled to begin work on the home April 2, with a celebratory wall raising to follow April 4. For more information, contact www.oticonusa.com.
Comfort Audio, a Swedish-headquartered leader in assistive listening devices and systems since 1994, has opened a sales and marketing office in the United States.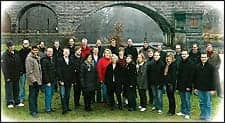 Comfort Audio's team in Sweden.
The company's initial product offerings in the United States, Comfort Contego™ and Duett™, reportedly take aim at the key issues confronting hearing health care. "Our success so far in Europe and other international markets," says Comfort Audio CEO Ragnar Ahgren, "is based on three fundamental design philosophies: Uncompromised technology and sound quality; sophisticated style and attractive designs; and affordability and products priced at different buyers."
Comfort Audio only develops assistive listening devices and systems. "By not competing with hearing aid makers, but rather developing products that are either a complement to hearing aids or a substitute for patients not yet ready for them, we see our products as an easy to sell, easy to service complement to the products offered by dispensers today," says Ahgren.
Ahgren says that an example of where Comfort Audio's design vision is evident is Comfort Contego, a high-definition digital wireless FM system. Also offered is Comfort Duett, a small affordable personal amplifier that delivers up to 60 dB amplification and can be integrated into home audio equipment, such as TVs, stereos, and standard telephones.
The company is currently working on additional products. "We cannot tell the market yet, but when we are ready, we know we will set the marketplace abuzz!" says Ahgren. "We didn't come to the United States to be an also-ran," he continues, "we want to do some shakin' and rock and roll."
Comfort Audio is headquartered in southern Sweden in a medical device-rich region known as "Medicon Valley," where several Danish audiological firms are also located. Outside of North America, the company offers additional products and systems for use at work, schools, and public places. Comfort Audio Inc, located in Culver City, Calif, is a wholly owned US subsidiary, and was incorporated in 2006. The company will provide sales, service, and marketing needs for the United States and Canada via quality distributors reaching different segments, including hearing care professionals.