Phonak U Hosts AuD and PhD Students

Phonak brought 275 doctoral and AuD students to Chicago for their educational event held August 11-13.
Warrenville, Ill—The second annual meeting of "Phonak U," an educational conference held exclusively for students in residential AuD programs, was held at Phonak's US Headquarters near Chicago. This year, 275 AuD and PhD students, representing 51 graduate programs from across the US, were welcomed to the event by Phonak US President Cathy Jones. Through a series of lectures, workshops, and "hands-on" experience with hearing aids, FM systems, and real-ear measurement equipment, the program was designed to augment the experience gained in the students' educational programs and clinical rotations.
Students were able to customize their experience by creating their own program schedule by selecting from the array of course offerings. The interactive format also included lectures given by a distinguished group of Phonak employees and guest faculty, including Drs. David Fabry, Barry Freeman, Alan Freint, Patricia Gans, Richard Gans, Ron Gleitman, Gyl Kasewurm, Sergei Kochkin, Catherine Palmer, Paul Pessis, Joseph Smaldino, and Robert Sweetow. A wide variety of educational topics were covered, including an extensive offering of adult and pediatric amplification topics, sessions on vestibular diagnosis and treatment, aural rehabilitation, cerumen management, forensic audiology, ethics, and practice development. In addition, students participated in "role play" exercises designed to simulate real-world interactions, discussed interviewing skills, professional issues, and had the opportunity to improve their earmold impression and modification, hearing aid programming, and clinical verification skills.
Next year's meeting will be held in August. Interested students should contact David Fabry at (800) 777-7333; e-mail: [email protected].
---
Dover Corp Purchases Knowles Electronics
New York—Dover Corporation (NYSE: DOV) announced August 29 that it has signed a definitive agreement to acquire Knowles Electronics, Itasca, Ill, for $750 million from Doughty Hanson & Co. Dover is a diversified industrial manufacturer with $6 billion in annualized revenues from operating companies that manufacture specialized industrial products and equipment. Upon customary regulatory approval, Knowles will join the Components Group of companies within Dover Electronics.
Knowles has estimated revenues of $210 million and is the world's largest producer of high performance transducers for hearing instruments and is also a leading manufacturer of micro-acoustic components. More recently, Knowles has manufactured MEMS (micro electro mechanical systems) microphones, which are designed to provide significant advantages over existing technology, and have applications in the high-end cellular phone market.
"The management team of Knowles looks forward to becoming part of the Dover family of companies and believes that joining Dover will allow Knowles to continue to develop innovative products to better serve our customers and to expand our marketplace," says Knowles Electronics President John Zei.
"We are excited to have the opportunity to acquire Knowles, the market leader in transducer-based components for hearing aids" says Ronald L. Hoffman, president and CEO of Dover. "Knowles is an outstanding company with strong brand recognition and significant growth potential. With most of Knowles' sales in the hearing aid industry, this acquisition…significantly advances Dover's position in the medical and life-sciences components markets. Knowles has a strong management team with significant R&D resources and an impressive track record of developing new, patented products and identifying new niche markets—all key elements of future growth."
"Knowles is the clear leader in micro-acoustic technology applications related to the hearing aid industry," says Bob Livingston, president of Dover Electronics. "We believe Knowles management will continue to find new opportunities to leverage its technology into other market applications, further strengthening and diversifying the product offerings of our Component Company group."
Doughty Hanson & Co, the former owner of Knowles, is a European private equity firm. It acquired Knowles in 1999 for $530 million, and has since sold off seven of its major fund holdings, returning $4.5 billion to its investors.
---
IHS and ADA to Hold Conventions in October
Two major hearing health care conventions and exhibitions are featured in October. The International Hearing Society (IHS) holds its 54th annual convention October 19-23 in Quebec City, Canada, and one week later, the Academy of Dispensing Audiologists (ADA) holds its 29th annual convention October 26-29 in Savannah, Ga.
The IHS Convention kicks off its programs with an interactive workshop Wednesday, October 19, and Thursday features four groups of seminars as well as the Society's Annual Membership Meeting. Friday offers a full day of seminars and the opening of the Exposition Hall. The convention concludes Saturday, October 22, with the ACA Breakfast, a morning of visiting exhibits, the annual Technology Luncheon and Seminar, ending with the Annual IHS Banquet. "Attendance for the convention has already surpassed that of recent years," says IHS Executive Director Cindy Helms, "and the excitement is continuing to build…We will be celebrating an excellent year in the hearing health care industry." Helms reports that, as of late August, 70% of those registering for the event were from outside of Canada.
The ADA Convention has as its theme, "Full Steam Ahead," and will start with several Day-Ahead sessions, including workshops on cerumen management and auditory evoked potentials. A one-and-a-half day course is devoted for the education of front-office personnel. Additionally, a full-day seminar on the topic of personal finances for dispensing professionals will be offered. Other seminars at the convention will take on the issues of business/practice management, amplification and ALDs, legislative and professional issues, biomedical-related topics, and round-tables will address hot topics in the field of hearing health care. "In 1988, ADA took the bull by the horns with the AuD being declared as the distinctive designator of dispensing audiologists," says ADA President-Elect Larry Engelmann. "If you go back and look at all of the subsequent conventions and curriculums, you will see that we've incorporated diagnostics, cerumen management, vestibular problems [and other important areas of audiology] into our programs. ADA has a history of putting serious thought into its convention programming, and this year's convention attendees will be very pleased with the work that the ADA Convention Committee and our new management firm has done."
Information on the ADA Convention can be found at www.audiologist.org, and information on the IHS Convention can be found at www.ihsinfo.org. Additionally, see the special section in this month's HR for more information about events and products in the respective exhibit halls.
---
Med-El Gains FDA Approval for PulsarCI100 Cochlear Implant
Research Triangle Park, NC—MED-EL Corp received permission from the FDA to begin importing its PULSARCI100, which offers some of the most highly advanced cochlear implant technology available, according to the company. The new PULSARCI100 cochlear implant is already on the market in Europe and Canada, and is said to be the first to incorporate I100 technology, a highly durable and power-efficient electronics platform with wafer-thin layers of sophisticated electronics arranged on a single miniaturized chip. The company also markets the FDA-approved COMBI 40 Plus cochlear implant.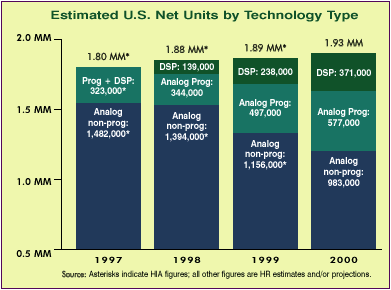 The MED-EL PulsarCI100 cochlear implant.
"We have been waiting for the opportunity to offer this device to our patients because of the new, advanced electronic design and the chance to provide patients with the absolute latest in cochlear implant technology," says Herald Pillsbury, MD, from the University of North Carolina at Chapel Hill who implanted two patients with the device at the end of August.
Additionally, MED-EL is currently conducting research with PULSAR patients around the world to explore a number of key concepts in cochlear implantation, including issues related to:
• "SmartSystem." Research examines how technology patented by MED-EL could be used to reduce channel interaction with simultaneous stimulation.
• Fine structure. Research explores various approaches to providing fine frequency detail to cochlear implant users, comparing and contrasting the potential outcomes of temporal and place coding with sequential and simultaneous stimulation.
• Auditory nerve response telemetry (ART™). Research is investigating uses for the patented adaptive sigma-delta modulation and precision triphasic pulses in EAP recordings.
"For over two decades, MED-EL has searched for ways to improve the understanding of speech in difficult listening environments and heighten the appreciation of music for cochlear implant users," says Kim Jackson, interim CEO of MED-EL Corp. "We are confident that current and future research with the PULSARCI100 will bring us closer to realizing our mission."
---
Amplifon Purchases Sounds of Life and 22 HearUSA Offices
Milan, Italy—In early June, Amplifon paid $11 million for Sounds of Life Hearing Centers, a hearing instrument dispensing network of 39 offices that are located in California, Nevada, Maryland, Washington, and Oregon. The offices have been integrated into the company's Sonus corporate outlets. Sounds of Life was run by its president and CEO James Piccolo from corporate offices in Las Vegas. It is estimated by Amplifon that these former Sounds of Life dispensing offices will generate an amount similar to the purchase price in terms of yearly revenues.
"This new acquisition is part of the Group's expansion strategy for the United States," says Amplifon Group CEO Franco Moscetti, "a market which we consider crucial since there are huge opportunities for further development."
Shortly after this acquisition, Amplifon purchased 22 offices located in Minnesota, Wisconsin, and Washington from HearUSA for approximately $1 million in late June. These offices were also integrated into the Sonus network. "We will continue on this course by purchasing shops in strategic areas," says Moscetti. "Our objective is to further increase our market share in the United States."
Amplifon currently operates through Sonus USA, Miracle Ear, and National Hearing Centers in the US, where it is estimated by HR to have a market share of 17%. The transactions—as well as numerous individual purchases in the last several years—are part of a 3-year plan of aggressive purchasing for Amplifon that started in 2004. The company's stated goal is to purchase over 300 dispensing offices worldwide by 2006 that will generate additional revenues of $100 million. The US market, which constitutes 31% of the Amplifion Group's consolidated revenues, is the most important in the group's acquisition strategy, according to the company. Sonus has reportedly purchased 155 dispensing offices/practices over the last year and a half, and it now owns 243 outlets in the US.
---
Clarity Plays Role in Country Music Awards
Las Vegas—Clarity and The EAR Foundation supplied products and information for performers at the 40th Annual Academy of Country Music Awards. Each artist received a Clarity C440 Cordless Amplified Telephone and Clarity Professional PL100 Personal Listener in the Tupperware Party Gift Lounge backstage at the event.
"Most people tend to think loud music only affects those in the audience, but country music artists and musicians are exposed to loud sounds on a near daily basis," says Michael Glasscock, founder of The EAR Foundation. "And it's this continued exposure to high volume sounds that can lead to permanent hearing loss. We are here to help educate artists about potential damage to their hearing, while also educating them on hearing loss prevention and solutions."
While country music artists may be exposed to above average sound levels, the increased prevalence of noise pollution is causing hearing loss not just in the music community, but also among millions of people across America. More than half of those contacted for the Baby Boomer Hearing Loss Survey, which was conducted by The EAR Foundation and Clarity, reported some degree of hearing loss. This data suggests 38 million Americans, or half of those Boomers aged between ages 40-59, face some form of hearing loss.
The survey further revealed that among those who reported hearing loss, few are doing anything about it. Only one 1 of 3 individuals (34%) who said they experienced hearing loss have had their hearing tested. Hearing experts confirm that, while hearing loss seems to be occurring at a more rapid pace among Boomers than among previous generations, they are not actively looking for solutions.
"Musicians—as well as Baby Boomers— need to take advantage of both audiology testing and the wealth of products for better hearing," says Clarity President Carsten Trads. "There is no need for anyone to literally suffer in silence."
---
AARP Magazine Addresses Hearing Health Care
AARP Magazine, the magazine of the American Association of Retired People, published an article in its July edition by Sid Kircheimer entitled "Sensational Tune-Ups" that dealt with ways to enhance and preserve your five senses, including hearing. The article mentions the use of ear protection, screening for those who have diabetes, recommendations about not blowing your nose too hard (and damaging your ears via pressure), and the dangers of taking too much aspirin which is an ototoxin.
The article also advises against listening to loud music when exercizing. Although exercise has been shown to improve hearing health, probably due to increased blood flow (eg, see the article by Alessio and Hutchinson in the April 2004 HR, pgs 36-37), the article states that exercise may also restrict blood flow to the nerves that control hearing, making them more vulnerable at that time. It says that, while researchers disagree on the subject, "some studies indicate that loud music or noise heard during exercise may be more damaging than noise heard at the same volumes when you're sedentary." In general, doctors recommend that, to be on the safe side, you should not listen to loud music while working out unless you absolutely need the music in order to motivate yourself to exercise.