Beltone Electronics
Beltone Electronics, Chicago, Ill, announced the hire of Jim Rollins as regional sales manager for the Northwest region.

Jim Rollins
Rollins' previous sales experience includes territory field sales for the Southwest states with Siemens Hearing Instruments, Piscataway, NJ. Prior to that, he served as an inside sales manager for the Western and Northwestern states with Sonic Innovations, Salt Lake City, Utah. Earlier in his career, Rollins succeeded in various sales, marketing, and consulting functions.
"Jim brings a wealth of knowledge about the hearing care industry to his customers. He understands their working needs and knows how to make them successful," says Beltone President Todd Murray. "In addition, he brings excellent marketing and business management skills to his new position."
---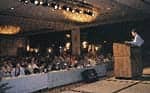 Michele Ahlman


Andy Olsen
Hearing Components
Hearing Components, Oakdale, Minn, announced that William M. Maass has joined the company as vice president of sales and marketing. Prior to joining Hearing Components, Maass was employed by Sterion Inc, Minneapolis, as vice president of marketing. Maass has more than 30 years experience in sales and marketing management positions in the health care industry, including over 20 years with 3M's Health Care Sector.
"Hearing Components is fortunate to have an executive with Mr. Maass' experience as our vice president of sales and marketing," says Robert Oliveira, president of Hearing Components. "We expect that Bill's strong sales and marketing background will help to accelerate Hearing Components' sales growth."
---
ClearSounds Communications, Inc
ClearSounds Communications Inc, Burr Ridge, Ill, is proud to announce the naming of Michele Ahlman as president of the company. Ahlman has been vice president of operations & marketing for HITEC Group International since 1999; she began her career with HITEC in 1990 as an account manager and is familiar with all aspects of product distribution and quality control—knowledge which comes from personally working in every capacity with HITEC.
Ahlman's previous experience includes construction administration and field engineering for Kenny Construction Co, Wheeling, Ill, and new construction administration for LPC Inc.
Additionally, the newest member of the ClearSounds Communications team is Andy Olsen, who will be the national sales manager of ClearSounds Communications, based out of ClearSounds' Minneapolis office.
"Andy was literally born to sell ALDs," says Ahlman. "As the son of deaf parents, he is fluent in American Sign Language and commands a complete and empathetic understanding of hearing loss, as well as first-hand experience with the value and importance of ALDs in the lives of people with hearing loss."
Olsen has been involved with sales of assistive listening devices for the hard of hearing community since 1994, when, as a key sales representative, he worked closely with the president of Harris Communications in Minneapolis, and managed the company's dealer accounts. In 1997, he joined Williams Sound in Minnesota as a regional sales manager. In being promoted to ALD and educational sales manager, Olsen participated in product development, worked closely with large state distribution programs, and consulted and worked closely with VA hospitals, audiologists, and schools. In 2003, he continued his involvement with the education market as the national sales manager/education for Telex of Burnsville, Minn.
---
Siemens Hearing Instruments Inc
Siemens Hearing Instruments Inc, Piscataway, NJ, announces the addition of several new sales representatives to the Siemens team. These individuals were selected to connect Siemens with hearing care professionals across the United States.

Fred Boudreaux
Fred Boudreaux Jr, recently joined Siemens Hearing Instruments as field sales representative for North and South Carolina. Boudreaux is responsible for supporting and growing business by helping his clients meet and attain their practice goals with a superior product and marketing plan. Prior to joining Siemens, his experience consisted of private practice in audiology and dispensing hearing instruments. He worked in upstate New York before relocating to Charleston, SC, in 2002.

John Davis
Siemens appointed John Davis as inside sales representative for Oklahoma and Northern Texas. His responsibilities include assisting hearing care professionals in identifying the right solutions for their patients' needs. Other responsibilities include assisting professionals in their daily functions and helping make their business successful. Prior to joining Siemens, Davis spent 6 years as a national board certified hearing instrument specialist and office manager for a practice in Port Orange, Fla.

Michele Schultz
Michele M. Schultz, MA, is the new Western US Field Sales Representative, responsible for maintaining and generating business opportunities while providing product information to the Veterans Administration and other government services agencies. To ensure understanding of Siemens hearing instruments, Schultz travels throughout 11 western states to answer clinician questions regarding options, ordering, pricing, and policies. Prior to joining Siemens, she was a clinical audiologist at a private practice in California.
Siemens Hearing Instruments also announces the promotion and addition of several key individuals joining the Siemens team.
Tim F. Bishop
Tim F. Bishop, Western operations manager, is now responsible for production efforts in the California facility including the LasR lab, assembly, and repair departments. Prior to joining Siemens, Bishop served as plant manager in a consumer product facility.

Stephen Levine
Stephen Levine has accepted the position of manager, continuous improvement at Siemens Hearing Instruments headquarters. Levine has over 15 years of manufacturing and materials experience in the telecommunications and medical device manufacturing industries. Levine's prior roles at Siemens Hearing Instruments were as project manager, advance manufacturing, and operations manager.
Levine is responsible for management of all green belt and black belt projects (elements of the "Six Sigma" quality program) within Siemens Hearing Instruments. He will formalize the continuous improvement process to help develop, assign, and track the progress of projects assigned to the company's internal "green belt" and "black belt" candidates. Additionally, Levine will have responsibility for the 3i (ideas, innovations, and initiatives) program as well as other activities associated with quality and productivity improvement.

Jim Sewell
Siemens has appointed Jim Sewell as Northeast regional sales manager. Sewell has over 15 years of experience in the medical industry. Prior to joining Siemens, he was most recently area sales director at GE Healthcare, Waukesha, Wis, where he was responsible for managing all aspects of field activity. As Northeast regional manager, Sewell is responsible for managing territory sales representatives and overseeing activities to maintain and develop business in the Northeast Region.

Chris Trinh
Siemens also named Chris Trinh as the new Southeast operations manager. He is responsible for all operations and manufacturing personnel at the Georgia facility. Prior to joining Siemens, Trinh successfully established the Quality Department at Siemens Hearing in Australia and assisted with training and manufacturing management of hearing instruments at Siemens Medical Instruments in Singapore.

Jose Vieira
Jose Vieira will assume responsibilities as Northeast operations manager at Siemens Hearing Instruments. Vieira has over 24 years experience with the company, including 8 years as operations manager and most recently as advanced manufacturing project manager. His extensive knowledge of the company's products, processes, and people will allow him to continue to improve manufacturing. He is responsible for product quality, turnaround time, and customer satisfaction.