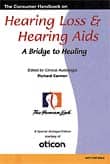 Barrier System
Otomed™ Technologies Inc, introduces its rotational Ridwax™ barrier system. The system protects hearing instruments from cerumen damage, and has a rotational barrier door for easy maintenance. The acoustically transparent door comes color coded for quick identification of the left and right ear. The system can be used with SOFT canals or IROS venting and can be assembled in less than 1 minute.
---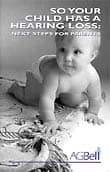 Digital Instruments
United Hearing Systems, Central Village, Conn, introduces digital K-Amp hearing aids, the newest addition to the company's growing line of analog and digital products. This new product is the result of the development team at Etymotic Research Inc, working with Gennum engineering, and is designed to offer a high quality digital product at a consumer oriented-value.
---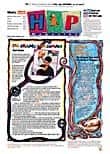 Digital Instruments
Siemens Hearing Solutions, Piscataway, NJ, introduces TRIANO, a new digital hearing instrument. This new hearing system offers an algorithm that analyzes the environment and makes the appropriate signal processing changes. The highlight of the product is the speech comfort system, which provides increased comfort and processing, and three components: automatic situation detection, signal optimization, and automatic directional microphone. TRIANO is available in models ranging from a small CIC to a super power BTE, and is appropriate for all types of hearing loss, from mild to profound, and all age types, from infant to senior.
---

Micro-Tech
Micro-Tech Hearing Instruments, Plymouth, Minn, announces the release of a new line of five models of behind-the-ear conventional hearing instruments. The MT13pp and MT13PPX are both mini high-powered adjustable circuits, designed for moderate or severe hearing loss. The MT13PPX also includes direct audio input capabilities. The MT675XP model has been created for severe to profound hearing loss, and contains dual receivers and direct audio input. The MT13E is a mini basic design circuit for moderate hearing loss, while the last model, the MT13AGC-0, features output compression.
---
Corrections to DSP Buyer's Guide
In the January 2002 issue of Hearing Review, the following entries in the DSP Buyer's Guide contained an error or were inadvertently deleted from the shopper.

Offered by Electone for patients ready to move from analog to digital technology, Sierra combines 100% digital sound quality with exceptional compression function and affordability. Electone's Sierra digital technology features: 100% digital signal processing; input/output compression characteristics avoid saturation-induced distortion; microphone noise reduction provides cleaner signal; AGC-O provides maximum comfort at high input levels; AGC-I adjustment offers appropriate amplification for low input levels; sound clarity with digital and cellular phones, and direct audio input for assistive listening devices (BTE). Up to four potentiometers provide control over low-frequency gain, maximum gain, and input and output compression. Sierra is available in all custom models and a BTE.

Rexton, Plymouth, Minn, has three fully digital hearing instruments designed to match patient lifestyles, listening environments, and budgets. Rexton 3D Ultra is a fully DSP instrument with three channels, six bands, and up to three independently programmable memories. Adjustable parameters include six-band sensitive voice processing, six-band frequency response shaping, microphone noise reduction, extended directional microphone programming options, power on delay, low battery, and memory alert tones. The company's Sensation incorporates 100% DSP in up to three independently programmable memories (including telecoil). Rexton's gran-D custom is a two-channel, fully digital signal processing instrument with three adjustable detent trimmers. It features a two-channel automatic compression adjustment system, microphone noise reduction, and active signal processing, with directional options on the RX-12 and RX-20.