St. Croix Medical gains FDA approval for U.S. clinical trials on Envoy MEI system
Minneapolis — St. Croix Medical announced that the U.S. Food and Drug Administration (FDA) has approved the company's request to begin clinical trials in the U.S. for the Envoy totally implantable middle ear implant (MEI).
The Envoy system uses a piezoelectric transducer, or sensor, to detect sound vibrations from the malleus bone, that is attached to the back of the eardrum. It converts vibrations into electrical signals that are amplified, filtered and then transmitted as mechanical vibrations through another piezoelectric transducer, or driver, to the stapes bone. The Envoy's implantation is said to be nearly identical to middle ear reconstruction and cochlear implant procedures.
The company is currently conducting clinical trials in Europe for the CE Mark which is a proof of conformity and is required for all implantable medical devices marketed in Europe.
The Envoy hearing restoration system uses technology and components contained in implantable cardiac pacemakers and other implantable systems to deliver a totally implantable, biocompatible, small and effective hearing restoration therapy, according to the company. Out of more than 60-million people in the industrialized world who have lost their hearing, 30 million could use the implant, says the company. (For a review of the Envoy system's technology, as well as other MEIs currently being developed, please see "Update on Implant Technology" in the Dec. 1999 HR, pg. 12.)
---
National Managed Care Summit for Hearing Health to be held in Reno
Corrales, NM — A three-day conference on managed care as it relates to hearing health care businesses will be held April 16-18 in Reno, NV. Sponsored by HEARPO, the summit is designed to provide hearing care professionals with information on practice-building strategies for success and increased revenues through workshops, seminars, think-tanks and one-on-one meetings. HearPO and HearPO Access membership is not required to attend the event, and all hearing care professionals are invited (although there are a limited number of seats available).
Presentations include "A Legislative Perspective to Managed Care" by Barry Freeman, PhD; "A New Approach to Government Benefits" by Harvey Abrams, PhD; "Working Together, Not Against One Another," by Mike Meaves, MD; "Maximizing Third Party Reimbursement" by Kim Cavitt, MA, and "Being in Practice for Yourself, Not by Yourself" by Dan Quall, MS, and Kathy Foltner, MA. For information on the Summit, contact HearPO: (800) 349-2208; website: www.hearpo.com.
---

UHS moves to new production facility
Central Village, CT—United Hearing Systems (UHS) announced it has relocated to a new, modern production facility to provide more adequate space for current and future manufacturing needs. The work spaces are well-suited to the UHS's new "lean" manufacturing process, according to the company. The second floor houses the administrative offices in a spacious meeting area. UHS will host educational meetings and seminars on-sight. Factory tours and laboratory workshops will be regular features of many of their programs. w
---
Congress extends moratorium on Medicare cap; increases funding for IDEA, ENDI and NIH programs
Washington, DC — Several provisions contained in the omnibus spending bill passed by Congress prior to its adjournment represented major victories for both consumers and members of the speech-language pathology and audiology professions, according to the American Speech-Language-Hearing Association (ASHA).
Among the provisions of the Consolidated Appropriations Act of 2000 related to hearing care are substantial gains in funding for programs under the Individuals with Disabilities Education Act (IDEA), for early hearing detection and intervention (EHDI) state grants and for clinical research at the National Institute on Deafness and Other Communication Disorders (NIDCD).
"The Consolidated Appropriations Act of 2000 includes a number of victories for ASHA and its members," says ASHA President Jeri Logemann. "The moratorium on the Medicare cap [$1500 for therapy services] and increased funding for IDEA, EHDI and NIDCD are issues to which ASHA has devoted significant time and energy, and we are pleased that the letters, phone calls and visits to Capitol Hill by consumers and our members helped to bring about this important legislation."
Among several positive points that the bill promulgates, it includes a 23% increase in overall funding for children with disabilities under IDEA. Additionally, Part B funding for state grants under IDEA was increased by almost 30% over the year 2000 spending, exceeding President Clinton's budget request for such programs by more than $1 billion.
Funding for state grants for EHDI programs, also known as the "Walsh Provision," was more than doubled under the bill to $14.3 million, while funding for NIDCD was increased by 14% to more than $300 million.
---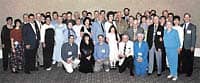 Lucille Beck receives Presidential Rank Award
Washington, DC — Lucille B. Beck, PhD, director of Audiology and Speech Pathology Service for the Dept. of Veterans Affairs (VA), received the Presidential Rank Award for Meritorious Executive Service in late November. Beck is the first audiologist ever to receive the honor. The award, which is awarded to fewer than 5% of career senior executives, recognizes excellence in public service. In a written statement, President Clinton recognized Beck "for sustained extraordinary accomplishment in management of programs of the United States government and for leadership exemplifying the highest standards of service to the public, reflecting credit on the career civil service."

Robert Glaser, PhD, president of the American Academy of Audiology (AAA), says "It's a real honor for audiologists everywhere to have one of our own recognized at such a high level. Lu's commitment to excellence and high standards of leadership are an inspiration to us all."

Beck has been a leading researcher, administrator and educator in the hearing health care field, as well as past president of AAA. Currently, she is responsible for leading approximately 1000 audiologists and speech-pathology professionals in 150 medical centers across the U.S. Beck's career has also included teaching positions at George Washington Univ. and Gallaudet Univ., she is a recipient of the AAA Distinguished Service Award and was a co-author of the recent JAMA article (Oct. 11, 2000) on the efficacy of three hearing instrument circuit types (see this month's Cross-Currents, p. 59).
---
Forbes Global ranks William Demant in world's top-20
Somerset, NJ — William Demant Holding, the parent company of Oticon, Inc., has been named by Forbes Global as one of the 20 "star performers among the world's most dynamic businesses" in its annual review of the world's best small companies. Forbes Global is the international edition of Forbes magazine.
Businesses selected for the top-20 list of the best small companies are "stars in their respective fields," according to Forbes. Companies chosen "have solid growing businesses" and "hold the promise of becoming very large companies."
The 96-year-old William Demant Holding, traded on the Danish stock market, has quadrupled its share price in the past 12 months. The company has been experiencing 25% annual profit growth for the past eight years and manages the sales and distribution of 45 companies in 24 countries, according to the company.
Oticon's U.S. operations recently expanded its Somerset manufacturing facilities by approximately 50% due to high consumer demand for digital hearing instruments, and it reports that it now employs 250 people.
---
Ultratec gains ISO 9000 certification
Madison, WI — Ultratec, Inc. has been awarded the International Organization for Standardization (ISO) 9000 Certification for its corporate-wide commitment to quality assurance practices. Ultratec is reportedly the only company that manufactures TTYs in the U.S. to have earned this certification.
The ISO 9000 Certification was awarded after a comprehensive audit of quality assurance procedures throughout Ultratec's manufacturing and administrative departments. ISO developed the ISO 9000 standards as international guidelines for management practices to ensure organizations can consistently deliver products that meet the high quality requirements. The company's products, which include text telephones (TTYs), amplified telephones and signaling systems, have consistently ranked first in quality among customer satisfaction surveys, according to the company.
"Ultratec has always been dedicated to providing exceptional quality in the products we develop," says Ron Schultz, vice president of Quality Assurance. "Achieving ISO 9000 Certification lets our customers know that our commitment to quality does not just apply to our products, but extends to every aspect of our business."
---
Ear Technology Corp. announces changes in battery storage recommendations
Johnson City, TN — Operating instructions for the Dry & Store hearing aid conditioning system have been revised to recommend leaving the batteries in the hearing aid during conditioning.
Original operating instructions said to remove the batteries, following the protocol established for other drying agents. "Consumers started telling us that they had either forgotten to remove the batteries or just got tired of removing them so they left the batteries in and noticed their batteries seemed to last longer." says Rick Gilbert, Ear Technology Corp.'s general manager.
According to the company, independent testing has confirmed two facts:1) The drying system did not have any adverse impact on their zinc air batteries, and 2) Under high humidity conditions, the system's conditioning can actually increase battery life by 10-20 percent.
Battery life is affected by the amount of energy needed to drive the hearing instrument. By removing moisture from the hearing aid, Dry & Store conditioning reportedly increases the hearing instrument's efficiency, reducing the battery drain, and thus prolonging battery life. Users are now instructed to open the battery compartment door, but leave the battery in place during conditioning.
---

SP technology approved by FDA for use in Soundbridge middle ear implant
San Jose, CA — Symphonix Devices, Inc. announced that the FDA has approved the incorporation of a new digital signal processing (DSP) technology into the Vibrant® Soundbridge™ middle ear implant. The Vibrant Soundbridge is a semi-implantable hearing device designed to treat moderate-to-severe sensorineural hearing loss. The eight-channel DSP technology was developed by Siemens Audiologische Technik GmbH and has been licensed to Symphonix as part of a technology agreement finalized in 1999. In December, Symphonix had announced it had accelerated the terms of its global marketing alliance with Siemens, resulting in a full transition of European marketing operations to Siemens effective Jan. 1, 2001.
"By utilizing the Siemens DSP technology platform, Symphonix can offer hearing health care professionals greater flexibility in programming the Vibrant Soundbridge while also positioning the device for future upgrades," says Kirk Davis, president and CEO of Symphonix. The Vibrant Soundbridge will now be programmed using Siemens' PC-based CONNEXX™ fitting software. The DSP technology is housed in the externally worn Audio Processor portion of the Vibrant Soundbridge, allowing current users to update their system without further surgery.
---
SonaMed recognized as one of New England's 50 fastest growing companies
Waltham, MA — SonaMed Corp. has been recognized as a "New England Technology Fast 50—Rising Star" for 2000. The Rising Star category ranks New England's fastest-growing technology companies based on three-year revenue growth. The category is part of the New England Technology Fast 50 program, co-sponsored by the professional services firm of Deloitte & Touche and the law firm of Hale and Dorr LLP, in association with Mass High Tech and the Journal of New England Technology.
SonaMed's president and CEO, William F. Dolphin, credits the company's revenue growth over the past three years to the dedication of the SonaMed team and the company's cutting edge technology. "The health care market in the first decade of the new millennium will be transformed by the convergence of medical, communication and information technologies," says Dolphin. "SonaMed has successfully aligned its core expertise in the fields of advanced signal processing and infometrics with the patient's and physician's need for highly accurate, non-invasive and low-cost solutions for medical monitoring and diagnostics. We're honored to be recognized as one of New England's fastest growing technology companies and confident our growth will accelerate as we continue to introduce innovative solutions to the rapidly changing health care market."
---
PCO enrolls 103 students in Winter AuDonline courses
Elkins Park, PA — The Pennsylvania College of Optometry (PCO) School of Audiology's latest report on the AuDonline.org distance education program states that in Winter 1, 2001, 103 students have occupied 114 seats in six courses and average class size is 19 students. Students include people from such diverse places as Alaska, Labrador, Pakistan and New Zealand. Courses run for six weeks with a two-week break between sessions and no classes in December. Students can take more than one course in a session or they can choose to sit out a session if they wish.
The program consists of 40 individual six-week courses taught by specialists who practice in each area. The program is Internet-based—from the application process to graduation—and therefore accessible 24 hours a day globally. A toll-free help-desk provides students and instructors assistance with all computer issues.
Based on a personal interview and the EPAC profile, a personalized curriculum is established for each student. To date, the number of courses required ranges from 7-27 with an average of 12. The program has been designed as an option for busy practicing audiologists.
A two-hour comprehensive examination, administered at Prometric (formerly Sylvan) Testing Centers is weighted to the courses in each student's curriculum. For example, if you take 12 courses, your exam will consist of one item from each of the 40 courses and an additional nine items from each class taken for a total of 148 items with a pass criterion of 63%. The comprehensive exam provides validation of participation in the courses, as well as justification for granting advanced standing for, in this case, 28 courses.
The average total cost, $5,500 over approximately 2 years, consists of the $100 application fee, $2250 enrollment fee, $250 for each course and $150 graduation fee (includes graduation garments, etc.). Students officially graduate at the end of the semester in which they complete all requirements and the commencement ceremony is in May. For more information, email [email protected] for a brochure and information about the program.
---
HEARx announces 2001 revenue expectations
West Palm Beach, FL — Based on the reported success of various marketing programs directed to private-pay patients and the initial results of four weeks of Beta-testing, the new HEARx nationwide call-center revenues for 2001 are expected to exceed $70 million, according to Paul A. Brown, MD, chairman of the board for HEARx Ltd.
"We expect to achieve our revenue growth primarily from the existing 80 centers and plan to open only two or three new centers in California this fiscal year," says Brown. "Assuming the geographic mix of revenues remains constant, the company should generate an incremental profit of approximately 40% once the break-even run-rate of approximately $70 million in revenues is reached."
HEARx currently operates 80 centers located in CA, FL, NY and NJ.
---
Correction
In the July 2000 HR Worldwide Registry, the website for Harc was inadvertently left out. Harc has two websites that can be accessed by visiting
www.harcmercantile.com or www.getharc.com.