FDA approves first auditory brainstem implant
Washington, DC — The industry's first brainstem implant has been approved by the U.S. Food and Drug Administration (FDA). Manufactured by Cochlear Corp., the Nucleus 24 Multichannel Auditory Brainstem Implant (or ABI), is approved for use in teenagers (age 12 or older) and adults who suffer from neurofibromatosis Type II (NF2), a condition that afflicts about 1-in-40,000 Americans. Patients with this condition develop tumors that grow on both their right and left auditory nerves and sometimes other places in the body. Removal of the tumors often necessitates the severing of the auditory nerve fibers. Once cut, these nerves no longer carry information to the brain that is essential for hearing, causing total deafness.
The ABI is reportedly pocket-sized and is designed to stimulate the region of the brain that normally receives the electronic signals from the ear. The device consists of 21 platinum disk electrodes arranged on a flat backing. The array is placed on the surface of the cochlear nucleus in the brainstem, bypassing the inner ear and auditory nerve.
FDA approval was reportedly based on a clinical evaluation of 60 patients treated for NF2. After six months of using the ABI, 82% of the subjects could detect familiar sounds and about 85% could understand conversation with the aid of lipreading. Another 12% of patients could hear well enough to understand conversation over the phone. About 18% of the subjects could not hear any sound, possibly due to improper placement or post-operative movement of the device. The ABI is available in 10 clinics nationwide and is reported to cost approximately $30,000.
More information on the device can be found on the websites for the House Ear Institute ( www.hei.org ) and Cochlear Corp. (www.cochlear.com ).
---
Hearing instrument sales remain flat;
DSP/Prog. aids continue to make gains
Alexandria, VA — Hearing Industries Assn. (HIA) statistics for the third quarter of 2000 showed net unit U.S. sales of 1.48 million hearing instruments, an increase of 3.2% over the same period last year. Approximately 46,000 more hearing instruments in 2000 have been dispensed through the third quarter compared to 1999, amounting to about two more binaural fittings per office for the average hearing care professional. On the year, HR estimates that hearing instrument sales for the year 2000 will total somewhere around 1.93 million units—a 2% increase over 1999.
HIA statistics indicate that DSP instruments now comprise about one-fifth (19.2%) of the market, up from 7% in 1998 and 13% in 1999 (HR estimates). When combined with programmable instrument sales, high performance hearing instruments (i.e., analog programmable plus DSP devices) now make up just less than half (49.1%) of all hearing instruments sold. This statistic is fairly remarkable in view of the fact that high performance instruments in 1995 made up only 8.2% of the total market.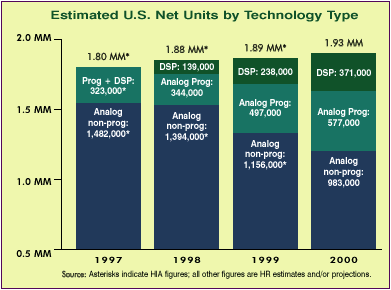 ---
Telex rejoins Hearing Industries Association (HIA)
Burnsville, MN — Telex Communications, Inc. announced that it has rejoined the Hearing Industries Assn. (HIA). HIA is the trade association for manufacturers of hearing instruments and suppliers of components, parts and services to the hearing health care industry.
HIA is a forum for manufacturers of hearing instruments and components that focuses on technology, quality and other issues of mutual importance, and it supports programs that inform and educate about hearing health care. The organization collects and disseminates statistics about hearing aid purchases in the U.S. market, and also works closely with the Better Hearing Institute (BHI) to increase hearing awareness.
Telex Communications, Inc. is a U.S. manufacturer of digital and analog hearing instruments, including the Sontiva DSP CIC, wireless FM systems for education, the Library of Congress Talking Book™ for the blind, professional audio speakers and microphones, multimedia communication, aviation and RF products. The company markets its products throughout the U.S. and in more than 80 countries.
Unitron selected as one of 50 best companies in Canada Kitchener, Ontario — Unitron Industries Ltd. is a year 2000 winner of "Canada's 50 Best Managed Private Companies" Program.
Sponsored by Arthur Andersen, CIBC and National Post, "Canada's 50 Best" Program recognizes privately managed companies across Canada who excel in a number of business-related areas, including embracing new technology, valuing customers and employees, and developing unique strategies and strong leadership.
Unitron and its affiliated companies (Lori and Argosy) recently announced that they joined the Phonak Group (see Dec. 2000 HR News, p. 12). Unitron and the Phonak Group will focus on developing the global hearing instrument market, increasing their R&D resources and creating more effective marketing campaigns. Unitron reports that the move is expected to put the Group in a position that will allow it to compete for the number-two position in the hearing healthcare industry. Unitron has over 650 employees in Kitchener, as well as subsidiaries in Bremen, Germany, and Golden Valley and Eden Prairie, MN.
"This award is a great honor for Unitron," says President and CEO Gary Ullman. "It emphasizes that we have a great company and that we're doing all the right things. Unitron has experienced a lot of success over the past few years, and with our upcoming digital hearing aid and our recent agreement with Phonak, we're going to see a lot more success in the future."
---
MHAS Holds Annual Meeting

Minneapolis — The Minnesota Hearing Aid Soc. (MHAS) held its annual meeting this fall in Minneapolis which included an informative seminar from Roxann Bonta, MA, of Argosy Electronics (pictured with convention director Rick Musselman). MHAS outgoing president Paul Tuveson, BC-HIS, handed over the Society's leadership to new president Greg Wales, BC-HIS. The Society also announced a gift of $1000 to the Minnesota chapter of Self Help for Hard of Hearing People. w
---
GN ReSound purchases ICS Medical Corp.
Minneapolis — As this issue of HR was going to press, it was announced that GN Resound/Madsen Electronics purchased ICS Medical Corp., Schaumberg, IL. ICS Medical manufactures otoneurologic products and services, including videonystagmography (VNG), electronystagmography (ENG) and auditory evoked potential equipment. It is expected that, with a renewed interest in balance testing by the audiological community and new legislation on universal newborn hearing screening, these areas of test equipment manufacturing represent sizable growth potential for the company.
GN ReSound Helps ADA Attendees Win Big

San Diego — Several attendees at the recent Academy of Dispensing Audiologists (ADA) convention won various prizes at the GN ReSound "Enjoy the Difference" display. Attendees were invited to a listening demonstration of the company's digital dual-mic directional, digital noise reduction and feedback suppression technologies. Participants also received entry into prize drawings. Winners included Carrie Adamson (pictured above with GN ReSound Vice-President of Marketing Henrik Nielsen and President Carsten Trads), an AuD student at the Univ. of Buffalo, who won a $1500 Neiman Marcus shopping spree; Jane Baxter of El Camino Real, CA, who won a $1000 gift certificate to Hammacher Schlemmer; and Linda Hartman of Lebanon, PA, who won a $1000 gift certificate to Sharper Image. The grand prize of the Aurical computer-based audiometer/fitting system (a $12,000) value was won by Karen Swope of Greeley, CO. Other prizes included Razor scooters and GN ReSound tote bags.
---
AFA raises $15,000 in golf tournament
San Diego, CA – The Audiology Foundation of America (AFA) held their Charity Golf Tournament at the Riverwalk Golf Club during the recent Academy of Dispensing Audiologists (ADA) Annual Convention, netting over $15,000 for the AuD movement, as the proceeds are used by the AFA for activities associated with improving educational opportunities for audiologists. Current AFA activities include working to achieve limited licensure status with a more protected scope of practice for audiologists and a joint feasibility study on independent accreditation for AuD programs.
The tournament was possible because of the support from the hearing industry, and sponsors that included Arizona School of Health Sciences, Beltone, ESCO/Lend-An-Ear, Gennum, GN ReSound, Madsen, Midwest Hearing, Oticon, Phonak, Siemens, Songbird, Sonic Innovations, Starkey and Widex. Additionally, prizes were donated by Active Electronics, EARA Advertising, Electone and Rayovac.
The first place team was comprised of Keith Dressler & Mike Salisbury of Tennessee and Pat McGee & Bill Breazeale of Arkansas; Second Place Team: Lloyd Hutchinson of California and Richard Uzuanis of Illinois, and Third Place: Dave Richard, Dave Brassine, Paul Pessis, and Alan Freint of Illinois.
---
AHAA moves to larger offices; listed as one of fastest growing Philadelphia companies
Philadelphia – American Hearing Aid Associates (AHAA) was listed high on the annual compilation of fast-growing Philadelphia businesses as reported by the Wharton Small Business Development Center and the Philadelphia Business Journal. The company ranked sixth in revenue for 1999 and eleventh in revenue growth for the 1997-1999 period. Based on 1900 nominations, the companies are chosen for their "rapid rise or because we believed their stories offered interesting insights into managing and sustaining growth," says Peter Van Allen, editor of Journal Special Reports.
The company recently announced its 1000th Associate member, and it has now completed its move to larger headquarters. The new address is: AHAA, 1380 Wilmington Pike, West Chester, PA 19380. The company's telephone numbers remain the same.