Portable Telephone Amplifier
Hal-Hen, Garden City Park, NY, offers its new mini portable telephone amplifier. Designed to work on all types of phones and to operate with or without the use of a hearing instrument, the amplifier provides approximately 26 dB of gain and includes a battery. Hearing instruments equipped with a T-coil will also work on any type of telephone while using this amplifier, according to the company.
---

Tinnitus Control Instrument
Siemens, Piscataway, NJ, introduces the Sereniti™ fully digital, programmable tinnitus control instruments. The TCI model is designed for patients with normal hearing and tinnitus. The model includes two manually selectable therapy programs and four pre-programmed noise types, with fine-tuning possible in eight channels. The TCI-C model combines digital signal processing with the features of a tinnitus control instrument for patients with both hearing loss and tinnitus. The instrument features a fully digital four-channel FDRC amplifier with speech-sensitive processing and multiple compression algorithms. In addition, its adaptive noise suppression and therapy noise signal adjustment are designed to provide improved speech intelligibility in difficult listening environments.
---

Cerumen Management System
Surya Technologies International, Buffalo, NY, introduces its Earigator™ cerument management system. Reportedly designed by an otologist, the system features automatic temperature and pressure control, and provides for fiber-optic illumination with magnification for ear canal visualization during the cerumen removal procedure.
---

Wireless Doorbell Signalers
Sonic Alert, Troy, MI, introduces its new DB 100 and DB200 wireless doorbell and intercom signalers. The signalers are not triggered by sound, which is intended to minimize false alarms. Features include: selectable number of flashes; different flash codes for front door, rear door, or intercom; and a built-in chime for non-hearing-impaired members of a household. Both units have a built-in outlet for flashing a lamp, and both are equipped to send signals to the company's remote receivers. Model DB100 also functions as a telephone signaler.
---

Digital ITE and BTE
United Hearing Systems, Central Village, CT, introduces the UNITA 100% digital ITE and BTE hearing instruments, featuring a third-generation, open-platform IC design that reportedly allows for unlimited speech processing algorithms. The company also offers a new line of programmable hearing instruments, the Paradigm Series. Paradigm amplifier options include: WDRC 2-band, WDRC broadband single channel, and a new AGC-o. All feature Class D amplifiers and a choice of user VC and/or programmable VC. Three directional microphone options are available in the custom models. The instruments will be on display at the ADA convention.
---

Speech-In-Noise Test
Etymotic Research, Elk Grove Village, IL, announces the release of the QuickSIN™ speech-in-noise test, which is designed to provide a fast means of quantifying a patient's ability to hear in noise. The CD contains 12 standard equivalent one-minute tests for signal-to-noise ratio (SNR) loss testing. Additional lists are filtered for use with ski-slope losses and for determining whether hearing aids with extended high frequency emphasis improve or degrade speech intelligibility. One section of the CD contains lists that can be used to demonstrate the effectiveness of directional microphones. Results are expressed as SNR loss that predicts which patients are likely to need hearing aids with directional microphones and other assistive technologies. The test is statistically valid and reliable, according to the company.
---

Cartridge Impression Material
Westone Labs, Colorado Springs, CO, offers its Siliclone Firm™ cartridge impression material, which is designed to provide a stiffer, heavier-bodied and less sticky composition for dispensers who prefer cartridge-based materials. The material combines the properties of the company's other impression materials with the precision offered by an injector cartridge. The company also offers a new mixing tip specifically for the material.
---

Digital Circuit
Magnatone, Casselberry, FL, introduces the TruVoice® 3-in-1, multi-channel 100% digital circuit for custom instruments. This circuit is designed to allow for a selection of either a single channel, dual-channel WDRC or a 4-channel WDRC in one instrument. All three circuits have the following common features: 40 dB OC range; MNR; low cut (125Hz – 2KHz); high cut (1KHz – 8KHz); notch filter with depth, width and frequency selection; wideband gain and internal VC adjustment; low battery warning signal with adjustable frequency and level; head room extension (HRX) for reduced distortion at high input levels above 115 dB SPL and extended head room; coil and coil + mic telecoil (optional); and 4 push-button memories (optional).
---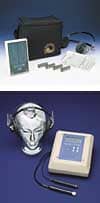 Phone/Doorbell Signaler
Ultratec Inc, Madison, WI, introduces the Simplicity phone/doorbell signaler LTW, which alerts users when someone is at the door and/or when the telephone is ringing. The signaler provides a visual alert either by flashing a plugged-in lamp, illuminating an add-on strobe light or signaling remote receivers which flash lamps in other rooms. The system also includes wireless doorbell capabilities, which are designed to give users greater flexibility in positioning the signaler.
---

Telephone Pads
Oaktree Products Inc, St. Louis, introduces the Cell-U-Hear™ telephone comfort pads for cellular phones. The pads were designed by an audiologist and reportedly reduce feedback, increase comfort and improve volume. The design of the pad allows it to fit many different cell phone models.
---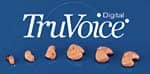 Temporal Central Processing Disorders Test
Auditec™ of St. Louis announces the release of the Random Gap Detection Test (RGDT), a new test for the identification and quantification of temporal processing disorders in children and adults. The test is designed to measure temporal resolution by determining the smallest time interval that can be detected between two closely approximated stimuli. This interval, called the gap detection threshold, is measured in milliseconds and is obtained by having a listener attend to a series of stimuli presented in pairs. The silent interval between each pair of tones increases and decreases in duration. As the silent interval changes, the listener reports whether the stimuli pairs are heard as one tone or two. The gap detection threshold is the stimulus interval at which the stimuli are heard as one tone or two. Robert Keith, PhD, of the Univ. of Cincinnati School of Medicine, is author of the RGDT.
---

Starter Device
Crystal Care International, Lutz, FL, introduces the CEIII micro-mini starter device. Styled after the company's CIC device, it uses a flexi-soft canal, which is designed to allow for comfortable canal insertion with low feedback possibilities. Class D circuitry provides responsive low-distortion gain that accommodates mild to moderate hearing loss. The device is available in either a left or right side and is packaged with an instruction book, instructional video tape, velvet storage pouch, cleaning tools and batteries.