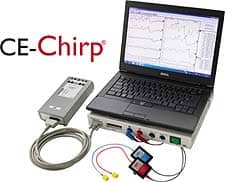 CE-Chirp for Audera
Grason-Stadler, Eden Prairie, Minn, has introduced the CE-Chirp® and CE-Chirp Octave Brand stimuli for the GSI Audera. Designed by Claus Elberling, the CE-Chirp acoustic stimulus maximizes auditory evoked potential (AEP) amplitudes, resulting in waveforms that are as much as two times the size of waveforms typically achieved with a standard click stimulus (see Beck et al, August 2009 HR). The CE-Chirp stimulus is designed to address the inherent time delay of the cochlea's traveling wave. CE-Chirp stimulus frequencies are adjusted so that the low and high frequencies reach the basilar membrane in the cochlea nearly simultaneously, maximizing the synchronous neural response and increasing the overall amplitude of the AEP waveform structure. CE-Chirp Octave Band is an additional stimulus that is available for frequency-specific threshold estimation.
(800) 700-2282
www.grason-stadler.com
---
Telephone with Amplification and Voice Modulation
Sonic Alert, Troy, Mich, is now offering the Geemarc Ampli100VM telephone, featuring amplification and a new voice modulation feature. With voice modulation, users with hearing loss can now see the loudness of their outgoing voice as they speak, helping them to adjust their speech to an appropriate level. In addition to the voice level meter, the telephone has numerous adjustable sound-related features, including volume control (up to 40 dB), receiving tone control (±10 dB), speech volume control (±4 dB), and ringer level.
(248) 577-5400
www.sonicalert.com
---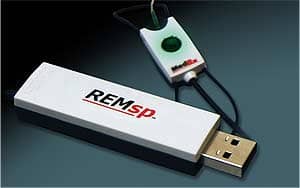 Live Speech Mapping and Real Ear Measurement System
MedRx, Largo, Fla, offers the AVANT™ REMsp, a new live-speech mapping, real-ear measurement system. AVANT features DSL & NAL-NL2 targets for live-speech mapping, making it ideal for open-fit testing. Input levels can be viewed in either LTASS or peak hold mode and has built-in sound files (MP3). The AVANT REMsp also features a hearing loss simulator for third party demonstrations. The REMsp is USB powered and is approximately 1″x 3″ in size, making it lightweight and portable. Standard accessories include a powered speaker, USB extender cable, and a custom carrying case. The AVANT REMsp is also NOAH™, Sycle.net, and TIMS® compatible.
(888) 392-1234
www.medrx-usa.com
---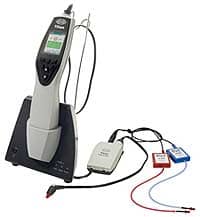 Interacoustics Releases Modular Titan Platform Hearing Screener with Automated ABR
Interacoustics USA, Eden Prairie, Minn, has released the modular Titan platform, a handheld infant screener that can reportedly evaluate the entire auditory pathway from middle ear to brain stem and reduce screening ABR test time by up to 50%. Titan features an automated ABR, Distortion Product Otoacoustic Emissions (DPOAE) screening with customizable test protocols, and optional 1kHz tympanometry. Designed to be portable and easy-to-use with a slim and ergonomic design, Titan requires only four buttons to perform automated ABR, DPOAE, and tympanometry. The DPOAE440 software module is available in either a screening or clinical version.
(800) 947-6334
www.interacoustics-us.com/Titan
---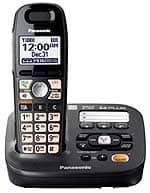 New Cordless Phone for People with Hearing Loss
Panasonic, Secaucus, NJ, is introducing KX-TG6591T, a new cordless telephone with proprietary features designed for people with hearing loss, low vision, and arthritis. Tone Equalizer is a frequency-boosting feature that allows users to hear conversations more clearly. Individuals with mild-to-moderate hearing loss can use a toggle switch on the handset to boost the frequencies they hear best in the callers' voices, such as treble, mid-range, or bass, making it easier to understand the conversation.
(800) 405-0652
www.panasonic.com
---
New Power BTE Line

Hansaton USA, Minneapolis, has released a new line of Power BTE hearing aids that have a gain of up to 75 dB. Hansaton is categorizing the new hearing systems into airline-like classes: Patients can choose AURIGA First Class, VENETO Business Class, LUMEO Comfort Class, and CEMIA Economy Class. The platform includes unique features such as Speech Beam (AURIGA only), Active Feedback Block 2G, and Situation Optimizer. The line also includes Bluetooth-enabled remote controls that can synchronize to all modern audio and entertainment devices. Models feature eight natural colors and five fresh tones designed for children (pictured).
(888) 984-7432
www.hansaton-usa.com