TOP NEWS and HEADLINES in March
Siemens AG Backs Off Sale, Moves Forward with New Hearing Aid Unit Executive (Roger Radke)
FDA Approves Envoy's Prosthetic Hearing Restoration Device
Hearing Aid Misperceptions Abound Despite Technology & Design Advances
Oticon Launches Agil
Starkey Signs Exclusive Licensing Agreement with Nickelodeon
House Exempts Hearing Aids from Medical Device Tax
Public Campaign Aims to Promote Increased Functionality of Hearing Aids
Study Links Analgesics Usage to Increased Risk of Hearing Loss in Men
Unitronfs SmartFocus Shown to Improve Speech Understanding in Noise
In Closing Its Doors, AFA Claims Mission Accomplished
Otix Global Announces Reverse Stock Split
Siemens AG takes hearing aid unit off table; names Roger Radke new CEO. Siemens AG, Munich, Germany, has decided against selling its hearing aid unit and is instead making investments in strengthening its competitive position in the sector, according to reports by Reuters. Sources told the news agency that the decision not to sell was due to the more than half-billion euro difference between the company's minimum asking price of 2 billion euros ($2.73 billion USD) and bidders' offers.

In March, Siemens AG named industry veteran Roger Radke as the new executive in charge of Siemens Audiologische Technik (SAT), Erlangen, Germany. Radke headed SAT from 2000 to 2004 (for details, see Industry Personalities). This appointment followed the company's announcement that another well-known industry veteran, Brian Kinnerk, would be heading up Siemens' US operations in Piscataway, NJ (see March HR, Industry Personalities ).

"The sector expects this appointment to further strengthen its global hearing instrument activities, particularly since Radke boasts wide-ranging experience and an excellent network in the industry due to his previous management position in Siemens' audiology area," Siemens said in a statement announcing Radke's new position.

As this edition of HR was going to press, Siemens also announced the introduction of a new product line based on the company's BestSound Technology, a sophisticated suite of device features that includes SpeechFocus, FeedbackStopper, and SoundLearning 2.0.

HIA Annual Meeting: Groundwork for Hearing Aid Tax Credit helped in fight to exempt hearing aids from new medical device tax. In late February, corporate CEOs and professional organization leaders in the hearing industry convened at the annual meeting of the Hearing Industries Association (HIA) held in Phoenix. HIA Chairman Jerry Ruzicka, Starkey Laboratories, told attendees that the group's long-term efforts in supporting the Hearing Aid Tax Credit laid the groundwork for HIA and its hearing care allies to engage Congress in opposing a proposed tax on medical devices—efforts that eventually exempted hearing aids from those taxes (see Information Please). "The Representatives and Senators who champion the Hearing Aid Tax Credit are natural and eager supporters of efforts to ensure that hearing aids are not taxed as part of a health care reform proposal that does little or nothing to expand access to hearing aids," he said.

Mark Rayder, senior policy advisor, Alston + Bird, Washington, DC, led off the major presentations with a report on health care reform. Taking his audience through the process to date, Rayder said that hearing loss as a health care issue is now an established position, though the ways, if any, in which it will be addressed in health care reform are unknown. Jeffrey Gibbs, principal at the FDA law firm of Hyman, Phelps, & McNamara and special FDA counsel to HIA, discussed medical device issues ranging from manufacturer and health care provider ethics at state and federal levels to the recently published Federal Trade Commission (FTC) guidance on testimonials, endorsements, and other claims used in marketing activities and materials.

Lucille Beck, PhD, chief of the Department of Veterans Affairs' Audiology and Speech Pathology Program, provided an update on the agency's expansion of hearing aid delivery, and introduced the industry to an initiative by the National Institute on Deafness and Other Communication Disorders (NIDCD) to generate research into hearing aid accessibility and affordability. She presented the first three requests for proposals emerging from the initiative, and urged industry members to engage in the effort. The annual presentation of Better Hearing Institute (BHI) initiatives was outlined by BHI President Gordon Walker, Knowles Electronics, and BHI Executive Director Sergei Kochkin, PhD.

Biennial elections were held at the meeting. Sonic Innovations Chairman and CEO Sam Westover, who was elected to a 2-year term as HIA chairman, said it is imperative to continue to push hearing health as a national agenda item. Westover has been associated with the hearing industry since 2002 as a director, then as chairman and CEO, of Sonic Innovations. He has worked in the health care industry for most of his career, having been president and CEO of CIGNA Dental and president of CIGNA HealthCare's Small Business Segment, as well as the founding CFO of WellPoint, reportedly the largest health insurer in the United States. Westover also served as special assistant to the Governor of Utah during the 2002 Winter Olympic Games in Salt Lake City.

Newly elected officers on the executive committee are: HIA Vice Chair Todd Murray, GN Hearing Care Corporation; Secretary/Treasurer Robert Tong, ON Semiconductor; Immediate Past Chair Jerry Ruzicka; and HIA Executive Director Carole Rogin. Seven seats on the HIA Board were filled by the election of Jerry Ruzicka, Gordon Walker, Todd Murray, and Mike Orscheln, Phonak; Jeff Taylor, Sonion; Randy Raymond, Rayovac; and Brian Kinnerk, Siemens Hearing Instruments.

Special recognition was given to John Zei, who retired in March as CEO of Knowles Electronics where he has worked since 2000. An attorney with an MBA from the University of Chicago, Zei has played crucial roles in many aspects of HIA over the past 30 years, while serving in leadership positions at Rexton, Beltone Electronics, and Siemens.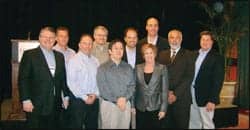 Members of the HIA Board include (left to right) newly elected HIA Chair Sam Westover, Sonic Innovations; Mike Orscheln, Phonak; Ron Meltsner, Widex; Randy Raymond, Rayovac; Secretary/Treasurer Robert Tong, ON Semiconductor; Gordon Walker, Knowles Electronics; Executive Director Carole Rogin; Vice Chair Todd Murray, ReSound; Ian Roane, Sound Design Technologies; and Brian Kinnerk, Siemens Hearing Instruments. Not pictured: Immediate Past Chair Jerry Ruzicka, Starkey Laboratories.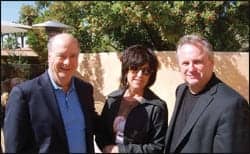 Long-time industry leader John Zei (left), who retired from Knowles Electronics in March, paused for a moment with two other HIA past chairs, Kathy Jones of Phonak and Jerry Ruzicka of Starkey Laboratories.
NSAIDs increase risk of hearing loss in men. In a study published in the March 2010 issue of The American Journal of Medicine, researchers determined that regular use of aspirin, acetaminophen, and other nonsteroidal anti-inflammatory drugs (NSAIDs) increases the risk of hearing loss in men, particularly in younger men below age 60.

Investigators from Harvard University, Brigham and Women's Hospital, Vanderbilt University, and the Massachusetts Eye and Ear Infirmary in Boston looked at factors other than age and noise that might influence the risk of hearing loss. Aspirin, acetaminophen, and ibuprofen are the three most commonly used drugs in the United States, says the article, and the ototoxic effects of aspirin are well known, while the ototoxicity of NSAIDs has been suggested. However, the relation between acetaminophen and hearing loss has not been examined previously.

Study participants were drawn from the Health Professionals Follow-up Study, which tracked more than 26,000 men every 2 years for 18 years. A questionnaire determined analgesic use, hearing loss, and a variety of physiological, medical, and demographic factors.

For aspirin, regular users under 50 and those who are 50 to 59 years old were 33% more likely to have hearing loss than were nonregular users, but there was no association among men ages 60 years and older, says the article. For NSAIDs, regular users younger than 50 were 61% more likely, those who are 50 to 59 were 32% more likely, and those who are 60 and older were 16% more likely to develop hearing loss than nonregular users of NSAIDs. For acetaminophen, regular users aged under 50 were 99% more likely, regular users who are 50 to 59 were 38% more likely, and those 60 and older were 16% more likely to have hearing loss than nonregular users of acetaminophen, it continues.

"Regular use of analgesics, specifically aspirin, NSAIDs, and acetaminophen, might increase the risk of adult hearing loss, particularly in younger individuals," Sharon G. Curhan, MD, ScM, Channing Laboratory, Department of Medicine, Brigham and Women's Hospital, and colleagues said in the article. "Given the high prevalence of regular analgesic use and health and social implications of hearing impairment, this represents an important public health issue."

Hearing aids still fighting public's perception. According to a survey conducted by Hear the World, the global initiative by Phonak, despite significant advances in hearing technology, hearing aids were associated with old age more than any other accessories surveyed, including glasses, a wheelchair, crutches, and canes for the blind.

The survey, which polled 4,405 people between the ages of 14 and 65, indicated that 93% (US 88%; UK 87%; Germany 94%; France 98%; Italy 96%; and Switzerland 96%) responded that they would wear a hearing aid if it was necessary. Previous research has indicated that many people with hearing loss do not in fact wear a hearing aid; in the United States and United Kingdom, only one in four people requiring a hearing device actually wear one.
---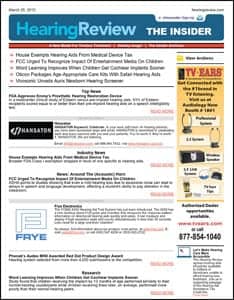 Want the inside scoop?
Every week The Hearing Review sends out THE INSIDER, a weekly FREE e-newsletter devoted to the top hearing-related news, research, product introductions, fitting topics, and marketing research stories that are influencing your business or practice, as well as the industry at large. [register]Sign up for your free subscription[/register].