Howard House, Founder of HEI, Dies at Age 95
LOS ANGELES—Howard Payne House, MD, founder of the House Ear Institute (HEI) and pioneering ear specialist died August 1 of heart failure at St Vincent Medical Center. He was 95. House established HEI in 1946 as a research facility dedicated to the advancement of hearing research and practiced otology at the House Ear Clinic in Los Angeles. HEI has since grown from a one-person laboratory to a 5-story building, with a staff of over 175 people dedicated to the advancement of otologic research (see HR article on HEI, March 2001). The Institute is currently focusing on the improvement of hearing aids and new auditory prostheses such as the cochlear implant and auditory brainstem implant (ABI), clinical treatments, and intervention methods.

Howard House, MD, (right) founded the House Ear Institute in 1946 which has since become one of the premiere hearing research and health care centers in the world. House's son, John House, MD, is president of HEI.
"It is an overwhelming loss for many who found in him a mentor to guide them in their clinical and applied research," says James D. Boswell, chief executive officer of the House Ear Institute. "By establishing an international ear research and education center, Howard provided thousands of ear specialists around the world with the opportunity to attend unique surgical courses and benefit from the Institute's research achievements."
A graduate of University of Southern California Medical School, House perfected the wire loop technique to replace the stapes bone of the middle ear and developed procedures to reconstruct middle ear parts. He and his brother, William House, MD, (the pioneer of neurotology and the cochlear implant) invented the surgical procedure to gain access to the cochlea via the facial recess from the mastoid to the middle ear. Under his leadership, HEI was the first to adapt movie cameras and accessories for use with a surgical microscope to create professional, medical training films. In 1947, House was appointed Chairman of the Subcommittee on Noise, and directed the national study on industrial noise that helped set the Occupational Safety and Health Administration (OSHA) hearing conservation standards in use today. He was head of the Department of Otolaryngology at University of Southern California School of Medicine from 1952-1961 and served on the faculty as Clinical Professor of Otology.
House was internationally recognized for his contributions to hearing science and received numerous honorary degrees and Lifetime Achievement Awards. He served as president of the American Academy of Otolaryngology-Head and Neck Surgery, the Asociacion Panamericana de Oto-Rino-Laringologia y Broncoesofagologia, the American Otological Society, Salerni Collegium USC, and the Centurion Club of The Deafness Research Foundation. He was the recipient of USC's Outstanding Career Service Award, and named a "Physician of the Year" by both the President's Committee and California Governor's Committee for Employment of the Handicapped. During his 64-year career, House treated thousands of patients, including Howard Hughes, Bob and Dolores Hope, Nanette Fabray, Phyllis Diller, Florence Henderson, and former President Ronald Reagan.
House is survived by his sons, Kenneth M. House, MD, John W. House, MD, and daughter Carolyn Helmuth; his brothers William and James House, DDS, and nine grandchildren. "My father's mission to advance hearing science through research and education lives on at the House Ear Institute," says John W. House, MD. "Dad was proud that, under his leadership, the Institute became internationally recognized as a center of excellence where researchers and physicians work together under one roof, investigating novel treatments for those with hearing loss and related disorders."
An endowment fund for further education and research has been established. Contributions can be sent to the Howard P. House, MD, Endowment Fund at the House Ear Institute, Development Office, 2100 West Third Street, Fifth Floor, Los Angeles, CA 90057-1922.
---

ADA Convention Heads for Ft Myers
Columbia, SC — Dispensing audiologists will meet at the Sanibel Harbor Resort in Ft Myers on October 8-11 for four days of fun, learning, and exchanging ideas. The ADA Convention has long distinguished itself for being known as a place where some of the best audiologists and entrepreneurs in the hearing healthcare field meet to exchange ideas and learn about new hearing instrument fitting, marketing, and business development practices. This year's schedule continues the trend.

Three workshops will be held on Wednesday, October 8, and the Opening Reception begins at 6:30 PM in the exhibit hall. Thursday starts off with the ADA's Opening Ceremonies which include keynote speaker Stephen C. Tweed who will address market trends and help attendees understand how they can prepare for the healthcare world of tomorrow. ADA President Cynthia Ellison and Past-President Bob Manning will then speak about ADA's efforts to further update dispensing, utilize the AuD, and they will address the future of ADA and AuDNet. Following the Opening Ceremonies, more than 11 seminars are offered, and the day concludes with the AFA Art Auction and a Pool Party.

Exhibits open early (7 AM) on Friday, a day that provides a half-day of work, followed by a half day of play: 16 seminars are offered in the morning followed by the annual Golf and Raquetball Tournament in the afternoon (an AFA mentoring program for grad students is also offered in the afternoon).

On Saturday, the convention offers a full day of nearly 20 seminars, including a joint ethics statement conference by ADA and AAA, and the membership lunch and business meeting. The convention concludes with its Annual Banquet on Saturday evening (this year, a sock hop!). For information, visit www.audiologist.org.
---
ASUMH Starts 2-Year Online Program for Hearing Health Care
Mountain Home, Ark — Arkansas State University Mountain Home (ASUMH) has established a 2-year online hearing healthcare degree, reportedly the only such program in the country. It will be officially launched this fall. Along with Spokane Falls Community College in Washington state, the school is one of only two schools that offer the hearing healthcare associate of applied science degree to on-campus students.
The Associate of Applied Science in Hearing Healthcare at ASUMH was actually initiated in 2001, and the first group of four students graduated from the inaugural class in May. The program includes 15 credit hours of general education and 45 credit hours that are specific to hearing healthcare. Those degree applicants who have received IHS's American Conference on Audioprosthology (ACA) certificate receive 24 credit hours toward the degree. While the full out-of-state tuition would cost somewhere around $7,000 ($4,500 for Arkansas residents), it is anticipated that the degree would cost significantly less for those receiving credits for previous experience/education.
"We are excited about this opportunity and believe we can really make a difference in giving students the resources they need to join this growing industry," says Pat Bailey, PhD, vice chancellor for academic and student affairs at ASUMH. "This new online program will give students more flexibility in balancing their studies, their work commitments, and their family obligations."
The degree program is also designed to infuse the hearing care profession with more qualified professionals to meet the country's aging demographics and the future public demand for hearing help. The June 2003 HR Dispenser survey indicated that one-fifth (20%) of all dispensing offices in the US were looking to hire a dispensing professional within the next year, and 39% hoped to hire one in the next three years. However, new hires are hard to find, and it appears that those prospective employees who are available are far more likely to live in or gravitate toward larger metro areas. According to Bailey, the completion of this 2-year program will prepare graduates for an entry-level position in a profession in desperate need of qualified practitioners. As the baby boomer generation nears retirement, the demand will only continue to increase. "Roughly 20% of active [hearing instrument] dispensers in the state of Arkansas are looking for trained professionals to work in their offices right now," says Scott Whitaker, chair of the Arkansas Board of Hearing Instrument Dispensers. "We see the same trend across the nation as well. Everyone who I talk to about the ASUMH program is very excited at the possibility of having another avenue to obtain trained, energetic individuals like the ones that we have graduating from this program."
Gary Pearson, president of the Arkansas Hearing Society, supported Whitaker's comments about the need for more qualified practitioners: "People in the hearing profession are very excited about this program because there is such a shortage of qualified individuals in the profession at the present time."
In addition, the pay is attractive to both students right out of high school and individuals desiring a career change. According to industry experts, starting salaries generally range from $28,000-$38,000. These positions afford the practitioner the chance to work in a health-related field, while still keeping traditional office hours.
The four students graduating from the program in May were Randy Fore, Robin Hall, Marcia Roberts, and Tanya Sulfridge. All were second-career students. Graduates of the program are qualified to sit for the licensure exam in their respective states, and all four are now employed in dispensing offices.
ASU Mountain Home, a branch of ASU Jonesboro, was established in 1995 and is one of Arkansas' newest two-year colleges. Despite its relatively brief existence, ASUMH already boasts an enrollment of more than 1,200 students.
An article on the ASUMH 2-year degree will appear in an upcoming HR. For information on the ASUMH program, contact (870) 508-6100 or visit www.asumh.edu.
---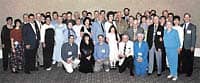 Steven Myhre of Oticon was featured in an article in the fitness journal, American Health & Fitness for Men.
Audiologist Becomes Authority on Fitness
If you're "middle-age-ish" and have been thinking that maybe it's time to get back into shape, help might be closer than you think. Steven Myhre, MS, an audiologist who works for Oticon, was recently featured in an article called "Prime Time: How to Stay Motivated Over 50," in the April/May issue of American Health & Fitness for Men. Myhre, 51, started working out in his late-30s, but only got serious about it after he started pumping iron once a month with a personal trainer, Ron Coleman, the 1995 Mr. Universe champion. Since then, Myhre has gained steady recognition for his dedication and knowledge about fitness training, and he was recently asked by a production company to do a fitness video for middle-age men who might need a little help in staying motivated to stay in shape.
Myhre joins two other notable audiologist-athletes. Michael Cevette, PhD, of Mayo Clinic Scottsdale is a champion iron-man triathlete, and David Hawkins, PhD, of the Mayo Clinic Jacksonville has been invited to participate in senior golf tour events.
---
Amplifon Purchases National Hearing Centers
Milano, Italy — Amplifon has announced the purchase of National Hearing Centers (NHC), a retailer with 54 offices in the US, primarily located in Wal-Mart stores. NHC is reported to have dispensed about 12,000 units last year and have revenues of about $17 million (about 0.6% of the US hearing aid retail market).
Beyond adding to its market share, the acquisition may help strengthen the ties between Amplifon and Wal-Mart, the country's largest retailer. Wal-Mart has 1,500 Wal-Mart stores, 1,400 superstores, and another 1,400 stores in other countries. Amplifon, the world's largest hearing instrument chain retailer based in Milano, Italy, also owns Miracle Ear and Sonus, and the company is estimated by HR to control 8-10% of the US hearing instrument retail market, and 10-12% of the world retail market.
---
Hearing Aid Sales Increase for First Time in More Than a Year
Alexandria, VA — US hearing instrument sales during the second quarter of 2003 improved slightly for the first time in over a year, according to statistics reported by the Hearing Industries Assn (HIA). Net hearing instrument unit volume equalled 481,910 units, an increase of 0.6% over the same period a year ago.
Not surprisingly, digital hearing instrument sales continue to surge. More than 3-in-5 (61.8%) hearing aids sold between April 1 and June 30 were digital. Only 44.6% of the hearing instruments sold during 2002 were digital. In its annual review of the market (March 2003), HR projected that digital use would approach 70% by the fourth quarter of 2003. Currently, use of digital ITCs (which make up 14.6% of the total market so far this year compared to 9.7% during 2002) and BTEs (13.4% vs. 10.6%) continue to increase rapidly in popularity, along with digital CICs (11.2% vs. 9.8%).
The last time hearing aid sales increased was during the first quarter of 2002, when sales rose by less than a half percentage point (0.4%). The industry has not witnessed substantial sales growth (>2%) since the first quarter of 2000.
---
Oticon Sponsors Human Link Pediatric Seminar
Williamsburg, VA — Advanced Amplification Issues for Children and Adults was the focus of a recent Oticon Human Link Conference attended by hearing care practitioners from across the country. The knowledge-sharing seminar featured presentations and a series of interactive workshops by leading clinicians and educators in the field of pediatric hearing care.

Karen Anderson, PhD
"Over 1 million children in the US have a hearing loss. Among school age children with hearing loss, severe to proud hearing loss occurs in about nine children out of every 1,000 youngsters," explained Mikael Worning, president of Oticon Inc. "There have been significant learning and considerable advances in audiological tools and hearing aid technology that can benefit pediatric patients and power hearing aid users. Oticon's Human Link Conference provided the ideal forum to share this knowledge."
In her presentation on case management issues for newly identified infants, Karen Anderson, PhD, of the Florida Department of Health emphasized the development differences found between children whose hearing impairment is identified before six months of age and receive appropriate intervention as opposed to those children who are older when their hearing loss is identified. She also underscored the importance of preparing and motivating the family to ensure that children with hearing loss achieve their full potential. In an interesting sidebar, Anderson described a little know Federal law (CFA 303.321d) that requires professionals who identify a hearing loss or other developmental disability to notify the appropriate intervention agency within two working days of diagnosis (more information about this law is available on otikids.com). In workshops following her presentation, Anderson discussed a variety of assessment tools to assist the audiologist and parents, including the Early Listening Function (ELF, see November 2002 HR, page 24), the Developmental Index of Audition and Listening (DIAL), and the Functional Auditory Performance Indicators (FAPI).

Donald Schum, PhD
Results of recent clinical findings showing the benefits of advanced non-linear amplification versus well-fit linear technology for children with mild and moderate hearing loss and those with severe and severe-to-profound hearing loss were presented by Oticon's Donald Schum, PhD. Among the new findings discussed was the ability of advanced power instruments to provide some protection against inaccurate or fluctuating thresholds. Schum also explored the complex set of physiological changes in patients with conditions, such as Meniere's disease, Autoimmune hearing loss, and Sudden Sensorineural hearing loss, and shared clinical strategies for selection, adjustment and verification of fittings for those patients.
In her workshop on real-ear assessment of advanced non-linear hearing instruments, Sheila Sinclair, MClSc, National Centre for Audiology, University of Western Ontario, emphasized the importance of acoustic verification that amplified speech is audible and limited below the patient's UCL, especially in pediatric fittings. Among the verification methods she discussed was the Desired Sensation Level (DSL) Method for fitting hearing instruments for infants and young children.
Mark Flynn, MSc, presented encouraging early results on the benefits of combining "electroacoustical stimulation," using a hearing aid on the same ear as a cochlear implant, and with "bimodal stimulation," using a hearing instrument on the opposite, non-implanted ear. Findings to date indicate that patients perform better—objectively and subjectively—with an implant and a hearing aid than with a cochlear implant alone. A behind-scenes look at the development of the SUMO hearing instrument and the new technologies developed by Oticon for power hearing aids was provided by Soren Nielsen, MS.