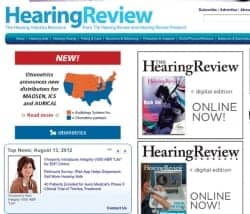 TOP NEWS and HEADLINES
Delaware Governor Markell Signs Two Hearing Loss Related Bills into Law
Mutant Zebra Fish May Help Discover Cause of Fraser Syndrome Hearing Loss
20th Annual Conference on Management of the Tinnitus Patient
Audina Releases New "IRIC" Hearing Instrument Line
Task Force Examines Health Care Career Options for Deaf People
Audigy Receives Two Recent Public Accolades for Company
NY Times Reports on Restaurants Exceeding OSHA Noise Regulations
Hamilton CapTel Presents Hearing Health Panel Discussion at VFW National Convention
Apple Plans to Integrate Next iPhone with Hearing Aids
A patent application filed by Apple reveals that the company may include the ability to adjust hearing aids via its iPhone and a connection to a hearing aid provider or manufacturer. Participating hearing aid models will be designated as "Made for iPhone."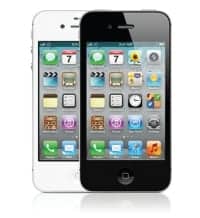 The most likely and obvious way in which the iPhone would be utilized is to act like a streamer, enabling the user to stream audio enabled devices—such as televisions, MP3 players, and computers—to the hearing aid. In addition to the iPhone, the new hearing aid functionality could be available through Apple's iPad devices, which have an operating system that mimics the iPhone.
According to one of the Apple patent applications, "Broadly speaking, the embodiments disclosed herein describe techniques, systems, and apparatus tailored to meet the needs of individuals having impaired hearing. More specifically, a mechanism is provided by which hearing aid users can in real time communicate with a remotely located hearing aid profile provider."
The patent applications, first reported by online magazine AppleInsider, describe a method for users to adjust their hearing aid profiles via their iPhone for certain background environments. The hearing aid and iPhone would communicate via a Bluetooth connection. In addition to being able to adjust parameters themselves through the iPhone, hearing aid users would be able to share their parameters and their environment with a "profile provider" social network, which may include hearing health professionals, or perhaps the hearing aid manufacturer. Theoretically, those admitted to the user's social network will be able to remotely assist the user through the iPhone, either suggesting adjustments for the hearing aid or sending an adjusted digital hearing aid profile that users can save to the iPhone and then transmit to their hearing aid.
The full patent has more details about the technology and can be read online at: ow.ly/cMjoE. However, as an industry expert noted to HR, these are only published patent applications (ie, they are patents that have not been, and may never be, issued). So, the above devices may never materialize.
However, what is clear is that a number of future hearing aids will utilize the iPhone in unique ways. Apple has stated that it "is working with top manufacturers to introduce Made for iPhone hearing aids that will deliver a power-efficient, high-quality digital audio experience" on the iPhone 4S. For example, Starkey Hearing Technologies is said to be working with Apple on products that can leverage iPhone technology and hearing aids "to create exciting new experiences for patients." ReSound is also reportedly developing a wireless connectivity solution—using their 2.4 GHz frequency band—with a direct link from the iPhone to the hearing aid. Thus, "Made for iPhone" hearing aids that offer various connectivity solutions can be expected relatively soon.
Apple will release its next version of the iPhone and operating system (iPhone 5 and iOS 6) this month.
Vivosonic Products Launched in China with Fanfare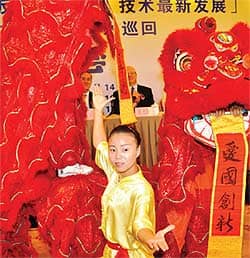 A celebration heralded Vivosonic's entry into the Chinese market.
Vivosonic's products have been officially introduced in China with an event that included a traditional Chinese lion dance, symbolizing prosperity. The launch comes after Vivosonic received several regulatory approvals by the State Food and Drug Administration of the People's Republic of China.
Vivosonic products were showcased at several important seminars in Beijing, Guangzhou, and Hong Kong. The seminars, organized by KAM Healthcare Group, the exclusive distributor of Vivosonic's Integrity V500 System and Aurix Newborn Hearing Screening System, were reportedly attended by more than 200 leading experts, scholars, doctors, and clinical professionals from major medical institutions.
A new 40 Hz ERP (event related potential) test modality has been developed especially for audiology practices in China. This measurement technique, often used to obtain hearing thresholds levels at low frequencies in young "active" children, is now available. The company said in its press statement that clinical evidence has shown that "40 Hz ERP may be a technique that can augment traditional ABR threshold testing."
The 40 Hz ERP modality will include Integrity's filtering techniques that are designed to minimize the effects of myogenic noise. Wireless capabilities will enable the clinician to collect recordings while a child plays quietly, untethered to the equipment.
"Our entry into the Chinese market is a new beginning for Vivosonic, and an important milestone in our global expansion," says Mike Schnekenburger, president and CEO of Vivosonic. "KAM Healthcare Group has done a tremendous job organizing these seminars and supporting us in our efforts."
HEARing CRC Named as Finalist for Eureka Award for NAL-NL2 Algorithm
The HEARing Cooperative Research Centre (HEARing CRC), an Australian public-private research center, has been named as a finalist for the "Eureka: Commercialization of Innovation Award" for their work developing NAL-NL2, the mathematical formula that optimizes the fitting and performance of hearing aids (see the article by Jason Galster, PhD, in this issue).
The HEARing CRC research project involved staff from HEARing CRC Core Members, including Australia's National Acoustic Laboratories (NAL) and Siemens Hearing.
Aside from the development of the formula, a key component of the project was ensuring that the software was provided in an appropriate technology for inclusion in commercial hearing aid fitting software used by hearing care professionals, hearing aid manufacturers, and audiological test equipment manufacturers. Working with Siemens, the project team was able to ensure compatibility.
NAL-NL2 was first released through Siemens in 2010 and was quickly licensed to 16 international hearing aid companies, including all of the top-10 companies worldwide in both the hearing aid and audiological test equipment fields.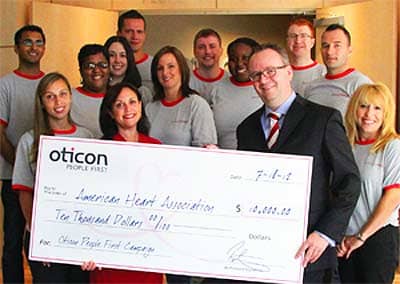 Rasmus Borsting, executive director of Oticon Inc, presented its campaign check for $10,000 to Lisa Marie Arieno, the American Heart Association's regional director of Central New Jersey and Greater Union County, at a ceremony held at Oticon's new headquarters in Somerset, NJ.
NAL-NL2's ability to provide highly effective hearing aid "prescriptions" combined with ensuring that the algorithm is easily incorporated into commercial fitting software has seen it become one of two international "fitting" standards in audiology clinics worldwide.
Associate Professor Robert Cowan, HEARing CRC CEO, commented, "Our CRC project staff at the National Acoustic Laboratories came up with a brilliant formula for optimizing hearing aid prescription and fitting, and Siemens provided confirmation that our 'packaging' enabled NAL-NL2 to be easily and quickly integrated into a commercial manufacturer's software. It's a textbook example of collaboration for the translation of technology from a research lab to a clinical environment, which is ultimately improving the lives of hearing impaired adults and children around the world."
Oticon's "At the Heart of It" Campaign Raises $10,000 for AHA
Oticon's "At the Heart of It…We Put People First" healthy heart and hearing awareness campaign has raised $10,000 for the American Heart Association (AHA).
The $10,000 is a result of Oticon's annual fund raising campaign for AHA during February, American Heart Month. For the past several years, Oticon has pledged a portion of the proceeds from the February sales of a particular hearing aid. For 2012, Oticon chose its new Intiga line. Oticon reports that hundreds of hearing care professionals participated in the month-long campaign.
Oticon also challenged hearing care professionals and their staffs to join an online "Steps in the Right Direction" walking challenge, which gave prizes and recognition to teams that took their own positive steps toward better health.
---
Get Your Weekly Edition of THE INSIDER
Every week The Hearing Review sends out THE INSIDER, a weekly FREE e-newsletter devoted to the top hearing-related news, research, product introductions, fitting topics, and marketing research stories that are influencing your business or practice, as well as the industry at large. [register]Sign up for your free subscription[/register].