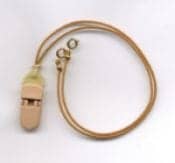 Secure Stretch Cords for ITE Hearing Aids
Ear Gear, Lake Country, British Columbia, Canada, has introduced the Ear Gear ITE, which can be used to secure ITEs to garments and help prevent loss or damage from falls. The product may be especially useful for active children or adults whose ITEs may fall out of the ear during exercise or play. Ear Gear ITE works through hearing instruments being fitted with a corresponding attachment piece. A retractable clasp on the end of the stretch cord will clip onto the attachment, providing security for the ITE wearer. The company offers both binaural and mono models and is currently available in beige.
(888) 766-1838
www.gearforears.com
---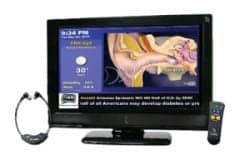 In-Office Hearing News Network for Patients
ClearSounds Inc, Naperville, Ill, introduces Hearing News Network (HNN), a broadcast source of hearing loss information and product news for patients in the waiting room. Information is delivered directly to patients by way of high-speed Internet via a strategically positioned flat-screen monitor that is located within the waiting room. HNN uses archived data that is specifically designed to precondition patients prior to testing or dispensing. As a result, redundant or common questions may be reduced by being answered in advance through HNN's broadcast. HNN also allows clients to create their own content.
(877) 999-4483
www.hearingnewsnetwork.com
---
EMR Compatible Audiometric Data Management Software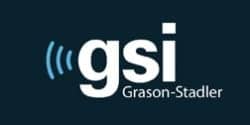 Grason-Stadler, Eden Prairie, Minn, announces that its GSI Suite, a new Audiometric Data Management Software, is now compatible with electronic medical record (EMR) systems. With EMR compatibility, GSI Suite can now capture, save, and share patient information while improving reporting to support the needs of the contemporary clinic. The GSI Suite features include test results in an EMR-compatible format (PDF), the ability to retrieve test results for review, printing reports from PC-compliant printers, the ability to e-mail PDF reports, and the networking of results by combining GSI Suite with OtoAccess.
(800) 700-2282
www.grason-stadler.us
---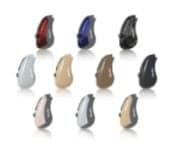 High Fidelity RIC Hearing Aid Line
SeboTek Hearing Systems, Tulsa, Okla, has introduced the high fidelity Sebo HD product line, the next generation of its RIC hearing instruments. The new Sebo HD instruments incorporate features designed to provide excellent sound quality, noise reduction, and speech enhancement technology. The Sebo HD includes up to 111 channels of processing, and 14 kHz bandwidth for improved control and high fidelity sound. The line also has advanced features, such as Bluetooth connectivity, Auto-FOCUS directional microphones, Voice Priority noise reduction, AFX feedback cancellation, as well as a moisture-resistant microphone cover, memory switch, and T-coil options.
(800) 388-9041
www.sebotek.com
---
New Addition to BTE Hearing Aid Line
Sonic Innovations, Salt Lake City, has added to its Endura Super Power BTE product line with the new Endura 6 model. In the spring of 2010, Sonic launched the Endura 12 model. The new Endura 6 was designed to give consumers a lower price point while still offering advanced features. The Endura 6 was designed with a maximum output of 140 dBSPL, providing substantial power for profound hearing loss patients. Its features also include integrated direct audio input and Bluetooth connectivity when paired with the company's sonicBLU accessory. Adaptive directionality, digital noise reduction, three manual programs, six predefined listening environments, and data logging are also part of the Endura 6 model.
(888) 423-7834
www.us.sonici.com
---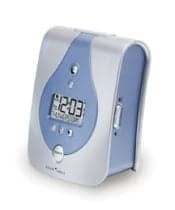 Tinnitus & Sleep Therapy Sound Machine
HITEC Group, Naperville, Ill, is now offering the Sound Oasis Tinnitus & Sleep Therapy Sound Machine from FilterStream Company, Marblehead, Mass. The device masks tinnitus sounds while users sleep. The Sound Oasis Tinnitus & Sleep Therapy Sound Machine incorporates 24 different sounds, six of which were developed by a tinnitus researcher who specifically designs sounds for tinnitus masking therapy. The Sound Machine uses a fixed prerecorded sound tracks, with each sound track having multiple high range frequencies built into music so that it is more palatable to play during the day or when sleeping at night. The unit includes technology for lulling users to sleep, a four-position timer, and other features.
(800) 288-8303
www.hitec.com