TOP NEWS and HEADLINES in October
Hearing Loss Risk in Men Reduced by Higher Folates, Not Antioxidants
Noise-induced Hearing Loss Nearly Three Times as Likely to Occur in Men
Genetic Mutation a Strong Indicator of Age-related Hearing Loss Risk
TV Ears Ranked 176th Fastest Growing North American Company
ASHA Urges NYC Mayor to Restore Student Hearing Screenings
In Memoriam: Teresa Marie Clark, AuD
Research Looks at Listening Effort, Background Noise, & Noise Reduction
EarQ Group, Widex Join Forces
Oticon Debuts Hearing Instruments Exclusively for Children, Teens
AT&T Premieres Real-time IM Relay for Customers with Hearing Loss
NTID President T. Alan Hurwitz Picked to Lead Gallaudet
Touch Screen Meets Hearing Aid in Starkeyfs New S Series BTE
Maico Debuts Ero Scan Pro
Convertibles Hazardous to Your Hearing?
MEG imaging found to aid in tinnitus diagnosis. A study conducted by Henry Ford Hospital has reportedly found that a noninvasive imaging technique known as magnetoencephalography (MEG) can aid in the diagnosis of tinnitus and may detect a reduction in symptoms after different treatments. MEG measures very small magnetic fields generated by intracellular electrical currents in the neurons of the brain. About 20 sites in the United States are equipped with MEG scanners, which are used for presurgical brain mapping of patients undergoing surgery for brain tumor removal and epilepsy treatment. Study coauthor Michael D. Seidman, MD, FACS, director of the Division of Otologic/Neurotologic Surgery in the Department of Otolaryngology-Head & Neck Surgery at Henry Ford Hospital, says that "until now, we had no way of pinpointing the specific location of tinnitus in the brain." The imaging technique can determine the site of perception of tinnitus in the brain, which could in turn allow physicians to target the area with electrical or chemical therapies to lessen symptoms, according to study results presented at the recent American Academy of Otolaryngology-Head & Neck Surgery (AAO-HNS) Foundation annual meeting. "Since MEG can detect brain activity occurring at each instant in time, we are able to detect brain activity involved in the network or flow of information across the brain over a 10-minute time interval," says coauthor Susan M. Bowyer, PhD, bioscientific senior researcher of the Department of Neurology at Henry Ford Hospital. "Using MEG, we can actually see the areas in the brain that are generating the patient's tinnitus, which allows us to target it and treat it." The researchers contend that the study establishes MEG as an effective clinical tool for localizing the probable source of tinnitus in patients' brains, and it also has the potential to assist with the development of future interventional strategies to alleviate tinnitus.
Study suggests herpes virus may cause hearing loss in unborn children. In a Belgian study conducted at the Laboratory of Clinical Virology, Rega Institute for Medical Research at the University of Leuven, four in five children of mothers infected in early pregnancy with a herpes virus were found to suffer from hearing damage. The mothers were among the 4% of all pregnant women who become infected with the cytomegalovirus. Cytomegalovirus is found in more than half of the total population, and the virus rarely causes symptoms in healthy adults. But when transmitted from mother to child in the first 3 months of pregnancy, it may cause problems. The study's results, published in the Journal of Clinical Microbiology, found that four in five of these children developed sensorineural hearing loss. In a fetus, the ears develop mainly between weeks 3 and 10 of a pregnancy, and this is likely to make the ears particularly sensitive to viral infections during this stage, according to the researchers.
---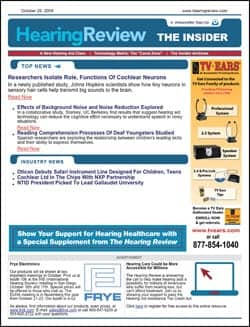 Want the inside scoop?
Every week The Hearing Review sends out THE INSIDER, a weekly FREE e-newsletter devoted to the top hearing-related news, research, product introductions, fitting topics, and marketing research stories that are influencing your business or practice, as well as the industry at large. [register]Sign up for your free subscription[/register].