Jerry Northern Joins Starkey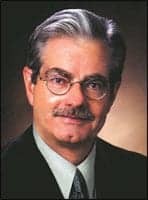 Jerry Northern, PhD
Starkey Laboratories Inc has announced the appointment of Jerry Northern, PhD, to the position of Director of Special Projects in Education and Training. Northern will be responsible for developing and managing corporate level projects in the Starkey departments of education, research, marketing, and sales.
"I am excited by the opportunity to develop new customer publications, provide extensive expertise as Starkey expands its commitment to the pediatric market, and become involved in current Starkey initiatives that will enhance customer knowledge and meet the practice and technological needs of hearing care practitioners globally," says Northern.
Currently, Northern is a consultant to the Marion Downs Hearing Center at the University of Colorado Medical Center in Denver. Northern retired from the University of Colorado School of Medicine in 1996 after 26 years of service as Professor of Otolaryngology and Director of Audiology Services.
A native of Denver, he received a BA in Experimental Psychology from Colorado College in 1962, holds Master's degrees from Gallaudet University and the University of Denver, and earned his PhD in audiology at the University of Colorado (Boulder). Northern is also a prolific writer and skilled editor. His and Marion Downs' textbook Hearing in Children (5th edition, 2003) is required reading in many audiology programs, and he has served as editor for Seminars in Hearing, as well as the editor of Audiology Today for 15 years. As a founding member of the American Academy of Audiology (AAA), Northern was the organization's third president.
ATA Appoints Reul as new CEO
The American Tinnitus Association (ATA) has appointed Gary Reul, EdD, its new CEO. Reul, who has both tinnitus and hyperacusis, earned his doctorate in leadership from Seattle University with a strong background in organizational development. He has been a teacher, counselor, and school district administrator. He has also served as an administrator in the Superintendent of Public Instruction office in Olympia, Wash. He has taught graduate level courses at several universities, and served on the ATA Board of Directors.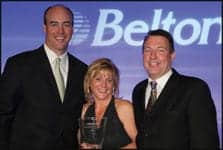 Beltone President Todd Murray (left) presents the Beltone President's Cup to Daniel and Jean Fletcher.
Beltone Presents President's Cup
Chicago-based Beltone Electronics announced the presentation of its President's Cup Award to Daniel and Jean Fletcher at its 2008 National Meeting recently held in Monterey, Calif. Since 1958, Beltone's highest honor, the President's Cup, is awarded annually to hearing care practitioners who demonstrate exceptional patient care, community involvement, and professional business practices.
"This award recognizes those practitioners whose professionalism and care go well beyond their office and into the community says Todd Murray, President of Beltone. "The Fletchers' leadership and dedication over the past 20 years is the ultimate example of this. They continue to find unique ways to give back to their community."
Daniel and Jean Fletcher have worked with Beltone for 20 years and became full-time business owners in 2001. They now have five full-time offices, two part-time offices, and service more than 20 senior homes. "We're honored to receive the President's Cup Award and glad to know that Beltone recognizes the value we place in our customers and the integrity of our practice," says Daniel Fletcher. "We would like to thank everyone in our communities for 20 years of strong support."
Widex Appoints Three Audiologists to Staff
Widex announces that Jodi Sasaki, AuD, has joined the company as the new director of education and training for the Western Region. Born and raised in Kona on the big island of Hawaii, Sasaki has been an audiologist since 1999. She received her doctorate degree in audiology from the PCO School of Audiology in 2004. Initially working at the Mayo Clinic in Scottsdale, Ariz, she later served as the director in a retail audiology setting in Phoenix. She enjoys and has been actively involved in guest lecturing in adult and pediatric amplification at many universities, and colleges, and to the general public. In addition, she has had manufacturing experience as an audiological trainer on the West Coast for 4 years.
| | | |
| --- | --- | --- |
| | | |
| Jodi Sasaki, AuD | Jennifer Wright, AuD | Richard Woods, MA |
Widex also announces that Jennifer Wright, AuD, and Richard Woods, MA, have joined the company as sales representatives. Wright is the representative for the South and West Texas areas, working with Penny Secrest, Widex South Central Regional Manager. She obtained her Doctorate of Audiology from the University of Texas at Dallas and has worked in a variety of medical settings, where she gained valuable clinical and sales experience. She will also provide technical training, conduct consumer seminars and open houses, and help professionals advance their practices through marketing and patient care.
Woods has joined the company as a sales representative within the Southeast Region. He has been an audiologist since 1974 and comes to Widex with extensive experience as a clinical audiologist, a manufacturing representative for audiometric equipment, a sales representative for a cochlear implant manufacturer, and almost 20 years experience as a sales representative in the hearing aid industry.
---
Send press releases to HR Associate Editor Will Campbell at:
The Hearing Review
6100 Center Dr, Suite 1020
Los Angeles, CA 90045
Phone: (310) 642-4400, ext 228
Fax: (310) 641-0831
E-mail: [email protected]